Following the Dallas Empire's victory over L.A. Thieves during the Call of Duty League Super Week, Envy owner Mike "Hastr0" Rufail called out 100 Thieves and stirred up the Call of Duty community.
The Envy owned Dallas Empire stomped the 100 Thieves owned L.A. Thieves 3-0 in what was originally touted as one of the week's marquee matchups. No drama resulted from this match itself, until nearly a day later when Hastr0 took to Twitter to get under the skin of Thieves fans.
I'm saying your supporting cast didn't even mention your match yesterday.
— Mike Rufail (@hastr0) March 1, 2021
The initial tweet from Hastr0 caused various members of 100 Thieves to jump in and defend their organization. However, the conversation soon turned personal when popular creator Jack "CouRage" Dunlop called out Envy's business structure and fan following.
A Twitter feud in the making
While these tweets stemmed from a rivalry between Envy and 100 Thieves, it's hardly the first time Hastr0 trashed the organization. He once called 100T an organization that aims to sell hoodies rather than win events. Envy, on the other hand, is said to be the exact opposite, according to the owner.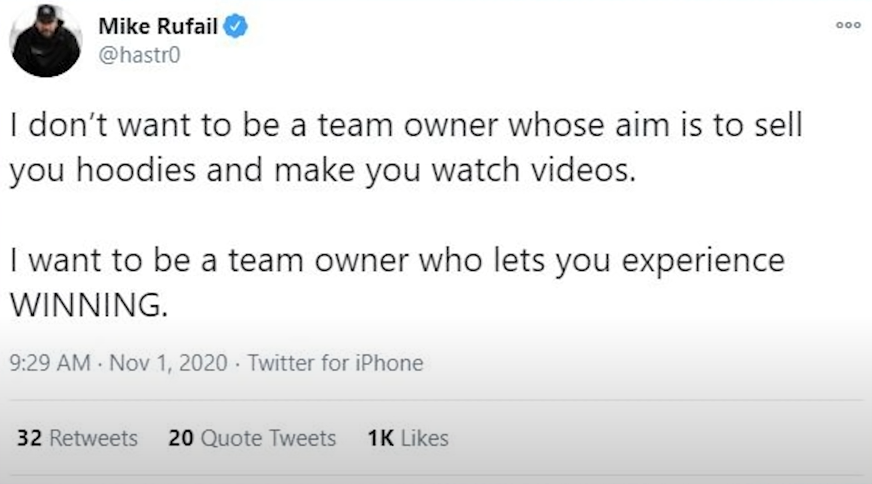 Screengrab via Hastr0
Ever since that comment, Hastr0 has received unkind words from 100 Thieves members and fans. But everything came to a head today after L.A. Thieves Coach Jordan "Jkap" Kaplan and 100 Thieves creator CouRage started making remarks about Hastr0 and Envy itself.
CouRage tried to burn Hastr0 for allegedly not running as successful of a "well-rounded business" as 100 Thieves. While success is measured in many different ways, it's true that Envy doesn't possess the pull that 100 Thieves has when it comes to apparel sales and social media views on YouTube or Twitter.
CouRage didn't just imply that Envy wasn't as successful as 100 Thieves — he made the bold claim that Hastr0 and Envy are "hemorrhaging money." He also seemed to imply that the main reason behind Hastr0's antics on Twitter is to simply garner reactions in the form of retweets and likes.
Disputing that argument, Hastr0 stated that Envy is "extremely healthy as a business." He went on to say that 100 Thieves and Envy have different business models, which implied that Envy isn't as concerned with the non-esports sides of the organization, unlike 100 Thieves.
To this and the whole argument, 100 Thieves owner Matt "Nadeshot" Haag used it as a unique opportunity to do what 100 Thieves does best and sell merchandise.
Daily Esports reached out to Envy for a comment on the organization's financial status but they were unable to comment before publication. For now, it seems the dispute is over, but this is certainly a storyline to keep an eye on as the CDL season progresses.
Source: Read Full Article