Atari recently announced the launch of Atari Combat: Tank Fury, a match-3 tank RPG mobile game now available worldwide for iOS and Android devices. Tank Fury was developed by LA-based indie games developer Kung Fu Factory (Adventure Time: Card Wars Kingdoms, Mortal Kombat: Unchained), is the first tank-themed match-3 RPG video game to roll onto the market, and is free to download now from the App Store and Google Play.
Tank Fury features – you guessed it – tanks, but also a full combat load of military-themed strategic gameplay elements focused on PvP and multiplayer PvE battles. You can engage in thrilling World War Two simulated tank combat (in German, British, French, Soviet Union, and US tanks) with an RPG progression system across top-quality 3D-animated environments while also learning a bit about military history through exciting gameplay.
Tank Fury's gameplay involves matching up three pieces or more on the match board in order to fire at your AI or online opponent. In story mode and online play, you can recruit your tank crew, collect numerous historically accurate tanks and the items needed to upgrade them, build your own military base HQ, and complete over 200 missions to unlock more combat campaigns. Individual tank commanders may also be unlocked to help give your tank and crew unique combat abilities. You can even take part in weekly live events to earn more rewards and display your tank combat skills.
"We have worked hard in developing a unique game that offers something new in the match-3 genre," said Daryl Pitts, President and Executive Producer at Kung Fu Factory. "Beyond adding military themes and RPG elements, Atari Combat: Tank Fury also looks beautiful thanks to our signature high-quality 3D animated production process."
"The match-3 genre is one of the most popular in the mobile gaming industry, and Atari Combat: Tank Fury offers something new to traditional genre fans, while also appealing to those interested in playing more realistic, military-themed puzzle RPGs on mobile devices," added Jean-Marcel Nicolai, COO of Atari.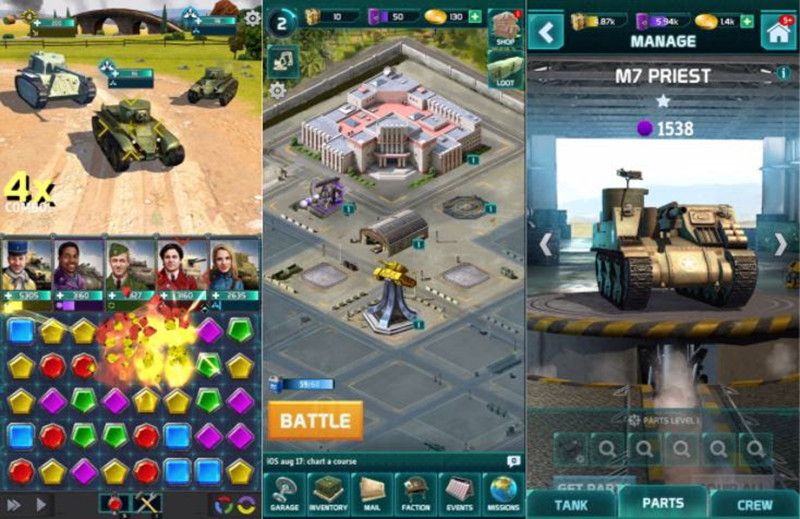 In addition to mixing and matching your tank crew, you can collect a variety of special ammunition to try out with each tank to find which combinations work best for you. Your base also generates much-needed supplies and resources, and you can gather various equipment upgrades through missions to further customize your tanks according to your playstyle.
It's definitely nice to see Atari launch another tank combat game. When the original Atari VCS (2600) was released back in 1977, Combat was one of the nine launch titles that accompanied the system. Combat involved players squaring off in tank vs tank and plane vs plane scraps. This writer can account for many long days and sleepless nights in that game, guiding a tank through multiple mazes to pull off the perfect banking trick one-shot kill on enemy tanks.
Here's hoping Atari Combat: Tank Fury has at least one throwback easter egg to the original Combat game.
Source: Read Full Article