Quick Links
You may be wondering, where is the breakfast in Bear And Breakfast? Food and the ability to cook will come later in the game, somewhere in the middle. You unlock cooking when you gain access to Highlake, above Timber Crossing, and start working on your first resort there. After you get Timber Crossing and The A24 going, you'll be able to access Highlake.
Highlake will be full of gatherable ingredients on the ground in piles, much like wood or stone. Every other area you unlock from here on out will most probably contain cooking ingredients to gather as well. And every thereafter resort will be able to have a kitchen and dining room. You need to unlock the Ipswitch's Wholesale store that resides within The A24, to the right of the bus stop, for more cooking glory.
Cooking Overview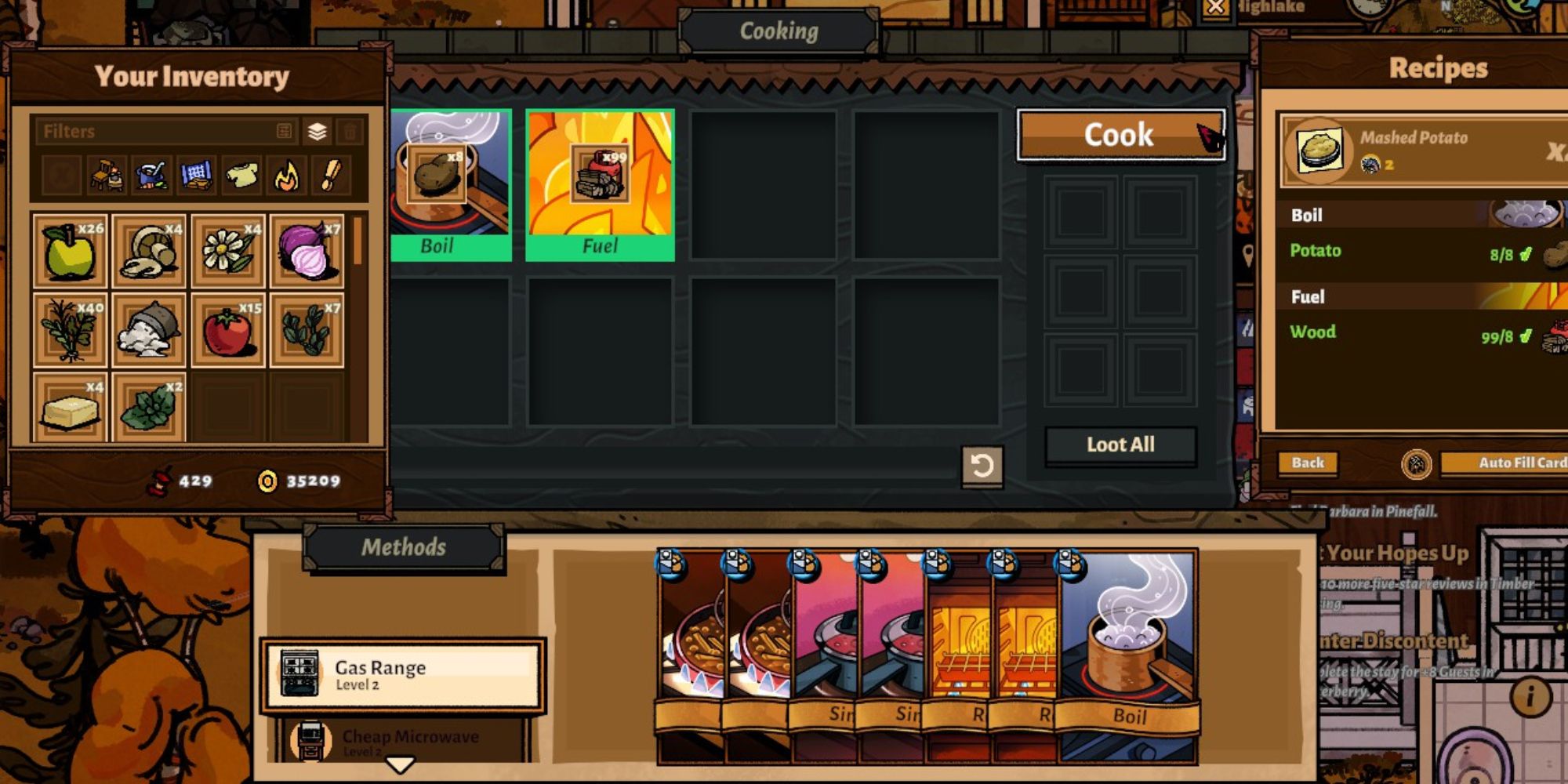 You will be able to start cooking when you get the task of creating a kitchen and dining room for the Farmhouse. This task is given to you by Julia. By interacting with furniture in the kitchen, like a gas stove, the cooking menu will pop up.
It may look confusing at first, but all you have to do is select certain cards and then drag ingredients into the cards and cook. Something like a Bowl of Apples would only need you to put apples into the Raw card, for example. There is also a button in the Recipes box to auto-fill cards. This will simply place the cards down that you need, so you don't have to go searching for them.
Ingredients will be found in Highlake and other areas, but you will need fuel to start up a stove. Fuel will be found in a pile to loot next to the bus stops for Highlake, Winterberry, Pinefall, and Whitestone Bay.
Once you explore new areas beyond Highlake, you'll soon gain access to higher-level kitchen furniture. A better stove and others will allow you to craft more complex recipes. Higher-level kitchen gear will unlock new cooking cards for you to use.
You must speak with Julia, the goat NPC at the top of Highlake, to continue further with cooking and acquiring ingredients. Once you complete her first couple of quests to find Sage and build the Farmhouse, Julia will give you access to her shop, where you can buy new recipes.
The Thicket, Sawdust, Timber Crossing, Beachside, and Hollowgate will not have cooking resources to gather.
Highlake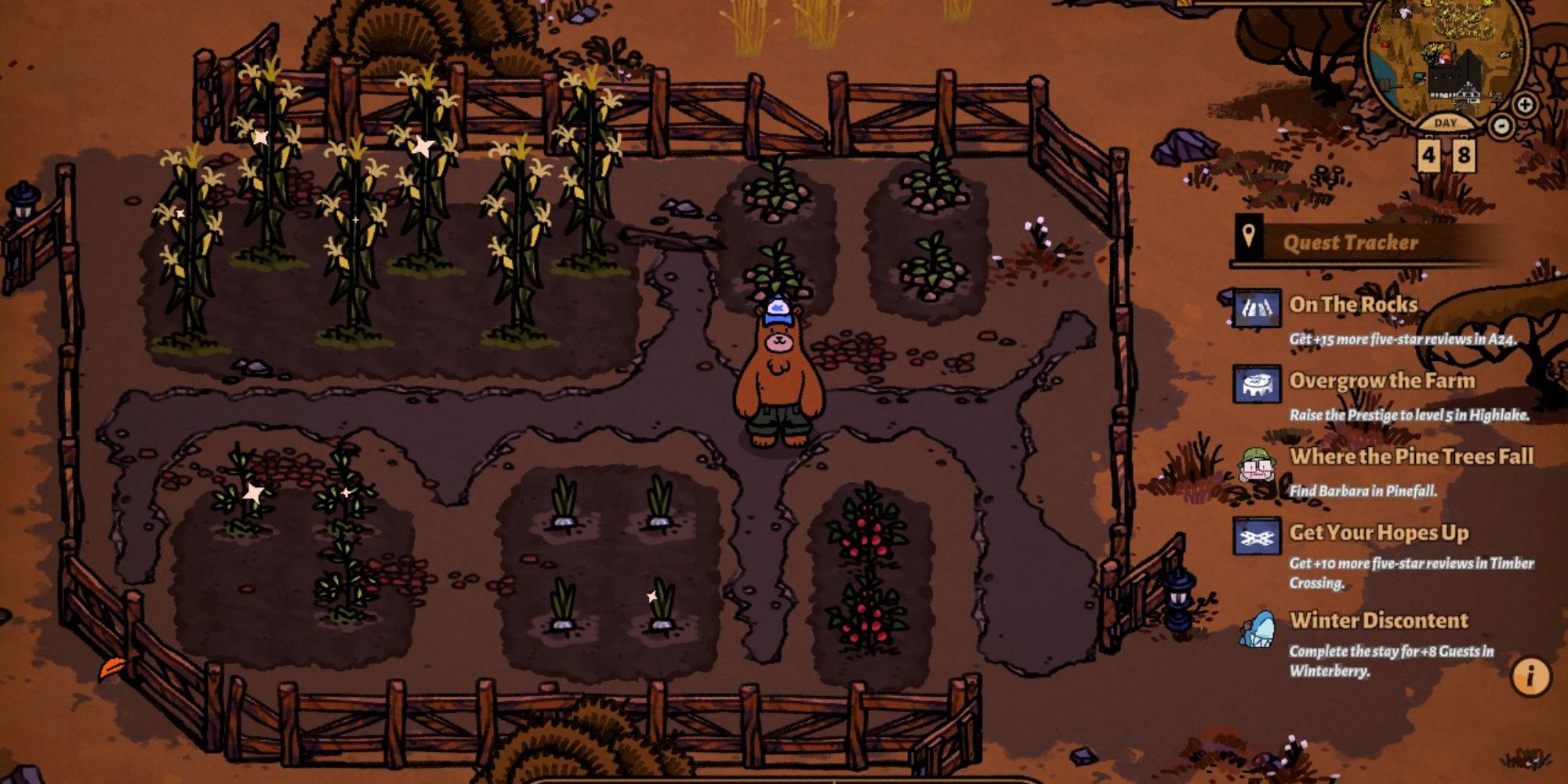 Your main source of cooking ingredients will be found in Highlake. Most especially within Julia's garden. Unlock access to the ever-growing garden found above the Highlake Farmhouse by completing Julia's request to refurbish the Farmhouse and start cooking for guests.
The garden will respawn its ingredients frequently, but there will also be other resources around Highlake. Chamomile and Mint can be found near the road to the South. Strawberry bushes are found to the left of Julia's home. There is also a fuel pile beside the Highlake bus stop.
| Food | Visual |
| --- | --- |
| Strawberries | |
| Apples | |
| Mushrooms | |
| Herbs | |
| Chamomile | |
| Mint | |
| Corn | |
| Onion | |
| Potato | |
| Tomato | |
Darkgrove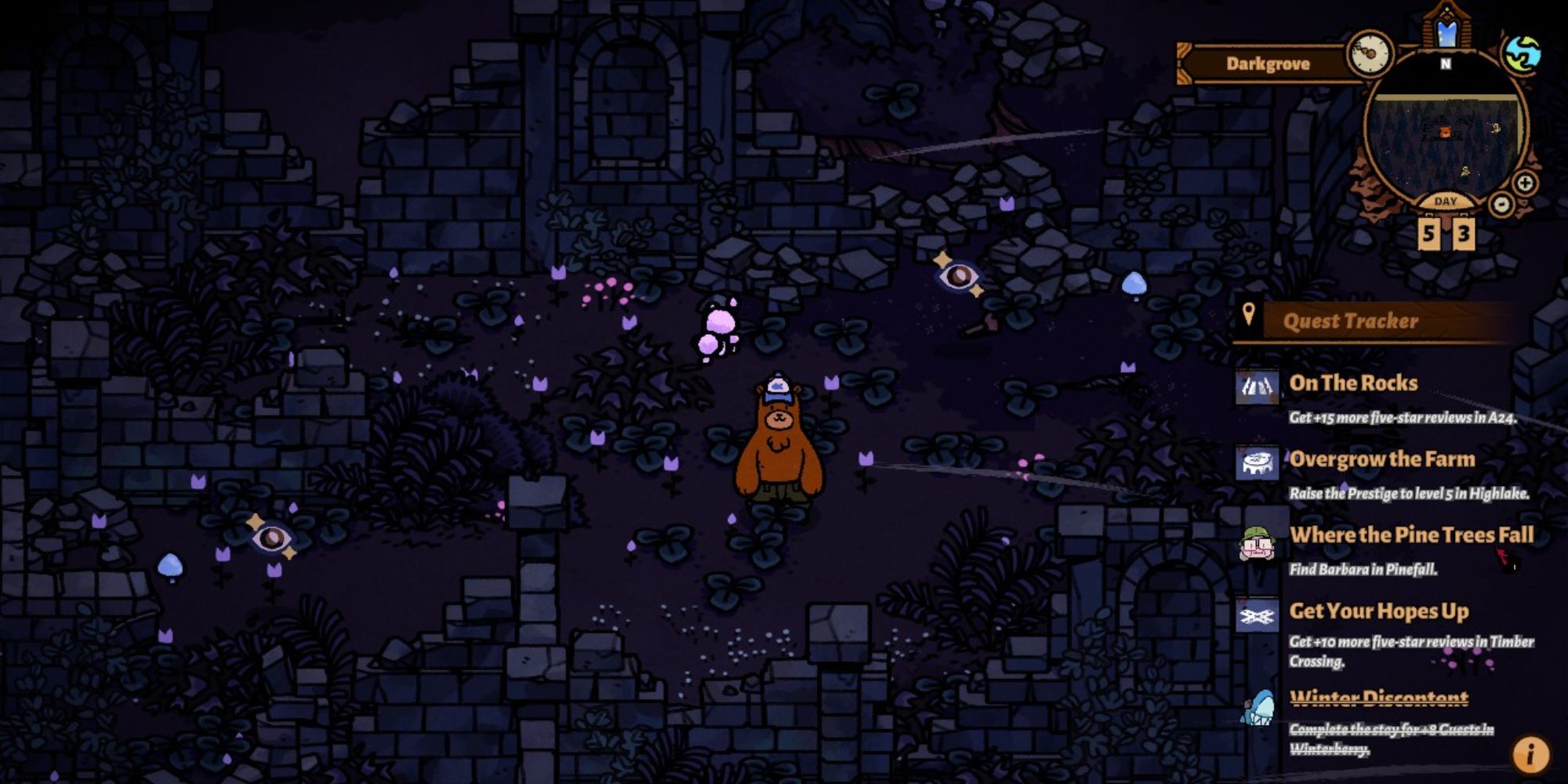 It's a tedious mission walking to Darkgrove since there is no bus stop there. You must go from Sawdust and then walk into Darkgrove. You would have gone here to find Sage for Julia at the far left end of the map. All around Darkgrove are two simple ingredients, but nothing more.
Blackmoss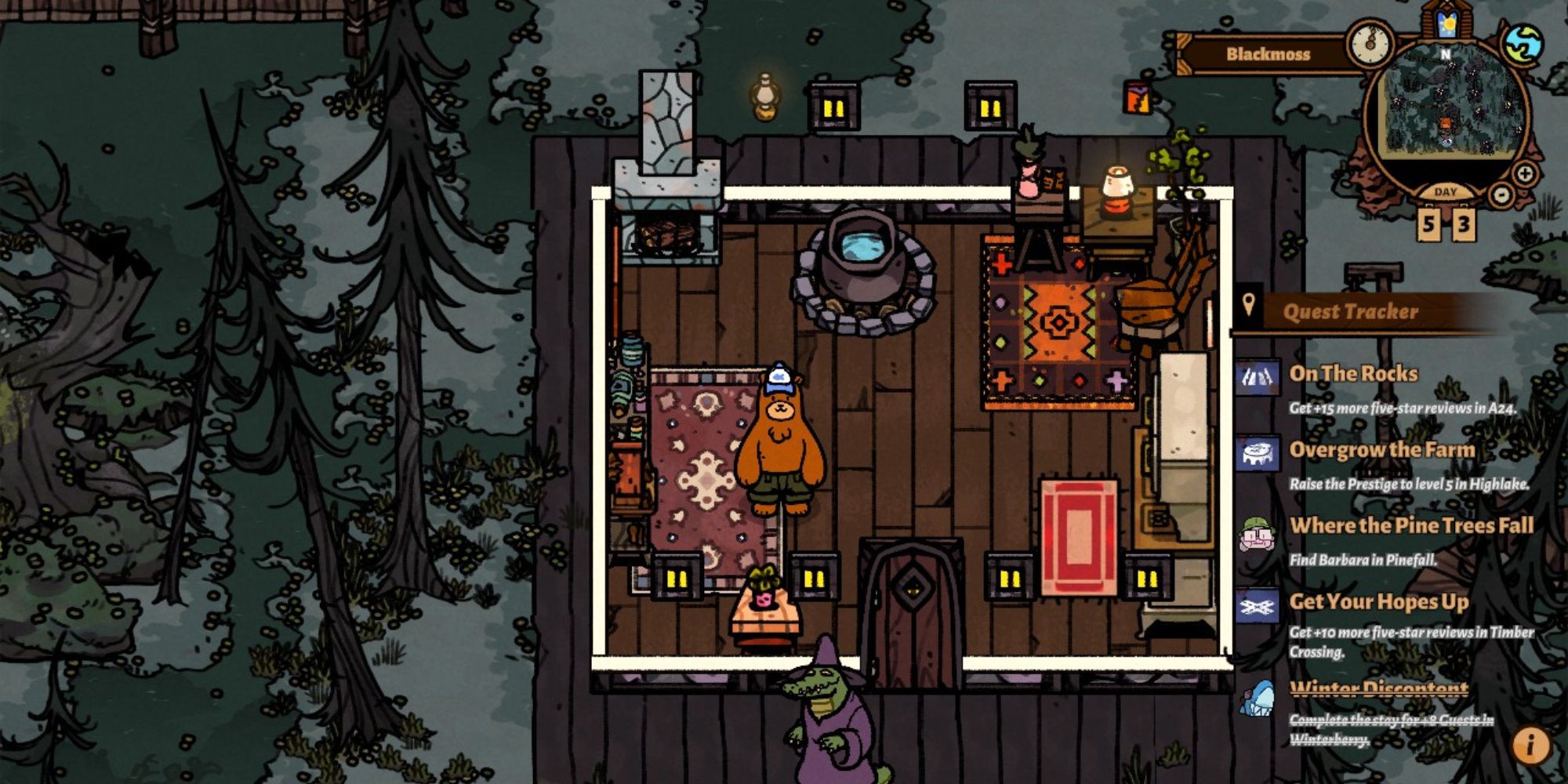 Blackmoss will only have one single ingredient. It's not really worth visiting for it either, since Ipswitch's Wholesale will sell Charcoal Lily as well. You could go to Blackmoss to acquire it for free, but you'll be rich at this point from all your resorts anyway.
Winterberry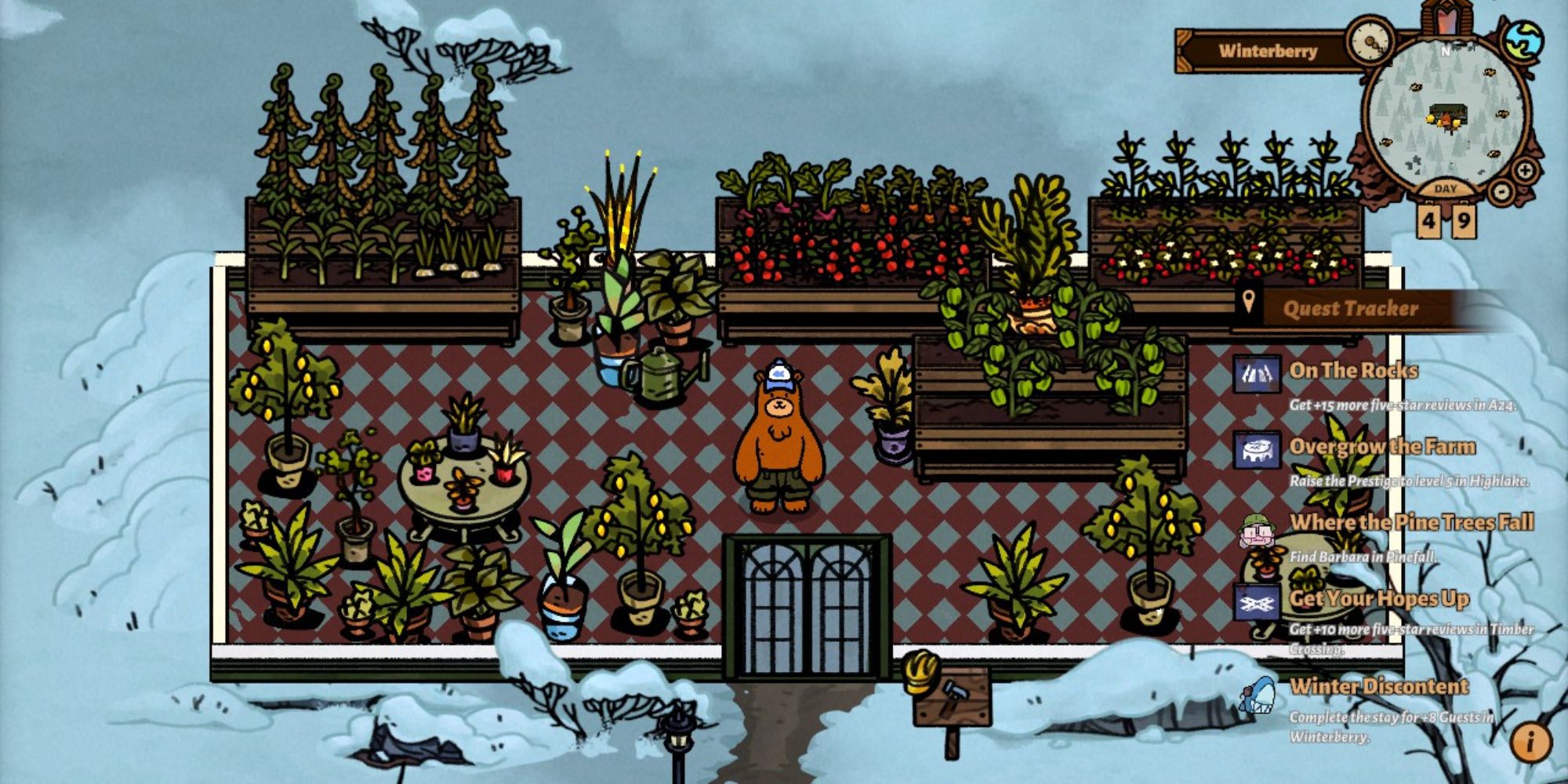 Aside from Highlake, Winterberry will be your second main source of cooking ingredients. From completing Julia's chain of quests and meeting Jax, you'll have access to the Greenhouse in Winterberry. Here, you'll find new food. Lemons, beans, and more. These ingredients respawn with haste as well. You will also find some regular ingredients here like herbs and tomatos.
Above the Greenhouse and resort in Winterberry, you will find Jax's home. Near Jax's house is Jax's Burnables. A little store where you can purchase fuel. You won't need fuel in bulk for cooking, as it doesn't take that much fuel to cook a meal. It's really for keeping the resort in Winterberry warm. Nonetheless, the store is there for fuel for cooking if need be. There will always be fuel near the Winterberry bus stop.
| Food | Visual |
| --- | --- |
| Lemon | |
| Pepper | |
| Herbs | |
| Strawberries | |
| Turnip | |
| Carrot | |
| Tomato | |
| Onion | |
| Garlic | |
| Beans | |
Whitestone Bay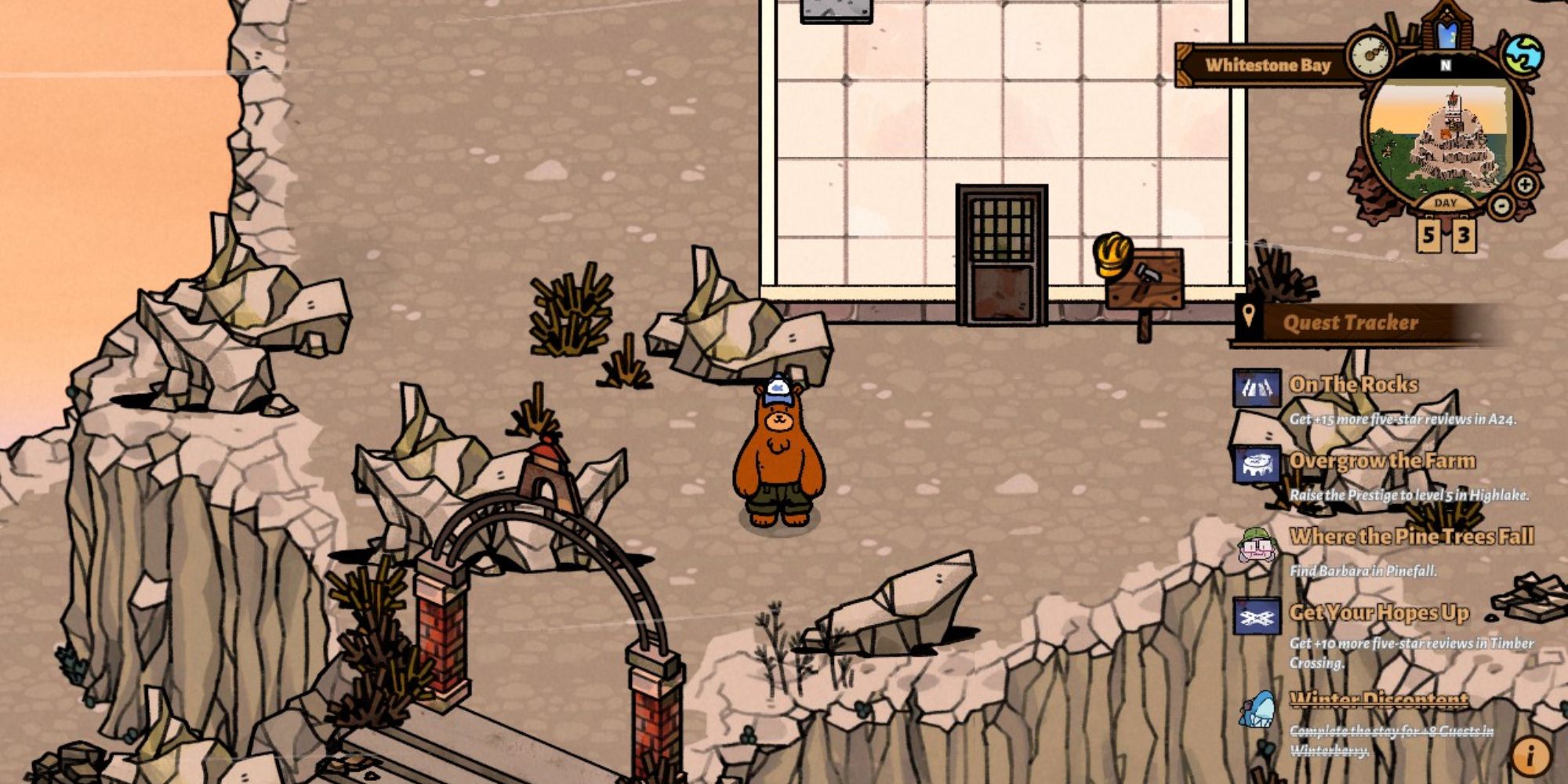 Whitestone Bay is a refreshing change in scenery. Here, you will find some new ingredients for the first time. This includes things like Honey and Peaches. You will also find new NPCs like The Flight. There will always be fuel next to the bus stop here.
| Food | Visual |
| --- | --- |
| Honey | |
| Potato | |
| Peach | |
| Ginger | |
Pinefall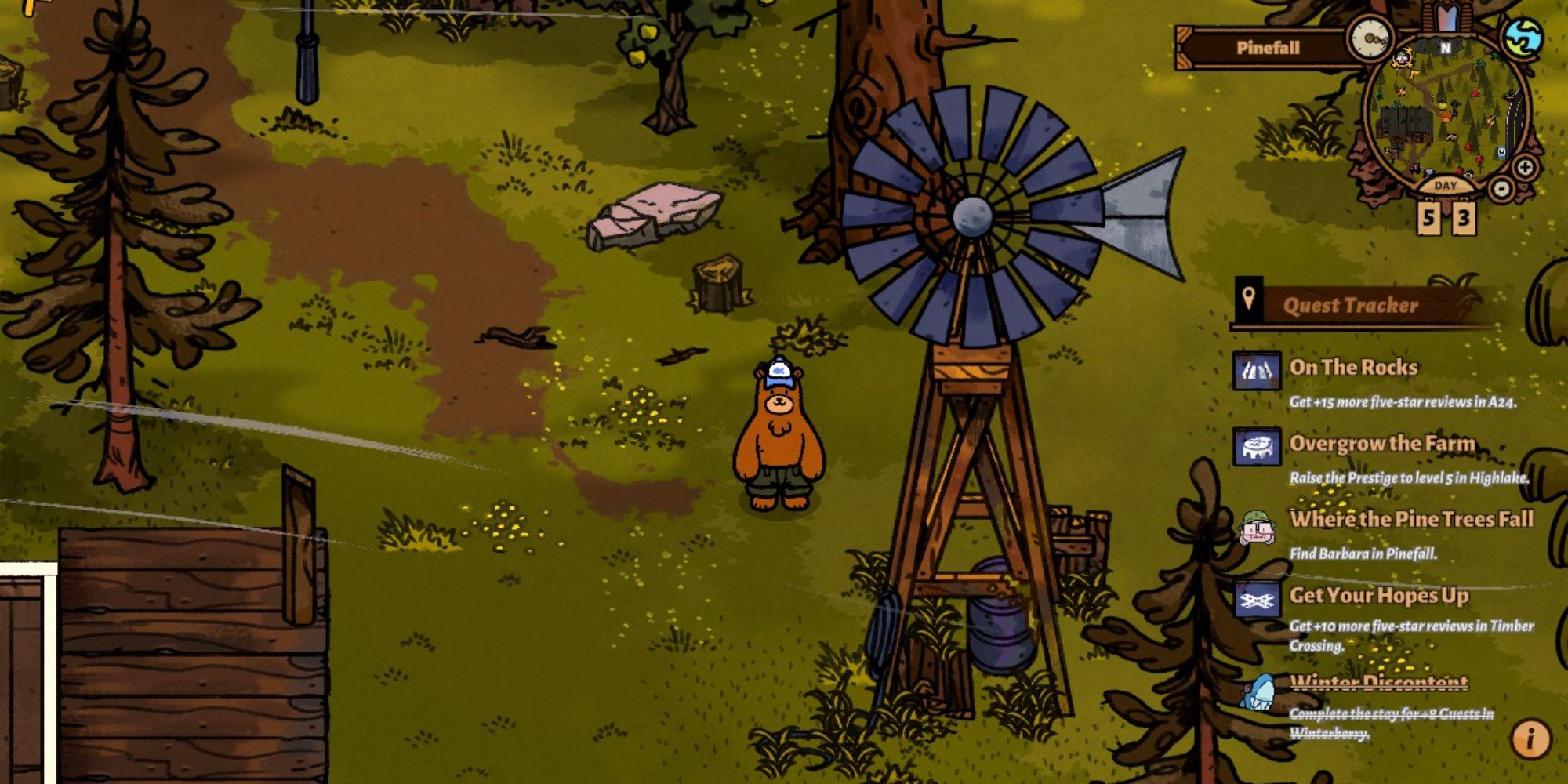 Pinefall is one of the biggest locations on the map. It will have almost every ingredient you've come across. Highlake will only have your tea leaves, mushrooms, and basics, Whitestone Bay your Honey and Peaches, but Pinefall will carry almost everything from all areas.
Except for lemons and peaches. Pinefall is accessible by continuing Barbara's questline. After finding her in Whitestone Bay and following her tasks, she will invite you to Pinefall.
| Visual | Food |
| --- | --- |
| Strawberry | |
| Honey | |
| Carrot | |
| Mushroom | |
| Garlic | |
| Plum | |
| Tomato | |
| Pepper | |
| Mint | |
| Chamomile | |
Ipswitch's Wholesale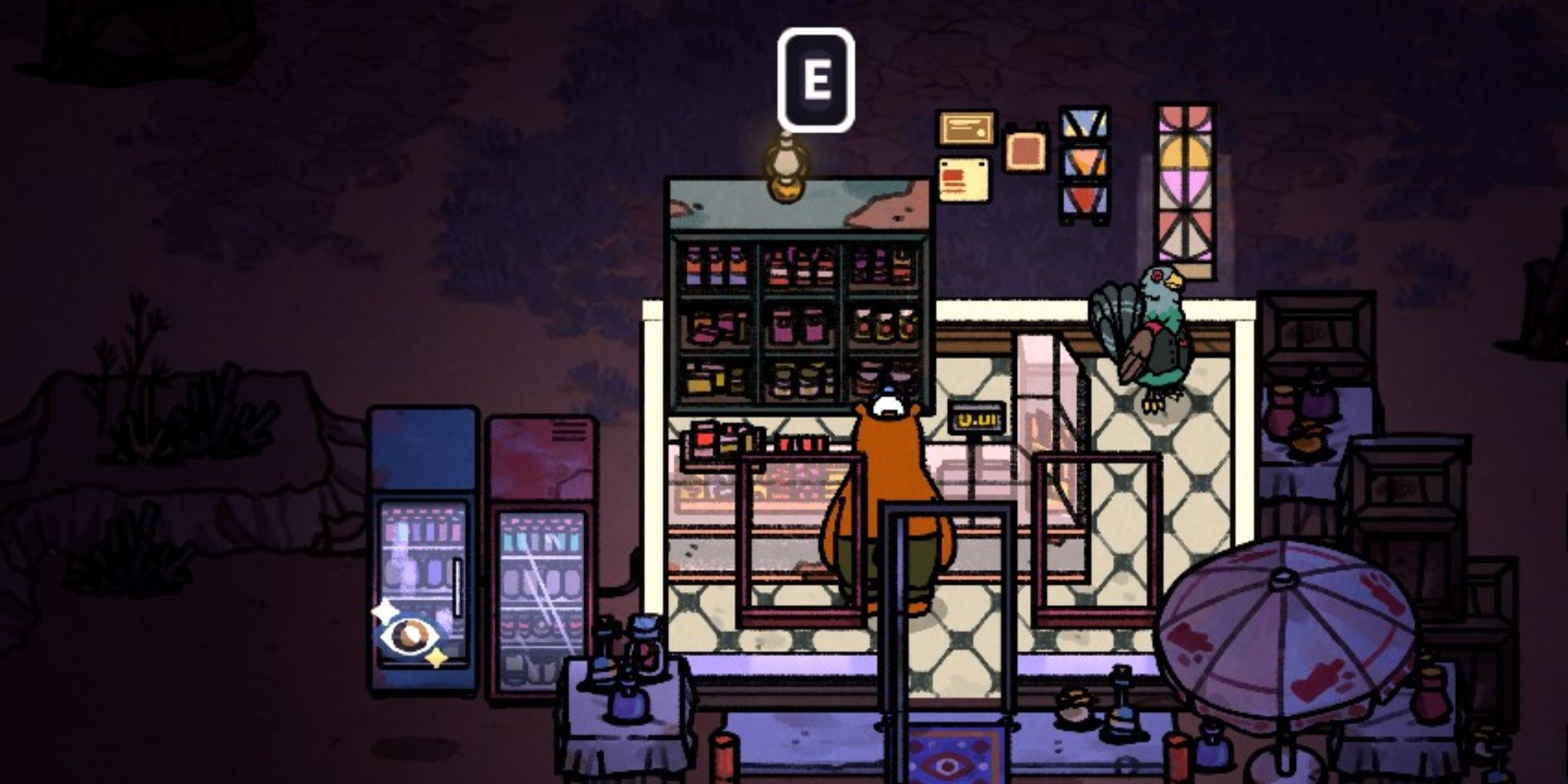 This is for all unnatural ingredients you won't find in piles. You'll notice some recipes you have or have bought from Julia need things you cannot find anywhere. Butter, flour, pasta, eggs… You purchase these all from Ipswitch's Wholesale in The A24.
To unlock Ipswitch's Wholesale, all you have to do is speak with Ipswitch about restoring the Diner in The A24. If you're so far along as to be cooking in Highlake, you've probably already done this.
By completing different quests in the game, just like how your Pawn Voyage inventory will update, so can Ipswitch's Wholesale. Check back after completing food-related quests to see if any new items were added. You can continue a quest for Ipswitch that will have him transfer his store to Pinefall.
Source: Read Full Article