After yesterday's Street Fighter 6 reveal showed Ken to look quite different from how fans of the series have seen him before, Capcom has detailed his backstory and explained why he's had such a sudden change in appearance.
Following yesterday's massive information dump, Capcom has updated the Street Fighter 6 website to include the newly-announced characters, including Ken, Dalsim, and E. Honda. These character pages reveal the height and weight of each fighter, while also detailing their story in Street Fighter 6.
Although it's good to get a bit more background on Dalsim and E. Honda, Ken's character page is by far the most interesting, debunking earlier rumours that he was divorced. It reveals that Ken was accused of some kind of criminal plot, which has forced him to run from his family and business to keep them safe, presumably meaning that he's still got them in his life.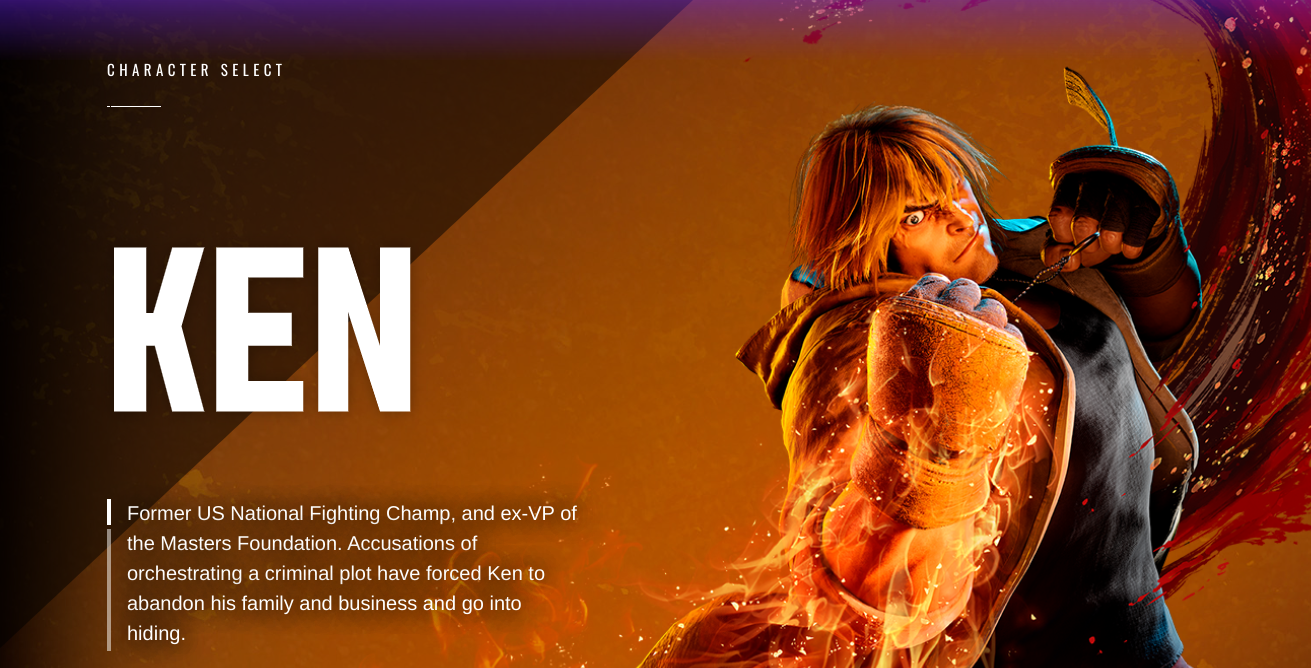 The page reads, "Former US National Fighting Champ, and ex-VP of the Masters Foundation. Accusations of orchestrating a criminal plot have forced Ken to abandon his family and business and go into hiding". To be fair, it doesn't explicitly say he's not divorced, but it looks like that was just an incorrect rumour.
For those who aren't aware, earlier this year the entirety of the Street Fighter 6 roster was leaked online, including detailed looks at their character designs through what looked like an art book of some kind. This leak was the first mention of Ken being in the game and fans instantly noticed how rundown he looked in comparison to other Street Fighter games, looking much less fresh and clean cut.
The reveal trailer for Ken confirmed that he'll be looking like he did in those leaks, but it seems the reasoning behind it isn't quite as tragic as we previously thought. Ken's in-game battle dialogue also seems to be pretty in-line with his character and doesn't seem to indicate some kind of major character shift.
Source: Read Full Article