Character creation in Cyberpunk 2077 is an in-depth process and there are a lot of options. You might be tempted to skip through all of the selections so you can jump into the gameplay, but you should stop and pay attention. Any decisions you make during the character creation phase are permanent, and cannot be changed later in the launch version of the game – we can hope CD Projekt Red gives players the option to change some of their customisation options later down the line.
Until we get the ability to change things around, we're stuck with our chosen protagonist, so we should make each decision carefully in order to not be disappointed with our playthrough. You can choose most customisation options regardless of your chosen gender, but some romances with NPCs will only be available if you have chosen a certain voice or body type, so keep that in mind going forward, and check our complete guide to romances in Cyberpunk 2077 so you can decide who you want to be with in advance.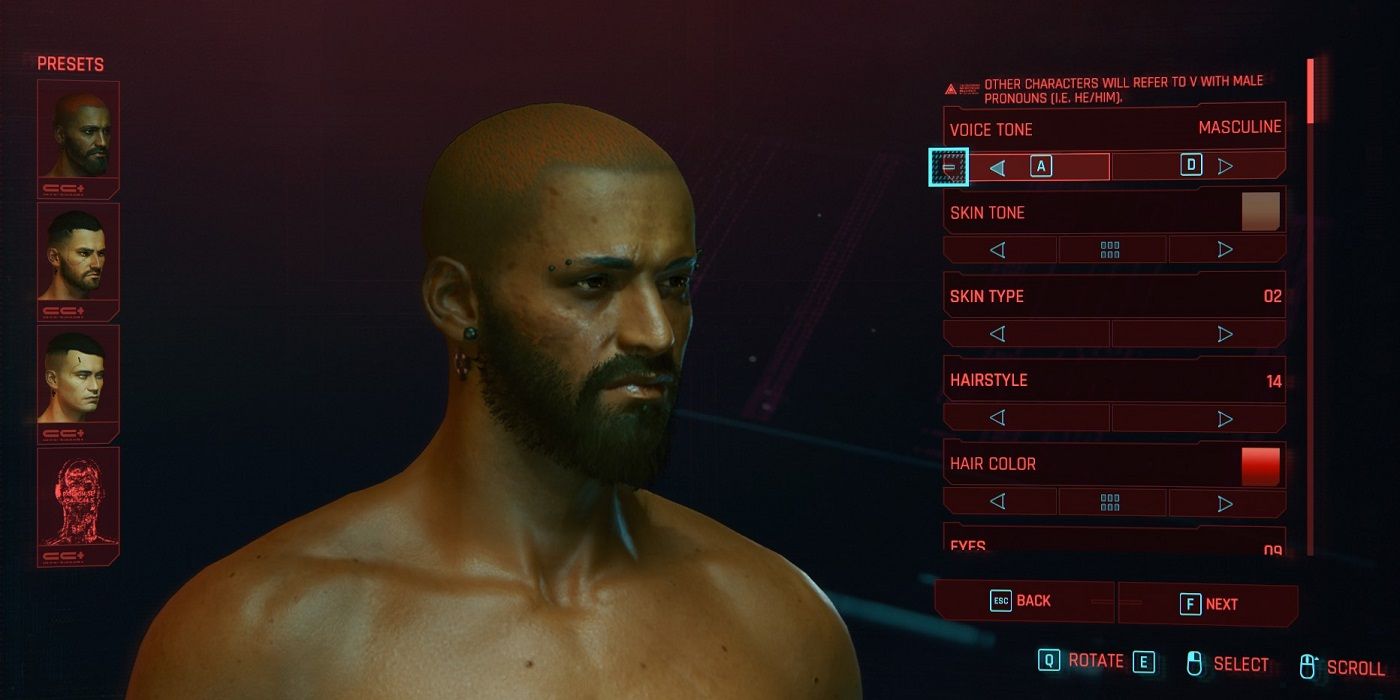 General
Body Type
You can choose between either a male or female body type – but this will lock you out of certain romances later in the game.
Voice Tone
You can choose either a masculine or feminine voice, but again, this will affect your choice of romances later.
Skin Tone
There are 12 different skin tones to choose from, and all of the following aesthetic choices do not impact romances or quests in any way.
Skin Type
There are five skin types, including a slightly grimier, dirt-covered skin type.
Hair Style
There are 39 hairstyles to choose from, but there's nothing better than bald.
Hair Colour
24 different hair colours allow you to get fancy with your choices here.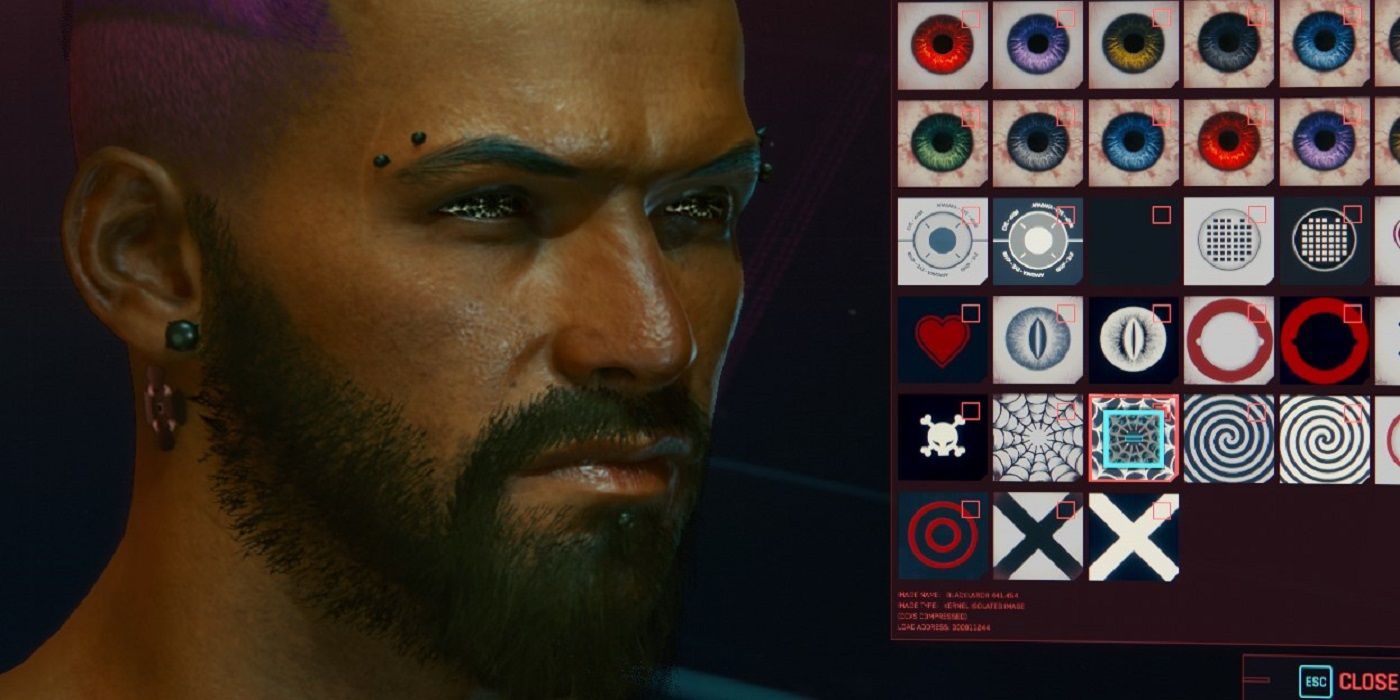 Face
Eyes
There are 21 different kinds of eyes, each with different shapes.
Eye Colour
Once you've chosen your eye you should edit your eye colour – though this isn't just colour, as there are dozens of unique iris designs to choose from.
Eyebrows
Nine kinds of eyebrows, including the option to shave them off entirely.
Eyebrow Colour
Eight different eyebrow colours are available, and you need eyebrows to edit this, obviously.
Nose
There are 21 different noses to choose from.
Mouth
Select from one of 21 different mouth shapes – though any are fine, really, V isn't too expressive in practice.
Jaw
Feel free to give you V either a more thick and firm, or softer jawline from one of 21.
Ears
21 different kinds of ears, no option to chop them off, luckily.
Beard
There are 13 kinds of beards including the clean-shaven option, and yes, any body type V can wear a beard.
Beard Style
There are seven types of beard styles too, but they're not available for every beard.
Beard Colour
24 different beard colours honestly feels like overkill, even for me.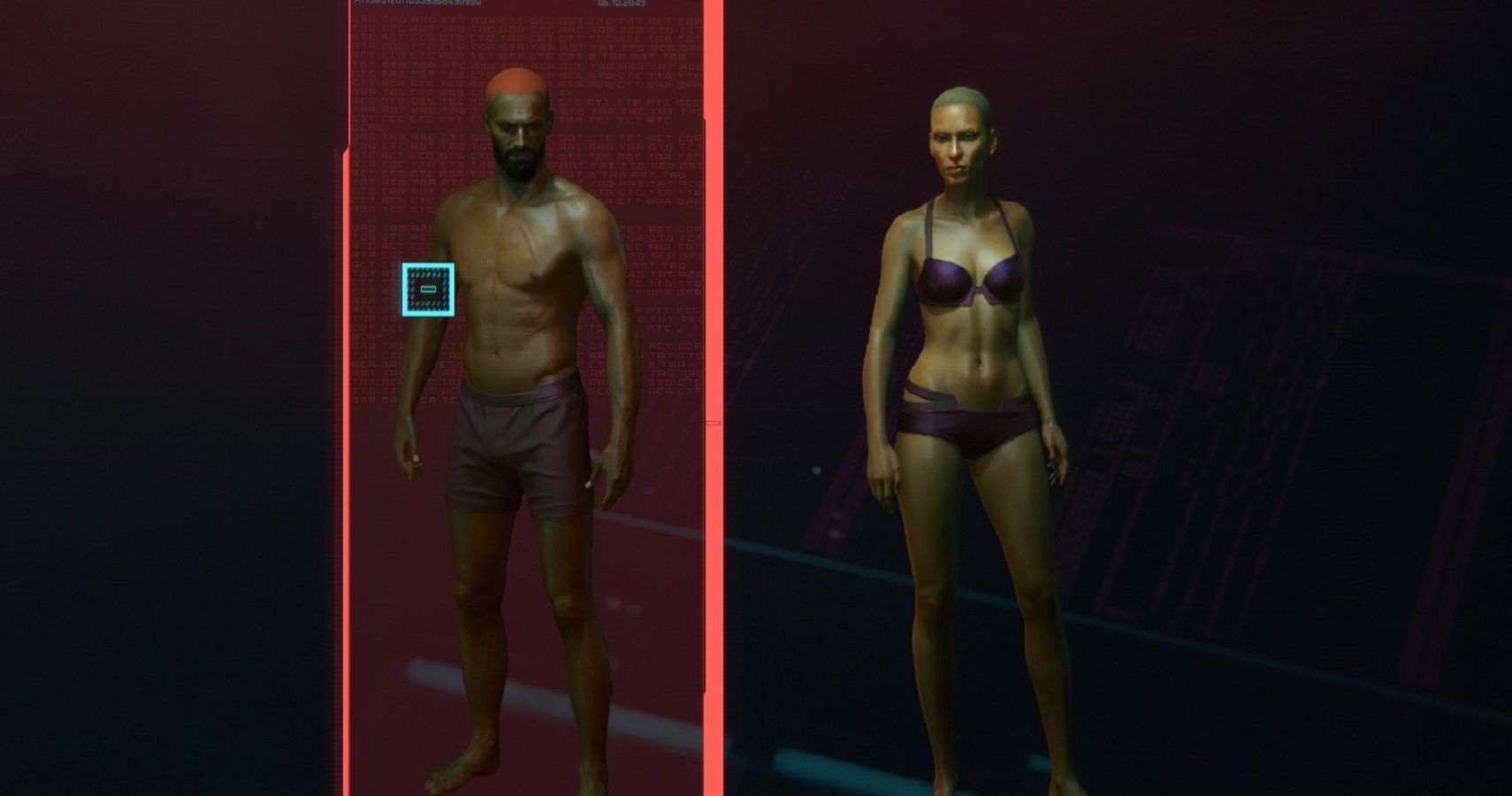 Cyberware
You can either wear one of eight different pieces of cyberware, or turn them off.
Facial Scars
Ten facial scars are available for aesthetic purposes, including off.
Facial Tattoos
Pick from one of 11 facial tattoos, or turn them off.
Piercings
16 different kinds of piercing can be selected, including off.
Piercing Colour
You can change your piercings to one of 7 colours.
Teeth
There are four pairs of alternate teeth to wear, but only the default doesn't look… unhygienic…
Eye Makeup
Eight different kinds of eye makeup are available, or you can turn them off.
Eye Makeup Colour
Nine different colours are available for your choice of eye makeup.
Lip Makeup
Six styles of lip makeup, or the option to wear none.
Lip Makeup Colour
Nine shades to change up your lip makeup.
Cheek Makeup
Six styles of blush, not bad.
Cheek Makeup Colour
Three shades for that aforementioned blush.
Blemishes
There are three kinds of blemishes, or you can walk around looking "perfect."
Blemish Colour
Six different colours are available to change up the blemishes.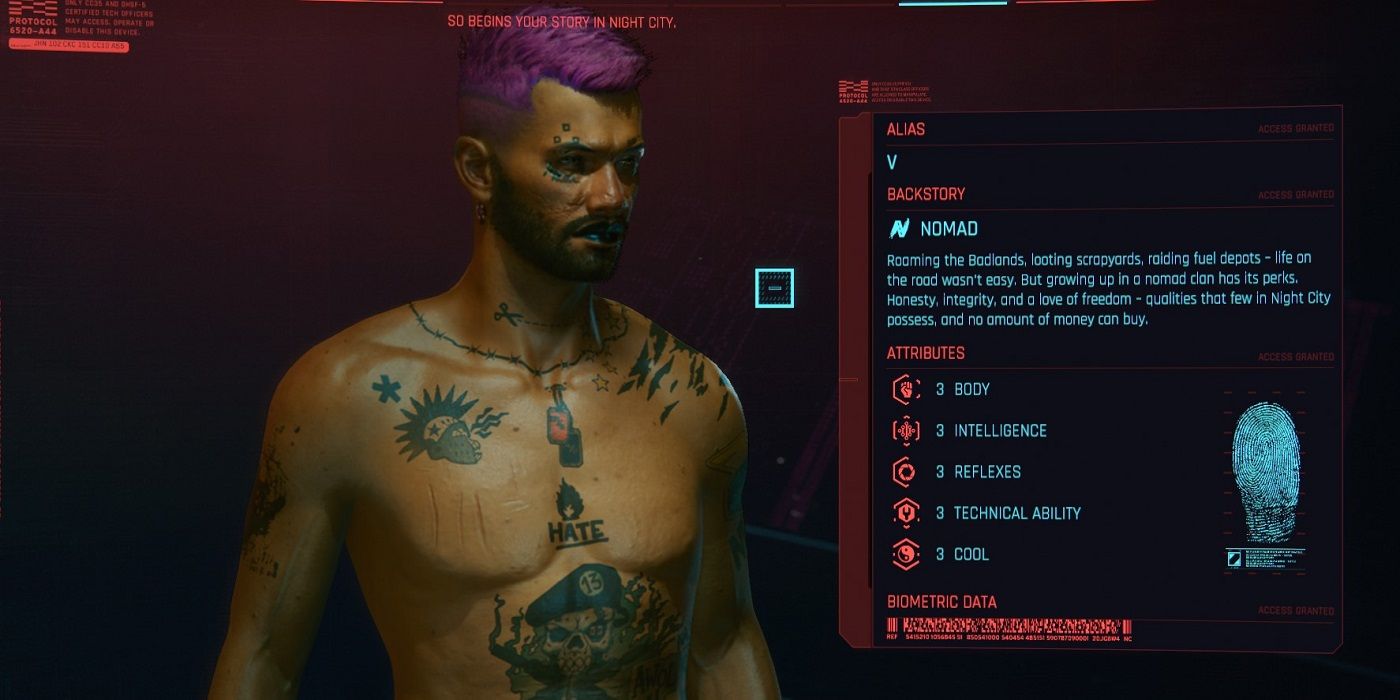 Body
Nails
You can choose between long or short nails – go long.
Nail Colour
37 different colours and designs for your nails is why you should go long, to make the most of it! I went with flames, personally.
Nipples
You can toggle nipples on or off. I don't know how to feel about this one.
Body Tattoos
Four different types or tattoos, or you can turn them off.
Body Scars
Two kinds of scarring, or you can turn it off.
Genitals
You have options here: Penis 1, Penis 2, Vagina, or Off. All of these choices are valid irrespective of your other selections, and that's all that matters.
Penis Size
If you choose Penis 1 or Penis 2, you can change it from Default to Small or Big. Tough choices.
Pubic Hair Style
5 different styles of public hair, or you can wax it clean.
Pubic Hair Colour
Only five public hair colours feels like a rip-off at this point.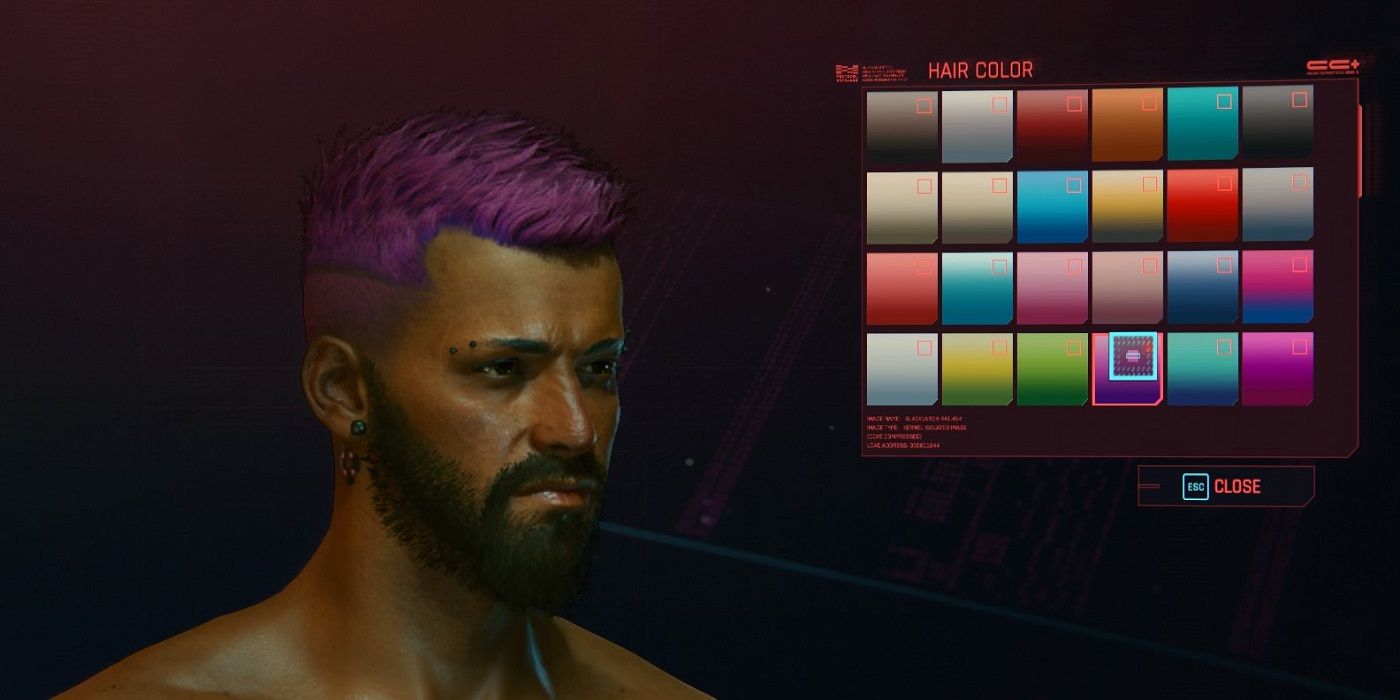 Skill Allocation
Finally, once you've completed all of the different cosmetic choices you're given a Skill Allocation screen, and other than your choice between Male/Female body types and voices, this is the only one that will affect gameplay. If you're uncertain or want to double-check your options before you get started with the game, you can actually skip this screen and spend your skill points later, if you wish.
Our best bet is to jump into all of our Cyberpunk 2077 Build Guides, which will give you a good idea of what you should spec your skill points into before you make any decisions that you will wind up regretting – which is easily done in a game of this scope and scale.
And once you're done there, make sure to check our guide to all of the single-point perks you can buy dirt cheap.
NEXT: Cyberpunk 2077 Complete Guide And Walkthrough
Cyberpunk 2077 is available for PC on GOG.COM, Steam and Epic, Xbox One, Xbox Series X|S, PlayStation 4, PlayStation 5, and Stadia from December 10, 2020. When you buy Cyberpunk 2077 on GOG.COM, 100% of your money goes to CD PROJEKT Group and supports their future projects.
These articles are posted in affiliation with GOG.COM. TheGamer received compensation from GOG Sp. z o.o. for affiliating these articles with their brand.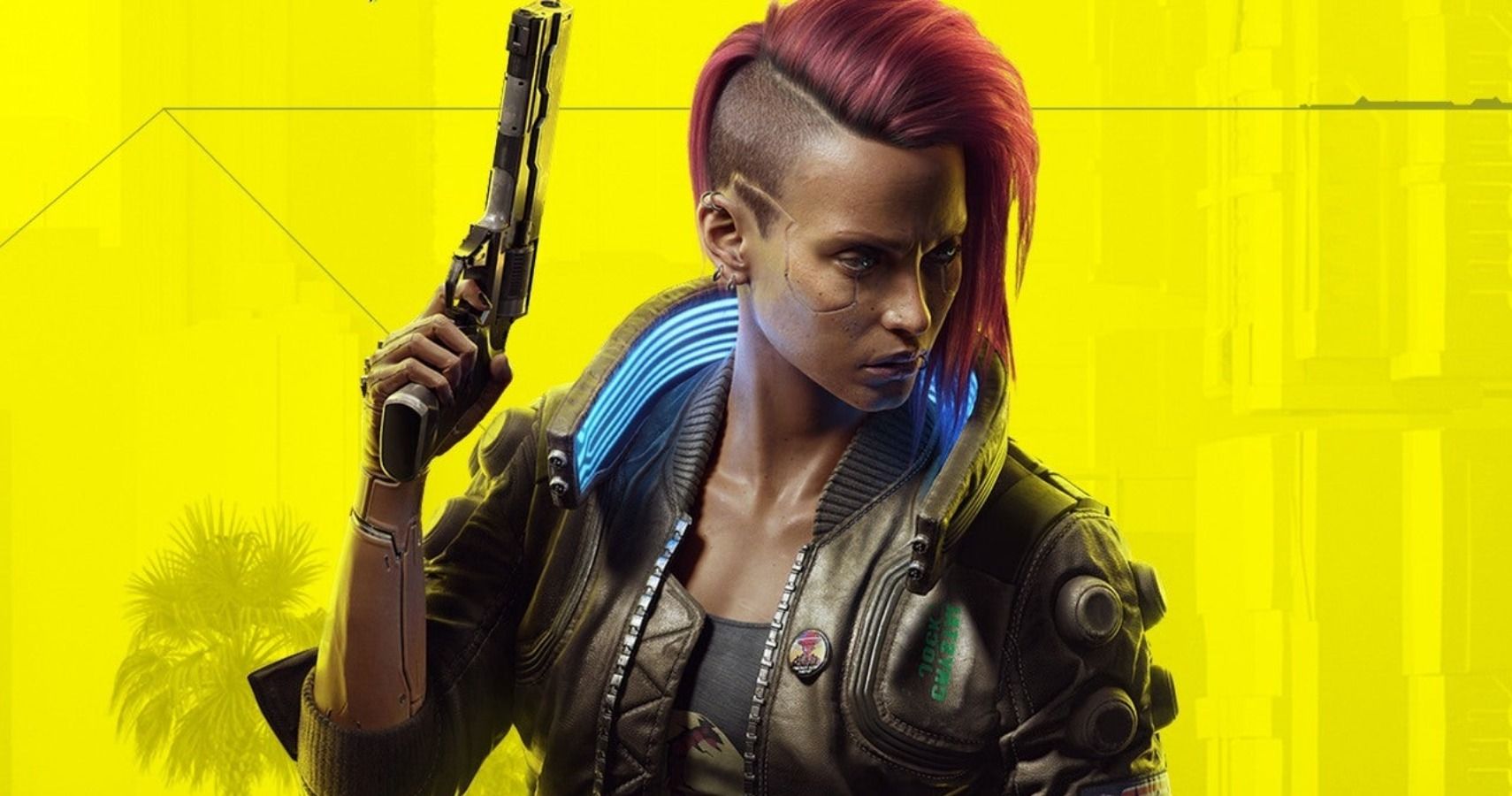 Guides
PC
Cyberpunk 2077
Xbox One
ps4
GOG
TheGamer Guides Editor. Opinionated about Nintendo.
Source: Read Full Article