Cyberpunk 2077 has hit the Steam Best Sellers list, alongside hitting "Very Positive" reviews.
We probably don't need to tell you that Cyberpunk 2077 had a rough launch last December. As one of the most anticipated games of all time, it released with bugs, crashes, unfilled promises, and a general sense of buyer's regret. It even got removed from the PlayStation Store for a time thanks to how broken it was.
It's looking like things might be about to change, however. Cyberpunk 2077 was recently given a 50 percent discount on Steam, dropping it from £49.99 to £24.99. Because of this, it's nearly managed to reach the top of the Steam charts in the UK, with Football Manager 2022 just managing to beat it for the number one spot.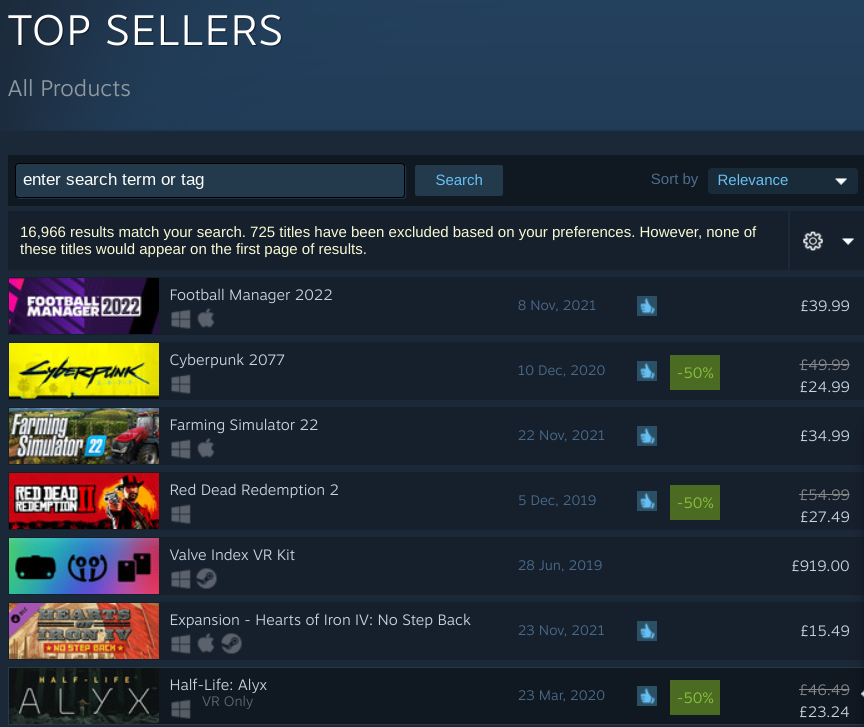 It's likely that in other parts of the world, Cyberpunk 2077 is sitting at the top of the charts. Alongside – or perhaps because of – the sale, Cyberpunk 2077 has also managed to hit "Very Positive" reviews on Steam. It still currently stands at "Mostly Positive" overall, but the recent reviews have all been "Very Positive". 19,000 players have decided to review the game over the past 30 days, with no clear reason beyond the sale for doing so.
One highly-rated review on the Steam page seems to highlight how players are feeling about Cyberpunk 2077 nearly a year later, "At this point hating Cyberpunk is a bandwagon, if you meet the requirements of the game, the game at this version plays very well on PC".
As reported by VGC, Pawel Sasko, quest director for Cyberpunk 2077, Tweeted about the sudden rush of positive reviews, saying, "Last days Cyberpunk 2077 received a flood of very positive reviews on Steam from the new players. You can't imagine what it means to me.", later Tweeting out, "Over 15K very positive reviews in the last days, while both Cyberpunk 2077 and The Witcher3 are on the global list of Steam top sellers. Thank you so much!"
Source: Read Full Article