Quick Links
How To Get Scrooge McDuck In Disney Dreamlight Valley
Scrooge McDuck Friendship Levels And Rewards
Disney Dreamlight Valley features a broad collection of Disney's most iconic animated characters to meet and populate the world of the valley. Scrooge McDuck, part of the Donald Duck lineage, seems like a natural fit to run the valley's main store and its major investor in real estate.
Building up a friendship with Scrooge McDuck starts very early in the game, with the store being one of the first things you bring back from The Forgetting. As you and Scrooge connect and share your coin you will learn a few key things that open up the wider world of the valley, and earn friendship rewards along the way.
Disney Dreamlight Valley is currently in Early Access, and all content is subject to change. We'll update this guide accordingly should anything differ.
How To Get Scrooge McDuck In Disney Dreamlight Valley
Starting With Scrooge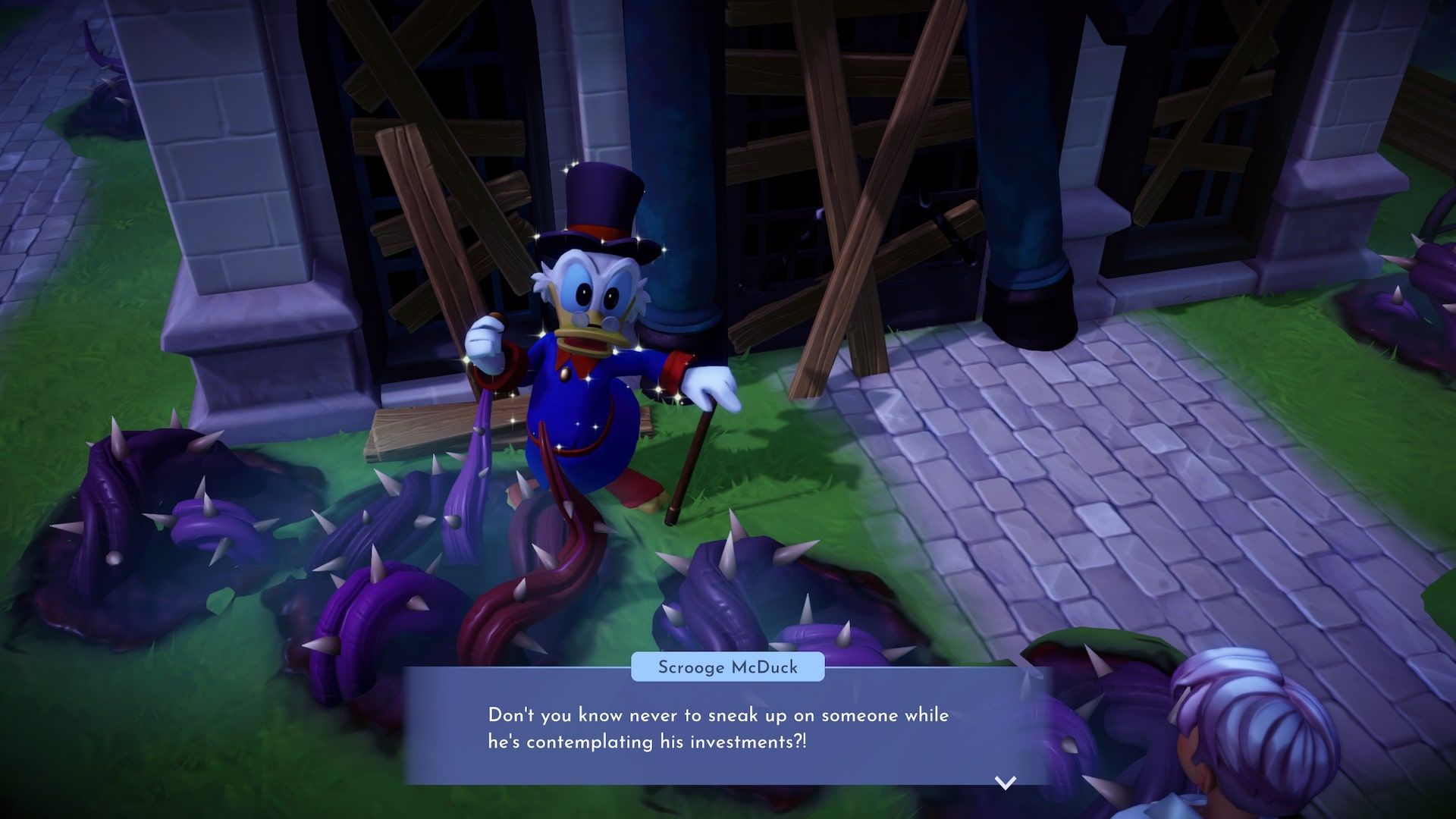 After you meet Merlin at the start of the game, he will ask you to find Scrooge McDuck. You will locate him outside his store, directly to the south of the village well, surrounded by night thorns. Clear the thorns and talk to Scrooge here.
He will request that you find Goofy and help him to open his stall, meaning that you will be able to sell items. You'll find Goofy in his house, in the meadow to the south.
Together you'll go on a fishing trip, learning how to catch fish. Open the stall and sell Goofy the fish you have caught, as you will need 1,000 coins to renovate Scrooge McDuck's store and reopen it.
Once you've done this and the building is renovated, you will clear the first friendship level, unlocking access to the store and further friendship levels.
Progress further with the store quests to fully unlock abilities through Scrooge. This will first mean purchasing an item from the store, and then getting new customers into the store in various ways. This includes advertising the store by switching to the store brand shirt you are given.
After this, Scrooge will announce that you've gathered enough customers to plan for the grand reopening. You will need to craft plant pots featuring flowers that grow in the meadow to the south, which unlocks the crafting ability. Scrooge then gifts you a crafting bench.
Once the re-opening is complete, you have to invest in the economy by mining gems and selling them to Goofy. This will allow you to invest in building upgrades for your own house.
Scrooge's Store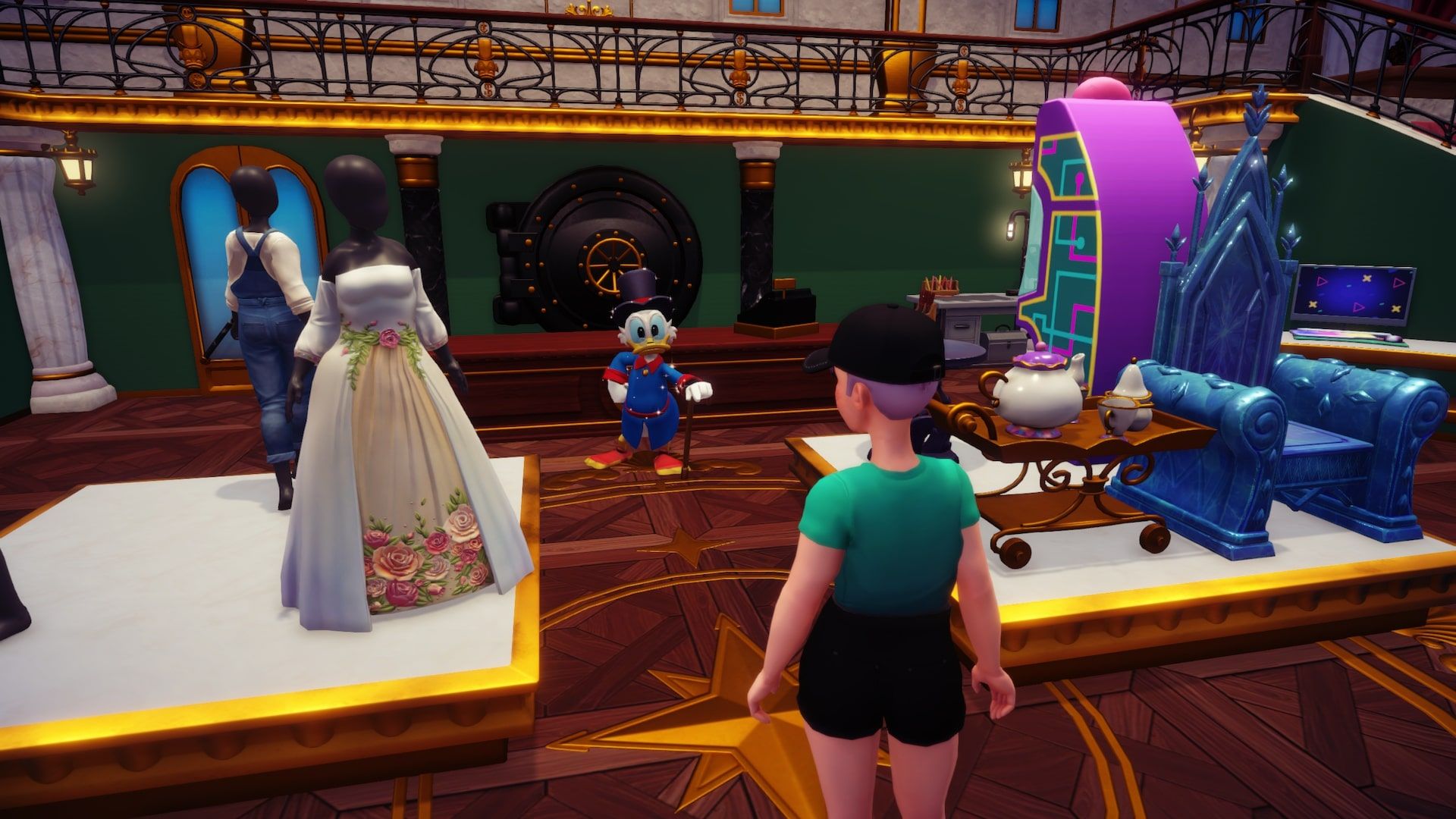 There'll be an array of furniture and clothing items on display in the store you can walk up to and purchase, and which rotate daily — some special, and some mundane. You can upgrade the store, adding to its stock, by using the sign outside and purchasing the upgrade with coins.
If you are looking for simple items, or are looking to buy a copy of an item you have already unlocked and placed in the world, you can approach Scrooge in the store and request them from him directly.
Scrooge McDuck Friendship Levels And Rewards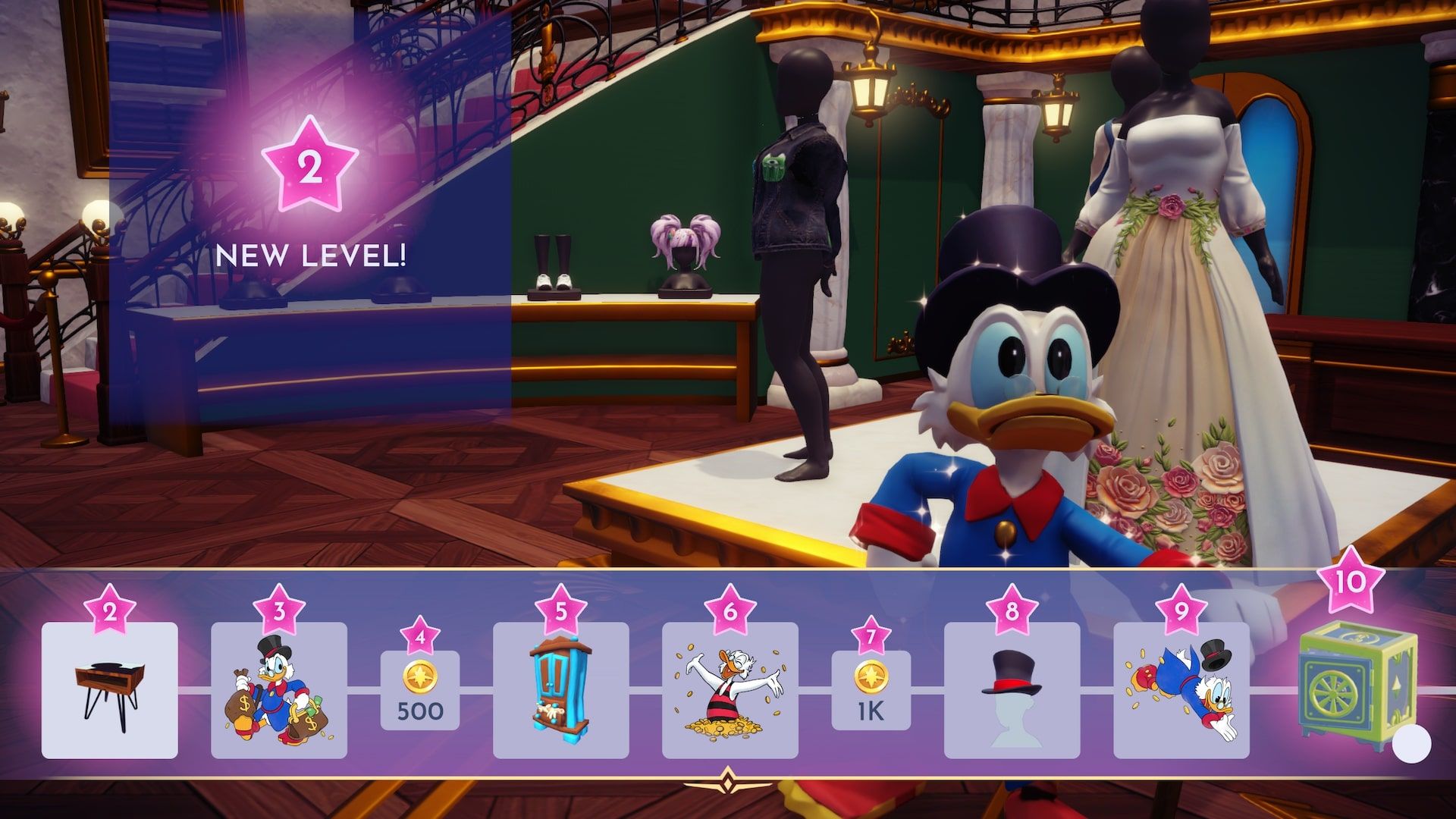 Scrooge spends most of his time in the store, always being there to cater to your requests and take your coin — unless the two of you hang out. Completing resource-related actions in the game world alongside a character will increase friendship levels the quickest.
At each friendship level you'll earn a reward from your friend, and the help they can give with the task you assign them increases.
The rewards that Scrooge McDuck gives are as follows:
| Level | Reward |
| --- | --- |
| Level 1 | Store Opening |
| Level 2 | Record Player |
| Level 3 | Outfit Overlay: Scrooge With Money Bags |
| Level 4 | 500 Coins |
| Level 5 | Mickey Mouse Hands Wardrobe |
| Level 6 | Outfit Overlay: Scrooge Bathing In Coins |
| Level 7 | 1,000 Coins |
| Level 8 | Scrooge McDuck's Top Hat Outfit |
| Level 9 | Outfit Overlay: Scrooge Diving Into Coins |
| Level 10 | Scrooge McDuck's Safe |
To gain access to the level ten reward, you must complete each of Scrooge's friend quests.
Source: Read Full Article