Fall Guys was once a dead game. When it launched as a PlayStation Plus freebie during the pandemic it briefly took over the world, with Mediatonic becoming an established name in the gaming echochamber as millions of us rushed to collect crowns as clumsy, adorably dressed little beans.
It was great, but a lack of meaningful updates and the reality of things fading from popularity after reaching their apex bit Fall Guys hard, so much so that it gained a reputation for fading from the zeitgeist so damn quickly. All of a sudden nobody was talking about it anymore.
Now it's gone free-to-play across all platforms, attracting a whole new audience of new and familiar players that commands our attention in a way the vanilla release simply didn't. Being on multiple consoles also helps, with Fall Guys now available across PlayStation, Xbox, Nintendo Switch and PC with a progression system that encourages regular casual play in exchange for worthwhile rewards and cosmetics. No longer do those who missed out on the PlayStation Plus window need to shell out for the paid version to join their friends and see what all the hype is about, now anyone can jump in without fear of being pushed away.
This was arguably part of Fall Guys' initial downfall in the first place. PlayStation Plus is often a place for new titles to release, especially experimental multiplayer ones, because it all but guarantees a temporary audience of players who can try the game out and either walk away or stick with it. To many developers I imagine this gamble is worth the effort when combined with the guaranteed profit generated from Sony's upfront payment. Releasing it as a free product also devalued it from day one, with sceptics turned off by the asking price either because their mates got it for free or the appeal wasn't enough.
Fall Guys was unstoppable in the first few months of its release, announcing huge collab skins and seasonal content that encouraged us to jump in and try new modes and levels while naturally progressing our own profile. Yet it either wasn't enough, or similar service games like Fortnite and Apex Legends sought to draw our attention elsewhere. As I mentioned earlier, it wasn't long until nobody was talking about it anymore, so something had to give. The shift to free-to-play was absolutely the right move, and you only need to glance at how Fall Guys is being received in the wider landscape to see why.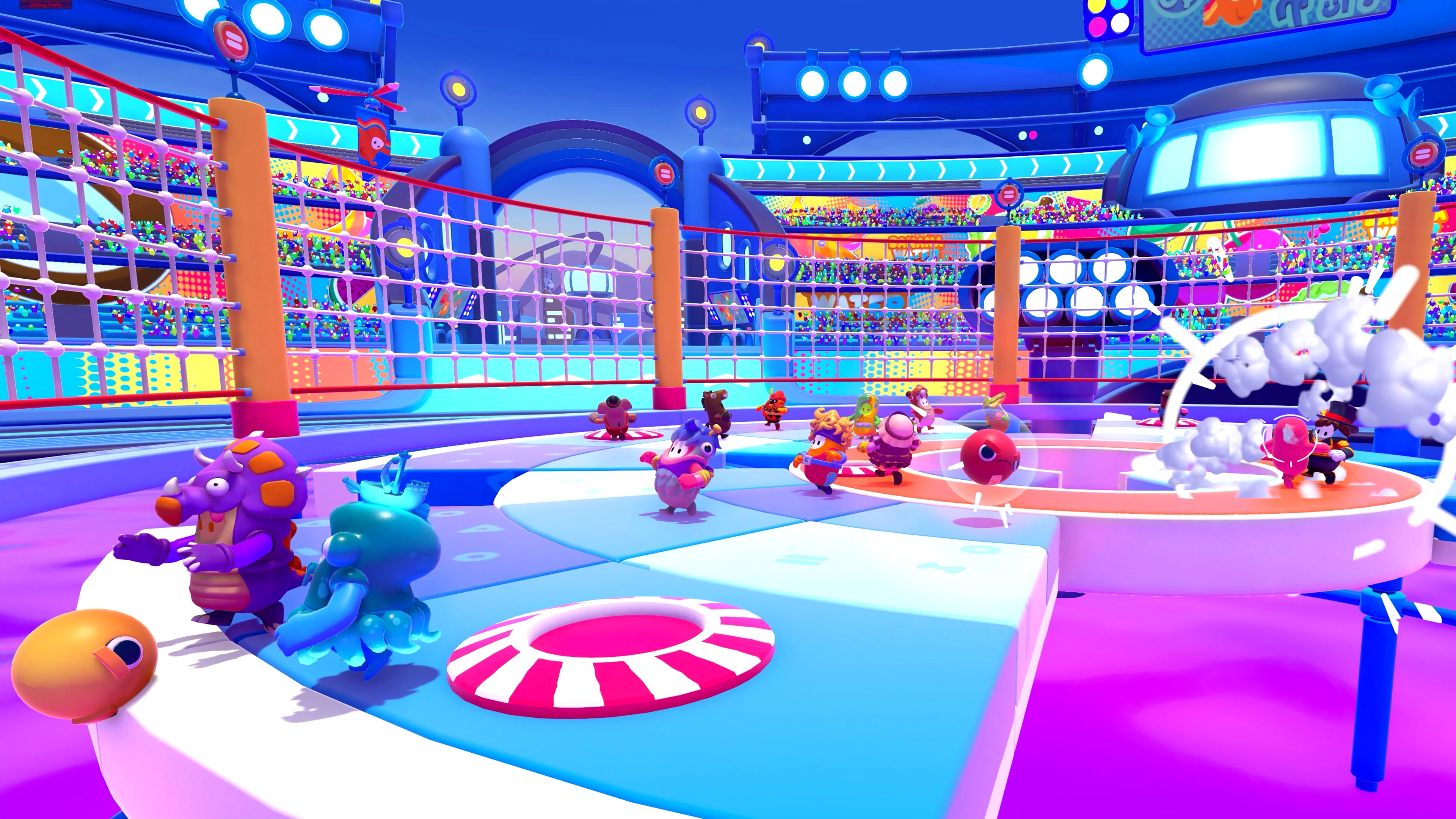 TikTok is filled with Fall Guys content right now, with random clips of epic failures and weird bot exploits attracting millions of views and thousands of likes. The game's charming mixture of slapstick violence and unintentional wipeouts makes it a perfect spectator sport, and its free-to-play nature means these observers can become players in an instant.
All of a sudden you aren't watching, you're playing and recreating the very same moments that caught your attention in the first place. Fall Guys is such a simple concept that it's hard to believe a similar game didn't emerge before it, with Mediatonic capitalising upon a new market that has now spawned clones and copycats across myriad platforms. Even Nintendo is getting in on the action with the upcoming Kirby's Dream Buffet. And who can blame it?
I also prefer its new mode of progression, which can now lean into free-to-play stylings instead of treating its microtransactions as a form of dirty trickery that must be hidden away. Now you can purchase fancier skins outright or use premium currency to advance the battle pass at your own pace. If not, regular play appears to give enough experience to ensure you don't need to spend a penny anyway.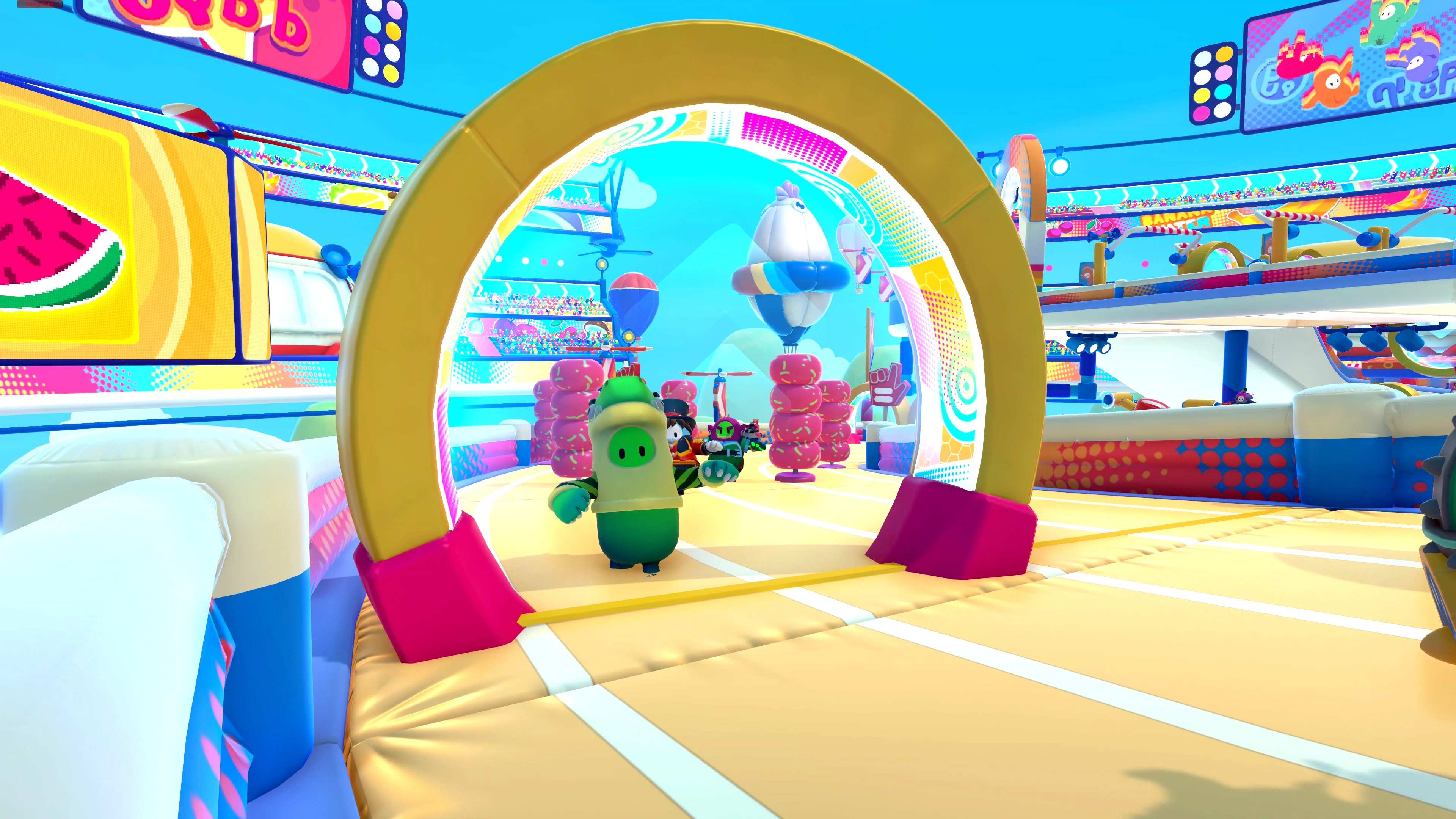 After playing one game – and winning it, I might add – I went up several levels and had so many new cosmetics to play with. One of the best things about Fall Guys is how items compliment each other. Colours, clothing, and accessories can be mixed and matched to create a bean that represents a specific look or personality, whether it be a weird wolf furry with an Ezio Jacket or the imposter from Among Us. It isn't the crossover singularity that Fortnite has become, but it's getting there. Please add a John Cena bean. John Beana.
Epic Games took over the world with Fortnite, and upon its purchase of Mediatonic many assumed it would do the same with Fall Guys. Now it has all the battle royale's finest free-to-play qualities, providing frequent incentives to keep playing alongside progression that consistently rewards us for doing the smallest of things. Fall Guys might not have had this momentum as a free-to-play experience from the start, but now it feels like the game couldn't exist in any other form. It was fading away before things changed, and now I can see myself dipping into it time and time again both alone and with friends.
Source: Read Full Article