Getting noticed on Steam can be a tough task for small developers. However, it looks like one publisher and developer, Very Positive, has found a way to pull a fast one on Steam users. For clarity, yes, that's the studio name, Very Positive.
As highlighted by an excellent investigation into a bizarre game by The GameDiscoverCo Newsletter, there's something fishy going on with the game Emoji Evolution. At a pass, it just looks like another small independent title that found a little slice of the internet to appeal to, but its Steam rankings are suspicious.  While you can't prove anything nefarious is going on, a lot of the positive reviews all read eerily similar, and a deeper dive into those reviews may set off a few red flags.
Related: Steam China Only Has 53 Games
But that's not the only weird thing going on with Emoji Evolution. All of those early reviews are positive, yes, but the more recent reviews from users who purchased the game after its fishy launch into the Steam Top 5 for the week seem to be more dissatisfied. The section in All Reviews currently reads as "Mostly Positive" while Recent Reviews are marked as "Mixed." If you take a look at the developer and publisher labels though, there's something a little fishier. The studio's company name is Very Positive. If you're quickly scrolling through, you may miss other warnings that Emoji Evolution isn't for you and only see that developer and publisher label.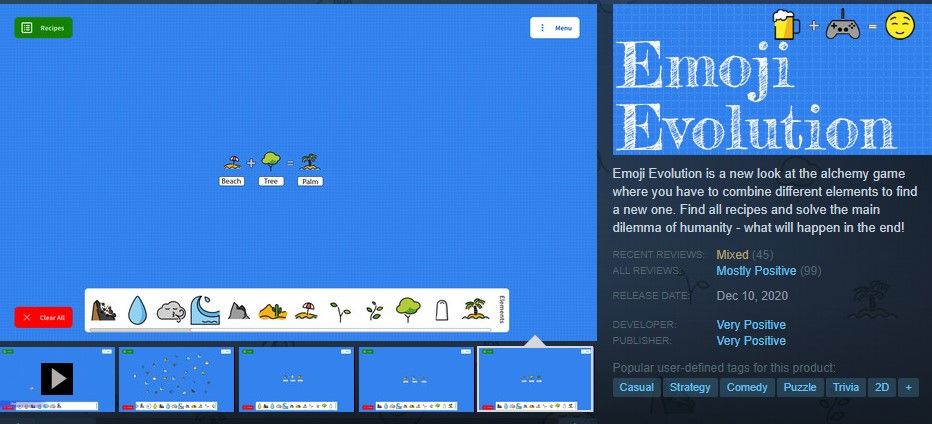 Seems kind of crummy, yeah? It even took me a moment to understand what was going on here, as I initially thought Steam must've implemented some new ratings system I totally missed.
The GameDiscoverCo Newsletter highlights that at the end of the day, there's honestly not a ton of money to be made off of manipulative practices like this when you do the math, but it's still crummy. In all likelihood, Steam will eventually investigate whatever strangeness is going on here and take action to correct or reprimand. Until then, just make sure Emoji Evolution is actually what you want, and that other developers aren't following suit.
Source: Read Full Article