The time has come once again for Pro Day, GameStop's exclusive sale for PowerUp Rewards Pro members. The one-day savings will commence both online and in-stores on April 24, starting right on the 12am mark online and at 12pm in stores.
The biggest deal being advertised is $20 0ff select Nintendo Switch games that star Mario. Nintendo games rarely go on sale, and when they do, it's rarely this much of a discount. That said, the ad only shows New Super Mario Bros. U Deluxe and Mario Kart 8. Both are great games, but Super Mario 3D World + Bowser's Fury is the superior co-op platformer, and most Switch owners probably already have Mario Kart 8 at this point. Still, there are other Switch sales that might be worth your time. Many Lego games are part of the deal, and family favorites like Paw Patrol and Just Dance 2021 are featured.
The PlayStation and Xbox side of things features many of last year's hits for PS4 and Xbox One. The notorious Cyberpunk 2077 runs as low as $24.99, while the solid Persona 5 Royal goes for $29.99. Yakuza: Like a Dragon, one of the most underrated games of 2020, is also at a can't-miss price. For those who don't mind used games, Xbox One/PS4 titles are buy two, get one free.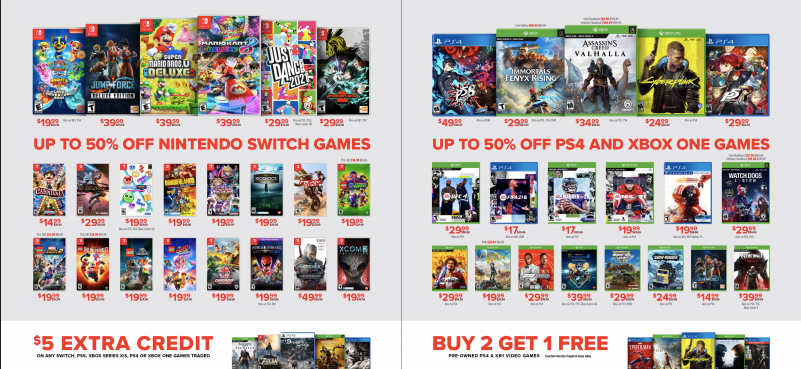 PC players can find some decent deals on accessories. The HyperX Alloy Origins, a solid mechanical keyboard, is available for $30 off, bringing it to $79.99. Or if you need a whole new setup, Razer has a bundle with mouse, keyboard, and mouse mat for $59.99. Several headsets of different price points and platforms are involved, too, in case you're in the market for an upgrade.
Finally, collectors can look forward to the usual buy two, get one free on regular-sized Funko Pops. Several statues, figures, and t-shirts round out the collectible offerings. Trading card fans might also want to drop by, as certain Magic: The Gathering and Yu-Gi-Oh! products are buy one, get one 50% off.
Summer is generally a slow time for game releases, and perhaps even more so this year as big games keep getting delayed. GameStop's Pro Day Sale is a good excuse to stock up on some summer vacation games.
Next: Witcher 10 Hidden Details You Never Noticed About Geralt's Fighting Style
Source: Read Full Article