Quick Links
Kujou Sara's Ascension Materials
Kujou Sara's Talent Materials
Where To Find Kujou Sara's Materials
Initially released alongside Raiden Shogun in Genshin Impact's Inazuma update, Kujou Sara is the game's second Electro Bow wielder. A general of the Tenryou Commission, Kujou Sara navigates the battlefield with tact and poise, buffing your team while dealing out thundering Electro strikes of her own.
Kujou Sara is a niche support who may not be the most powerful on her own, but she'll only grow in relevance as Genshin Impact introduces more Electro characters like Yae Miko. Plus, since she's a 4-star character, Kujou Sara's Constellations are slightly more attainable than those of others as she continues to appear on banners. Thus, there is no better time than the present to level up Kujou Sara for your team, and this guide will tell you all the materials needed to do it.
Kujou Sara's Ascension Materials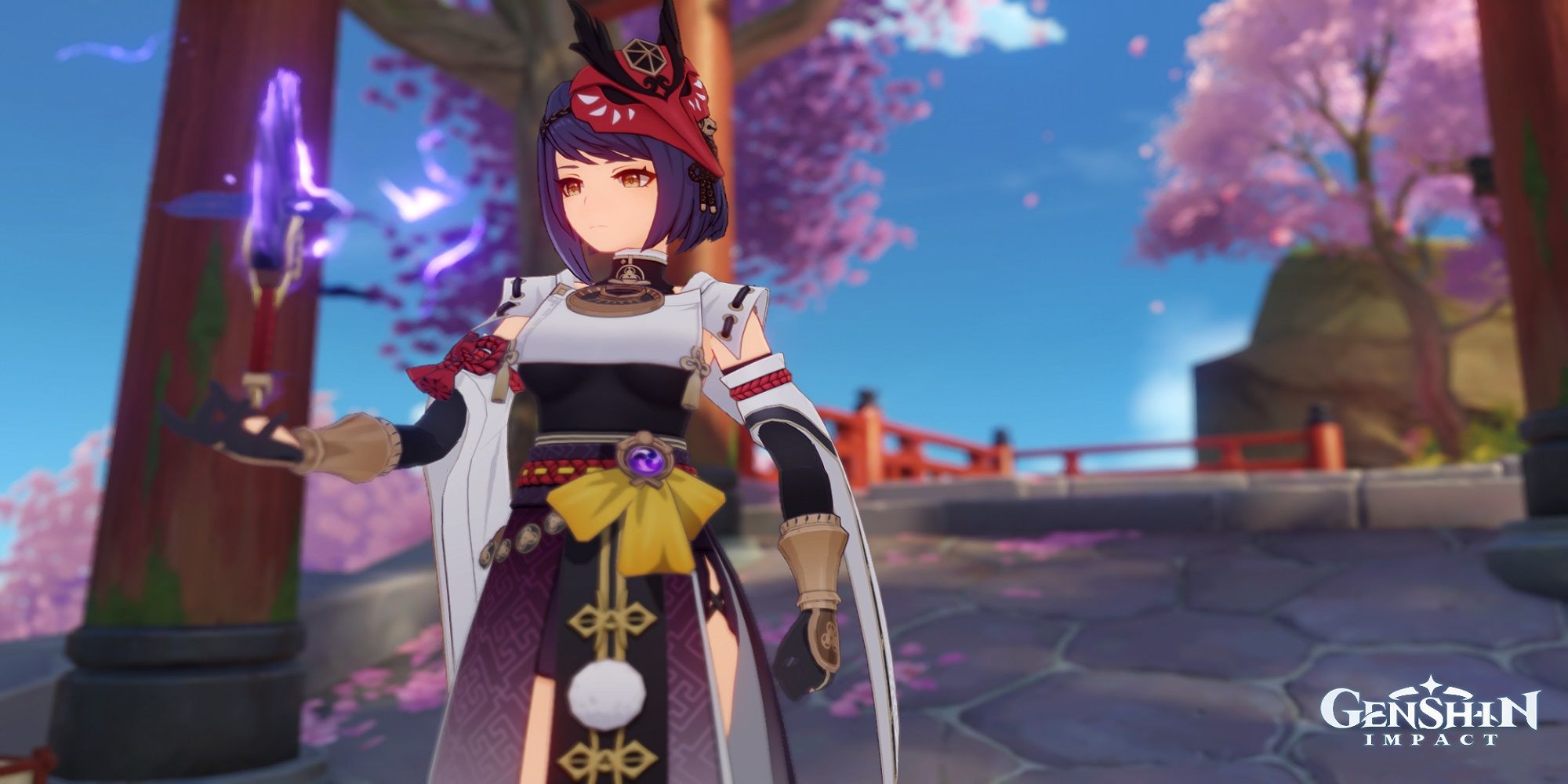 Ascension Phase
Required Materials
1

20,000 Mora
1 Vajrada Amethyst Sliver
3 Dendrobium
3 Damaged Masks

2

40,000 Mora
3 Vajrada Amethyst Fragments
2 Storm Beads
10 Dendrobium
15 Damaged Masks

3

60,000 Mora
6 Vajrada Amethyst Fragments
4 Storm Beads
20 Dendrobium
12 Stained Masks

4

80,000 Mora
3 Vajrada Amethyst Chunks
8 Storm Beads
30 Dendrobium
18 Stained Masks

5

100,000 Mora
6 Vajrada Amethyst Chunks
12 Storm Beads
45 Dendrobium
12 Ominous Masks

6

120,000 Mora
6 Vajrada Amethyst Gemstones
20 Storm Beads
60 Dendrobium
24 Ominous Masks
The material costs shown at each step are independent of each other, not cumulative.
In addition to the above materials, you will also need slightly more than 415 Hero's Wit, along with 1,673,400 Mora, in order to increase Kujou Sara's level all the way to 90/90. If this seems too costly, remember that most supports function quite well around level 60/70, so you can pause her progression there if you're running low on funds.
Kujou Sara's Talent Materials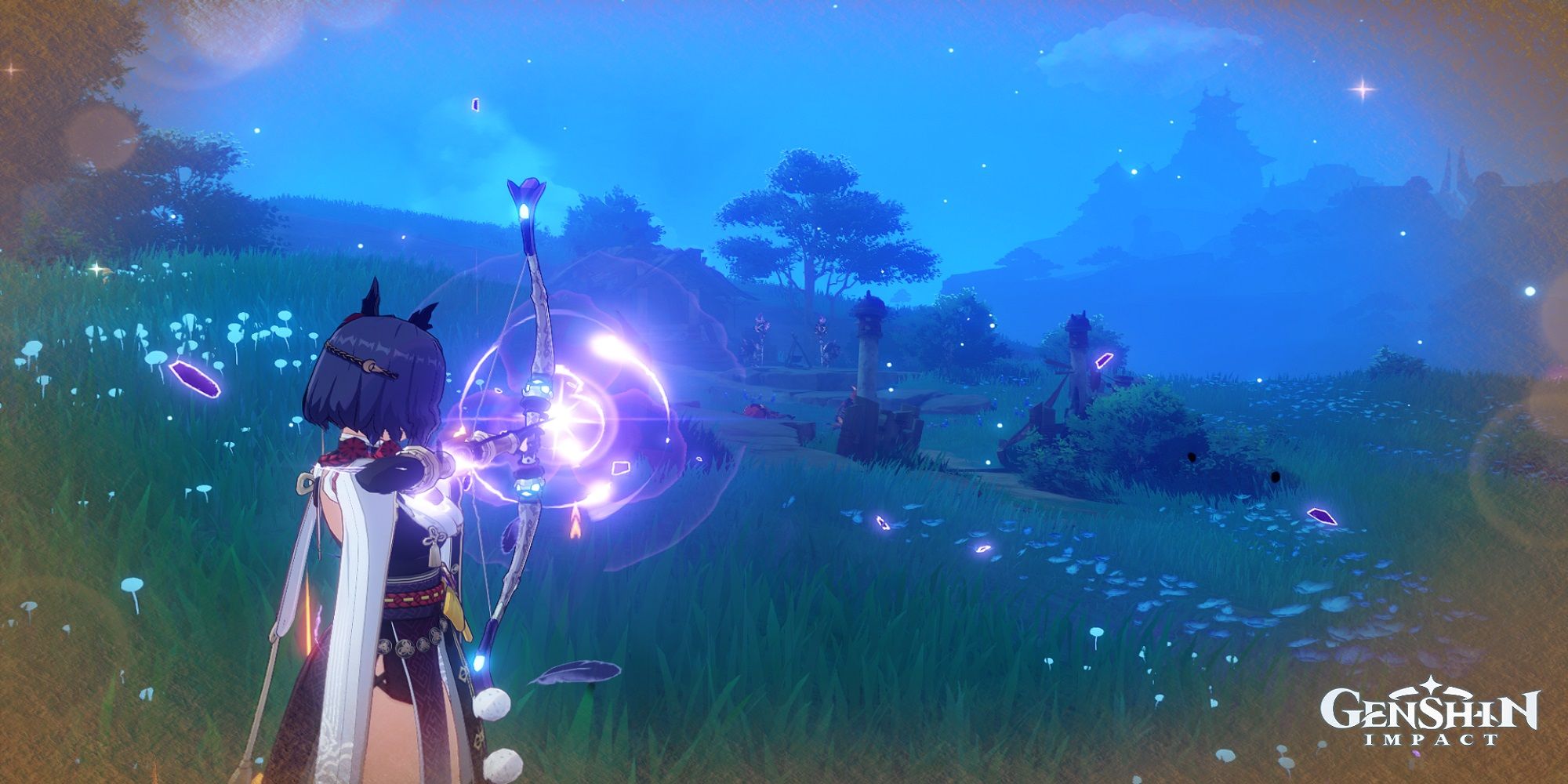 Talent Level
Required Materials
2

12,500 Mora
6 Damaged Masks
3 Teachings of Elegance

3

17,500 Mora
3 Stained Masks
2 Guides to Elegance

4

25,000 Mora
4 Stained Masks
4 Guides to Elegance

5

30,000 Mora
6 Stained Masks
6 Guides to Elegance

6

37,500 Mora
9 Stained Masks
9 Guides to Elegance

7

120,000 Mora
4 Ominous Masks
4 Philosophies of Elegance
1 Ashen Heart

8

260,000 Mora
6 Ominous Masks
6 Philosophies of Elegance
1 Ashen Heart

9

450,000 Mora
9 Ominous Masks
12 Philosophies of Elegance
2 Ashen Hearts

10

700,000 Mora
12 Ominous Masks
16 Philosophies of Elegance
2 Ashen Hearts
1 Crown of Insight
The above chart denotes the material cost for one talent, so you'll need to multiply the values by three if you want to max out all of Kujou Sara's abilities. Once again, this is especially expensive, so make sure you prioritize leveling her Skill and Burst before her Normal Attacks, and also consider leaving her Talents around level seven.
Where To Find Kujou Sara's Materials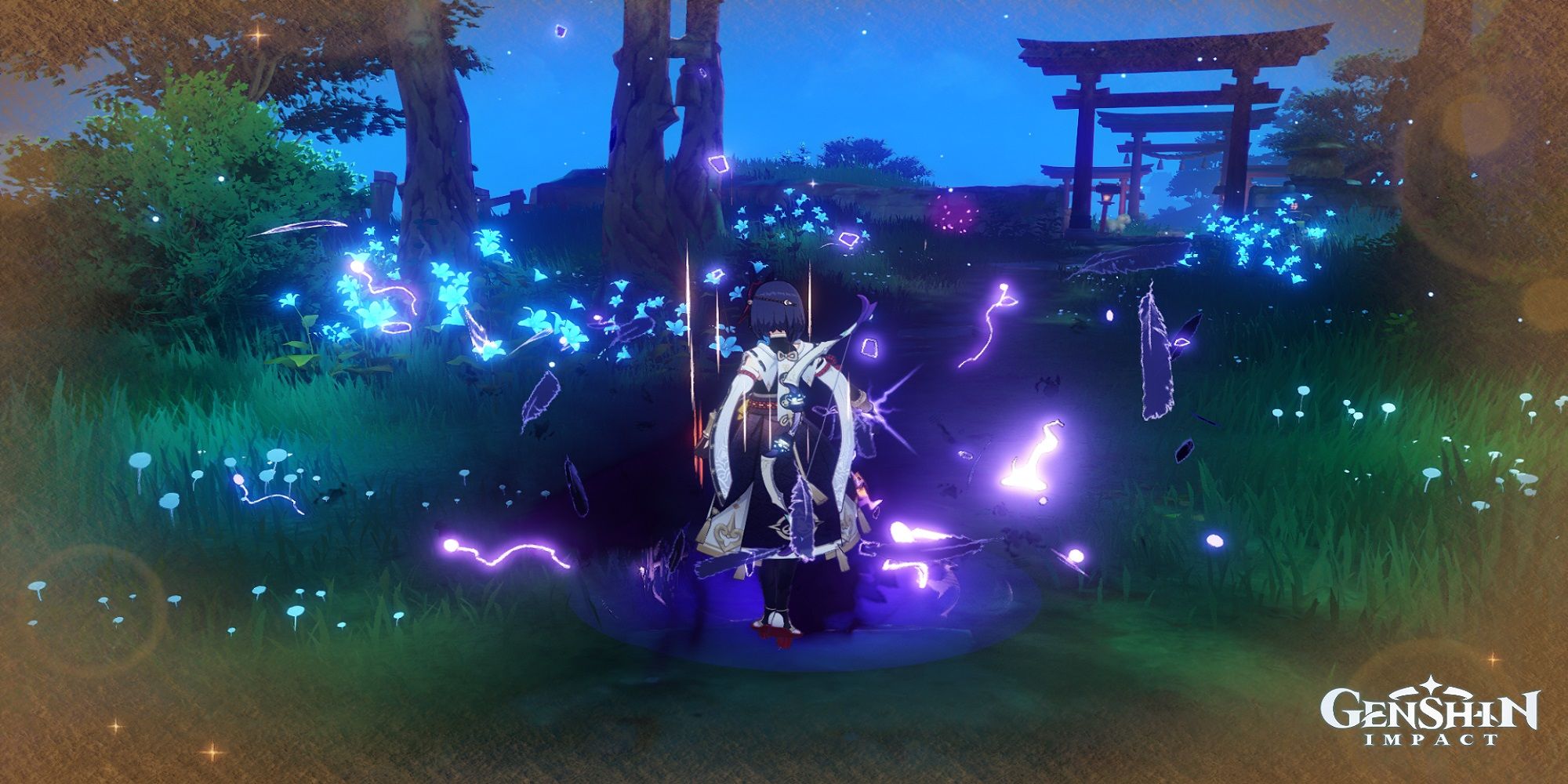 Storm Beads are dropped by the Thunder Manifestation (a.k.a. the "Electro Oceanid") on Seirai Island. This boss respawns every several minutes, and defeating it will grant you roughly 1-3 Storm Beads for the cost of 40 Resin.
All forms of Vajrada Amethyst have a chance to drop from the following Weekly Bosses: Azhdaha, Stormterror, The Shogun, and Childe. They may also drop from these Normal Bosses: the Bathysmal Vishap Herd, the Electro Hypostasis, the Primo Geovishap, and the Thunder Manifestation.
Fighting the Thunder Manifestation is your best bet here since you can acquire Storm Beads at the same time. Remember, too, that you can Craft Vajrada Amethyst to create larger pieces from smaller ones.
Dendrobium can be collected in the wild on Kannazuka and Yashiori Island. Nazuchi Beach in particular is a great spot to find these — just watch out for all the hostile Nobushi.
Damaged Masks, Stained Masks, and Ominous Masks can be sourced from Hilichurls of different levels. Navigate towards high-level Hilichurl encampments using your Adventurer Handbook to farm these masks most efficiently.
Teachings of Elegance, Guides to Elegance, and Philosophies of Elegance can be acquired via the Violet Court Domain every Tuesday, Friday, and Sunday. Bring a team with Electro characters if you want to clear this domain as quickly as possible, and use Condensed Resin to reduce the number of times you'll need to complete it.
Ashen Hearts are one of the possible materials that the Weekly Boss La Signora drops upon her defeat. Molten Moments and Hellfire Butterflies are the other items she might drop, but these can be converted to Ashen Hearts by using Dream Solvent if you so desire.
Lastly, Crowns of Insight are used to bring Kujou Sara's Talents to their highest level and are only obtainable via Limited Time Events. Keep your eye on Genshin Impact's event calendar if you want to acquire more of these for your favorite archer.
Source: Read Full Article