Raise the stakes in the world's first poker strategy game Antematter, available now on Kickstarter.
The tagline on their website makes a bold statement. "Space Pirates. Space Poker. Suit Up." A call to arms, if you will. Those strong and brave enough to take on the challenge will find themselves engaging in a battle of wills that is not for the faint of heart.
With just 15 days to go (at the time of writing), Antematter is approaching 3X funded with more than 675 backers committed to bringing this unique board game to fruition. Bardshark, the company behind the game, is a collective of gamers and artists looking to bring traditional tabletop and digital games to market. If this, their first entry is anything to go by, they certainly have a bright future ahead of them.
A game should take no more than two hours to plays and is for three to six players aged 12 and up. It is played over a series of rounds, split into phases. The game board represents a star system where the game takes place, there are planets placed that offer the opportunity for players to transport cargo to/from. The universe is also full of Nephelium (Poker Chips).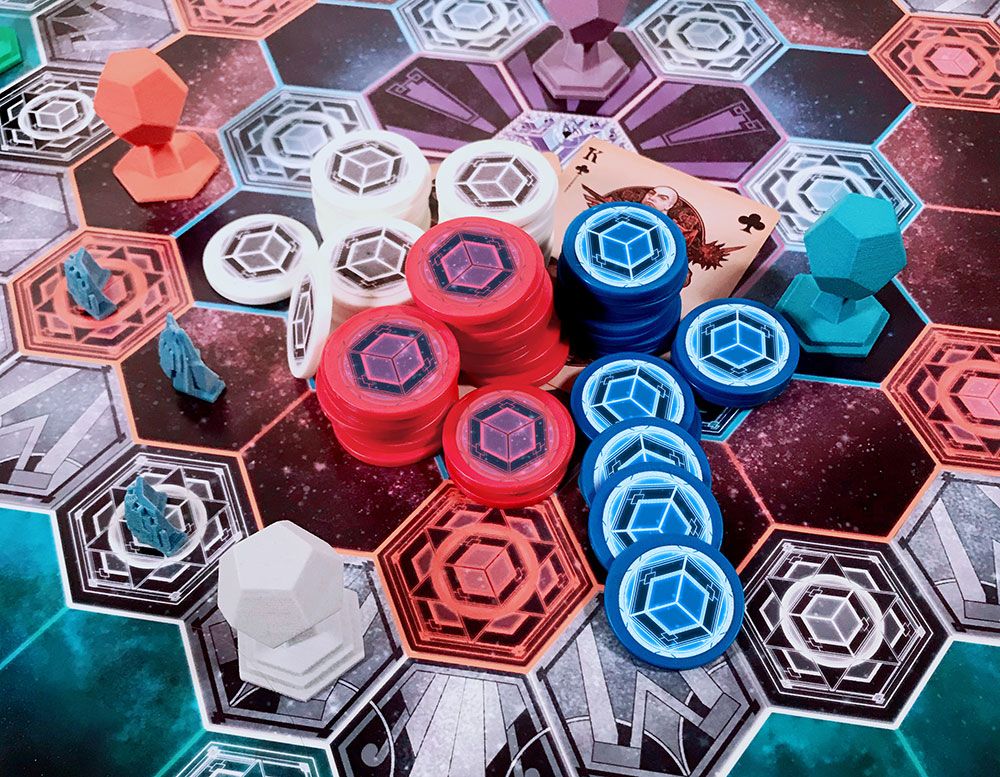 The starting phase is the Loot phase that sees players navigate the universe. By now, each player will have chosen a crew from one of the game's factions and received a deck of crew cards. Each player has three ships that s/he controls; a freighter that can carry cargo and two agile support craft. These are moved around the board with the aim of collecting as many Nephelium as possible. Each time a chip is collected the players also take a crew card that will be used in the poker phase. Players may also play a crew card during this phase that can affect the game in a variety of ways.
Following the loot phase, is the poker phase. Players must play a round of Texas Hold'em style poker that has been specially adapted for Antematter. This gives players the opportunity to take their collected Nephelium and increase their plunder. The cards awarded during the loot phase can be played here during this phase to give the player an advantage as the round progresses.
The game may feel complicated, to begin with, but after a few rounds, it will be second nature. The addition of the poker element brings a unique twist to what would be a fairly straightforward resource gathering affair otherwise. The added randomness of the cards can only be matched by a player's ability to bluff. We can see this being extra fun with six poker-loving players who are looking to mix up their game with that added twist.
Source: Read Full Article