Immortals: Fenyx Rising is upon us, and Ubisoft has revealed the PC specifications for the game. Is your PC mighty enough to run this open-world adventure?
NGON reported on the impressively scalable title for the PC platform and has revealed the specs of Immortals: Fenyx Rising. To run the game at 4K/30fps, you will need an Intel Core i7-8700K or AMD Ryzen 7 3700X with 16GB RAM and 8GB VRAM. Ubisoft also recommends an SSD with all of its high settings.
In order to play the game at its lowest settings, you require for your quest an Intel Core i5-2400 or AMD FX-6300 or higher, 8GB RAM, and 2GB of VRAM with an Nvidia card (3GB for AMD). Windows 7 is also required, but with higher spec systems, Ubisoft recommends Windows 10. If you don't match this, well, there's always the Stadia version.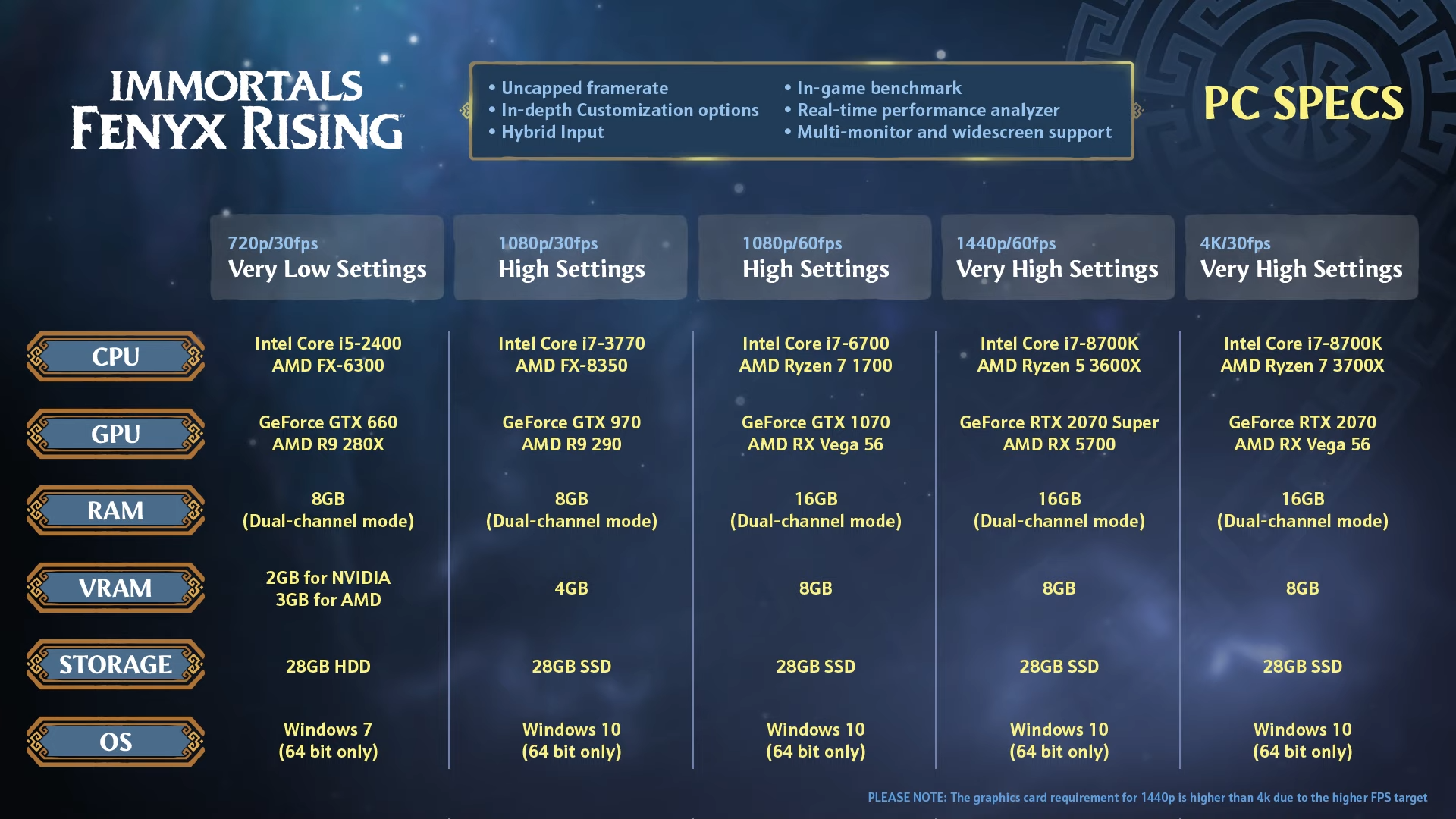 Ubisoft has a suite of impressive features for Immortals' PC release. It includes an uncapped framerate, an in-game benchmark, customization options, multi-monitor support that scales up to a huge 48:9 aspect ratio, AMD's FidelityFX, and hybrid input support. It also supports DirectX11.
For those who are unaware, FidelityFX has an algorithm that adjusts each pixel's level of sharpening to create the best image possible. This means that there will be fewer artifacts on screen and more crisp visuals overall.  It also brings back the detail of images after the blurring of Temporal Anti-Aliasing.
According to NGON, Ubisoft "set out to adapt and develop a fully fledged PC experience" and to use the fully-fledged features of the platform. Ubisoft has also adapted the camera, character, and controls to best fit either the mouse and keyboard or the controller, so players of both playstyles will be happy.
We are impressed from what we've played of Immortals: Fenyx Rising so far. We enjoyed how the story is being delivered in the game and think it outperforms its major influence The Legend of Zelda: Breath of the Wild in that retrospect. The game's lead writer is excited for you to experience Ubisoft's unique take on the Greek gods.
Immortals: Fenyx Rising has already gone gold so the game is very likely to hit its December 3 release date.
Source: Read Full Article