I get this is probably going to come across as an utterly plain April Fools joke, and honestly, that's what I thought when I read it on the official Magic: The Gathering website. But then I remember the all-text lands that Secret Lair produced last year turned out to be real, so we're going to work with the assumption that Wizards will follow through with its promises, no matter how bizarre.
Presenting Secret Lair's "Left-Handed" Magic: The Gathering cards. Yes, they're cards designed for left-handed players. How? Basically, the mana symbols, spell-types, and creature power/toughness values have all swapped to the other side of the card. This allows left-handed players to fan the cards face-up to the left without obstructing crucial information.
In the Left-Handed Secret Lair set is a collection of five classic cards from through Magic's history, one for each of the primary colors. Inside you will find: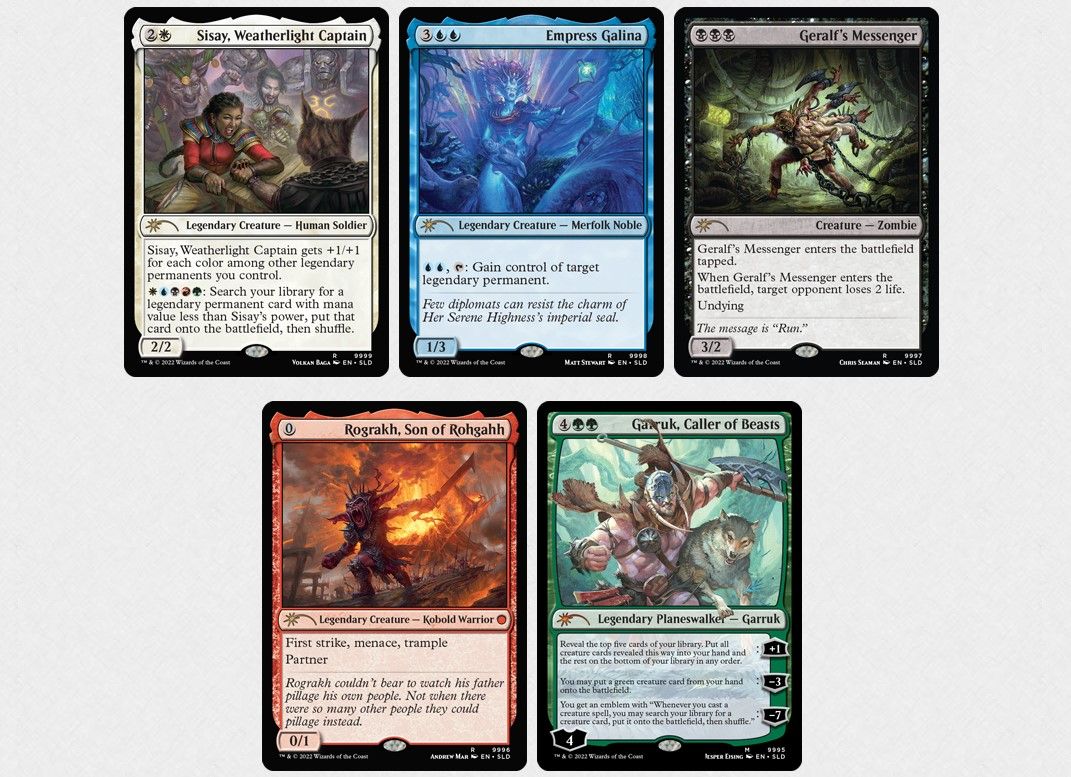 1x Left-Handed Sisay, Weatherlight Captain
1x Left-Handed Empress Galina
1x Left-Handed Geralf's Messenger
1x Left-Handed Rograkh, Son of Rohgahh
1x Left-Handed Garruk, Caller of Beasts
"April Fools'! That story is made up, but these cards are totally real, and you can get your own," wrote Wizards in the official announcement. "No, really! Just take a left at the Secret Lair sign (you can't miss it—it's the one with our left-handed copywriter's inky palm print on it) between 9 a.m. PT April 11 and 9 a.m. May 9 to grab this drop for your deck or collection and score an excellent talking piece—until we update the game and make these frames the real ones forever. That last point was also an April Fools joke. Probably."
As with previous Secret Lair releases, you can get the non-foil versions for $29.99 or the foil versions for $39.99. You can also redeem a set in MTG Arena with your purchase, unless you live in China, Hong Kong, Macao, Singapore, Taiwan, or Vietnam, for some reason.
In other non-April Fools Magic news, Wizards of the Coast is bringing back the Pro Tour sometime in 2023 and replacing Grand Prix with local regional tournaments. Check out our previous coverage for more details.
Source: Read Full Article