Alongside Animal Crossing: New Horizons – which helped to soothe the giant heartache that this year has been – Microsoft's 2020 edition of Microsoft Flight Simulator has been a saving grace for some too. Its pilot database has now passed 2 million, which is an incredible feat for a title that's not been released on consoles yet.
As planes, trains, and automobiles came to a grinding halt during the brunt of lockdown – which has reared its ugly head again in the UK – many civilians were searching for other ways to escape the real world. With nearly all holiday plans cancelled for this year, Microsoft Flight Simulator offered you the chance to squeeze into the pilot's cabin yourself and take off to your dream destination. Despite all your fun being restricted to the cabin, it was still a chance to see the world virtually, and for some, that was enough.
In a recent Xbox blog post, Microsoft celebrated the simulation's milestone of 2 million players to date, marking it as the fastest growing entry in the series. The publisher shared some impressive statistics with the community, detailing that over 50 million flights had been logged in-game, in addition to 3.5 billion miles – the equivalent of flying around the Earth 400 thousand times – accumulated by flight enthusiasts, real-world pilots, and virtual explorers. Microsoft humbly thanked its loyal community, as well as the band of creators that took advantage of the simulation's SDK to create over 500 airports, aircrafts, and other add-ons.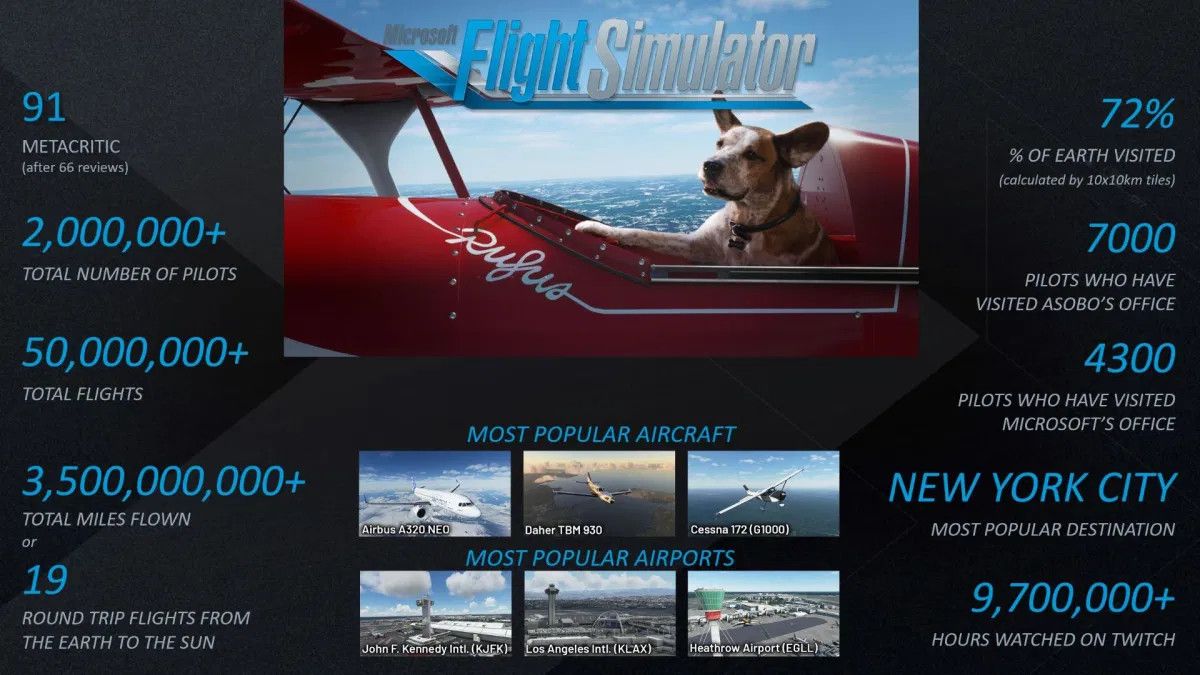 Microsoft Flight Simulator also won the Best Sim/Strategy 2020 award at The Game Awards, and Microsoft announced on the same evening that it would be arriving on Xbox Series X/S in the Summer 2021. To show even more thanks to its community, Microsoft announced that pilots would receive a unique Microsoft Flight Simulator-themed livery with the release of the VR update. To celebrate the festive season, the simulation will also be receiving real-time snow and ice coverage to get you in the Christmas spirit. Now all we need is a mod to pilot Santa's sleigh.
The aforementioned updates are all wonderful additions to an already healthy catalogue of content in the simulator. Recently, Japanese landmarks were added to the game in its first update – for extra wonder to gaze upon from the air. One modder even added a realistic, giant Gundam to a Yokohama factory in Japan, proving that the possibilities are endless for your sky-high travels.
Source: Read Full Article