Quick Links
Prized Mushroom Picker Overview
Prized Mushroom Picker Walkthrough
Monster Hunter Rise: Sunbreak is finally upon us, meaning there are now lots more things for us to hunt, gather, and explore in this incredible world. Whether you like to grind out materials for cool, stylish armor sets or weapons or love the thrill of hunts, there's surely something here for every playstyle.
The Prized Mushroom Picker side quest, for example, is an excellent example of this, as the mission is a cakewalk once you know where to go, and the rewards are more than worth it for what little time and effort is needed to complete it. While some side quests will reward you with cosmetic items, many will give you weapons and other goodies, such as this one.
Prized Mushroom Picker Overview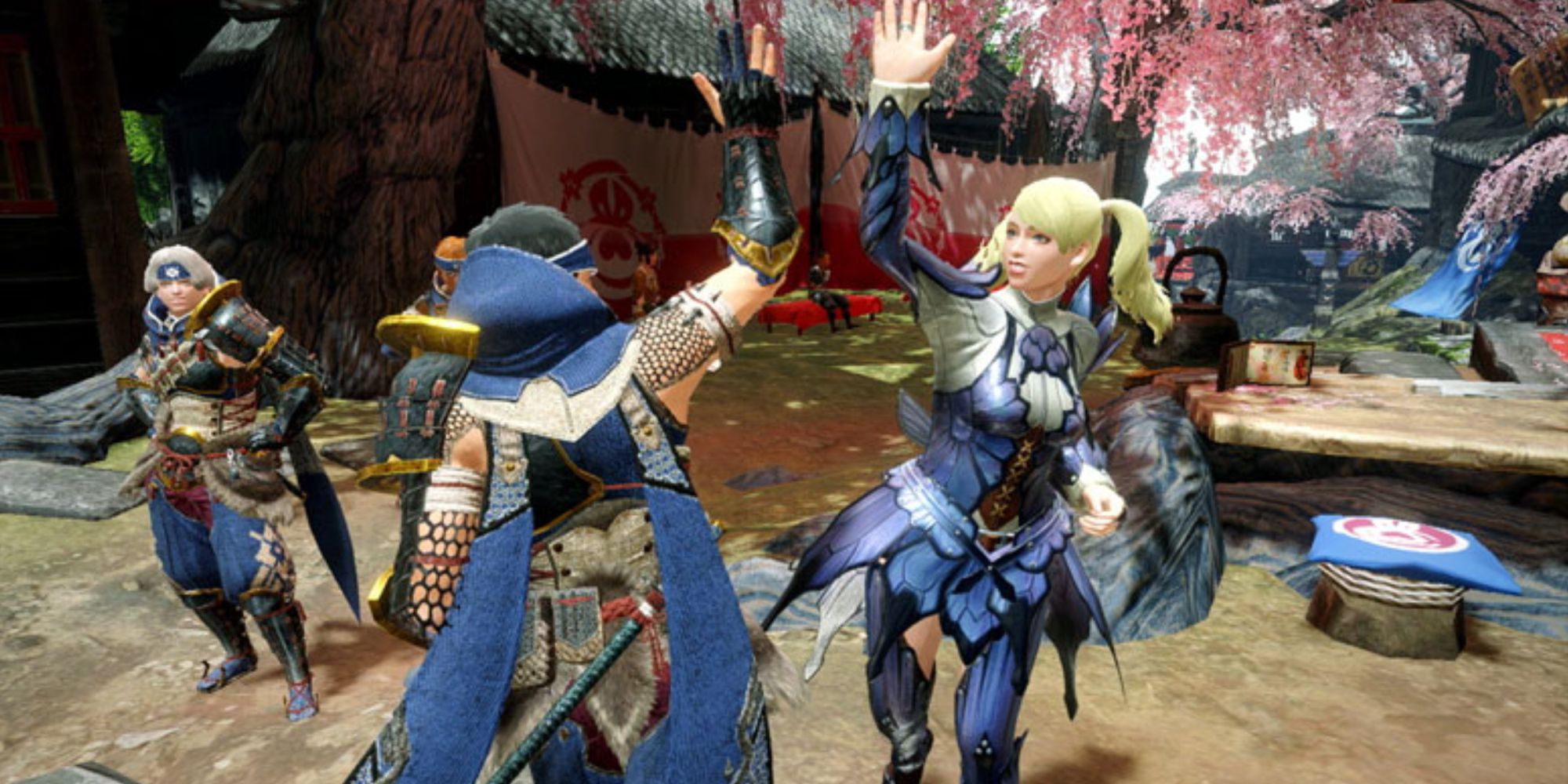 Like most gathering side quests in Sunbreak, Prized Mushroom Picker is more or less a simple and direct experience once you know what you're looking for and where to do it. However, there is one minor roadblock in your way that you must take care of before this quest becomes available to you.
Requirements
Clear Urgent Quest: Tetranadon Blockade

Slay a Tetranadon (Master Rank 1★ Hub Quest)

Once you have successfully taken down the Tetranadon, you can pick up the Prized Mushroom Picker side quest by speaking to Paz the Chevalier in the new hub region, Elgado. Use the table below to find out more information about the quest, then move on to the next section to find out how to successfully carry it out!

Quest Name
Prized Mushroom Picker
Quest Giver
Paz the Chevalier
Location
Elgado Outpost
Objective
Deliver x2 Prized Mushrooms to Paz.
Region
Jungle
Rewards

Sleepy Bear+ (Upgrade Unlocked)
x10 Outfit Vouchers

Prized Mushroom Picker Walkthrough

After you have accepted the Prized Mushroom Picker side quest from Paz the Chevalier in Elgado, it's time to search Mushroom Colonies in the Jungle! The easiest way to do this without worrying about a mission timer or terrifying monsters messing you up is to speak with Chichae, the Quest Damsel, in the Egado Outpost. When speaking with her, follow these steps:

Quest Counter > Hub Quests: Master Rank > Expedition Tour > A Tour of the Jungle

Here, you can select a time of day for your Expedition Tour, which should not impact the materials you can gather. However, if you want to err on the side of caution, just select 'Daytime' when prompted. Next, after you drop into the Jungle, all you have to do is search mushroom colonies until you find two Prized Mushrooms, which shouldn't take much time or effort to do. There are nine Mushroom Colonies on the upper level of the Jungle alone, so you don't need to access this region's lower section. For more direct pathing, refer to the section below!

Jungle Mushroom Colonies Route

Mushroom Colonies in Monster Hunter Rise: Sunbreak are indicated on your map as a reddish-orange gathering icon with a '?' on it, which can be confusing as there are also several mushroom icons present on the map, but that's neither here nor there. There are nine total Mushroom Colonies in the Jungle region's upper level, but you will only focus on eight of them for this quest. And, realistically, you won't even search more than half of them.

Using the image above, navigate towards the top of the Jungle while searching Mushroom Colonies along the way. The first one is a decent distance from the starting camp, but you can search six Mushroom Colonies in a matter of seconds once you reach it. Again, you only need two Prized Mushrooms to fulfill your mission, so you will likely meet that bar relatively early and with little to no effort. Easy peasy, right?

Prized Mushroom Picker Rewards

With two Prized Mushrooms plucked from their colonies, it's time to exit the Expedition Tour and back to the Egado Outpost to speak with Paz the Chevalier. After you talk with her and complete the side quest, you will receive two rewards:

Sleepy Bear+ (Hammer Upgrade)
x10 Outfit Vouchers

The Outfit Vouchers allow you to craft Layered Armor at the Forge, enabling you to look your best at all times. The Sleepy Bear+ upgrade, however, is an improved version of the standard Sleepy Bear Hammer, which we will go into a bit more detail on how to obtain below.

Sleepy Bear+

Sleepy Bear+ is a Hammer added into Monster Hunter Rise with the Sunbreak expansion and belongs to the Guild Tree, acting as the upgrade to the standard Sleepy Bear weapon. For information on how to Forge this weapon, please refer to the table below!

Weapon
Rarity
Attack
Element
How To Forge
Teddybear I
Rarity 3
110
Sleep 30

8,250 Zenny
x1 Kamura Ticket
x3 Rachnoid Silk
x4 Warm Pelt
x5 Sleep Herb

Teddybear II
Rarity 4
120
Sleep 34

8,800 Zenny
x4 Arzuros Pelt+
x5 High-quality Pelt
x5 Sleep Sac

Sleepy Bear
Rarity 5
130
Sleep 38

13,200 Zenny
x2 Novacrystal
x3 Coma Sac
x1 Beast Gem
x10 Earth Crystal

Sleepy Bear+
Rarity 8
210
Sleep 39

12,000 Zenny
x4 Azuros Fur
x2 Prized Pelt
x2 Torpor Sac

Source: Read Full Article