Last week, we reported that Ubisoft doesn't "want to make a political statement" about Cuba with Far Cry 6. Since then, narrative director Navid Khavari has clarified Ubisoft's stance on the game and acknowledged the story is political.
Our very own Jade King spoke with Khavari previously, and he originally explained how the team fell in love with Cuba's culture and people. He continued with, "when we came out of that, it wasn't that we felt we had to do Cuba, we realised it's a complicated island and our game doesn't want to make a political statement about what's happening in Cuba specifically."
Today, in a statement on Ubisoft's official site, Khavari has clarified earlier comments and taken a clear stance on the themes of Far Cry 6. The narrative director acknowledges the inherent messages in a story such as that of Far Cry 6, opening with the statement "Our story is political," and going on to explain, "There are hard, relevant discussions in Far Cry 6 about the conditions that lead to the rise of fascism in a nation, the costs of imperialism, forced labor, the need for free-and-fair elections, LGBTQ+ rights, and more within the context of Yara, a fictional island in the Caribbean."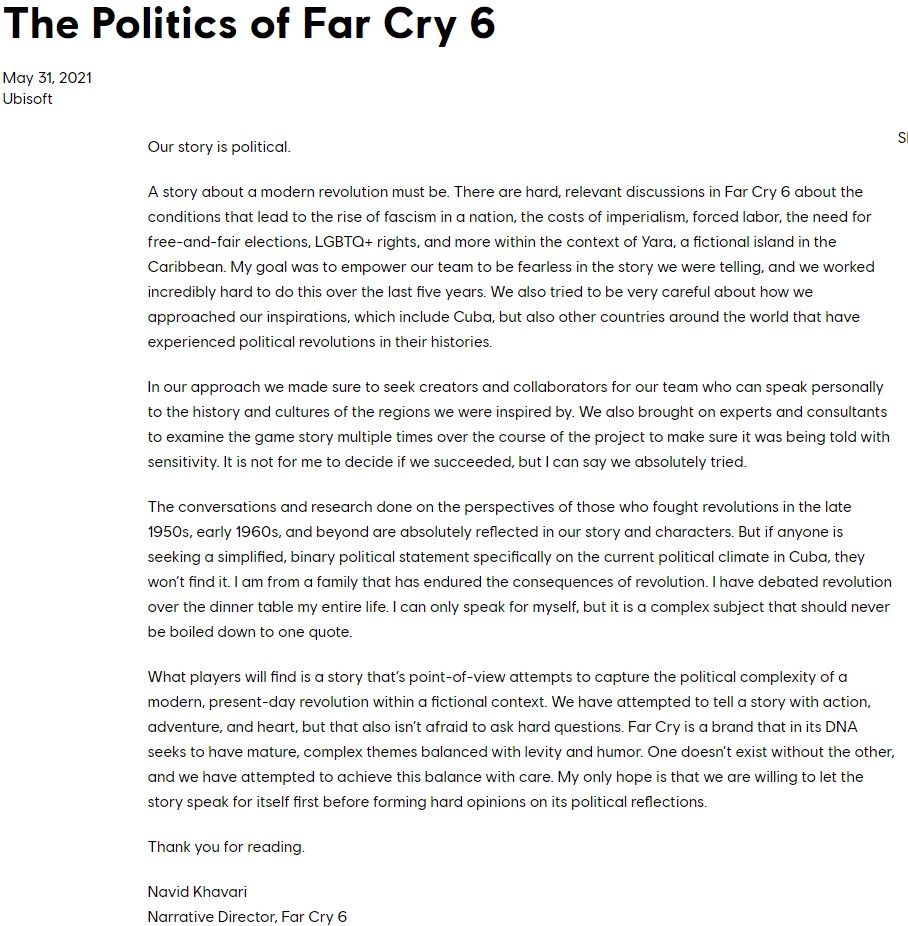 Khavari went on to detail the team's approach, seeking creators who could "speak personally to the history and cultures of the regions we were inspired by." Ubisoft also employed consultants, seeking to treat the game's story with sensitivity. Khavari also noted that he himself belongs to a family "that has endured the consequences of revolution."
Last week, TheGamer's Jade King spoke to Khavari on this, and the creation of Anton Castillo, in a new interview about the world, story, and characters of Far Cry 6.
Source: Read Full Article