Normally when we talk about catching every Pokemon we're referring to catching them in-game, but now you can catch Pokemon in clear resin keycaps thanks to this Etsy profile.
Courtesy of Kotaku, I've just learned about the Hirosart Etsy page that, among other things, offers keycaps that contain teeny tiny Pokemon dioramas of your favorite Pokemon. Each keycap is made of clear resin with a hand-painted Pokemon mini in the center surrounded by a lush landscape that befits the Pokemon of your choice.
The number of Pokemon in the key entirely depends on which key you purchase. Spacebars seem to contain up to four Pokemon, with the one above having every Red/Blue/Yellow starter including Pikachu, Squirtle, Charmander, and Bulbasaur. The letter and number keycaps can only contain one Pokemon, but you seem to be able to choose whatever Pokemon you want. Example images include Bulbasaur, Arcanine, Zapdos, Moltres, Articuno, Squirtle, Milotic, Kyogre, Evee, Togepi, Mewtwo, Grimer, Abra, Umbreon, Zekrom, Charizard, Tyrannitar, and many more.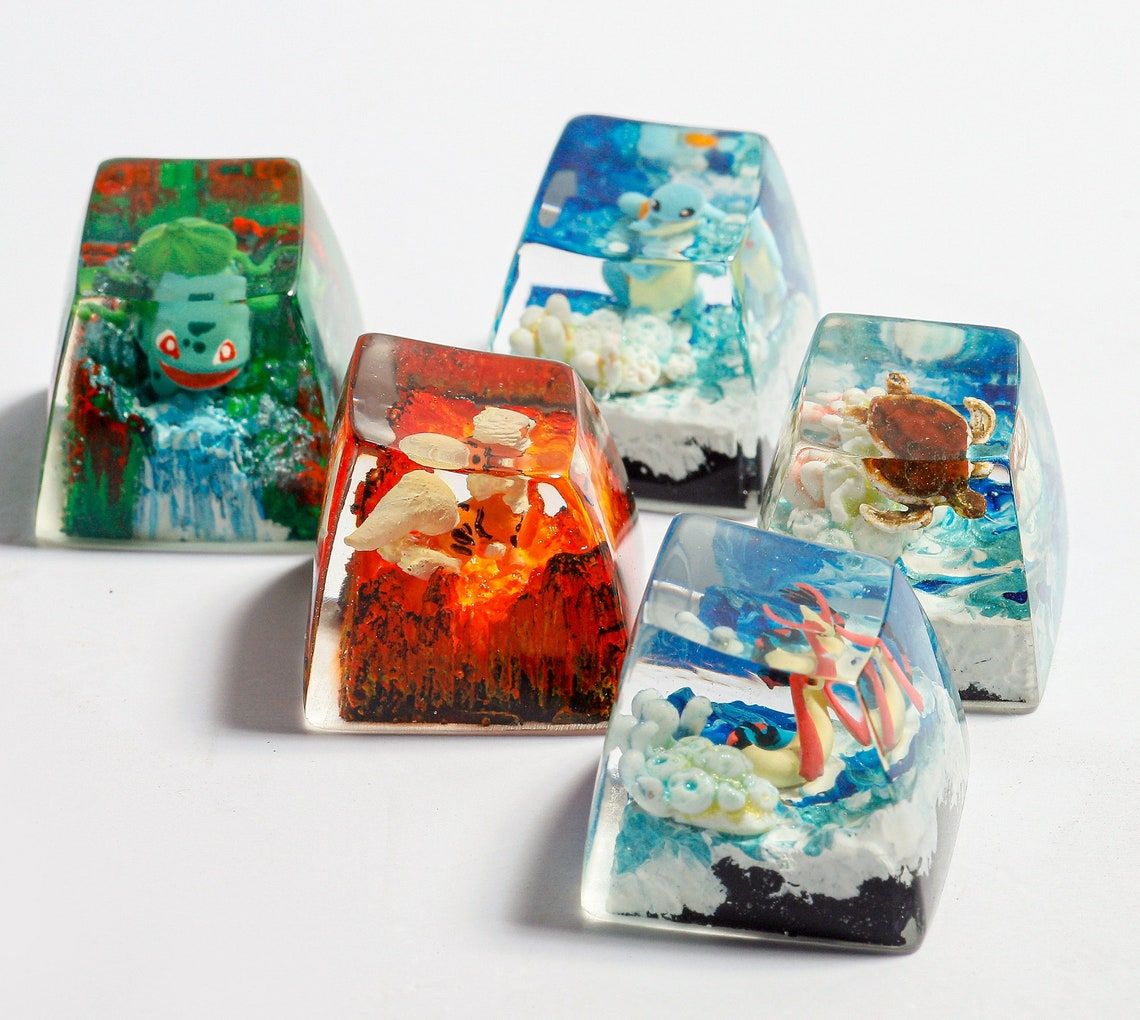 Customer comments indicate that you make the request for which Pokemon with your order and Hirosart just creates it. This explains why each keycap can cost upwards of $50 as they're probably all hand-made to order.
Each keycap is compatible with Cherry MX switches and is absolutely gorgeous. An entire keyboard made of these switches would be impractically expensive, but one or two can give your mechanical keyboard the Pokemon flare it so richly deserves. Personally, I'd go for a Magnemite escape key. Just in case you were going to do some late Christmas shopping, or possibly looking for gift ideas a year in advance.
In other Pokemon news, a new leak says that Pokemon Legends: Arceus will be a huge departure from traditional Pokemon games. There's no breeding, no held items, no abilities, and Pokemon stats won't use IVs as every generation has since Red/Blue. Catching Arceus will also be a trial as it will require you to complete the Hisui Pokedex. It sounds like a big ask, but we're still not sure how many Pokemon are actually in Legends: Arceus.
Source: Read Full Article