Famous musicians Post Malone and Ski Mask the Slump God are raising money with popular Twitch streamer and esports player Aceu in Apex Legends.
The trio are squadding up to raise $20,000 for Human Rights Watch, a global charity that investigates abuse across the world directed at "vulnerable minorities and civilians in wartime," as well as "refugees and children in need." The website highlights recent transgressions such as transgender people being denied equal rights in El Salvador and Russia's invasion of Ukraine. Already, Post Malone, Ski Mask the Slump God, and Aceu's stream has raised $20,633 and that number continues to rise.
As of writing, he's been streaming for seven hours with around 11,000 viewers. His channel has 490,000 followers total and you can head over right now to chip in and help raise funds.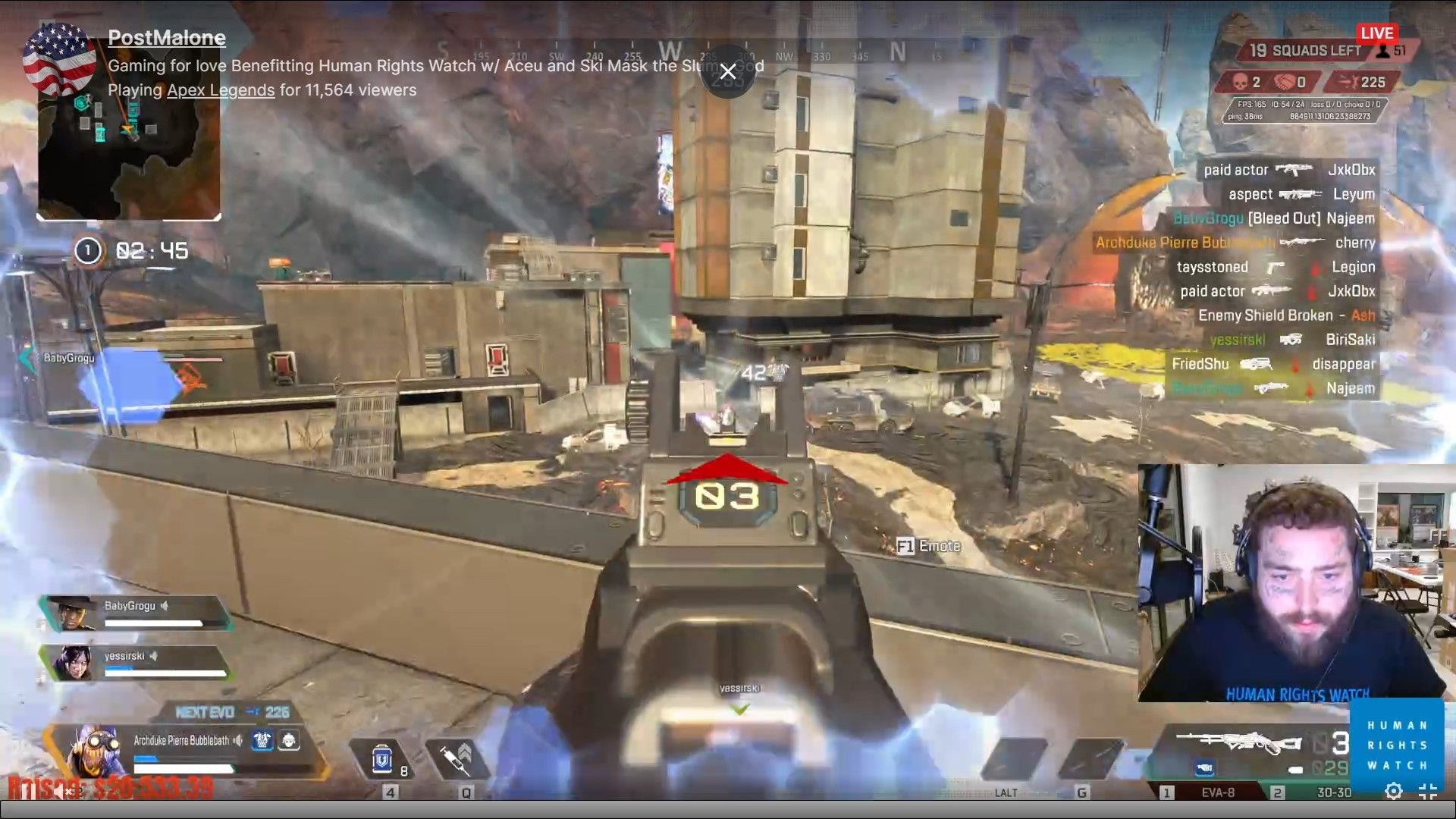 You'll also get to see how good Post Malone is at Apex Legends, playing the speedy Octane in trios. You can tell he plays and buys a lot in his downtime as he has 400,000 crafting materials, a ludicrously high number. He also revealed on stream earlier this year that he has bought every single Apex Legends heirloom and skin, so it's safe to say he's a fan of Respawns' hit battle royale.
If you don't know Post Malone by name, you might know his songs Sunflower, Congratulations, Rockstar, and Better Now. Sunflower was even featured in Into the Spider-Verse. Ski Mask the Slump God meanwhile is the musician behind Faucet Failure, Nuketown, Save Me, Take a Step Back, and Unbothered.
As for Aceu, he's an American streamer who played in the Apex Legends Preseason Invitational, the Twitch Rivals: Apex Legends Solo Showdown, and the FACEIT Pro Series. For the Twitch Rivals: Apex Legends Solo Showdown, he even managed to nab the second spot. That was back in 2019. Over on Twitch, he's now one of Apex Legends' most popular streamers with an impressive 2.67 million followers and 71.1 million views total.
Source: Read Full Article