Sea of Thieves allows you to bring a pet along for the ride, and a cat is one of the options. You can dress them up in a variety of outfits and there are three different types of cats to choose from. This companion can be acquired by using Ancient Coins at the Pirate Emporium, and the easiest way to obtain these is to buy them with real money.
Each cat has a signature look, and some are more bizarre than others. However, there is a cat for everyone in Sea of Thieves (as well as a matching outfit) so you never have to sail the seas alone ever again.
Ragamuffin Cats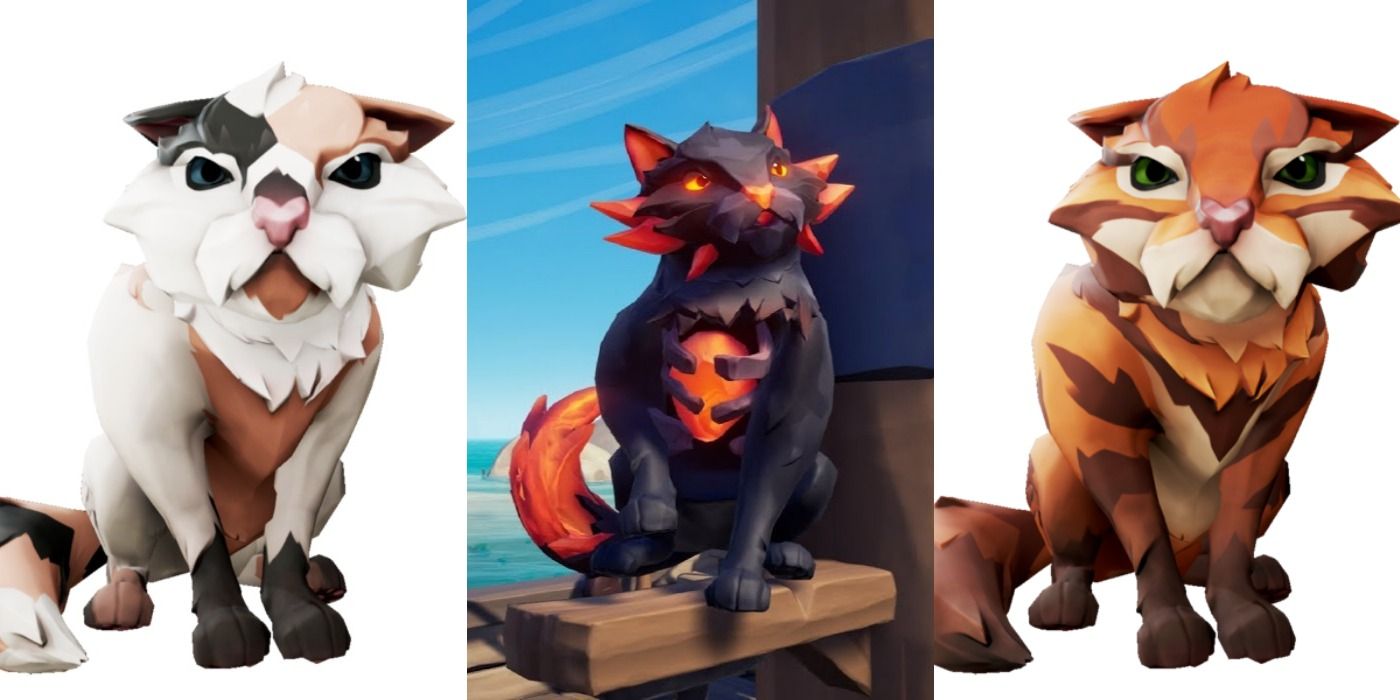 The Ragamuffin cats look disheveled with their long hair, but their eyes are what draw you into making this purchase.
The available Ragamuffin cats are as follows:
Ashen Curse
Bandit
Calico
Driftwood
Glacial Curse
Patchwork
Tawny
Ashen Curse Ragamuffin (649 Ancient Coins)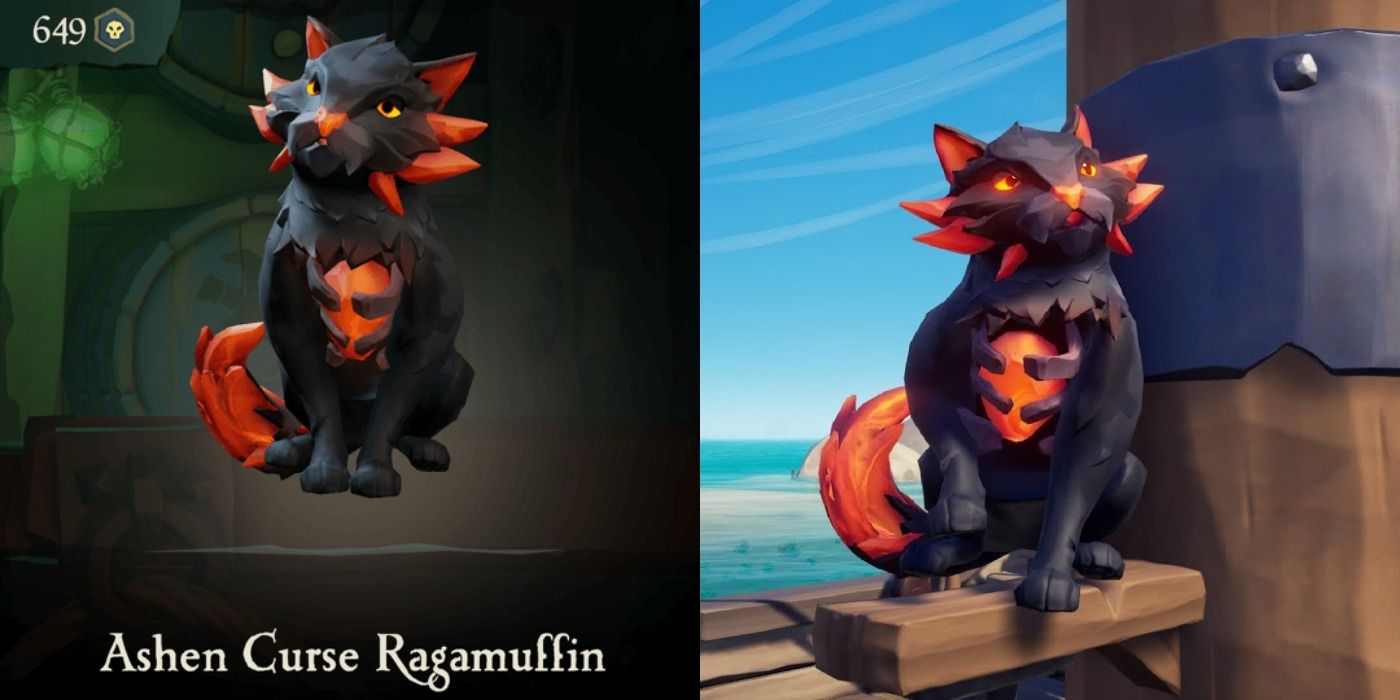 The Ashen Curse Ragamuffin is a Collector's Pet, so no outfits can be equipped for this breed of cat. It relates to one of the curses as its fur is tinted red and it has a highlighted ribcage.
The cat looks like the pirates who obtain this curse, and those who have unlocked it will feel drawn to this feline.
Bandit Ragamuffin (499 Ancient Coins)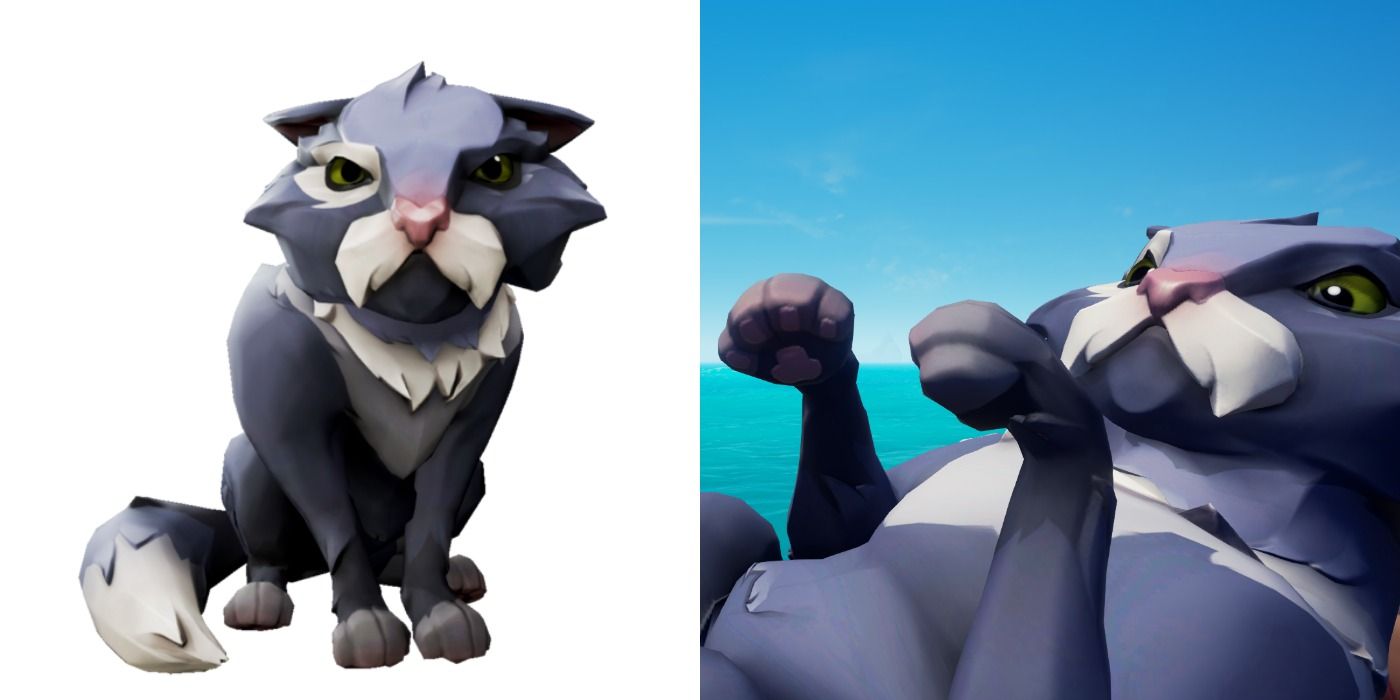 If you were looking for a cat that is a bit more basic, but still has the pirate spirit, then the Bandit Ragamuffin is for you. It has a white circle around its right eye that resembles an eye patch and the white scruff under its nose reminds you of a mustache.
This is not the coolest or even the most adorable, but it is the perfect cat for some pirates so they never have to set sail alone.
Calico Ragamuffin (499 Ancient Coins)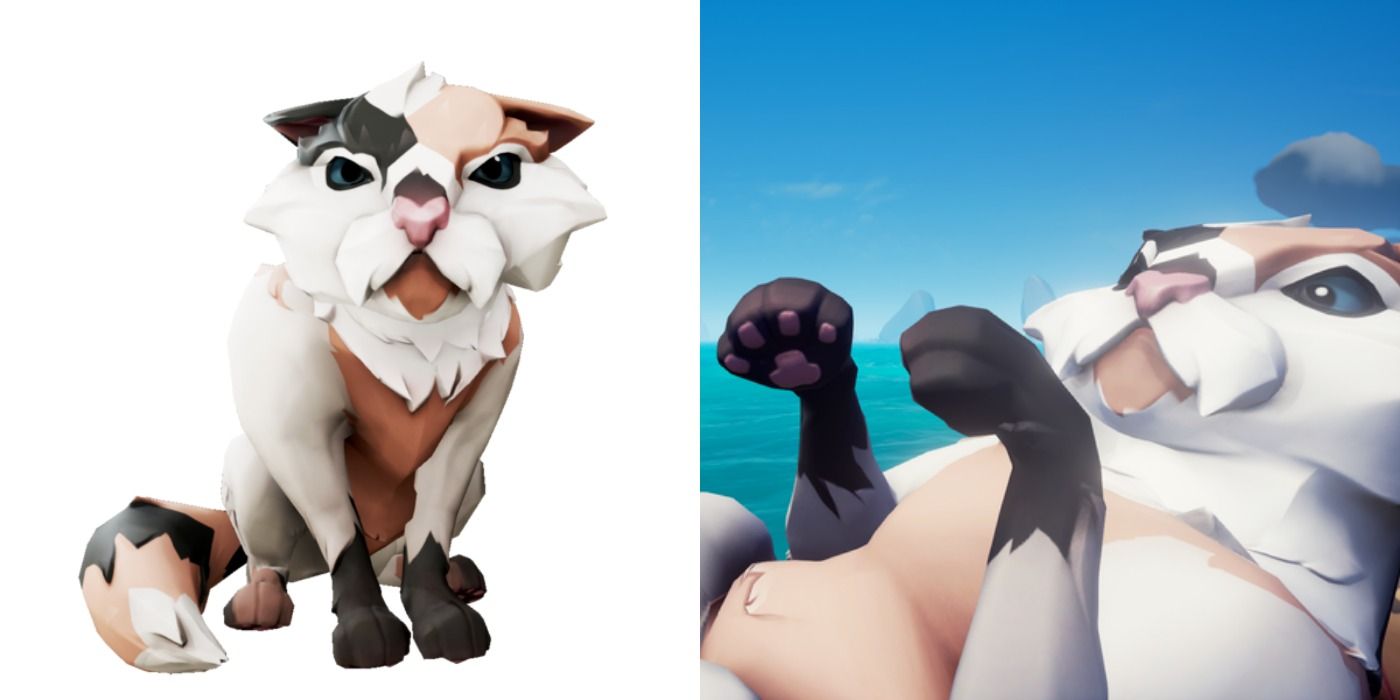 The Calico Ragamuffin primarily has white fur, with a bit of black and orange mixed in to give it a bit of a spark. According to the Pirate Emporium, it has immense shedding powers, and it is believable with the amount of hair that it has on its body.
Driftwood Ragamuffin  (499 Ancient Coins)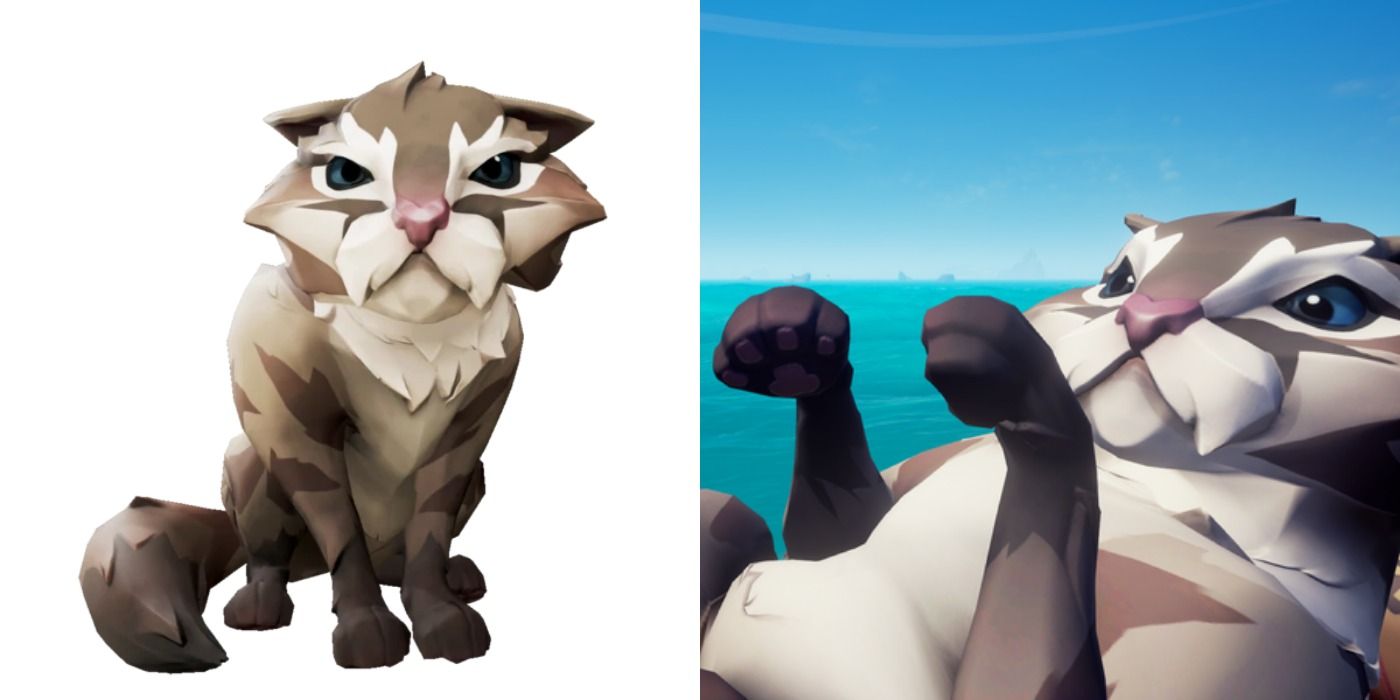 If you wanted a cat that reminds you of a muddy tiger, then the Driftwood Ragamuffin is what you should choose. It is covered in variations of brown that give it a striped appearance, and it looks ready for any battle at sea.
Players also love the brown underneath its eyes as it looks like it applied some war paint before its adventure that sometimes involves the delivery of snakes.
Glacial Curse Ragamuffin (649 Ancient Coins)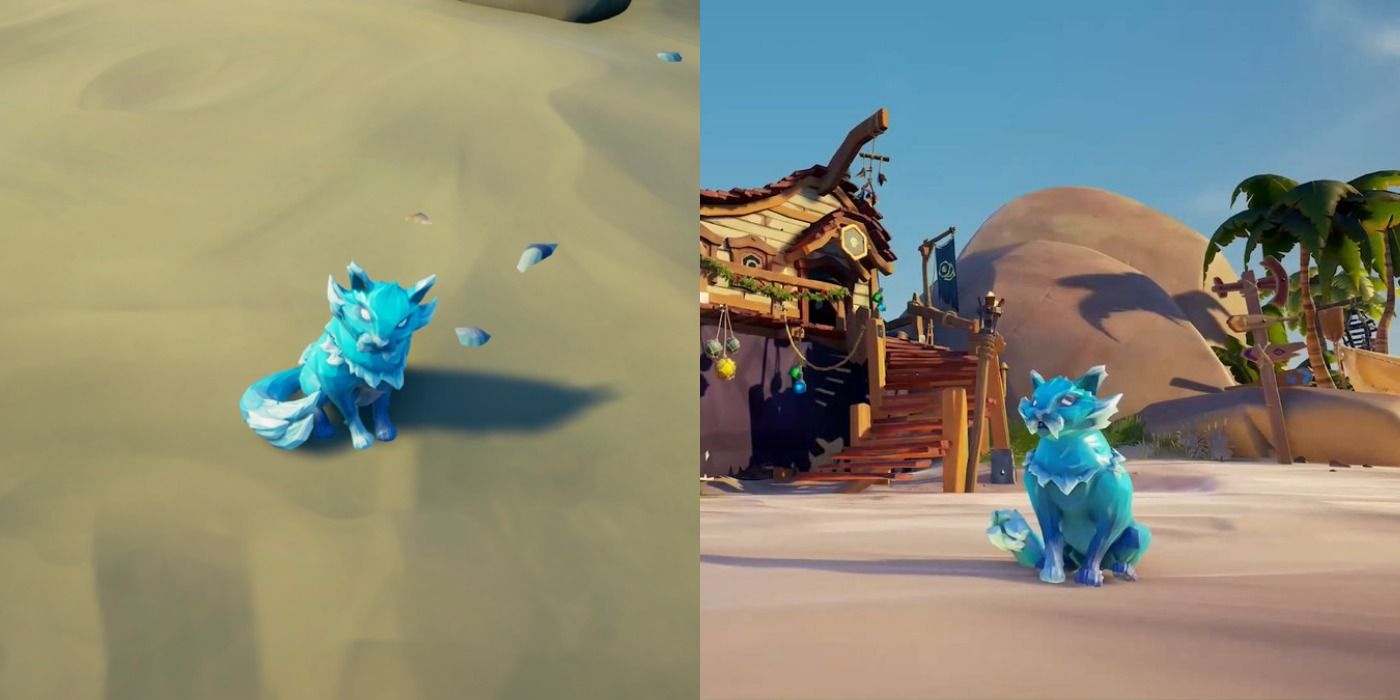 Those who are fans of the winter months will appreciate the Glacial Curse Ragamuffin who has been turned into a block of ice from head to toe. Even its eyes play the part as they are balls of white and prevent you from recognizing it has any emotions.
It is part of the Frozen Horizon set and it is a Collector's Pet, so you will not be able to put outfits on this beauty.
Patchwork Ragamuffin (499 Ancient Coins)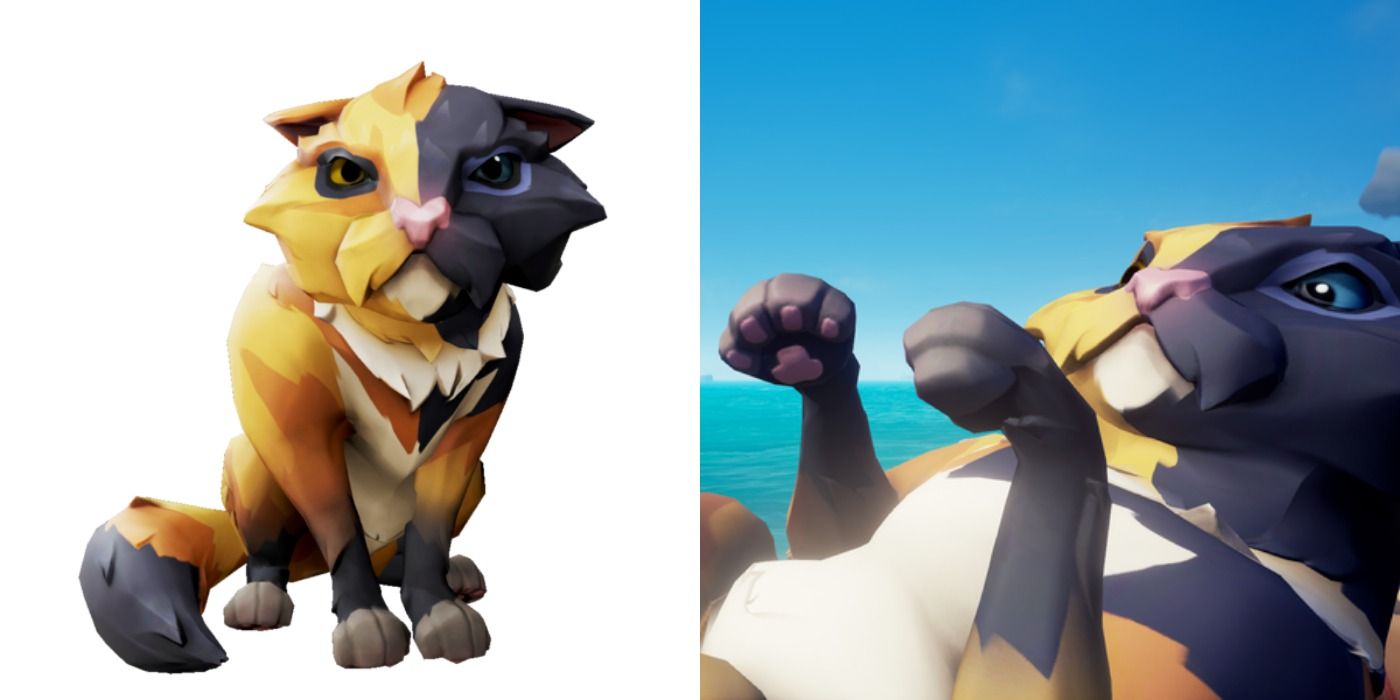 The Patchwork Ragamuffin looks like two cats were sewn together to create one as the right half of its body is black, and the other half is orange. Even the eyes are different shades and players love the unique appearance that his cat brings to a crew.
Tawny Ragamuffin (499 Ancient Coins)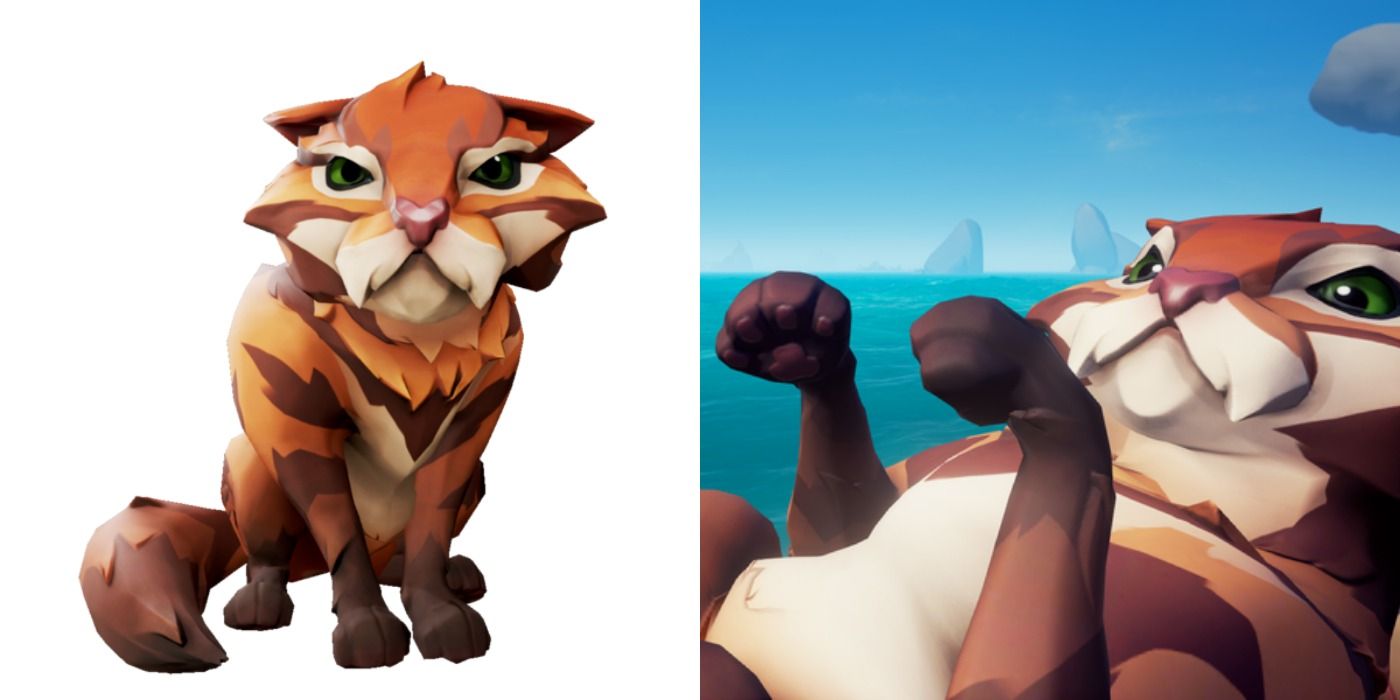 The coat of the Tawny Ragamuffin focuses on a variety of orange hues, and its green eyes are startling. It is the most eye-catching of all the Ragamuffins as its pattern isn't too scruffy and the color scheme works well together, which is something any true pirate can appreciate.
Wildcats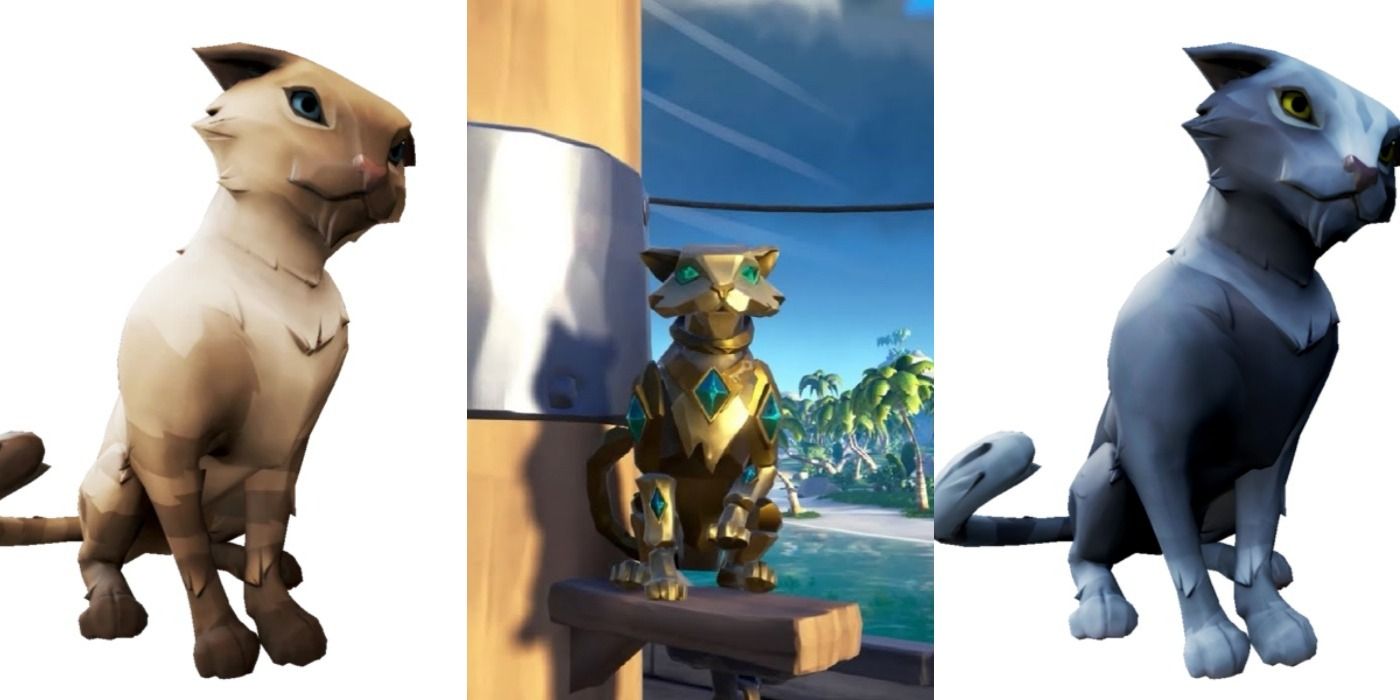 The Wildcats are a bit more seasoned as they appear lean and fit as they have been forced to fight for their survival.
The types of Wildcats are as follows:
Cavalier
Gold Curse
Island
Ratcatcher
Sapphire
Cavalier Wildcat (499 Ancient Coins)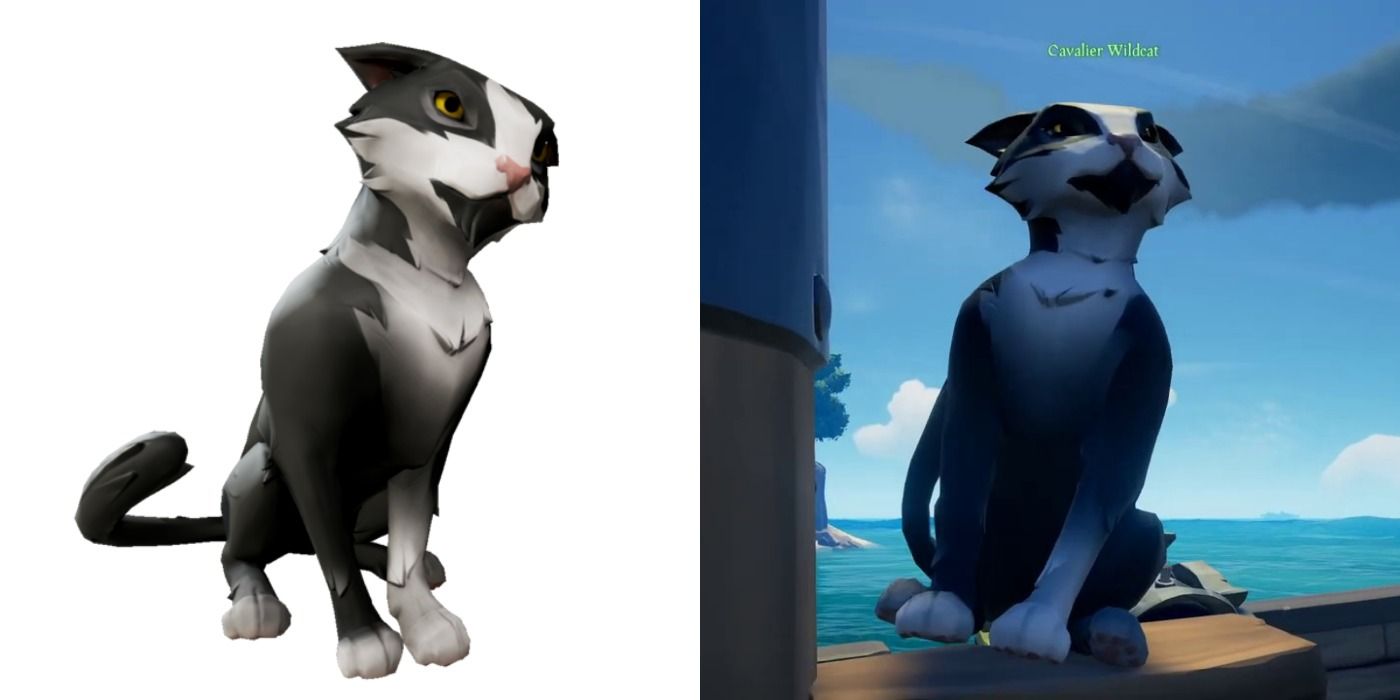 The Cavalier Wildcat appears similar to your average house cat with black and white fur. It has a stripe down the center of its head and a ring around its neck.
The golden eyes are a nice touch and it speaks of what this cat hopes to find with its pirate companion.
Claycoat Wildcat (499 Ancient Coins)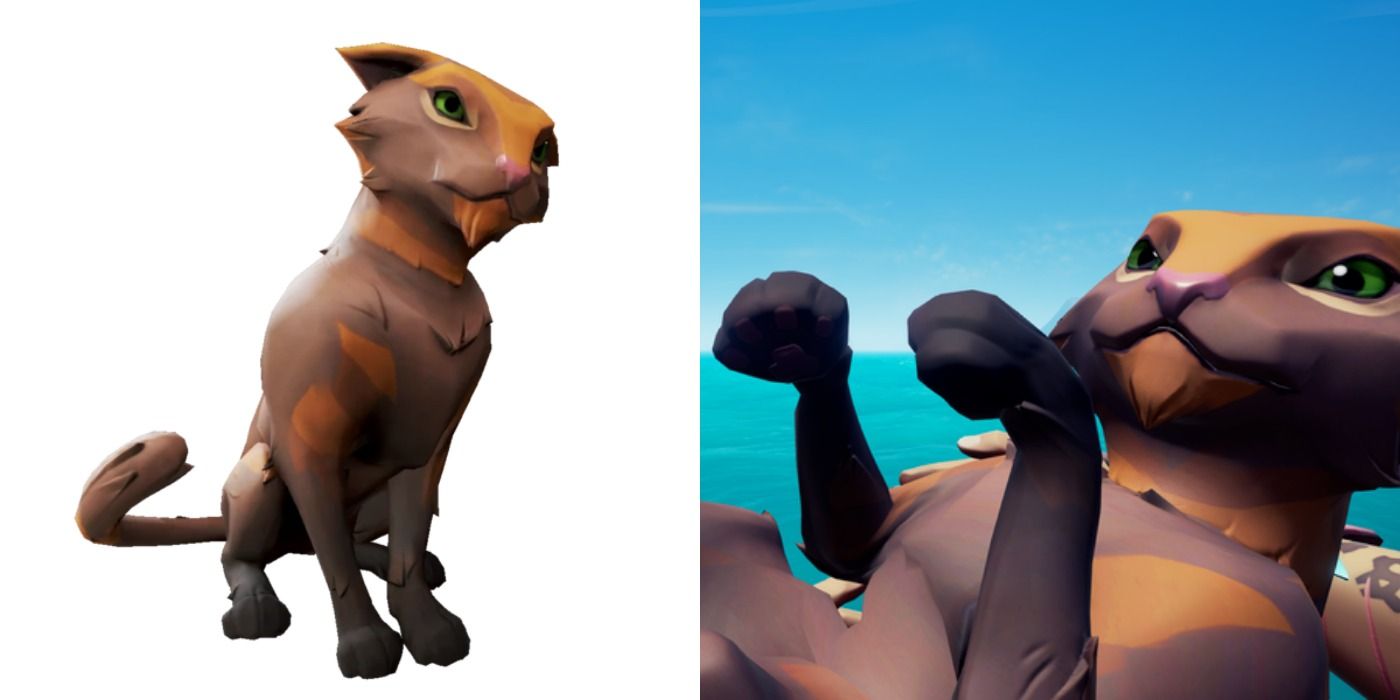 If you are a fan of earthly things then the Claycoat Wildcat is the way to go as it looks as if it was dug from the ground itself. It has an orange and brown patchwork coat and green eyes that make it stand out from other breeds.
It works well with all of the outfits, which is why this is the perfect fit if that is something you wish to do.
Gold Curse Wildcat (649 Ancient Coins)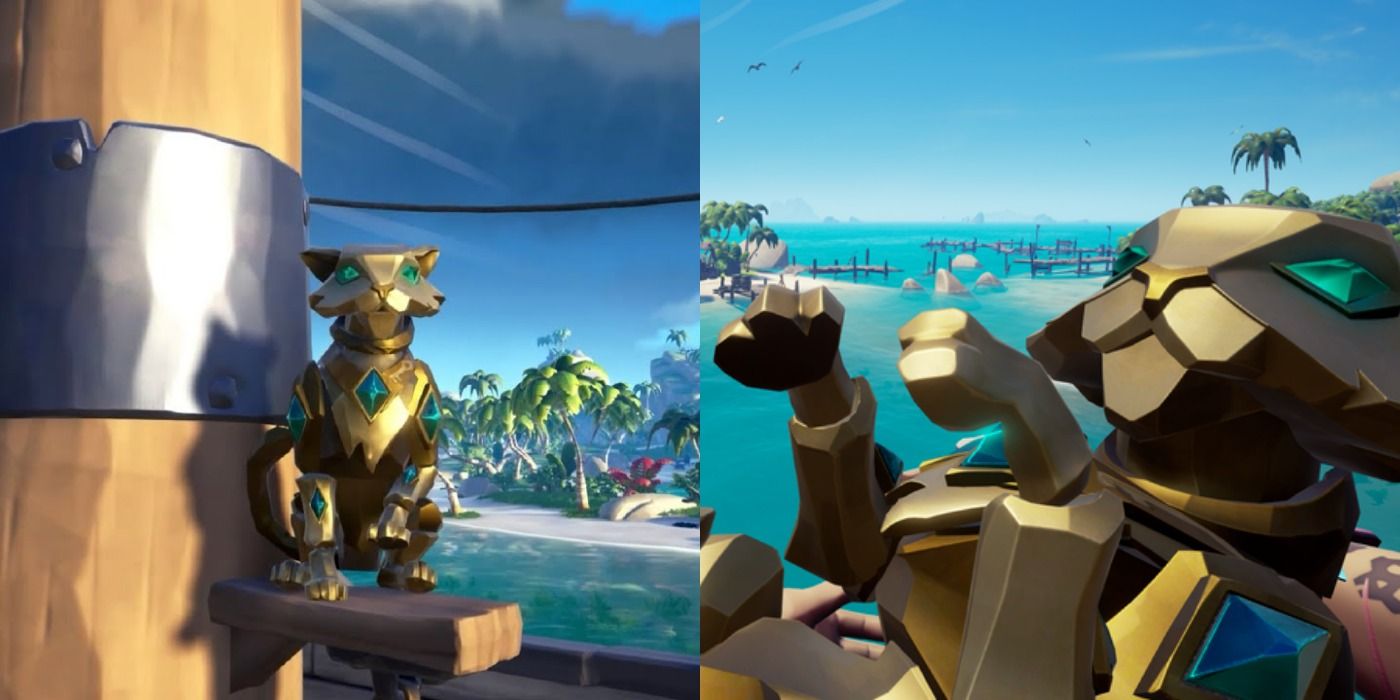 Pirates are obsessed with treasure, and this cat exemplifies the love that they have for it. It is covered in literal gold and has blue-green jewels scattered across its body.
This is a Collector's Pet so it cannot wear any outfits, but with so much sparkle it isn't necessary anyway.
Island Wildcat (499 Ancient Coins)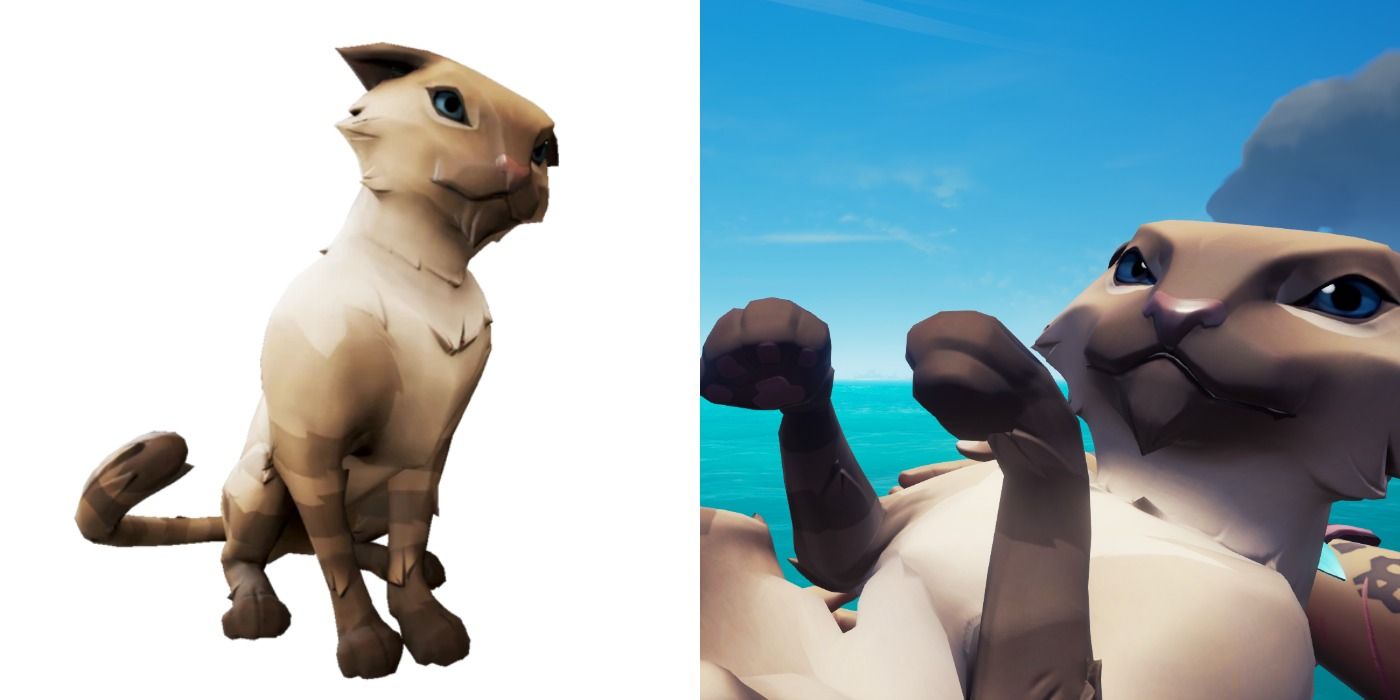 The Island Wildcat looks soft and sweet with its sandy fur and it is the perfect cat to kick back and relax with. Some may call it plain, but others will see the beauty of its simple design as it stands by your side when taking down a Megalodon.
Ratcatcher Wildcat (499 Ancient Coins)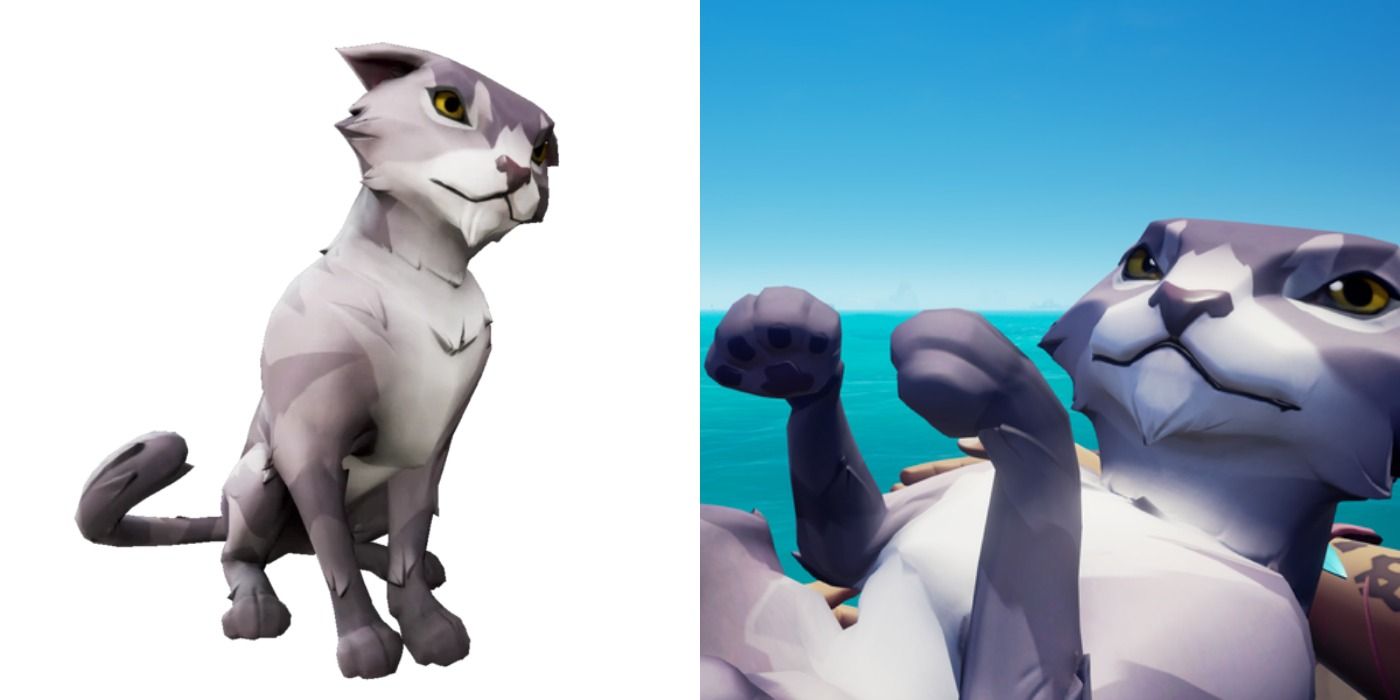 Rats are a common problem on sailing ships, which is where this cat comes in handy. It has a grey fur coat that allows it to blend into the shadows.
The golden eyes speak of its feral nature, but it is part of what makes it such a great match for any pirate.
Sapphire Wildcat (499 Ancient Coins)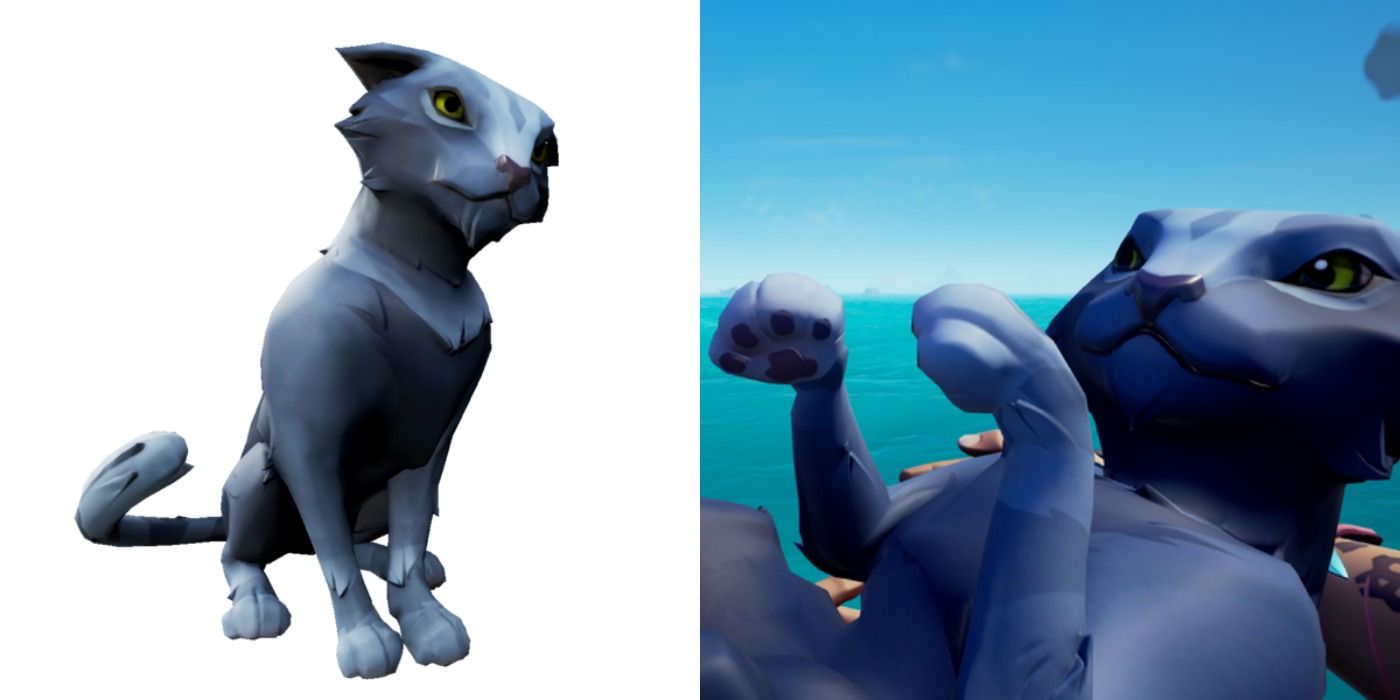 If you were born in September then you might feel obliged to purchase the Sapphire Wildcat, as this is the birthstone for this month. The cat has a blue-gray coat with a lighter collar of fur around its neck.
It looks inquisitive and is a great companion to have aboard any vessel, especially when infiltrating a Skull Fort.
Mau Cats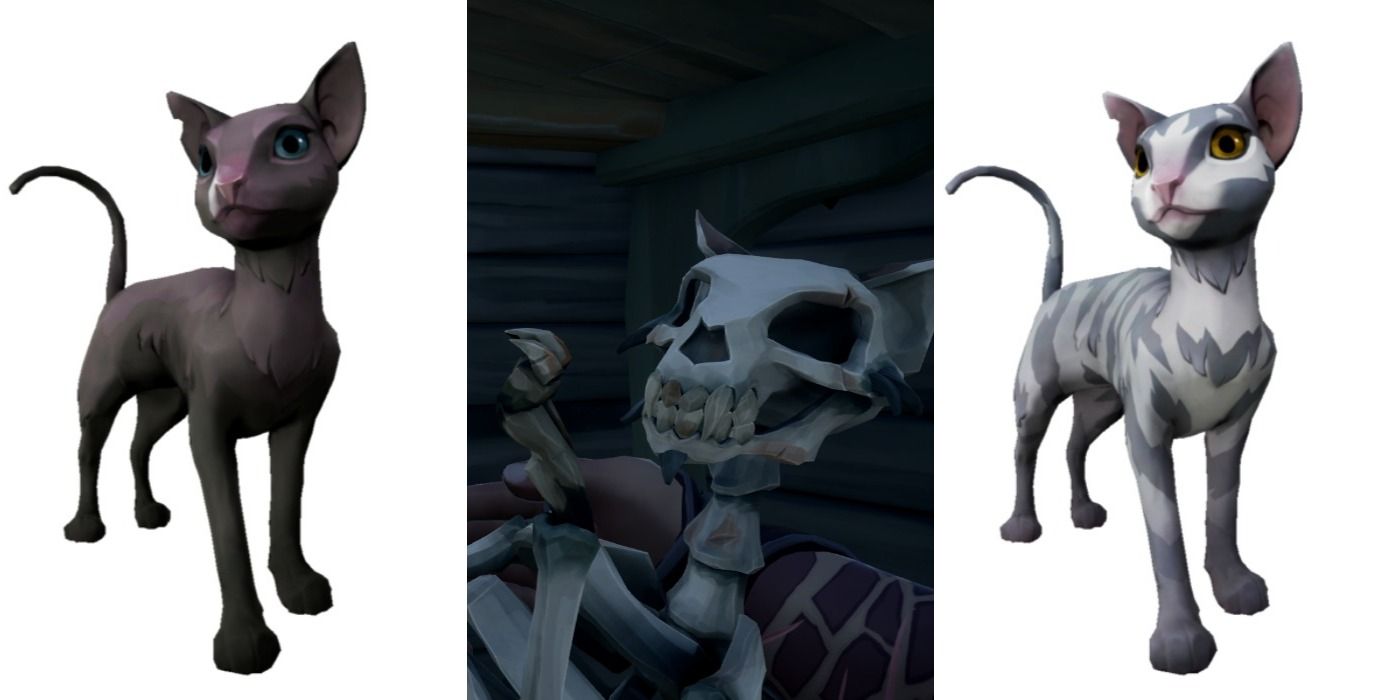 The Mau cats are the skinniest of all the breeds and have a regal presence to them in their design and mannerisms.
The different Mau cats you can obtain from the Pirate Emporium include:
Ivory
Order of Souls Possessed
Sandchaser
Skeleton
Stormy
Tabby
Twilight
Ivory Mau (499 Ancient Coins)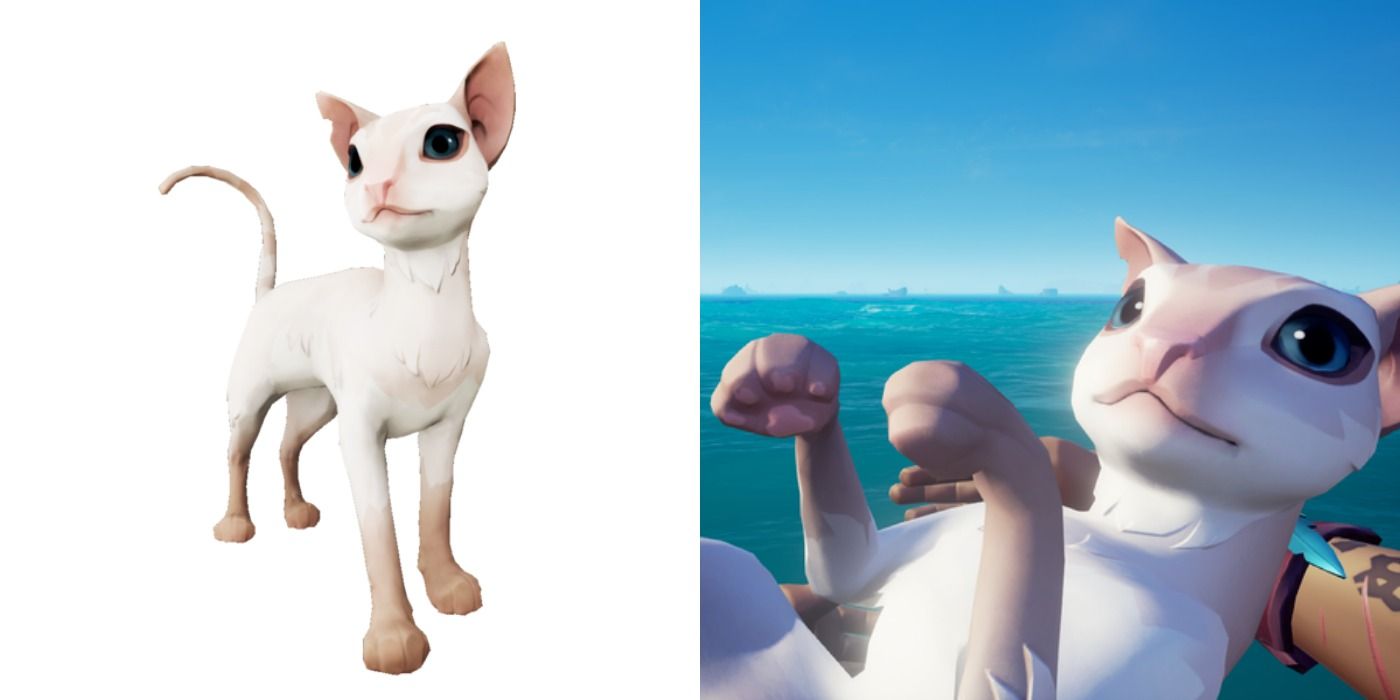 The Ivory Mau is mostly white, with tan legs that show off its thin nature. The blue-green eyes stand out against its fur, and outfits look the best on this breed.
It allows the colors to truly pop and the white fur isn't too busy to distract from their design.
Order Of Souls Possessed Mau (649 Ancient Coins)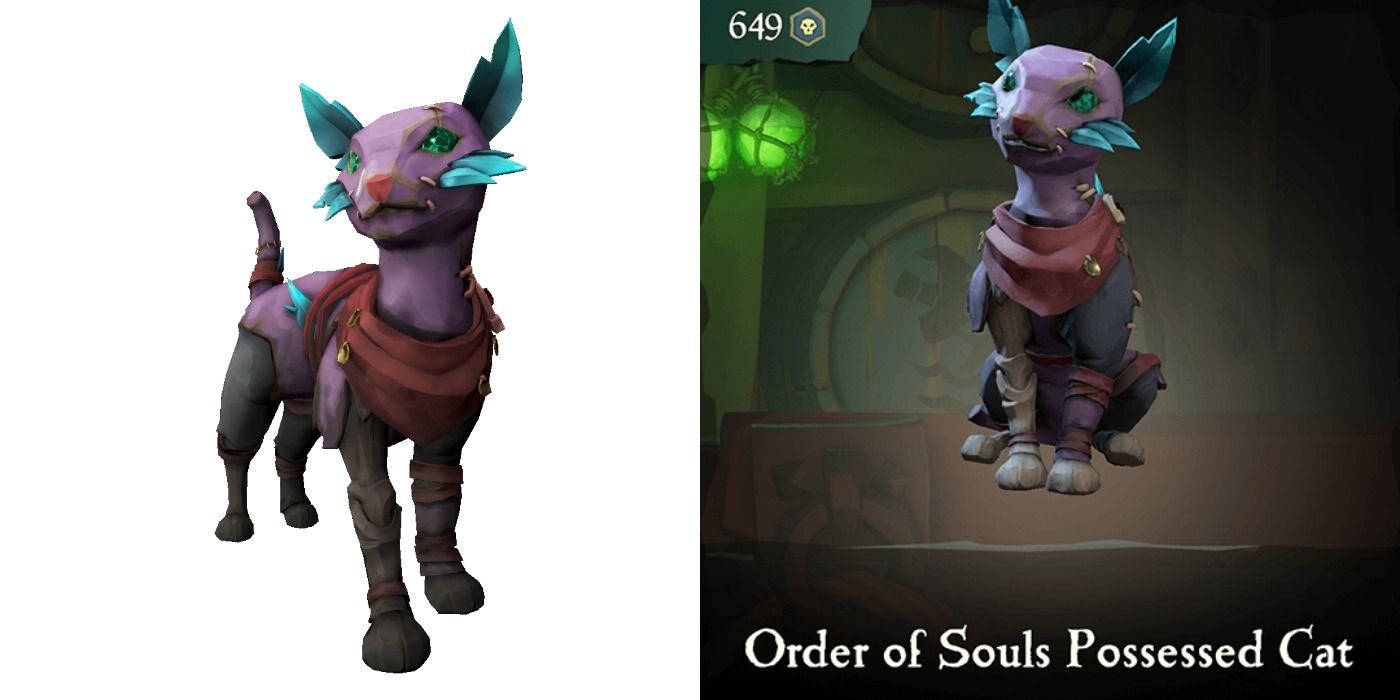 If you prefer to sail as an Emissary for a Trading Company called the Order of Souls, then the Order of Souls Possessed Mau is the cat for you. It reminds you of a doll that was pieced together with random swatches of fabric due to the various purples, blues, and greens.
You can't equip it with any outfit as it is a Collector's Pet, but you won't have to as it already comes with its own.
Sandchaser Mau (499 Ancient Coins)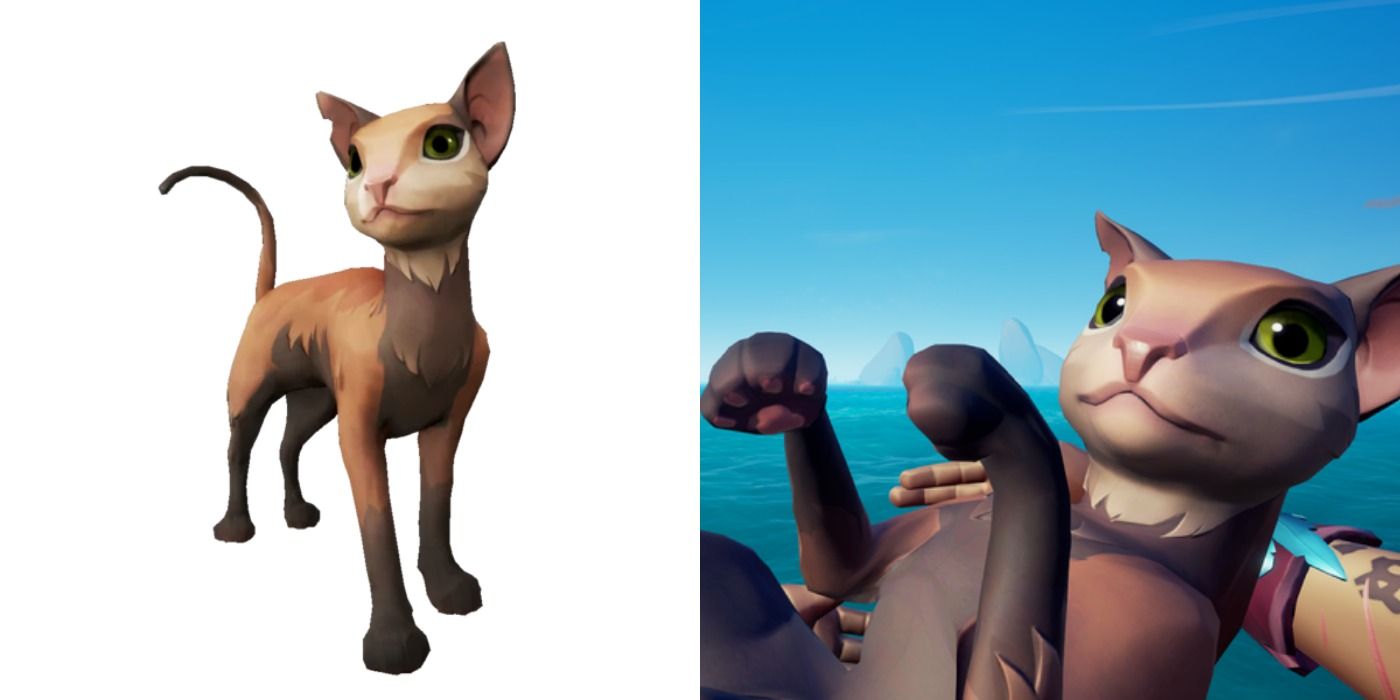 The Sandchaser Mau has a tan head with orange and brown fur that might seem strange, but it works well together. The green eyes pair nicely with its assembly and they are often the deciding factor in this purchase, as they choose to spend their Ancient Coins on this cat rather than a different breed.
Skeleton Mau (649 Ancient Coins)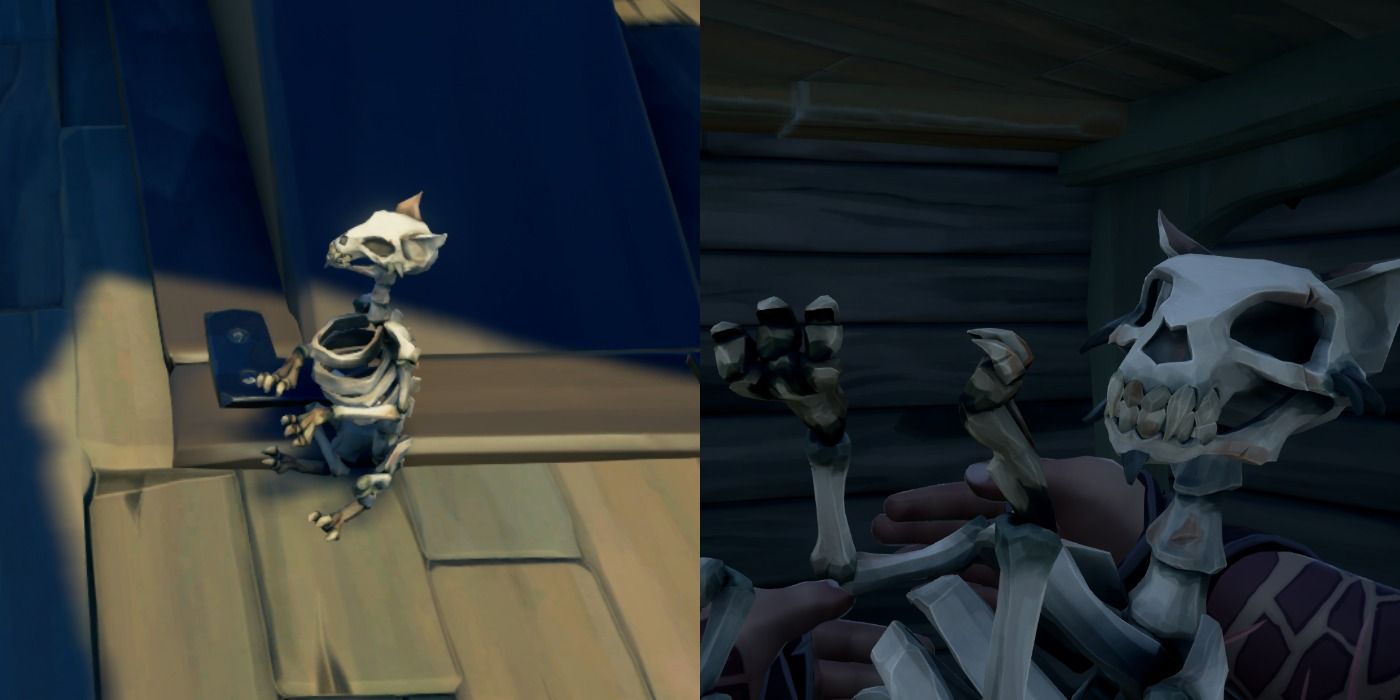 Halloween fans will love the Skeleton Mau as it is entirely made of bones, and will help you appear more foreboding on the seas. It is a Collector's Pet so it doesn't wear outfits, but this means you can put its bones on full display.
This is one of the creepiest cats your Ancient Coins can buy, and it is also part of its appeal.
Stormy Mau (499 Ancient Coins)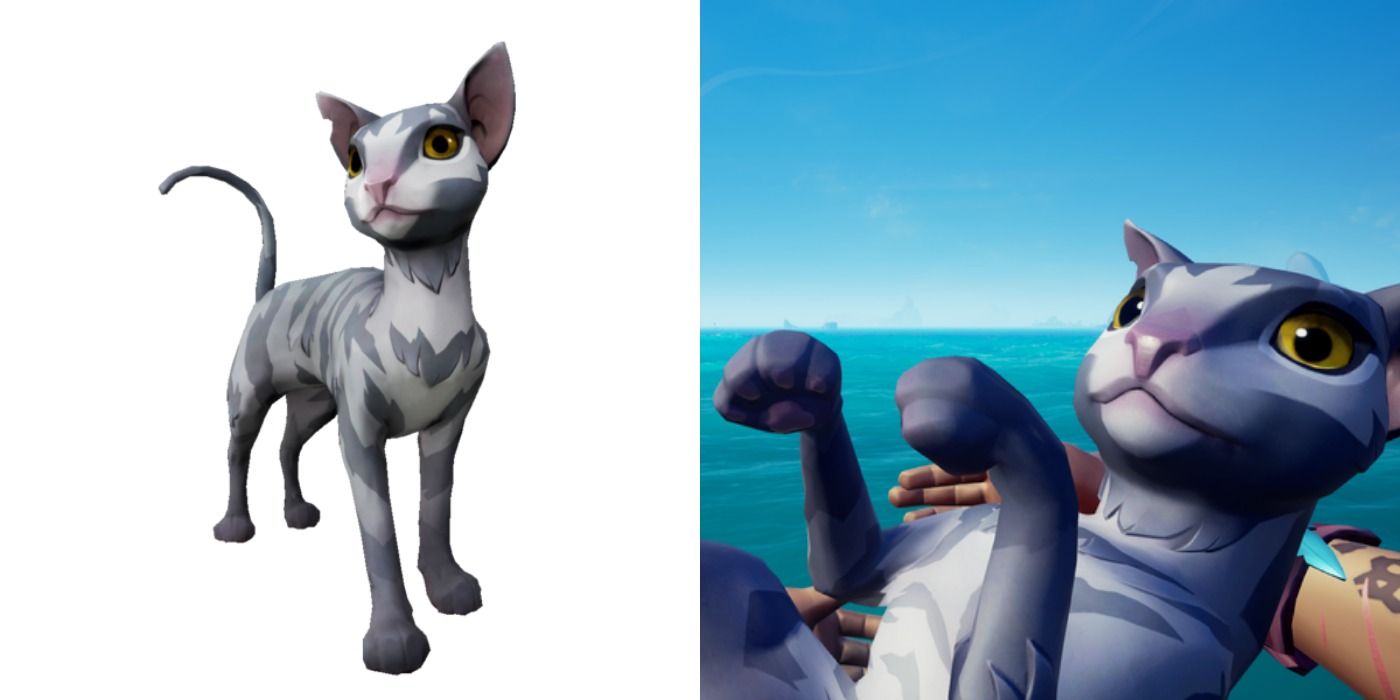 The Stormy Mau is white with grey stripes and amber eyes which makes it appear more regal than the other cats. It fits right in on any ship which is why it is a favorite among players.
Tabby Mau (499 Ancient Coins)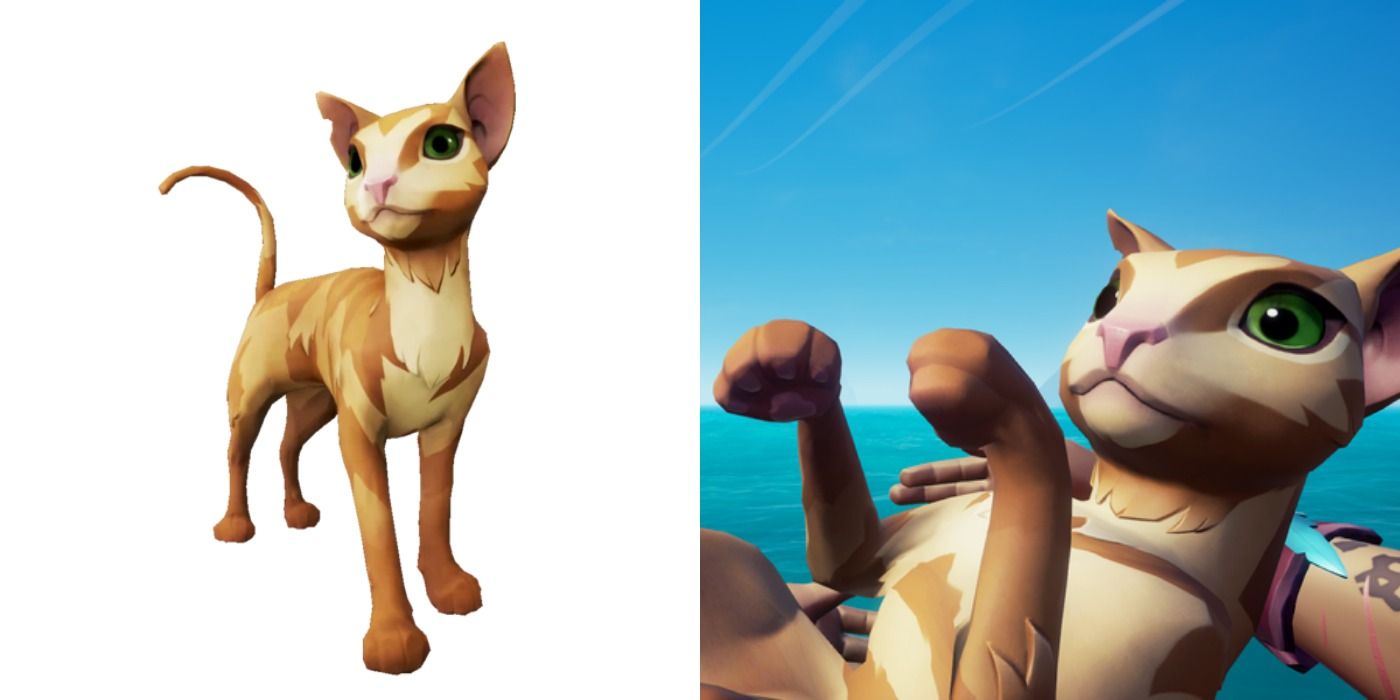 The Tabby Mau will light up your ship with life because of its bright orange fur. It also has green eyes and an elegance that few cats can match. You won't be able to resist this purchase when you see this cat in the Pirate Emporium.
Twilight Mau (499 Ancient Coins)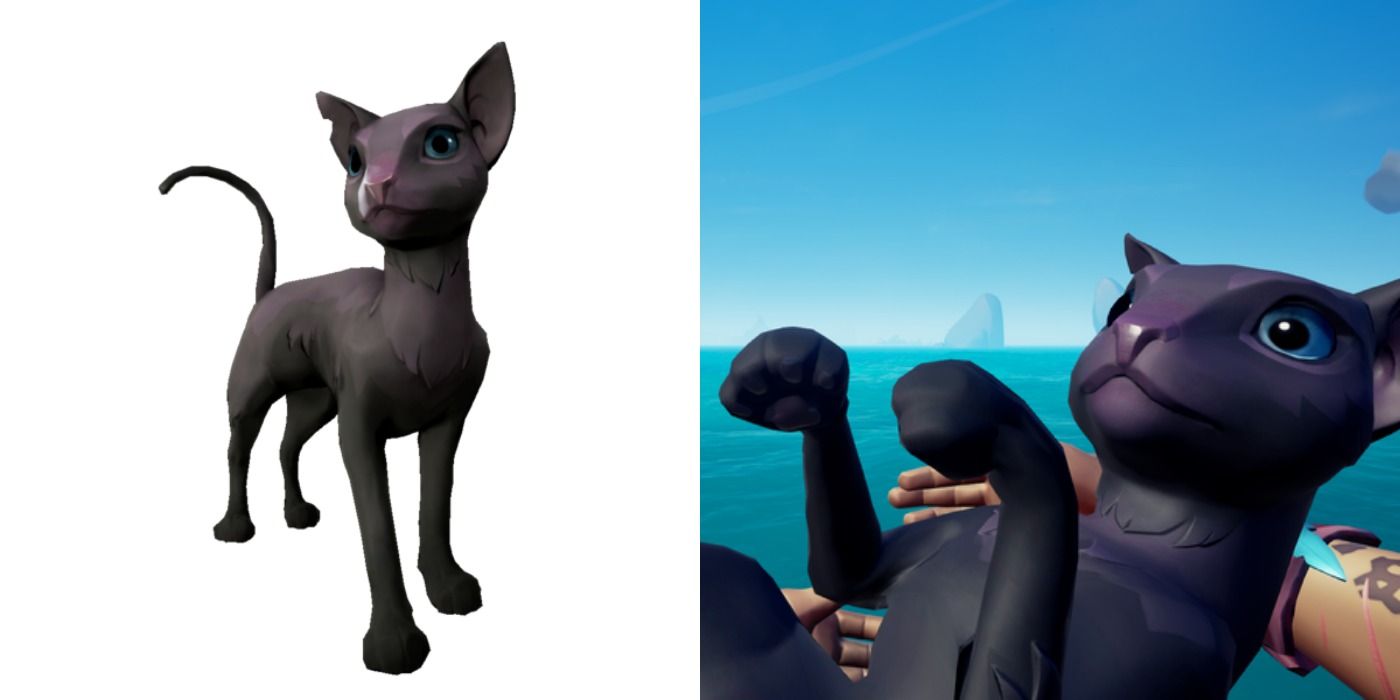 Twilight can come in a range of colors, but blue and purple are usually the most prominent. The Twilight Mau follows this sentiment as it has dark fur with hints of purple mixed into it.
The blue eyes also represent this time of day and players love to have this cat on their ship at all hours of the day and night.
Outfits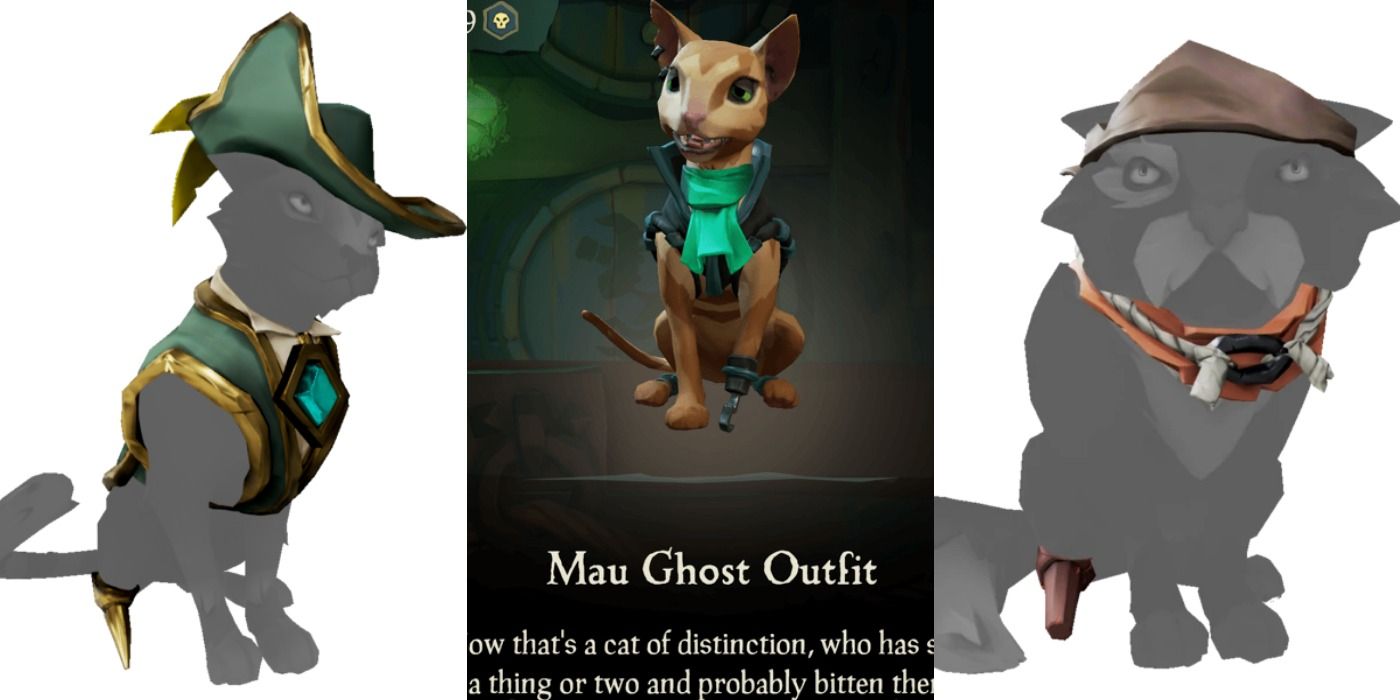 While having a cat is great, equipping it with an outfit makes it a thousand times better. These outfits come in a variety of styles and are the perfect match for every cat no matter which one you choose.
The outfits must also be purchased from the Pirate Emporium with Ancient Coins. All of them can be worn by each of the cats, with slight variations, except for those breeds that are considered a Collector's Pet.
The outfits you can purchase are as follows:
Bone Crusher
Ghost Pet
Pirate Legend
Bilge Rat
Kraken
Sovereign
Bone Crusher (249 Ancient Coins)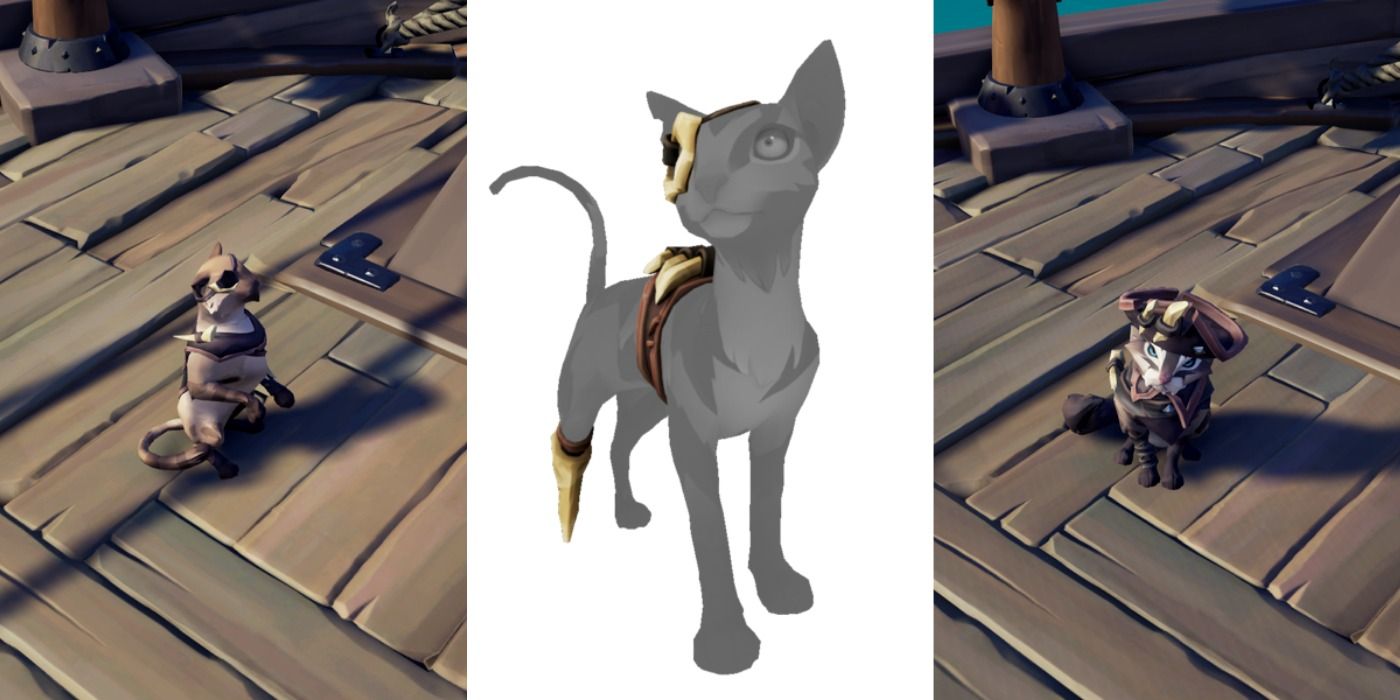 The Bone Crusher outfit focuses on the pirate aesthetic, with wooden legs, hats, and eye patches for the cats. It utilizes leather for the fabric and bones are added for pops of texture.
They all look ready to set sail and collect more bones to add to their amazing outfits.
Ghost Pet (249 Ancient Coins)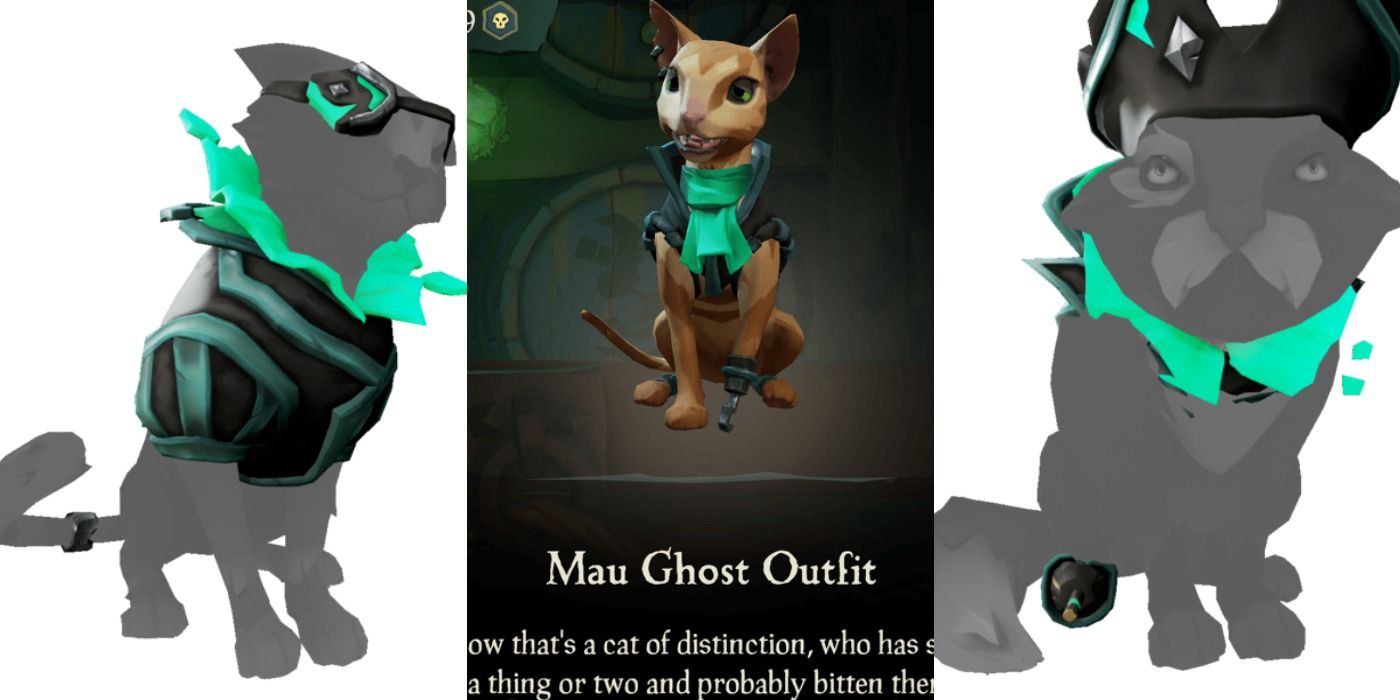 You can only acquire the Ghost Pet outfit after meeting a few prerequisites in regards to Athena's Fortune Trading Company. It is only available for purchase after you have reached a reputation of at least 20 with them and obtained the title of Champion of Athena's Fortune.
The hints of green on the outfits will glow in the dark, but otherwise, it focuses on black and dark green leather.
Pirate Legend (249 Ancient Coins)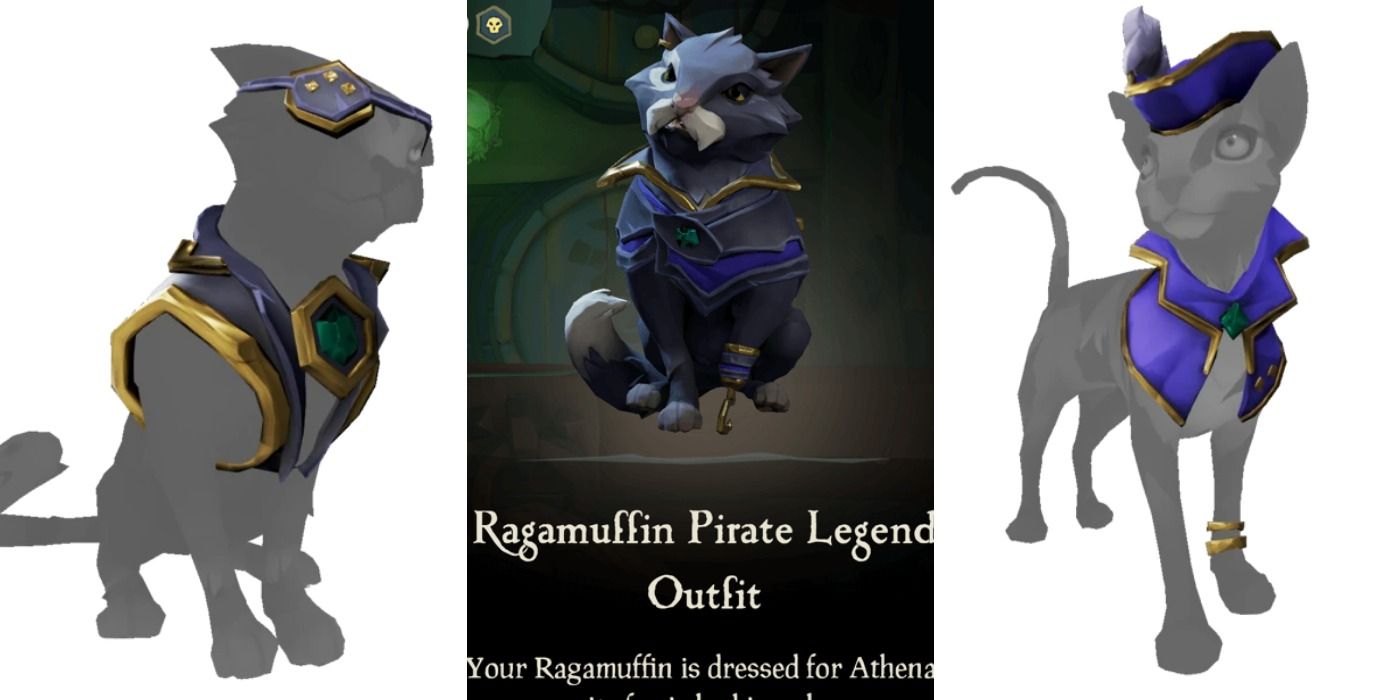 A Pirate Legend is someone who is a master of Sea of Thieves and the Pirate Legend outfit for your pet cat can only be unlocked after a reputation of 50 has been reached in at least three Trading Companies.
It features a purple fabric that is lined in gold with a green gemstone and it all speaks of royalty.
Bilge Rat (249 Ancient Coins)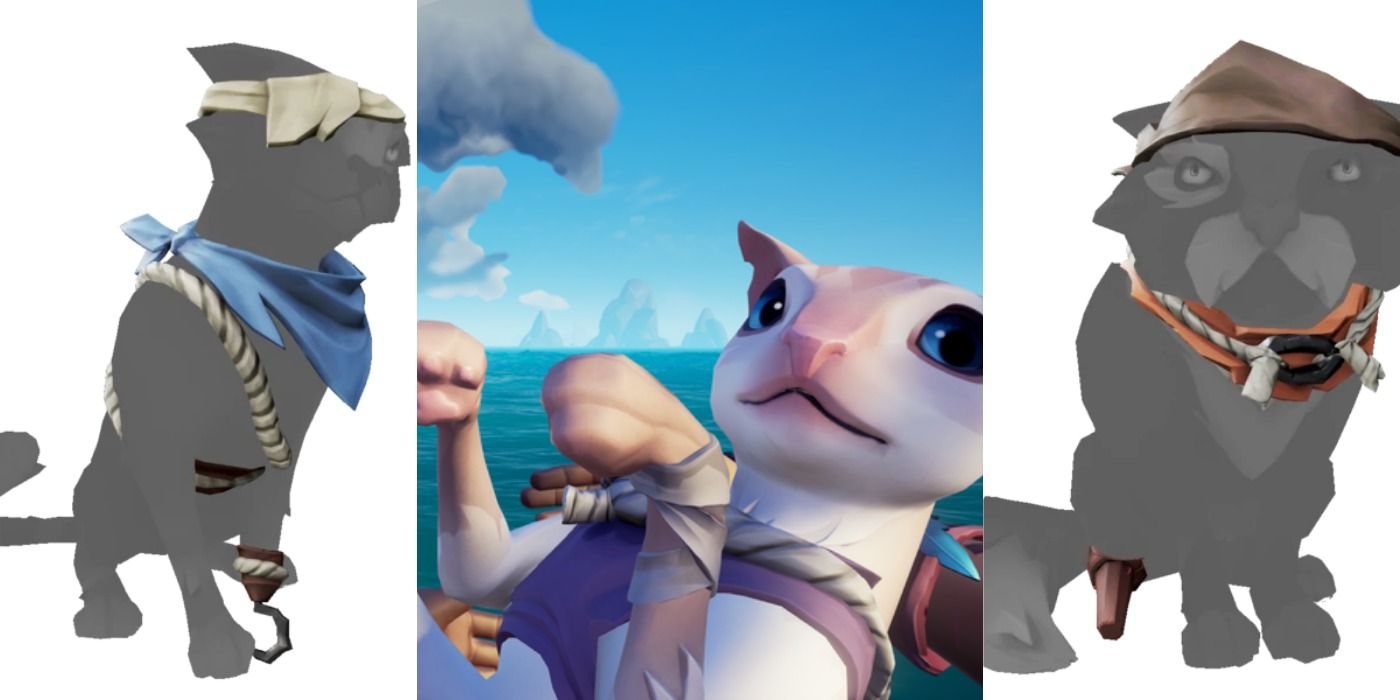 A true sailor needs a Bilge Rat outfit for their cat as it utilizes colorful fabric and rope to give it character.
The Wildcats look the best with this outfit between the blue bandana and the rope strung across their chest. It is a popular pick among players because of its amazing design.
Kraken (249 Ancient Coins)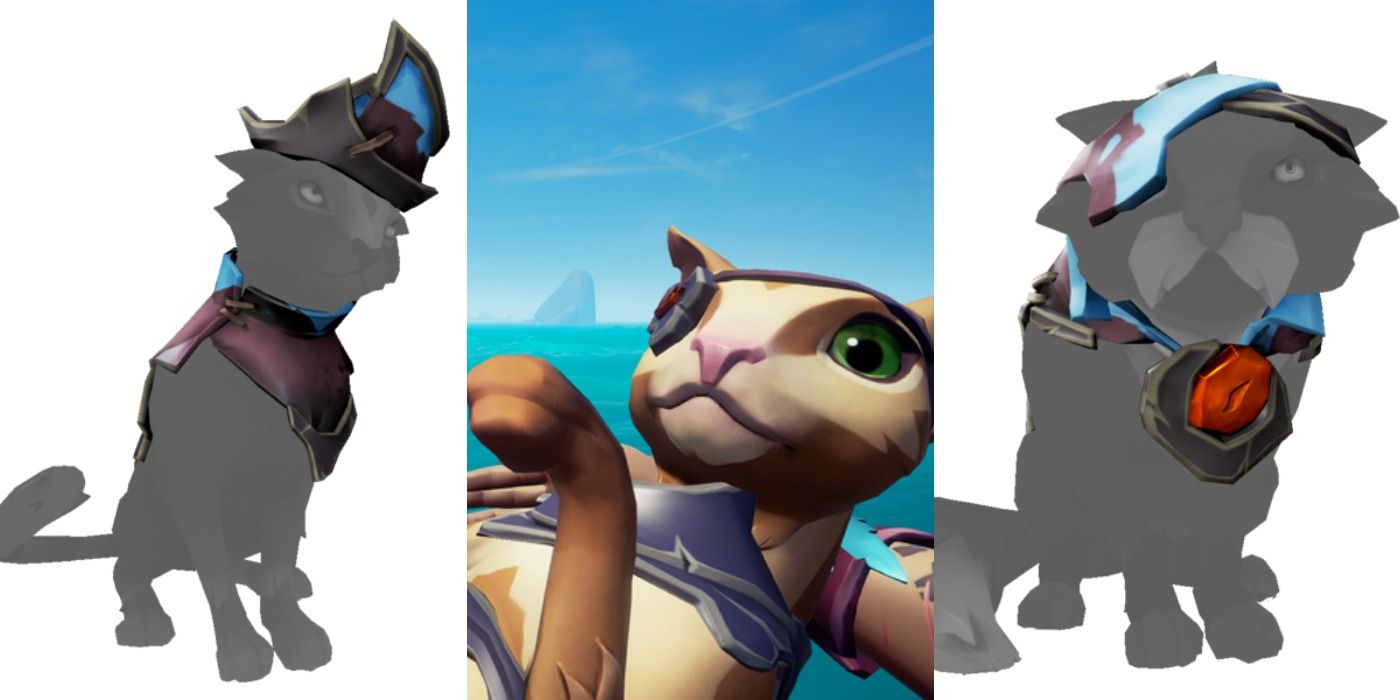 The Kraken is one of the sea creatures in the game that you will be up against, and now your pet cat can wear an outfit in its honor. It uses grey leather and purple fabric, but the Ragamuffin and Mau are adorned with a red jewel.
Sovereign (249 Ancient Coins)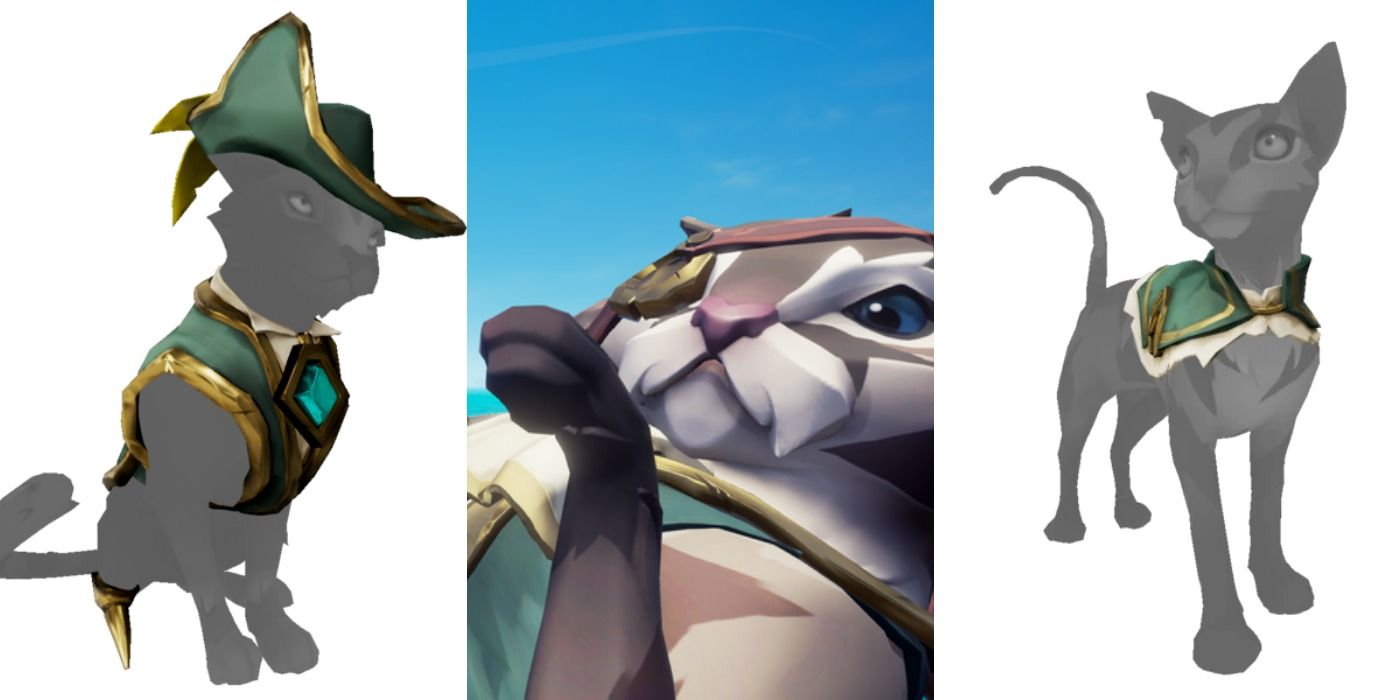 The Sovereign outfit for your cat uses green and gold to bring it to life. It is a more regal outfit that demands attention as it was created to identify the best characteristics of each type of cat.
You don't want to begin your next voyage without it as you always want your cat to look its best no matter the occasion.
Next: Sea Of Thieves: Which Ship Is Best? Brigantine, Sloop, Galleon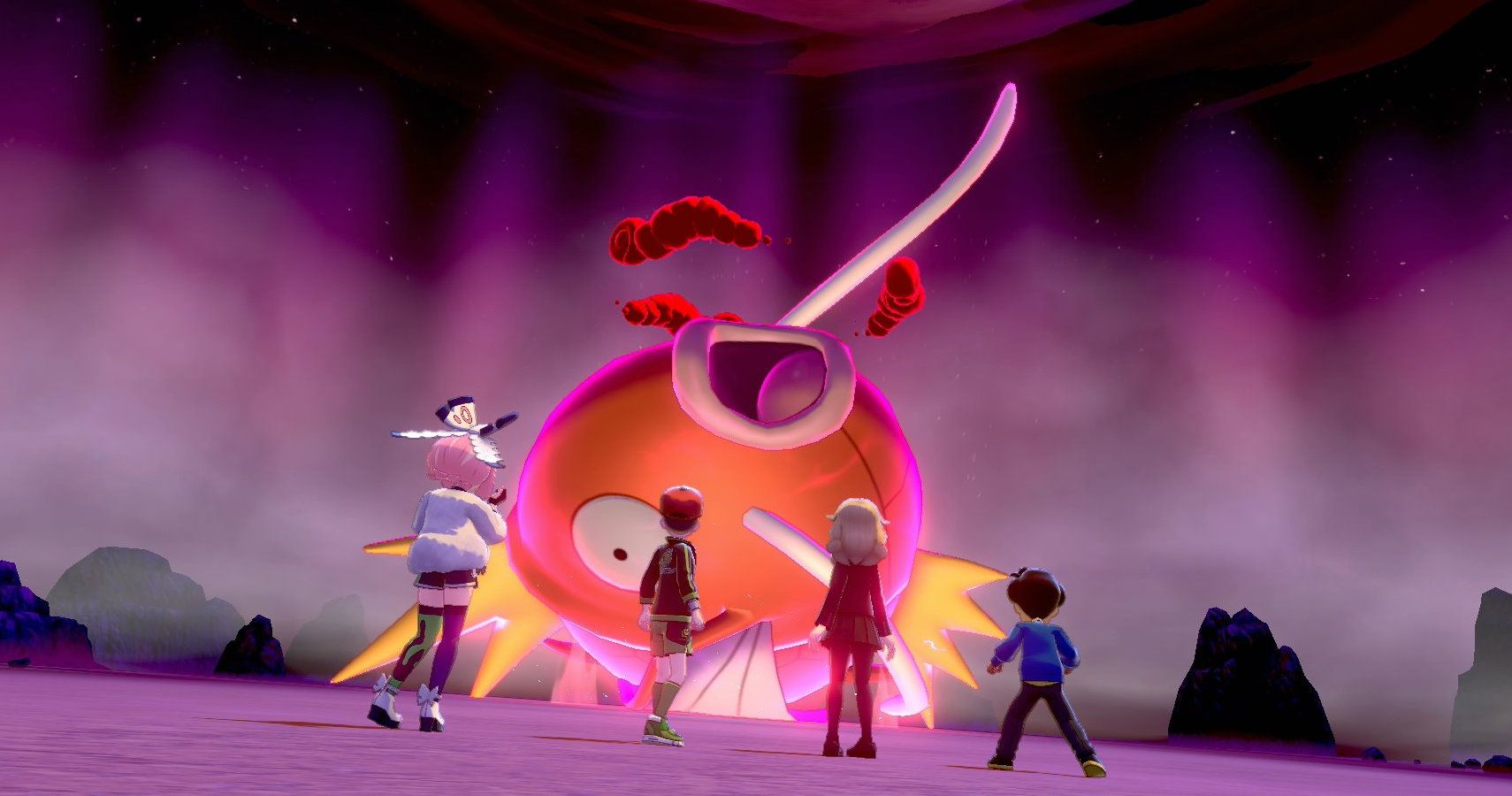 Guides
Sea Of Thieves
Xbox Game Pass
Rebecca O'Neill is a reader and writer based in Ohio, near the heart of the CLE. She enjoys playing a wide variety of video games and spending time with her husband and son when she's not writing.
Source: Read Full Article