Quick Links
How Much Is Niclas Fullkrug?
Should You Complete Fullkrug?
Niclas Fullkrug has made another appearance as the Bundlesiga POTM card and has been awarded another SBC in FIFA 23. This one is extremely cheap, and the card looks really great in terms of stats. Definitely better value than his previous POTM SBC. For the price, it's hard to not do this card.
This short guide covers how to complete the SBC, including the cheapest players for the squad requirements, as well as a deep-dive into the card's pros and cons.
How Much Is Niclas Fullkrug?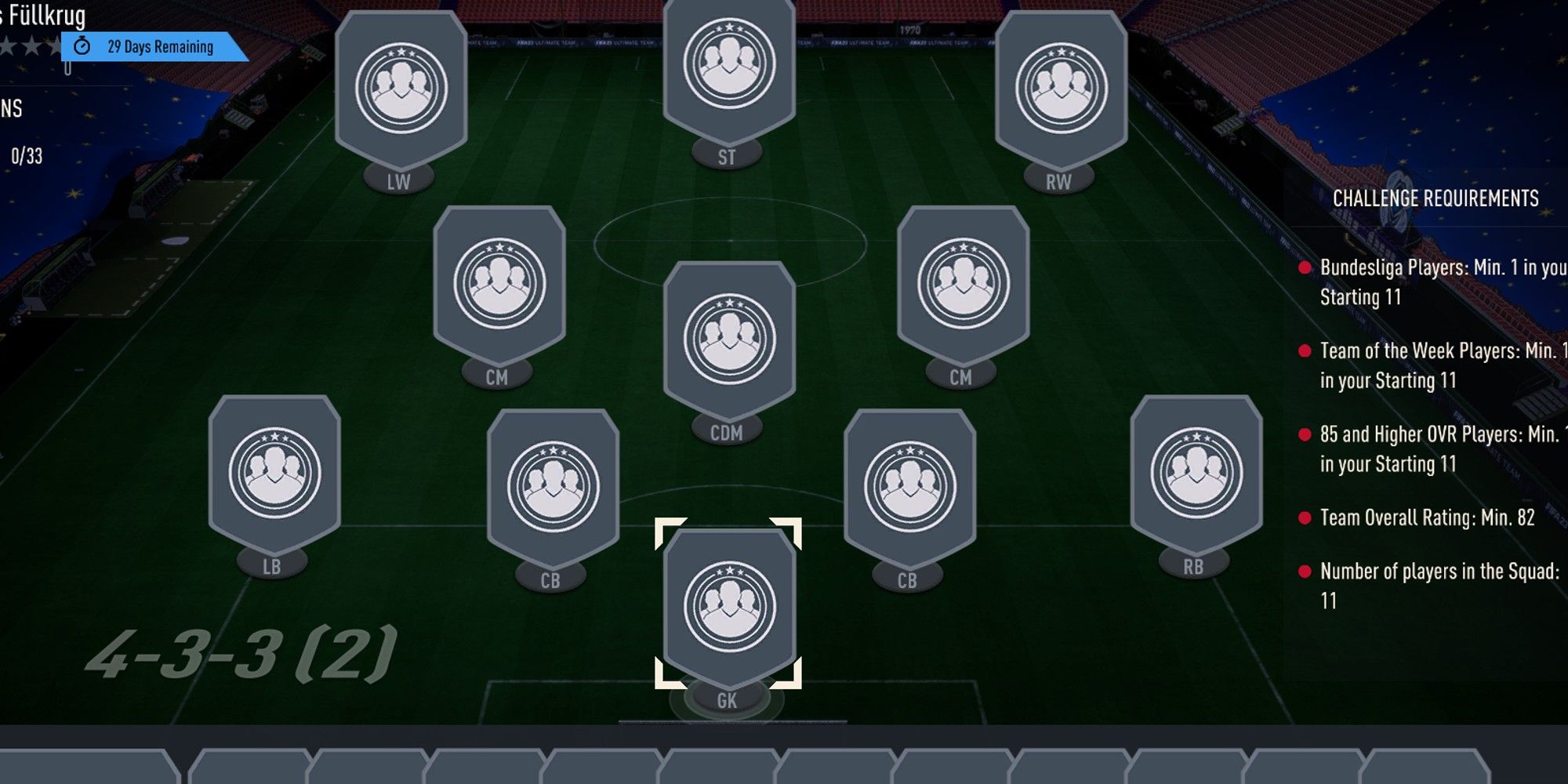 This card is exceptionally cheap, coming in at 20k or just under. You can also probably get this card totally for free using untradeable fodder in your club – you'll get a card you can use but also turn in for future SBCs.
How To Complete Fullkrug
To complete Fullkrug's SBC, you just need to have:
An 82 rated squad with one Bundesliga player, one TOTW player, and one 85+ in the team
This means it's a very easy card to achieve, especially if you have some untradeable TOTW cards already sitting around in your club. This is a good time to redeem those lower rated TOTW cards as you can use Fullkrug in future SBCs if you want to.
The cheapest 85 rated cards are currently at around 7 or 8k FIFA coins
TOTW cards can be picked up at discard price (10k), especially for lower rated ones
We recommend that you use an untradeable, low-rated TOTW card from your club, though
Should You Complete Fullkrug?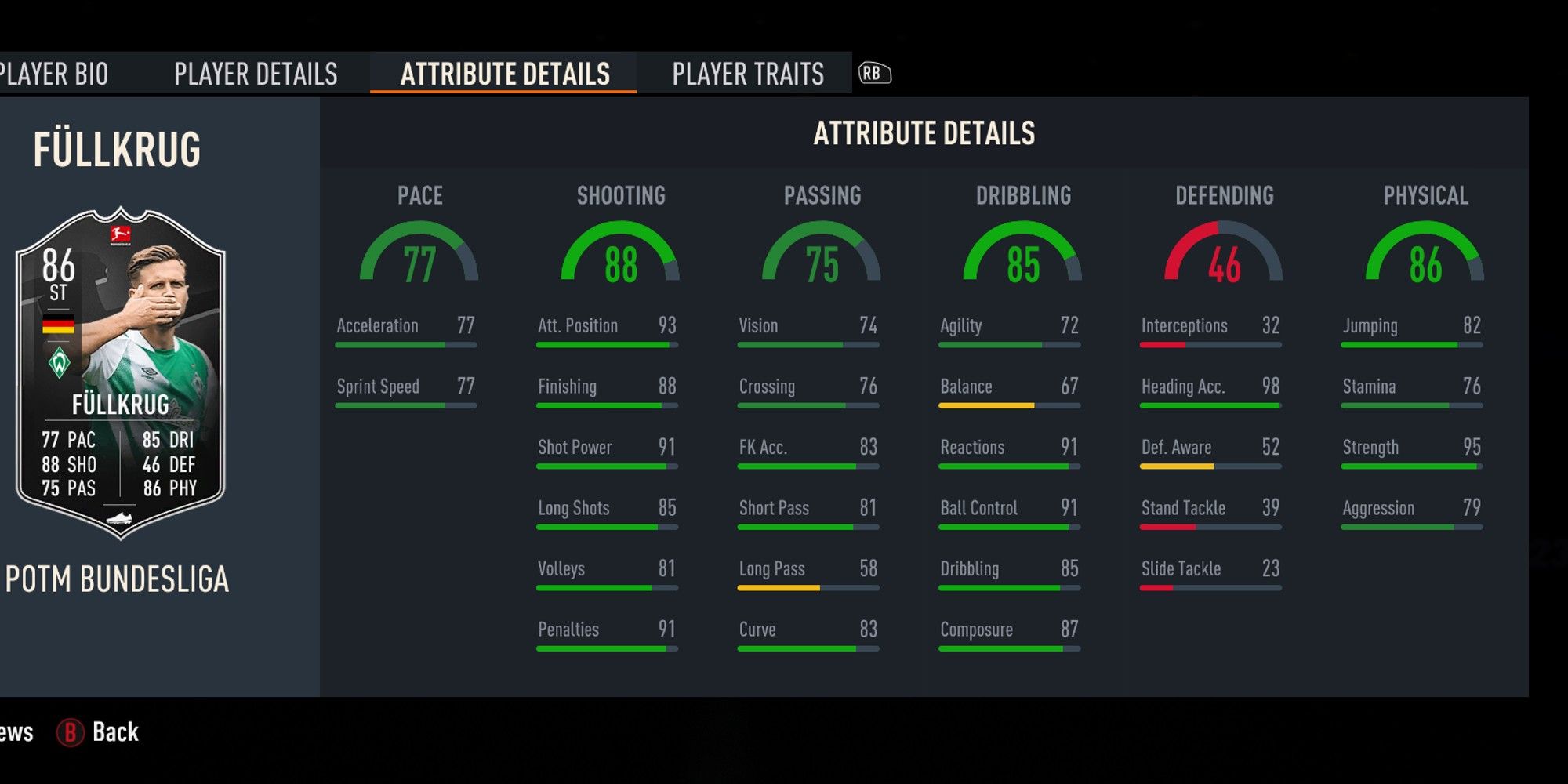 For the price of just under 20k, you should probably just complete this SBC using untradeable fodder in your club. You've also got a whole month to craft it, which means there's no rush getting that 85 rated player for the requirements. The cheapest 86 rated cards are currently selling for around 12 or 13k, which means you're hardly paying much more for this SBC anyway.
In terms of stats, Fullkrug actually looks like a pretty fantastic card. Here's a closer look.
| | |
| --- | --- |
| Pace | Fullkrug has 77 Pace, but is Lengthy. Although this has received a nerf, it's still a valuable trait. |
| Shooting | 88 Shooting, with key stats in 91 Shot Power and 88 Finishing |
| Dribbling | 85 Dribbling, but quite low Agility and Balance, decent Composure at 87 |
| Passing | 75 Passing, definitely the card's weakest area – decent short pass at 81, though |
| Traits, Physical, Weak Foot, Skills | No useful traits, four-star skills, four-star weak foot, can be Lengthy |
We recommend using an Engine chemistry style on this card to improve the card's passing, dribbling, and pace. Alternatively, you could just use a Hunter to increase that Pace and Shooting.
The card's main weaknesses are poor passing, low stamina (less than 80!), and poor dribbling in terms of snappiness on the ball. However, this card could make an impressive super sub in the upcoming weekend league.
Overall
This is a very affordable SBC, and we see no reason why you wouldn't complete it. You can craft it easily from rewards, use one of those low-rated TOTW cards to complete it, and have a very good card that you can use in a team or redeem later on down the line for fodder purposes. With the World Cup on the way, First Owner German players could also be useful in some capacity, although that's speculation right now.
Source: Read Full Article