Quick Links
The Barony of Loth brings magical might to Songs Of Conquest, commanding legions of undead troops and supporting them with offensive spells. With no shortage of expendable frontline troops in the form of Oathbound skeletons and Risen zombies, Loth's armies can position their elite forces without interference before striking at the enemy's heart.
A Loth Wielder with a proper Essence engine is one of the most dangerous foes in the game, able to obliterate enemy units while keeping their own forces powered up. Aurelia rewards those who swear her Oath, after all.
Songs Of Conquest is currently in early access. The game, as well as the information in this guide, is subject to change.
Loth Units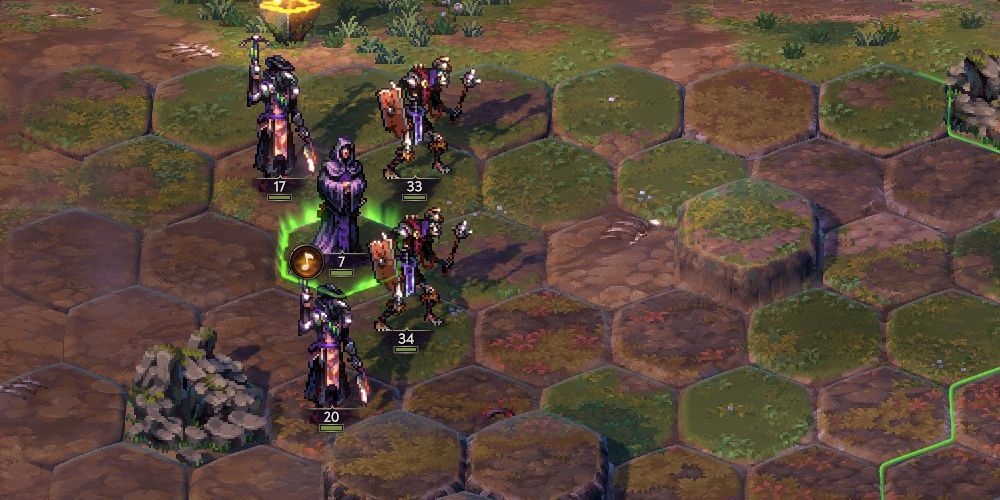 Loth has many formidable units at their disposal, from fanatical Cultists to the dread Legions. Generally, their human troops prefer to keep their distance from the enemy, unleashing ranged attacks and bolstering the Barony's undead melee units. When a Loth army wins a battle against human enemies, a portion of the dead will be resurrected as Risen, which can be useful for horde armies.
While the Barony has plenty of heavy-hitting elite units, they are the easiest faction with which to build enormous stacks of cheap units. A swarm of a hundred Rats can deal enormous damage before being destroyed, especially with buff spells like Onslaught.
Unit
Recruited From
Upgrades To
Upgrade Ability
Essence
Notes
Risen
Raised after battles
N/A

Slow and weak, but free.
Dangerous in large numbers.
Good for soaking up enemy attacks.

Rats
Rat Warren
Plague Rats

Weak but fast.
Dangerous in large numbers.
Gains additional movement and Offense but loses Defense when damaged.

Oathbound
Crypt
Legionnaires

Can can enter a defensive stance, gaining +30 Defense.
Takes half damage from ranged attacks

Basic infantry unit.
Good for protecting ranged attackers and Cultists.

Cultists
Aurelian Sanctum
Oathsingers

Can sing to buff all friendly units' Offense.
Decent melee attack, but fragile.

Toxicologists
Laboratory
Banes

Can spend a turn aiming to gain significantly increased range and damage.

Strong ranged attacker.
Shots poison enemies.

Aurelian Scholars
Aurelian Sanctum
Necromancers

Can spend their turn channeling Essence, doubling their Essence output for the round.

Excellent Essence generator.
Powerful ranged attack hampered by small unit size.
Decent Defense for a support unit but cannot retaliate in melee.

Scavenged Bones
Mausoleum
Blessed Bones

Can sacrifice one Blessed Bones to summon a unit of fifteen Oathbound to the hex in front of them.

Can retaliate against an unlimited number of attacks.

Spectres
Mausoleum
Seneschals

Changes Essence to one each Order, Arcana, and Destruction.
Can buff adjacent allies' Offense and damage.

Fast-moving shock troop.
Can leave an enemy's adjacent hex without being attacked.

Legions
Summoning Circle
High Legions

Can buff adjacent allies' Defense.
Takes half damage from ranged attacks.

All adjacent enemies suffer -10 Defense and Initiative.
Melee attacks affect all units adjacent to the primary target.
Loth Strategy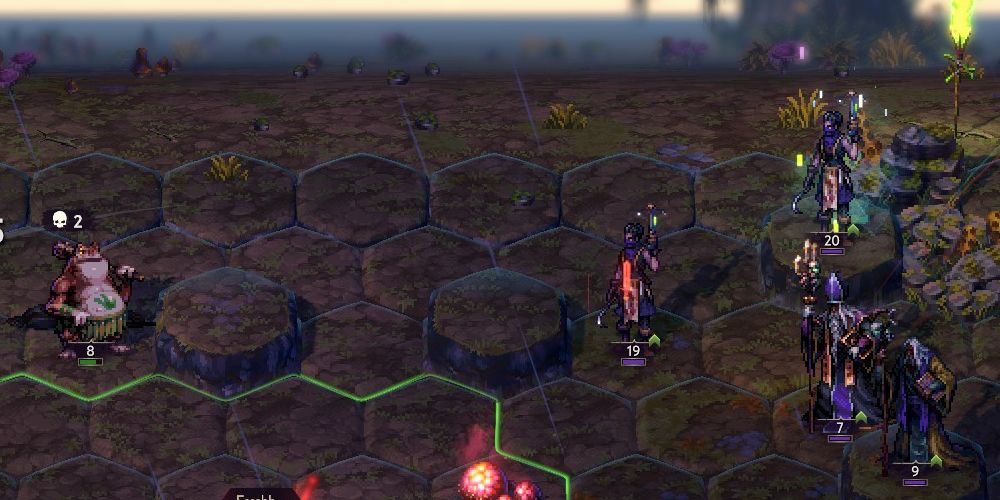 While the Barony of Loth has many excellent units, its major strength that remains consistent across all builds is easy access to Essence. Loth generates Arcana Essence much more efficiently than the other factions, allowing for spells that their rivals will struggle to cast. Combined with their ready reserves of Destruction Essence, this makes Loth Wielders singularly dangerous when commanding troops.
If you're on a map with several small settlements up for grabs, Loth can overwhelm low- to mid-tier armies with swarms of Plague Rats by building and upgrading a Rat Warren in each town. Supported by Oathbound and possibly Cultists, these chittering rodents can handle most neutral armies with ease.
Every game you play as Loth will require you to make a decision early on, however; the Barony has three very good recruitment buildings for medium-sized sites, and you won't be able to build them all efficiently. Consider your starting Wielder and overall build; if you're looking for tough units to fight alongside your Oathbound in melee, go with the Mausoleum. Cultists and Aurelian Scholars are the natural choice for heavy spellcasters like Doctor Marjatta, and Toxicologiests are a great ranged unit that can fit into just about any army – provided you have the Command slots available with all the other units Loth can recruit.
Loth Wielders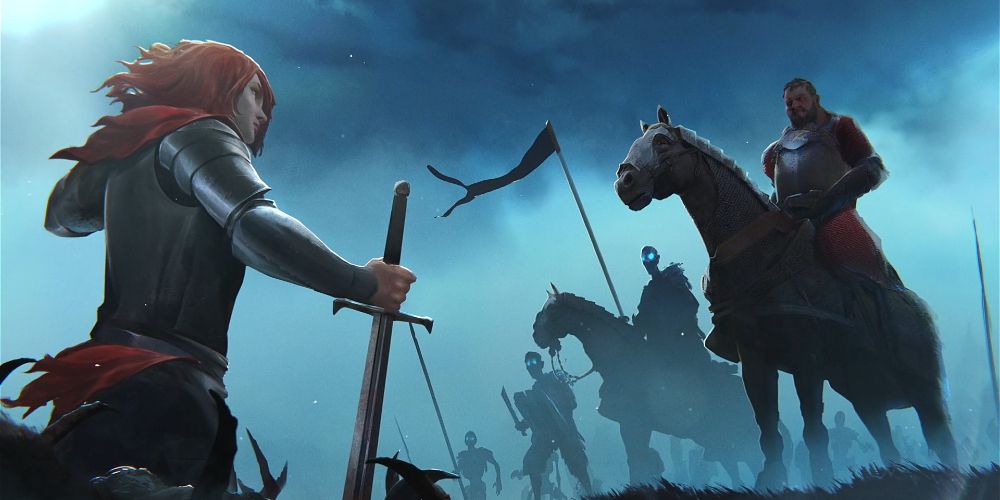 Loth's Wielders are some of the best in the game. Whether they're adding to the faction's already-prodigious Essence generation or efficiently buffing the undead horde, the presence of a Loth Wielder should strike fear into the hearts of the Barony's foes.
Wielder
Starting Stats
Starting Troops
Starting Skill
Specialization
Recommended Units
Baron Aldus Of Loth

Offense 5
Defense 10
Movement 12
Vision 7
Command 3

3x Toxicologists
5x Cultists
5x Rats

Aldus generates one additional Order Essence at the start of each combat round.

Rats
Oathbound
Toxicologists

Ambertina

Offense 15
Defense 0
Movement 12
Vision 7
Command 3

Ambertina generates one additional Destruction Essence at the start of each combat round.

Oathbound
Cultists
Aurelian Scholars

Coral Lightbringer

Offense 10
Defense 5
Movement 12
Vision 7
Command 3

Units under Coral's command take fifteen percent less damage from ranged attacks.

Oathbound
Cultists
Aurelian Scholars
Legions

Brother Hillar

Offense 5
Defense 10
Movement 12
Vision 7
Command 3

Rats and Plague Rats under Hillar's command have an additional hit point each.

Magnolia Silverlink

Offense 10
Defense 5
Movement 12
Vision 7
Command 3

Units under Magnolia's command can move an additional space on their turn.

Rats
Oathbound
Spectres
Legions

Doctor Marjatta

Offense 5
Defense 5
Movement 12
Vision 7
Command 3

3x Cultists
1x Aurelian Scholar
5x Oathbound

Doctor Marjatta's spells deal forty percent more damage.

Oathbound
Cultists
Aurelian Scholars
Spectres

Merkoth

Offense 15
Defense 0
Movement 12
Vision 7
Command 3

1x Scavenged Bones
8x Oathbound

Undead units under Merkoth's command get +20 Melee Offense at all times.

Oathbound
Spectres
Scavenged Bones
Legions

Roderick Of Loth

Offense 0
Defense 15
Movement 12
Vision 7
Command 3

Human units under Roderick's command get +20 Defense at all times.

Oathbound
Cultists
Aurelian Scholars
Toxicologists

Wiesh, The Returned

Offense 10
Defense 5
Movement 12
Vision 7
Command 3

Wiesh generates one additional Arcana Essence at the beginning of each combat round.

Oathbound
Cultists
Aurelian Scholars
Legions
Recommended Build Order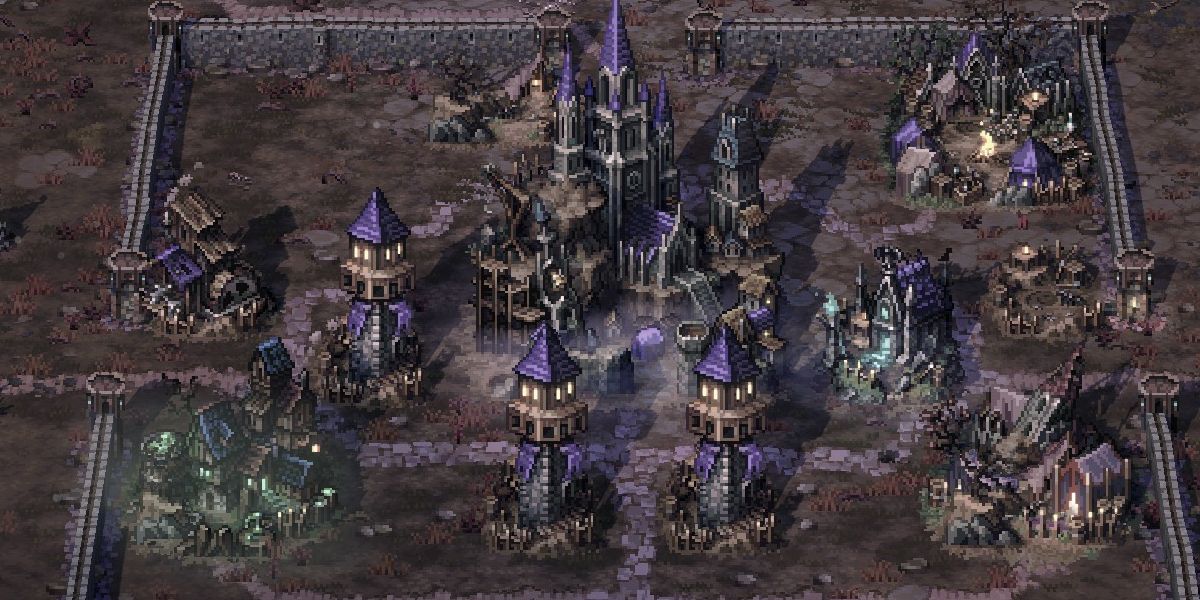 Loth's early units rely on numbers to succeed, so your first building should always be a Rat Warren or a Crypt. The Crypt is generally a better pick since Oathbound form the backbone of every Loth army, while the Rat Warren is more of a situational choice depending on your starting Wielder. Brother Hillar in particular wants as many Rat units as possible.
As you explore and gather resources, bear in mind which medium-sized recruitment building you intend to select first. While these buildings don't have requirements, their upgraded versions do:
| Building | Upgrade Prerequisite |
| --- | --- |
| Aurelian Sanctum | Croft |
| Laboratory | Timber Mill |
| Mausoleum | Stone Works |
If you need to build a different economy building to fix your income, that's fine – you can always build the necessary structure on a later slot, or sell a building later to make room. Small buildings only take one turn to build, so you won't be wasting any time with this strategy.
Note that if you plan to go big and construct a Summoning Circle to recruit Legions, the upgraded version requires an Aurelian Sanctum in the same settlement. High Legions are exceptionally powerful and always worth the upgrade if you can afford them, so be sure to factor the Aurelian Sanctum into your plans as you prepare.
Source: Read Full Article