For a lot of people, gaming is all about trophy hunting. That might have just become a little bit harder to do on PlayStation as Sony has informed developers it will be implementing stricter guidelines when it comes to cracking down on shovelware and games that appear to have little more to offer than an easy platinum.
A document, reportedly sent to DEX.EXE by an anonymous source, has been sent to developers, informing them of the new guidelines and action that will be taken should they be broken. "When partners oversaturate or 'spam' PlayStation Store with many variants of the same type of content, it can negatively impact both the customer and partner experience," the letter reads. PlayStation then lists what will be considered spam or repetitive content moving forward.
Among products that will now fit that definition are games that are copied and not meaningfully different from pre-existing games on the PS Store, and multiple concepts that have duplicative functionality that only have minor variances of assets. PlayStation recommends developers that might be guilty of that aggregate those games into a single experience to avoid falling foul of the new punishments for doing so.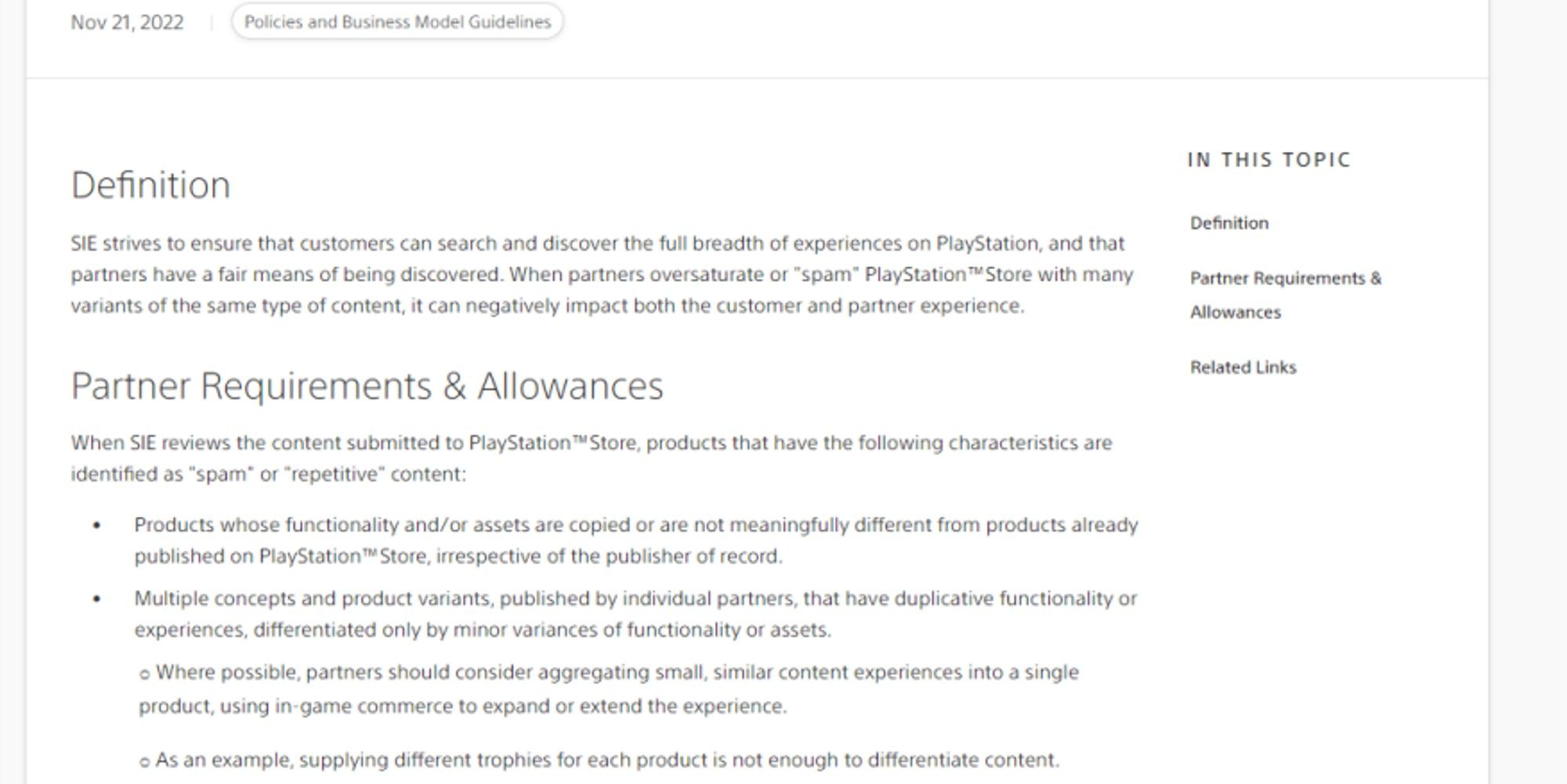 As for what those new punishments are, the list is a long one. It ultimately depends on the product and whether the developer responsible for it is a repeat offender. Listed among the consequences are restricted discoverability on the PS Store, and having the content delisted from the Store entirely. Should the same developer be warned and punished multiple times, it could even result in a suspension from adding content or an outright ban.
Someone's platinum haul can often look pretty impressive, but on some occasions, their trophy collection may well have been topped up by the types of games PlayStation is now trying to crack down on. For example, there's currently a game available through the PS Store that requires nothing more than the player pressing X to make an animated pumpkin jump up and down. The Jumping Pumpkin (yes, that's really what it's called) has a full trophy list, including a platinum.
Source: Read Full Article