Streets of Rage 4 is getting a retro Sega Genesis cover with its limited physical release.
We love Limited Run Games. So many beautiful titles would remain digital-only if it wasn't for the tireless work of this indie publisher ensuring that every game they make has at least a few physical copies out there for anyone who just can't go without holding a game in their hands.
Limited Run Games announced that Streets of Rage 4 will be added to their library of exclusive physical titles back in January, and now we finally have details to share on just what that entails.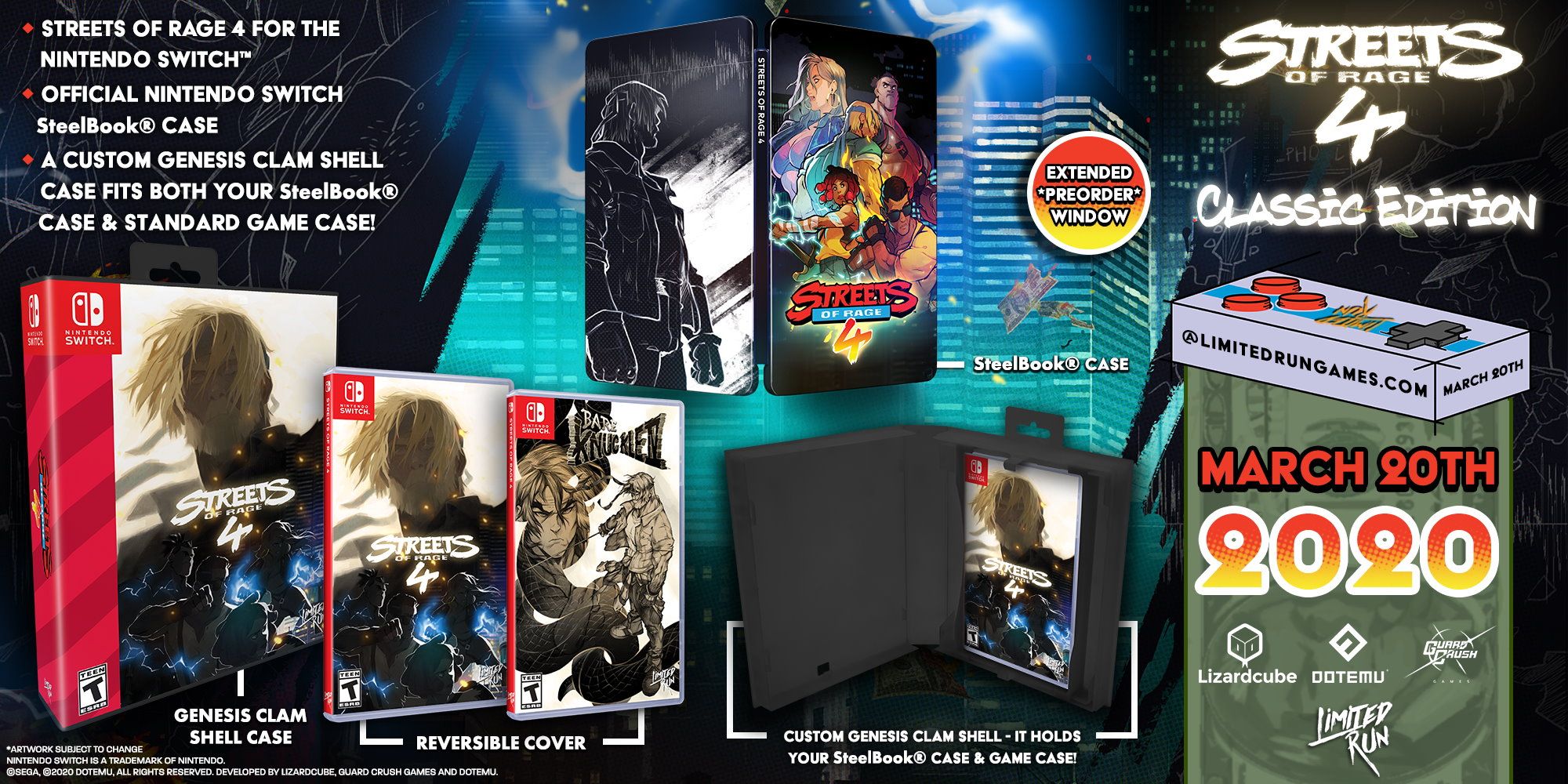 Streets of Rage 4 will have two different physical versions, depending on how much you want to spend. The Standard Edition will get just a regular old PlayStation 4 or Nintendo Switch jewel case, but it will come with a reversible cover so that you can turn it into Bare Knuckle 4 if you prefer the Japanese title instead.
In the Classic Edition, you get the standard jewel case with the reversible cover, but you also get an old-school Sega Genesis clamshell case that looks like it came straight out of 1993. You also get a manual (something that games haven't had in well over a decade) as well as a G2 SteelBook case.
The Standard Edition will cost $34.99 for both Nintendo Switch and PS4, while the Classic Edition is priced at $59.99. There's also a Mega Bundle that includes both the PS4 and Switch games as well as their respective jewel cases and the SEGA Genesis case for $189.99 in case you just gotta have everything that Limited Run Games is making.
There's also going to be a Limited Edition version of Streets of Rage 4, but we won't get details on that version until after release day.
Head on over to Limited Run Games in order to reserve your copy today. Pre-orders are available starting March 20th until one week after the digital release, at which point orders will close and never re-open.
Streets of Rage 4 comes out on PC, PS4, Xbox One, and Nintendo Switch later this spring.
Source: Read Full Article