They say that imitation is the greatest form of flattery and nothing could be more true with CMON's latest title Sugar Blast.
The recently announced game features a unique four-way tilting board that simulates the drop mechanic made famous by titles such as Tetris coupled with the match-three twist, from Bejeweled and Candy Crush. The match-three puzzle genre is popular on mobile and with casual gamers, and CMON no doubt hopes to capitalize on that market with its latest game.
Sugar Blast is aimed at one to four players aged eight and over. Games should take no more than 20 minutes to play. In the box, you get the tilting game board, 72 candy pieces, a cloth storage bag, and 6 objective cards. A rulebook is also included. Players each take a turn starting with a full game board and attempt to make a 'blast', a valid match of three or more candies. These are removed from the game and the board is tilted towards the player forcing any spaces beneath to be filled. Any space towards the top is filled with random candies from the bag. The player repeats this until they feel there are no more available matches and passes to the next player.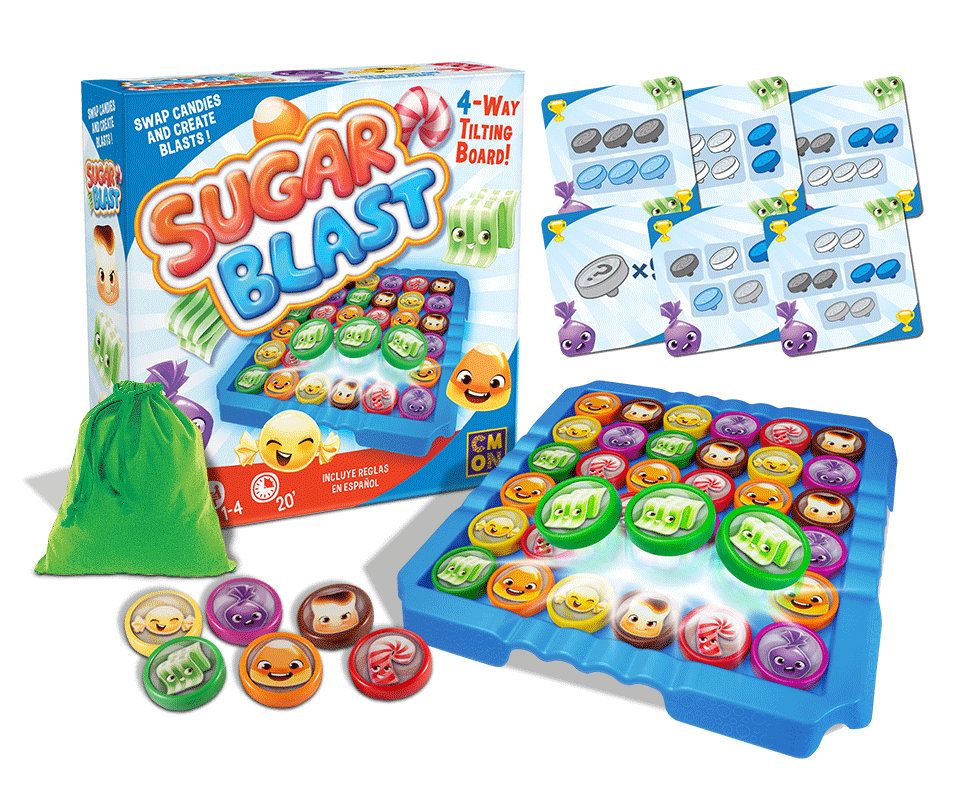 King, the studio behind Candy Crush, is well known for its litigation against studios who 'copy' or have similar games, especially where candy iconography is used. This is despite previous match-three games, that candy crush is based upon, having using the same 'match, drop, and refill' mechanics. Bejeweled was released in 2001 by Popcap and saw players match different colored jewels. This was also based upon a 1994 game called Shariki. It will be interesting to see how well the transition from digital to tabletop will be received and whether CMON will end up entangled in a lawsuit.
CMON's use of cute candy tokens is a shrewd move that is bound to attract the attention of younger gamers. The gameplay is similar to the classic match-three with a couple of twists. Overall, it looks like a good family game released just in time for the holiday season. Sugar Blast is available now in all good toy stores and e-tailers, or on-line at asmodee.com.
NEXT: Disney Haunted Mansion – Call of the Spirits Game Review: Welcome, Foolish Mortals
Source: Read Full Article