Black Ops Cold War arrives a day after the PlayStation 5 hits store shelves, which seems as clear an indicator that Activision considers the next member of the Call of Duty franchise to be a next-gen game. And not just for consoles, either. Call of Duty: Black Ops Cold War's PC system requirements are targeting some pretty high-end systems–so high-end that most of us can't even meet them.
Activision updated the Black Ops Cold War website with its launch trailer today, showcasing all the new technologies that will be in the game. Things like ray tracing, 4K resolution, ambient occlusion, and uncapped framerates. Black Ops Cold War will specifically pair with NVidia's latest video cards to use DLSS And Reflex Technology for what is sure to be the best looking Call of Duty game ever made.
But getting all that to work will require one of Nvidia's latest video cards–cards that are in such high demand that you can't really buy them anywhere.
Take a look at Black Ops Cold War's Ultra RTX requirements. To get this game running at max graphics settings with ray tracing and 4K, you'd need an RTX 3080. Only problem is, they're sold out everywhere and are likely to remain so for the rest of the year.
It's the same story for the Recommended With Ray Tracing specs calling for an RTX 3070, which again, sold out everywhere in seconds, and now you can't get one without paying double the price on eBay.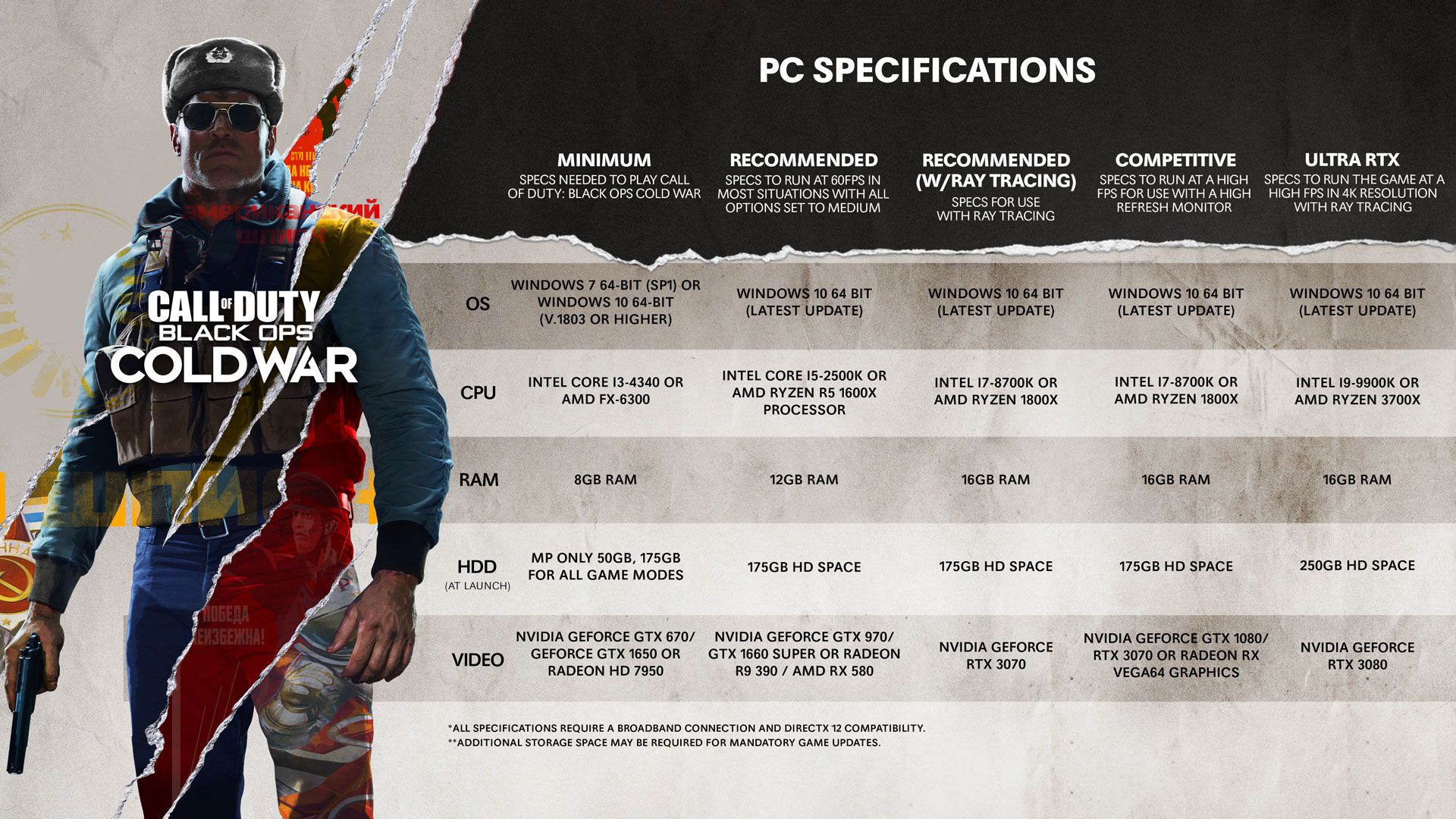 On top of that, Black Ops Cold War's storage requirements are ludicrous. For Ultra settings, you'd need 250 GB of storage. To start. Keep in mind that Modern Warfare started life with a mild requirement of around 150 GB, and now it's ballooned to 250 GB. Black Ops Cold War is starting at 250 GB, but you'd best believe it'll only get larger from there.
Even recommended memory requirements are 175 GB, which will surely become 300 GB or more by the middle of next year.
Source: Read Full Article