In The Long Dark, you can test your survival skills not only by trying the game's different game modes but also by completing the Challenges and achieving the Feats this game has to offer.
Both mechanics require you to do something before completing or unlocking them, so it's easy to get them mixed up. Don't worry, though, as here's everything you need to know about Challenges and Feats in The Long Dark.
Both Challenges And Feats Are Badges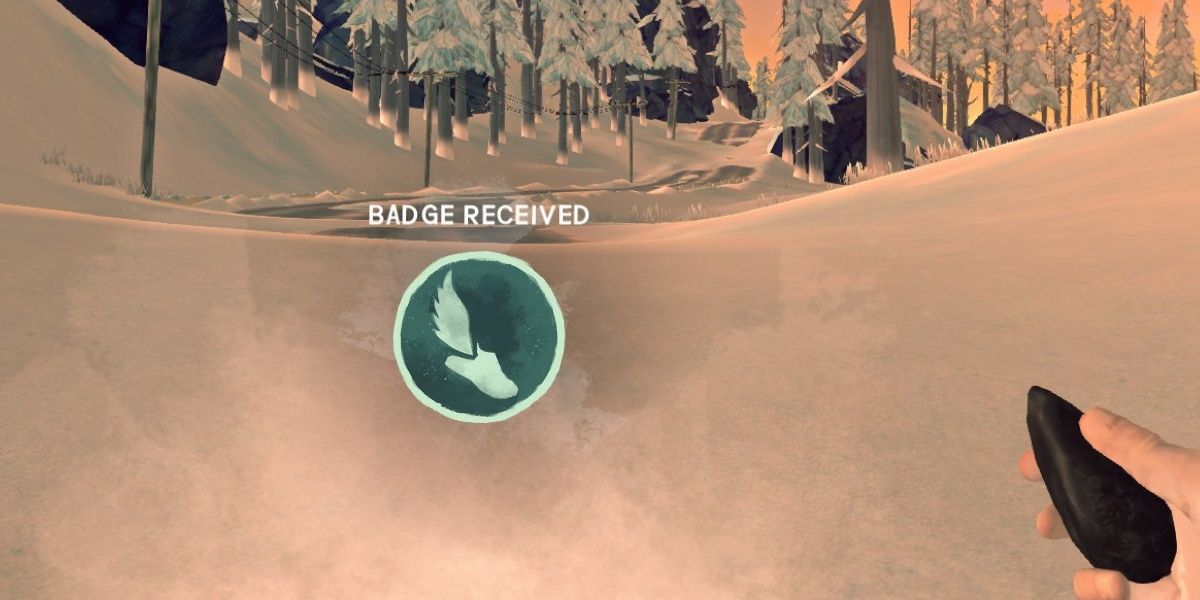 Badges are a feature that wasn't there from the beginning but was added in version .347 of the game. Badges are divided into two sub-categories: Feats and Challenges.
Similar to how Achievements or trophies work, to earn any type of Badge, you'll need to perform a specific task within the game. Once the deed is done, you can view your badges in the main menu or the pause menu.
Feats Provide A Gameplay Perk; Challenges Don't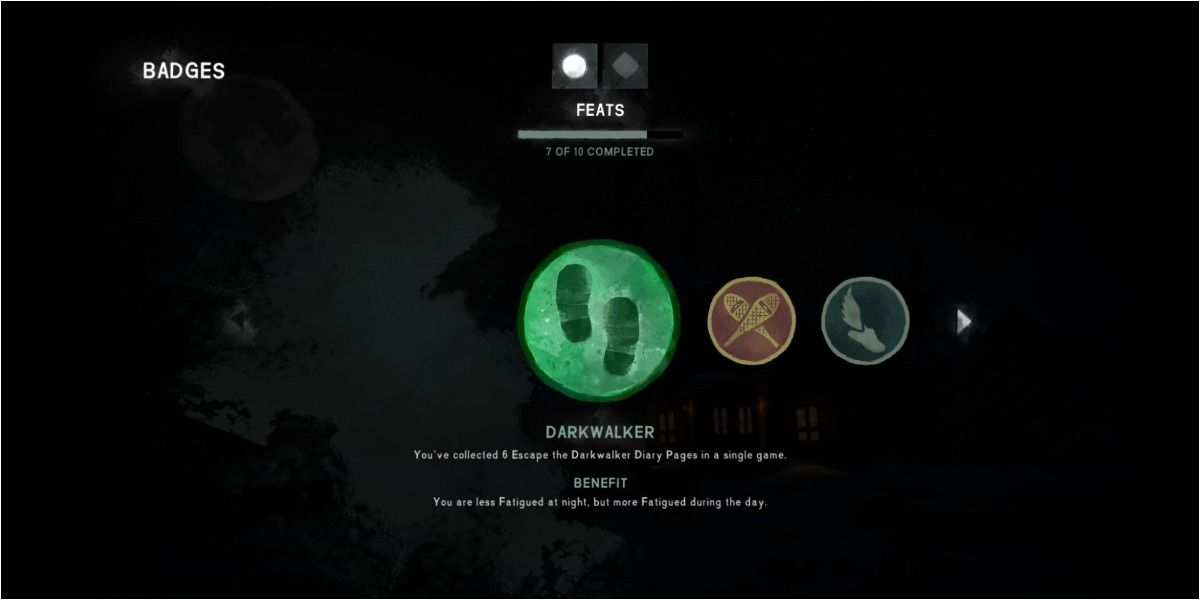 Once you've completed a specific Feat, you'll be granted a gameplay perk that makes surviving in The Long Dark a little bit easier. Challenges don't provide any special bonus, and once you've completed one, all you have is a Challenge badge to prove you achieved something.
Every Feat In The Long Dark
Book Smarts: You'll have to do 250 hours of research, which means reading Research Books. There are multiple copies of each kind of Research Book scattered all over the map, and they can take up to 5 to 25 hours to read, depending on the book. Once you complete this Feat, you'll obtain a 10% benefit from each book you completely research.
Cold Fusion: To unlock this one, simply spend 100 days (2400 hours) outside. This one is pretty self-explanatory, and once the Feat is unlocked, you'll enjoy a permanent boost of +2°C/4°F to your character's core body temperature.
Efficient Machine: This Feat requires you to survive in the wilderness for 500 days. Once you do, you'll consume 10% fewer calories when performing any action.
FireMaster: This one is easy; just start 1000 fires. The reward for this Feat is that Survivors will start the game with a Level 3 Fire-Starting skill.
Free Runner: For this one, you'll have to sprint for 50 kilometers or 31.1 miles. After all that work, you'll consume 25% fewer calories when sprinting.
Snow Walker: To complete this Feat, you'll have to travel 1000 kilometers or 621.4 miles. Afterward, your Stamina will recharge 20% faster.
Blizzard Walker: A challenging Feat that requires you to spend 20 days outdoors during blizzards. If you manage to complete this one, your speed reduction for walking into the wind will be reduced by 25%.
Expert Trapper: Rabbits are a nice source of meat, so completing this Feat is a win-win. All you have to do is use a Snare to capture 100 rabbits. After doing so, all the snares you make will be 100% more effective.
Straight To The Heart: To unlock this Feat, simply use or consume 250 Cups of Coffee, GO! Energy Drinks or Emergency Stims. Afterward, the effects from these consumables will last 25% longer.
Darkwalker: A recently added Feat that makes you less Fatigued at night, but more Fatigued during the day. To unlock it, you'll have to complete the Darkwalker Challenge.
Feats Are Only Available In Survival Mode; Challenges Aren't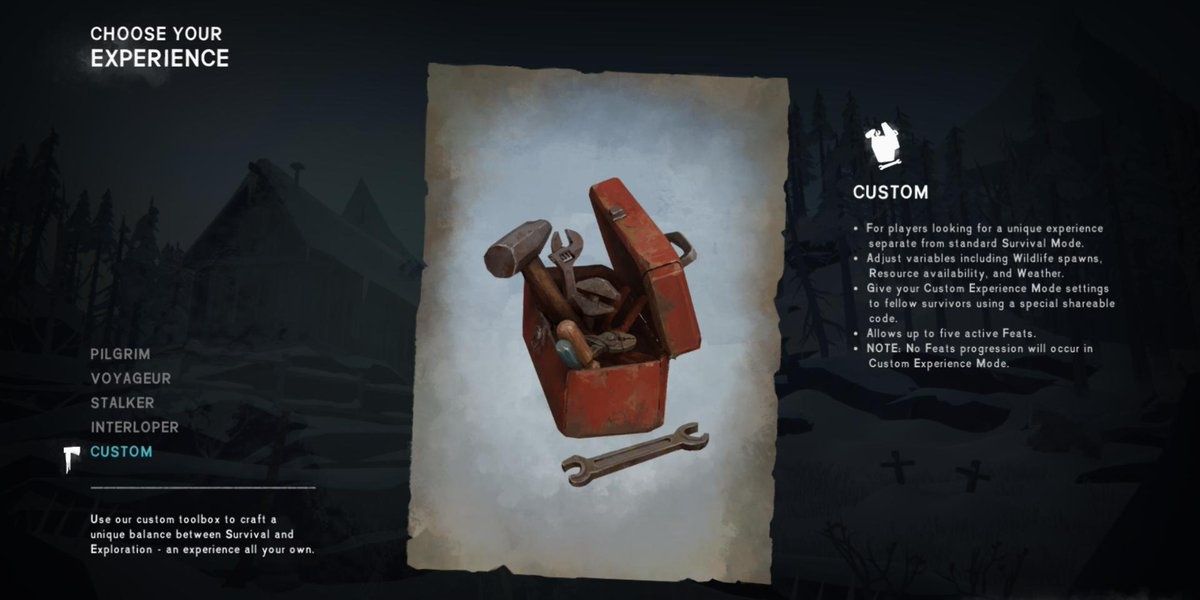 The perk each Feat has can only be enjoyed when you play Survival Mode, which is one of the three game modes available. Moreover, after unlocking a Feat, you can start to use it in your next playthrough, not in the one you unlocked it in.
This happens because Feats must be activated when creating a new Survival Mode world. After selecting the Feats you want for that world, you can't change them.
It would help if you also kept in mind that each difficulty allows a specific number of Feats to be available at the same time. Here's how it goes:
The Pilgrim difficulty allows five active Feats
The Custom difficulty allows five active Feats
The Voyageur difficulty allows four active Feats
The Stalker difficulty allows three active Feats
The Interloper difficulty allows two active Feats
When it comes to challenges, you can choose which one you want to complete from the game's main menu.
There Are Ten Feats But Only Eight Challenges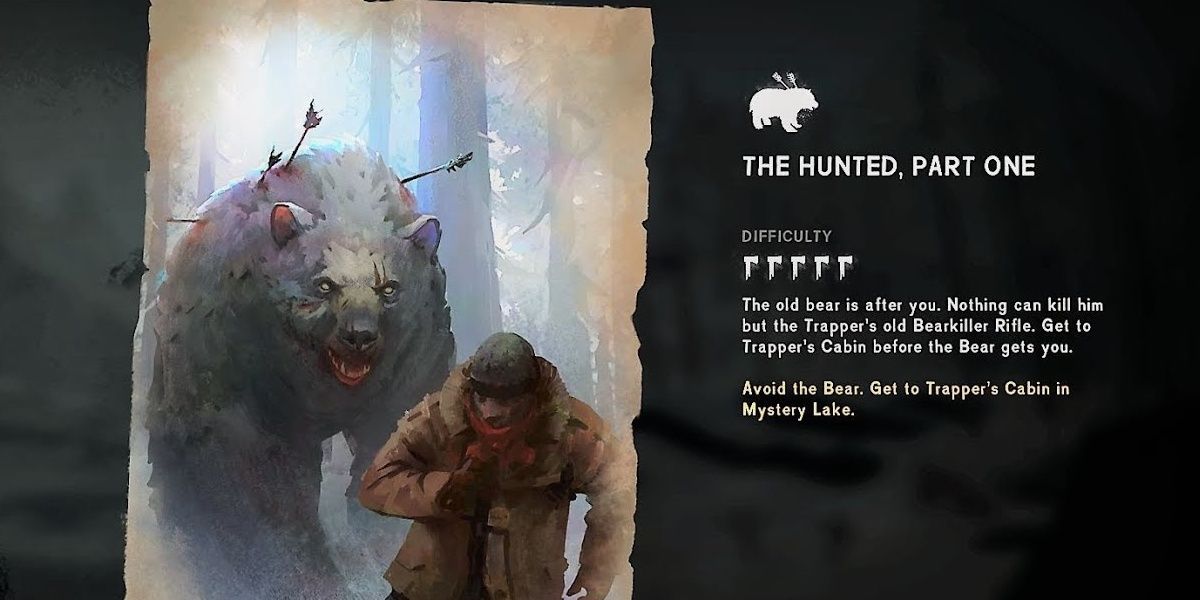 In The Long Dark, there are more Feats that you can unlock than Challenges you can complete.
Every Challenge In The Long Dark
Hopeless Rescue: To complete this one, you'll have to recover the Distress Pistol from the summit of Timberwolf Mountain and then fire it from the top of the Desolation Point Lighthouse.
The Hunted, Part One: To successfully complete this one, you'll have to avoid the bear that follows you when you try to hike from Skeeter's Ridge to Trapper's Homestead. The Challenge will end once you enter the Trapper's Homestead.
The Hunted, Part Two: After completing part one, you can give part two a go. This time you'll have to use the Bearkiller Rifle to chase the bear throughout the Mystery Lake area.
Whiteout: In this Challenge, you have 30 in-game days to gather all the items listed in the journal. You'll need things like 15 days of food, ten bandages, 25 liters of potable water, and many more, so good luck!
Nomad: The game will make you travel through 15 specific locations across the game world; you'll have to survive in each one of them for three days.
Archivist: In this Challenge, you'll have to find Buffer Memories, one of the game collectibles. Wait until an aurora happens and go to the locations listed in the journal to view the Buffer Memory in the computer.
As The Dead Sleep: In this Challenge, you'll have to visit the five graves scattered throughout Great Bear Island.
Escape the Darkwalker: this Challenge has a supernatural entity stalking you. To defeat it, you'll need to collect ten diary pages to learn more about it and defeat it.
NEXT: Valheim And 9 Other Unique Survival Games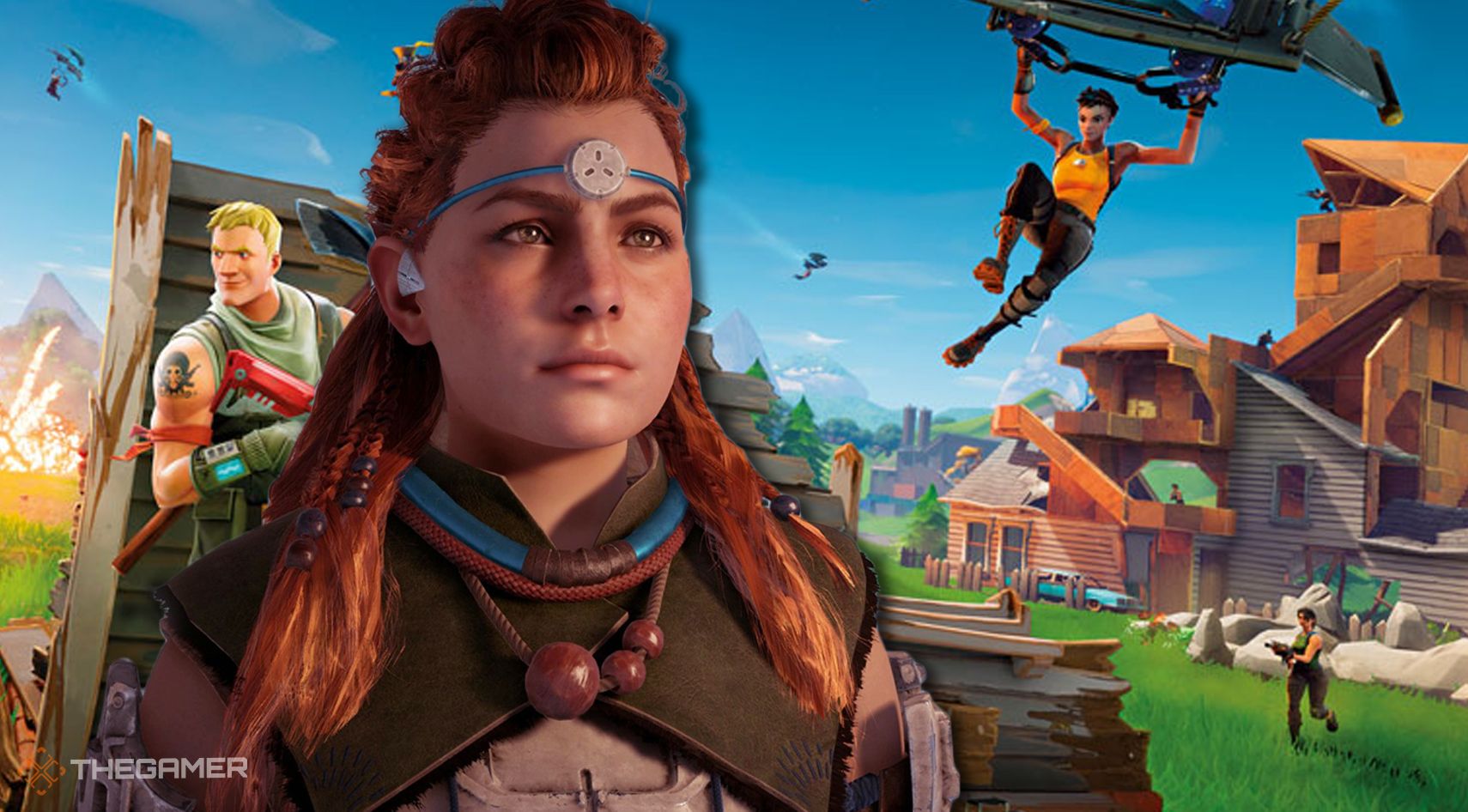 Miguel Amaro is a highly motivated person with a passion for knowledge and gaming who's finally giving his newfound interest in writing a try. Before working as a writer, Miguel earned a Business and Administration degree and worked in Marketing. He is also trying to get to High Warlord in Classic WoW.
Source: Read Full Article