Have you heard the news that The Elder Scrolls 5: Skyrim, developed by Bethesda, is an absurdly popular game? Oh you have? Okay. Well did you know that it also inspires a dedicated and creative modding community on PC? Oh. You knew that as well. But I bet you didn't know (fingers crossed) that there's a new mod out there that introduces a fun feature the modder has called "immersive lap sitting".
Created for Skyrim Special Edition, the mod was created and uploaded onto Nexus Mods by one 'HanShotFirst' (he did indeed!) the modification allows players to interact with another very popular modification: Kaidan. Kaidan is a quest-aware follower, voiced by professional talent, and was written to be a more immersive romantic option for the player. Kaidan was introduced in 2017 and has been downloaded tens of thousands of times since.
Now, HanShotFirst has made a mod so that players can express their affections towards Kaidan by sitting in his lap. The modder has some talent with his words too, if his mod description is anything to go by. "Picture this, it's a busy night at the Bannered Mare…", they write.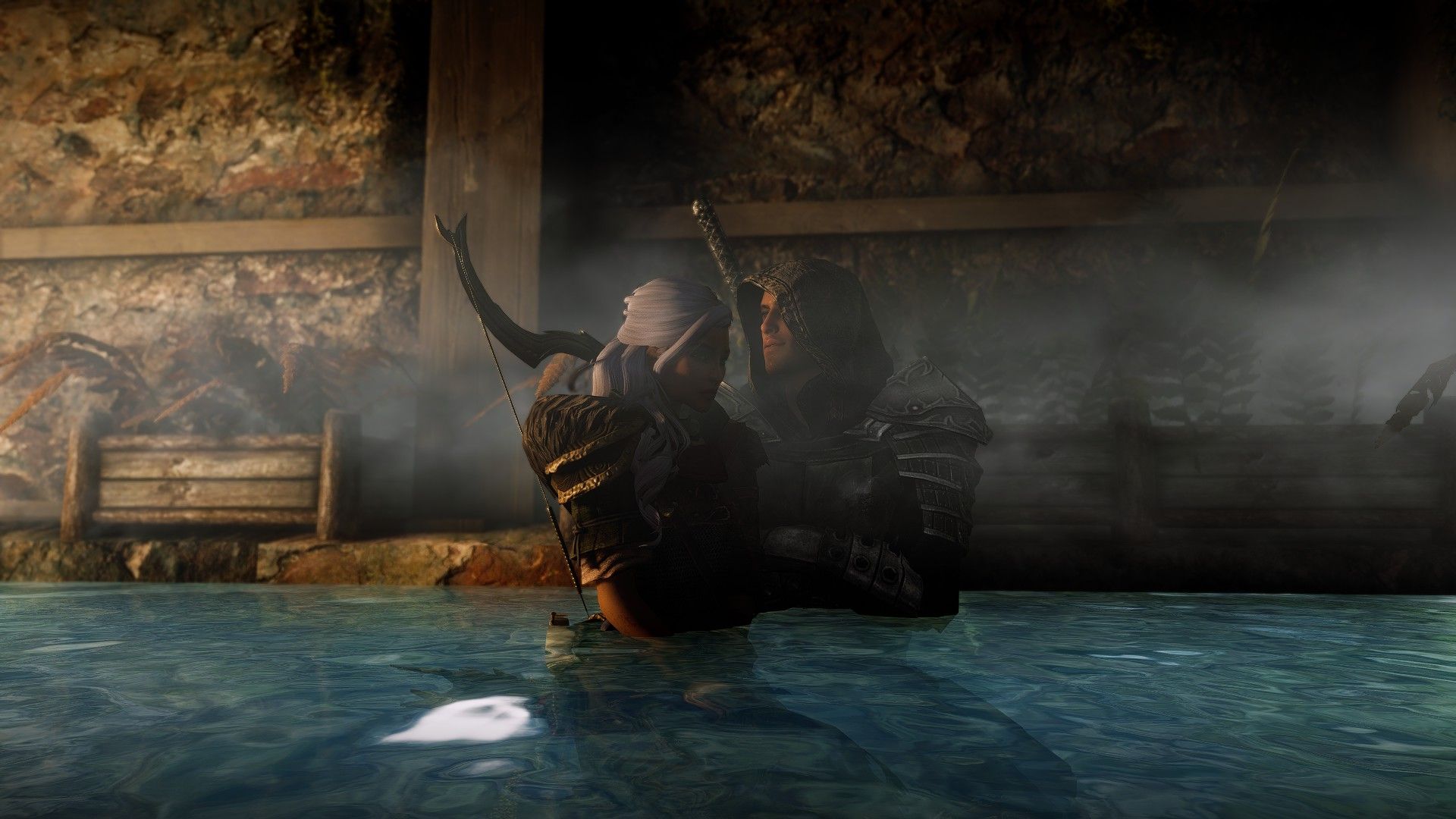 "…our Dovah-Kiin is exhausted from picking blue mountain flowers and thinking up ways to punch Nazeem without attracting the attention of the guards. Alas, there are no chairs available and Amren doesn't seem to want to move his butt despite you collecting his stupid sword family heirloom. Luckliy, you dragged along your Akaviri boyfriend and now you can make everyone really uncomfortable with a PDA. Just ask Kaidan if he has any room for you on his chair".
Our modder certainly seems to have a sense of humour. Addressing the issue of any clipping with his lap-sitting mod, they say: "Like you wouldn't believe. I also have no interest in hearing about how it's *unimmersive* if Kaidan's head clips right through yours".
The 'Kaidan – Immersive Lap Sitting' mod was uploaded on Friday, but has already received two patches since, and has been downloaded nearly 450 times at the time of writing. You can download the lap-sitting mod over on Nexus Mods here, but as always make sure you have all the necessary files downloaded first to ensure it works (such as the Kaidan mod).
Source: Read Full Article