It's been a really tough week. I feel defeated all the time. I can't think of anything besides my impending doom. In unrelated news I started playing Elden Ring. It seems this week we've learned that no matter how tough a game is, players will find a way to cheese through it. Oh, and George R. R. Martin is not as vain as we thought.
Demigods Aren't Named After George R.R. Martin After All
Martin wrote the initial lore and created some characters for Elden Ring. But before Miyazaki twisted his work into shocking nightmares, a fan theory suggested that all the Demigods in the game were named after Martin's initials – G.R.R.M. However, Martin has since denied this theory.
"Oh, and as long as I am setting stuff straight, there's a weird story all over the internet about how I 'hid' my initials in Elden Ring because… ah… some of the characters have names beginning with R or G or M. To which I say 'eh? What? Really?' he said via a note on his blog page. "Coming up with names is hard, especially since A Song of Ice & Fire uses so many of them," he further explained. "I am fond of giving family members and close kin names that have something in common… but really, why would I have to hide my name inside the game?"
Elden Ring Speedruns Are Now Under 19 Minutes
It took me over 25 minutes along with advice from the editors at TheGamer to even select a class for Elden Ring, but some people have finished the game in less time than that. Distortion2 has been zooming across The Lands Between using a method called the Zip Glitch.
They've used the glitch to complete an any% run of the game first in under an hour then 49 minutes, then reduced to 33 minutes, then 28:59 minutes, 25 minutes and 29 seconds, the current record stands at eighteen minutes and fifty eight seconds. The biggest jump the Zip Glitch has offered Distortion2 is getting them straight to Malikreth from the Crumbling Farum Azula.
Someone Is Beating Bosses Without Lifting A Finger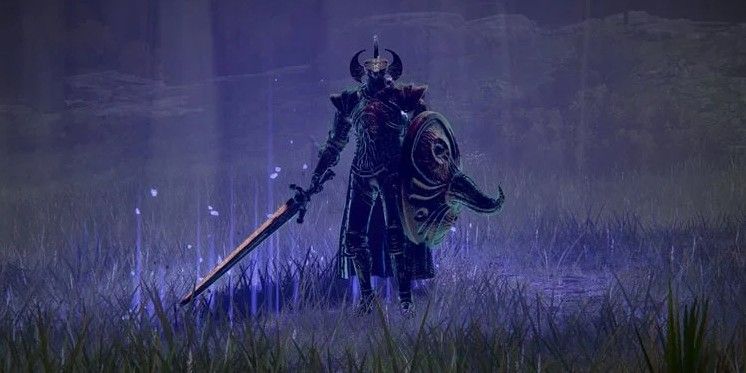 There are people who beat bosses using skill, some who cheese past them, and then there are those who beat them without even attacking. InfernoPlus falls into the last category, as their videos have become popular for summoning minions and then kicking back and watching them do their bidding.
"You can have a high level summon beat pretty much every single boss in Limgrave, Stormveil, Raya Lucaria, and Liurnia. But after that, you have to start helping," they said in an interview. "Bosses in Caelid and Altus are just a bit too strong for summons to do completely unaided,"
Asmongold Raises $400,000 For Ukraine While Playing Elden Ring
Streamer Asmongold managed to raise $391,000 for relief efforts in Ukraine while streaming Elden Ring and Lost Ark. The amount was donated by his viewers and will go to the Cooperative for Assistance and Relief Everywhere. CARE is described as a humanitarian organization fighting global poverty. It has been helping people prepare for disasters and providing assistance for over 70 years.
"I want to say guys, thank you so much. Thank you everybody for doing this and making this possible," said Asmongold. "I want to let you guys know it's not just me, but it's also been Nick and Malena that raised over $100,000 by themselves."
Source: Read Full Article