The Game Awards might be done, but the hits just keep coming. Rhythm-based shooter Metal: Hellsinger just announced its full lineup of singers to be featured on the game's soundtrack.
"I'm stoked to announce that I'm in Metal: Hellsinger, a rhythm-based shooter game," aid Matt Heafy, lead singer of Trivium and one of Metal: Hellsinger's previously announced artists. "Make sure you check it out. We also have incredible screamer-singers like Alissa (White-Gluz) from Arch Enemy, and Randy (Blythe) from Lamb of God."
Given the title, it makes sense for Metal: Hellsinger to be a veritable who's who of heavy metal acts. Previous announcements revealed Heafy will be in the game, but also Dark Tranquillity's Mikael Stanne, Arch Enemy's Alissa White-Gluz, and Black Down Initiate's James Dorton.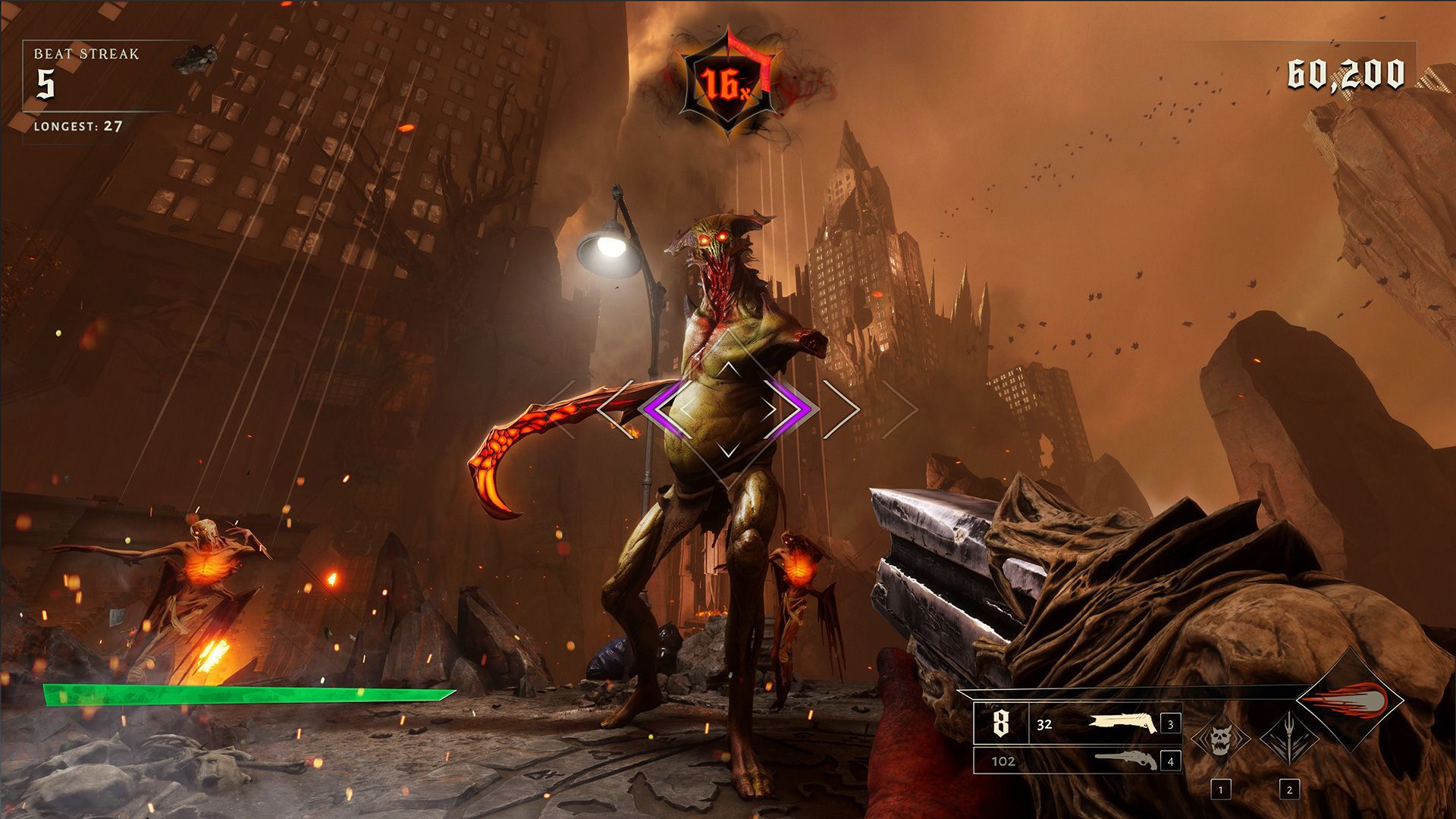 Here's Metal: Hellsinger's full lineup:
Randy Blythe from Lamb of God
James Dorton from Black Crown Initiate
Matt Heafy from Trivium
Dennis Lyxzén from Refused and INVSN
Tatiana Shmailyuk from Jinjer
Mikael Stanne from Dark Tranquillity
Björn Strid from Soilwork
Alissa White-Gluz from Arch Enemy
Hellsinger's tracks are all written by Swedish composer duo Elvira Björkman and Nicklas Hjertberg. The song you heard at The Game Awards was Acheron as performed by Randy Blythe. Developer The Outsiders notes that each song will have multiple layers and your ability to slay demons will determine how many layers of the song are heard at once.
In case it wasn't already immediately obvious, music plays a big part in Metal: Hellsinger's gameplay. Much like BPM: Bullets Per Minute, reloading, firing, and other actions are all done to the beat of the music, and the better you flow with the song, the better you'll perform in-game.
And in keeping with the heavy metal theme, Metal: Hellsinger has you play as part-demon heroine taking on the demon hordes of hell single-handedly with an arsenal of destruction at her disposal. There will be eight levels, a narrator voiced by Troy Baker, as well as a leaderboard and challenge mode.
Metal: Hellsinger was initially supposed to release in 2021, but The Outsiders announced a delay to 2022 just last month. On the plus side, we've got a brand new gameplay trailer to headbang to and it looks even better than the last one.
Source: Read Full Article