Quick Links
How To Craft Revenant Prime
Revenant is an absolute powerhouse in Warframe, capable of turning himself invincible while destroying allies with a barrage of lasers or deadly fog. If you love Warframes like Rhino and Wukong but want some more flair in your kit, you can't go wrong with Revenant. Once you get a good build on Revenant, you become virtually unstoppable.
As with most solo Warframes, Revenant has excellent survivability and damage in his kit. Turn enemies into minions, siphon their HP by dashing through them, become invincible for a set number of attacks, and turn yourself into a whirlwind of lasers. There's no content where Revenant doesn't shine. This guide will showcase how to get your hands on Revenant and his Prime variant, how all of his abilities work, and cover some of Revenant's best builds.
How To Craft Revenant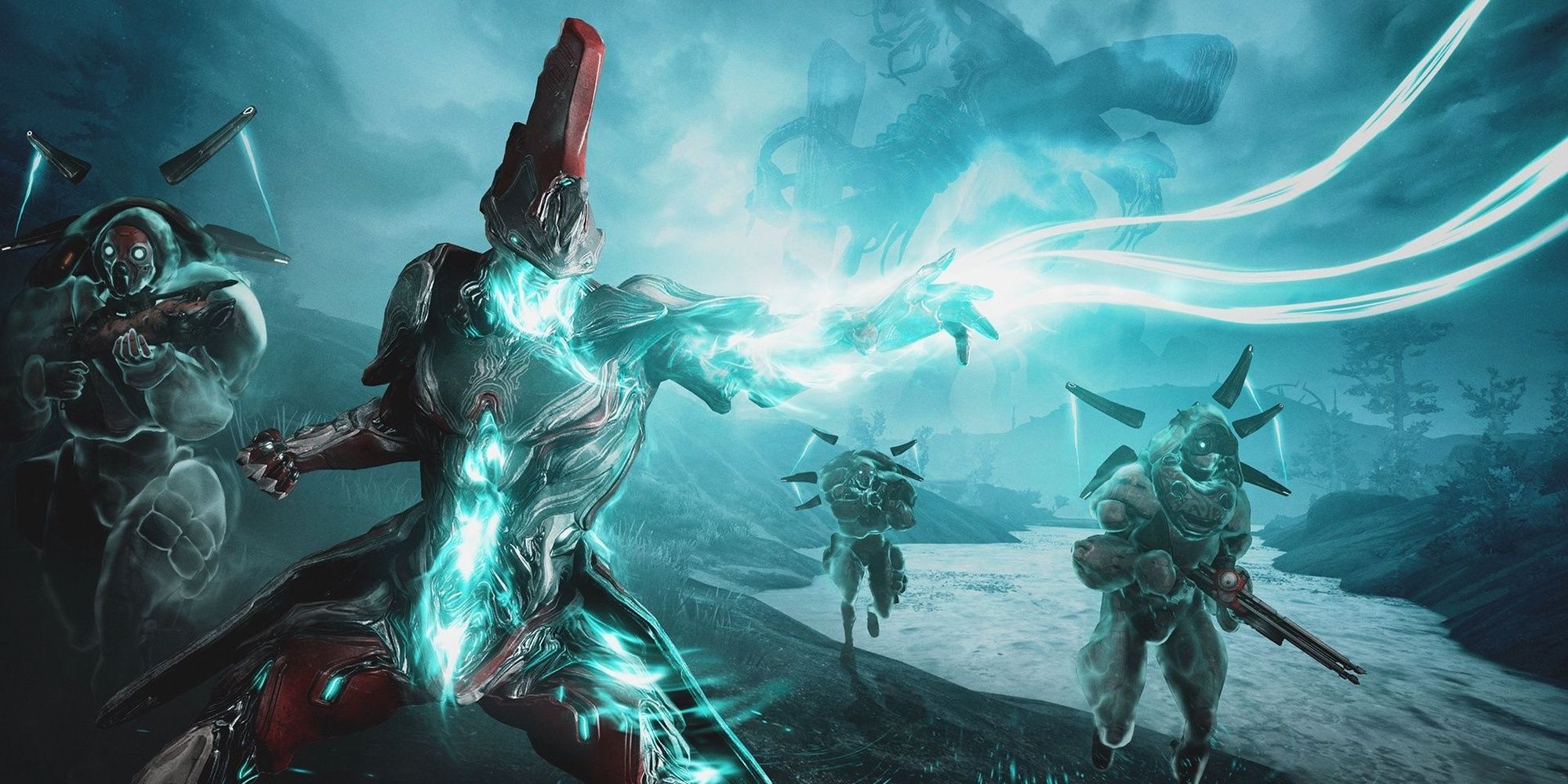 Revenant's main blueprint can be obtained from the "Mask of the Revenant quest." Once complete, Revenant's core components can be earned from completing Cetus Bounties from Konzu. The difficulty of the bounty determines which component blueprint drops (see below). All components have an uncommon or rare drop chance depending on the reward pool.
Revenant Blueprint
Drop Source

"Mask of the Revenant" quest reward

Crafting Costs

25,000 Credits
1 Revenant Neuroptics
1 Revenant Chassis
1 Revenant Systems
1 Orokin Cells

Crafting Time

72 Hours
Revenant Neuroptics
Drop Source

Cetus Bounties (Level 40-60 & 100)

Crafting Costs

15,000 Credits
3 Neural Sensors
15 Intact Sentinet Cores
6,000 Polymer Bundle
2,200 Rubedo

Crafting Time

12 Hours
Revenant Chassis
Drop Source

Cetus Bounties (Level 15-25 & 30-50)

Crafting Costs

15,000 Credits
3 Morphics
10 Intact Sentient Cores
1,500 Rubedo
50 Iradite

Crafting Time

12 Hours
Revenant Systems
Drop Source

Cetus Bounties (Level 20-40)

Crafting Costs

15,000 Credits
3 Control Modules
3 Cetus Wisps
8,000 Salvage
3,000 Polymer Bundle

Crafting Time

12 Hours
Return to Quick Links
How To Craft Revenant Prime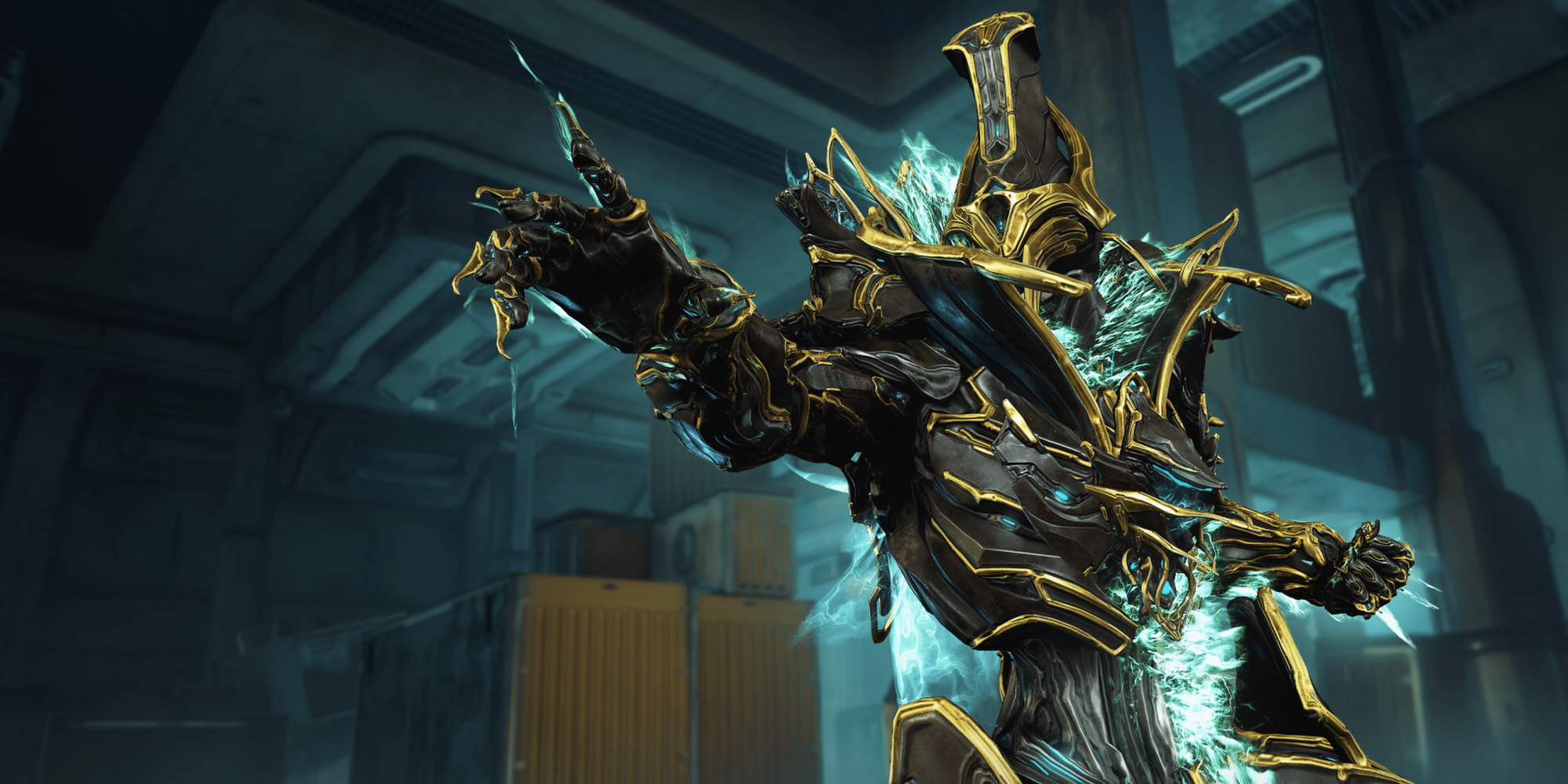 Revenant Prime's components drop from certain Void Relics. Relics themselves drop from virtually every activity in the game, notably endless content such as Disruption and Sanctuary Onslaught. Relics may also be traded between players or obtained from Relic Packs sold by Syndicate factions, including Teshin's Steel Path offerings.
Revenant Prime Blueprint
Drop Source

Lith R2 (Rare)
Meso R5 (Rare)

Crafting Costs

25,000 Credits
1 Revenant Prime Neuroptics
1 Revenant Prime Chassis
1 Revenant Prime Systems
5 Orokin Cells

Crafting Time

72 Hours
Revenant Prime Neuroptics
Drop Source

Crafting Costs

15,000 Credits
2 Argon Crystals
4 Neural Sensors
1,750 Rubedo
4,600 Salvage

Crafting Time

12 Hours
Revenant Prime Chassis
Drop Source

Meso N13 (Common)
Neo K5 (Common)

Crafting Costs

15,000 Credits
2 Nitain Extract
10 Neurodes
1,975 Polymer Bundle
9,250 Nano Spores

Crafting Time

12 Hours
Revenant Prime Systems
Drop Source

Meso K5 (Uncommon)
Meso P9 (Uncommon)

Crafting Costs

15,000 Credits
4 Control Modules
2 Tellurium
6,250 Ferrite
1,175 Circuit

Crafting Time

12 Hours
Return to Quick Links
Revenant Abilities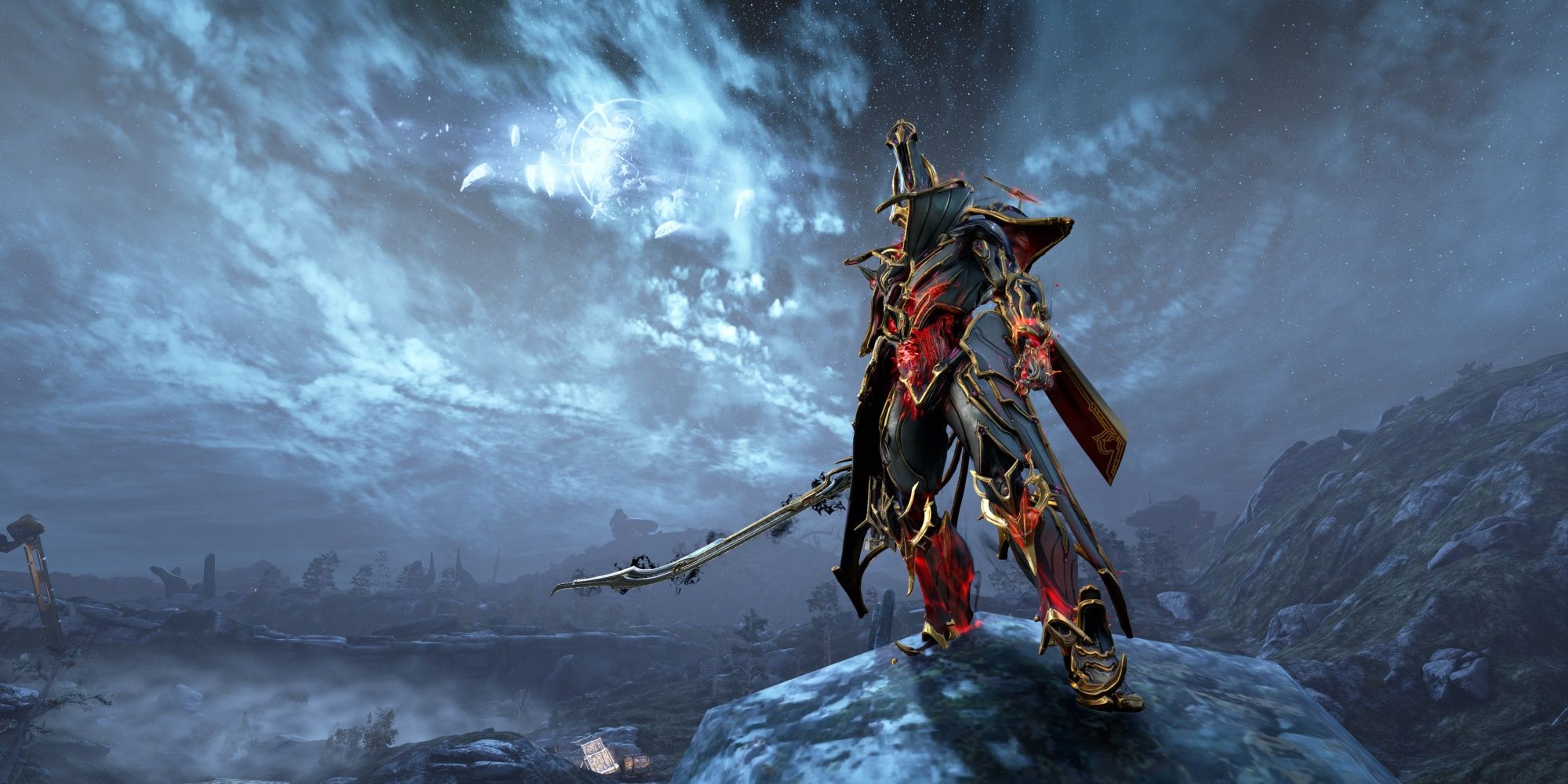 Stats
Revenant

Revenant Prime

Armor: 125
Energy: 125
Health: 100
Shields: 225
Sprint Speed: 1.0

Armor: 125
Energy: 150
Health: 100
Shields: 250
Sprint Speed: 1.1
Passive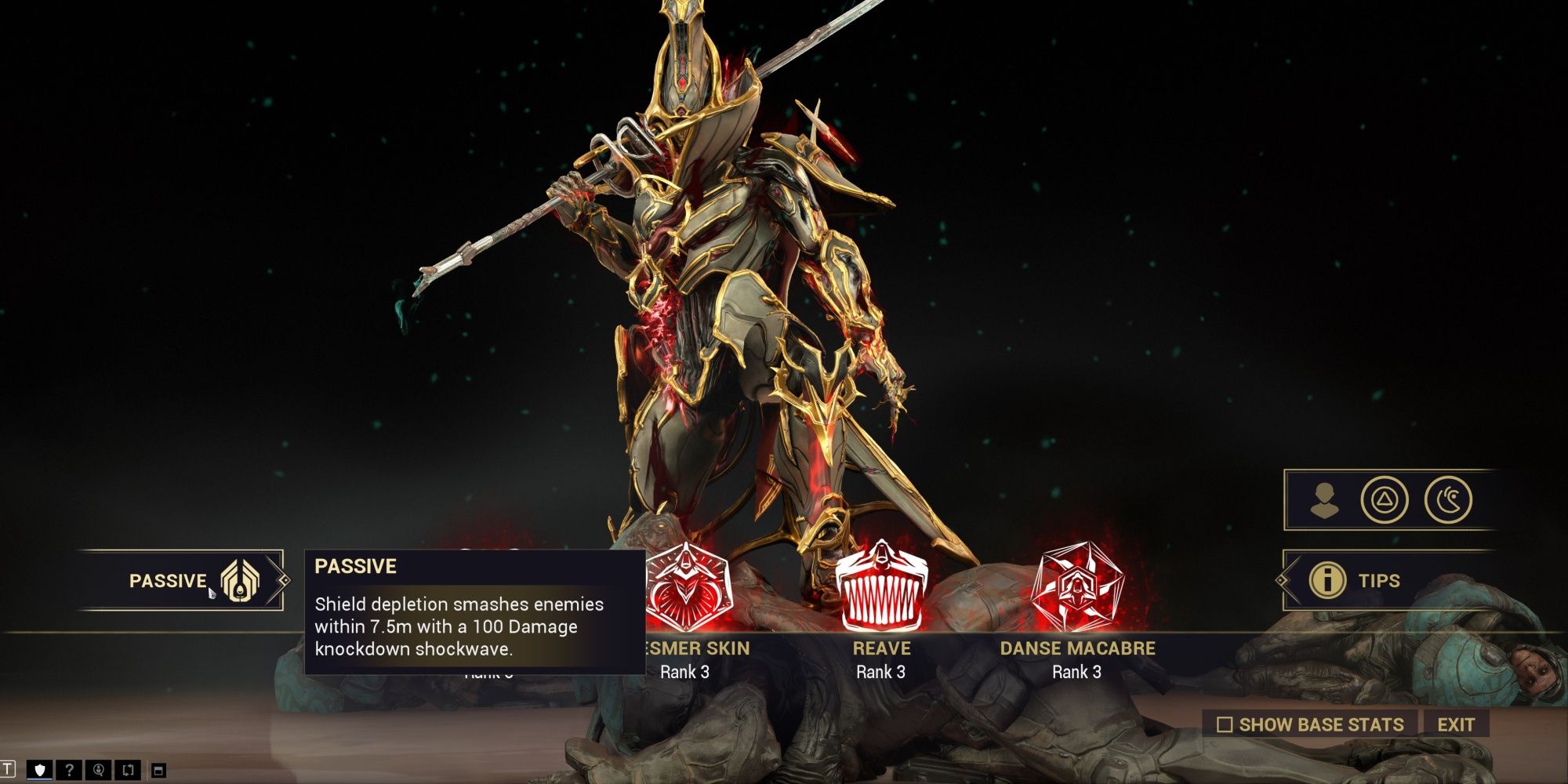 Passive: Shield depletion smashes enemies within 7.5m with a 100 damage knockdown shockwave. Additionally, Revenant is immune to the Magnetic waters in the Plains of Eidolon at night.
Whenever Revenant's shields break, all enemies within a 7.5m radius will be knocked down and take 100 Blast damage. The damage and radius of this wave cannot be modified, and the shockwave does experience slight damage falloff.
Unlisted in Revenant's passive description, you are also immune to the Magnetic proc from the Plains of Eidolon at night. In other words, whenever Eidolons are roaming the world space, Revenant won't suffer from Magnetic procs by standing in water. It's an incredibly minor passive but worth mentioning.
Enthrall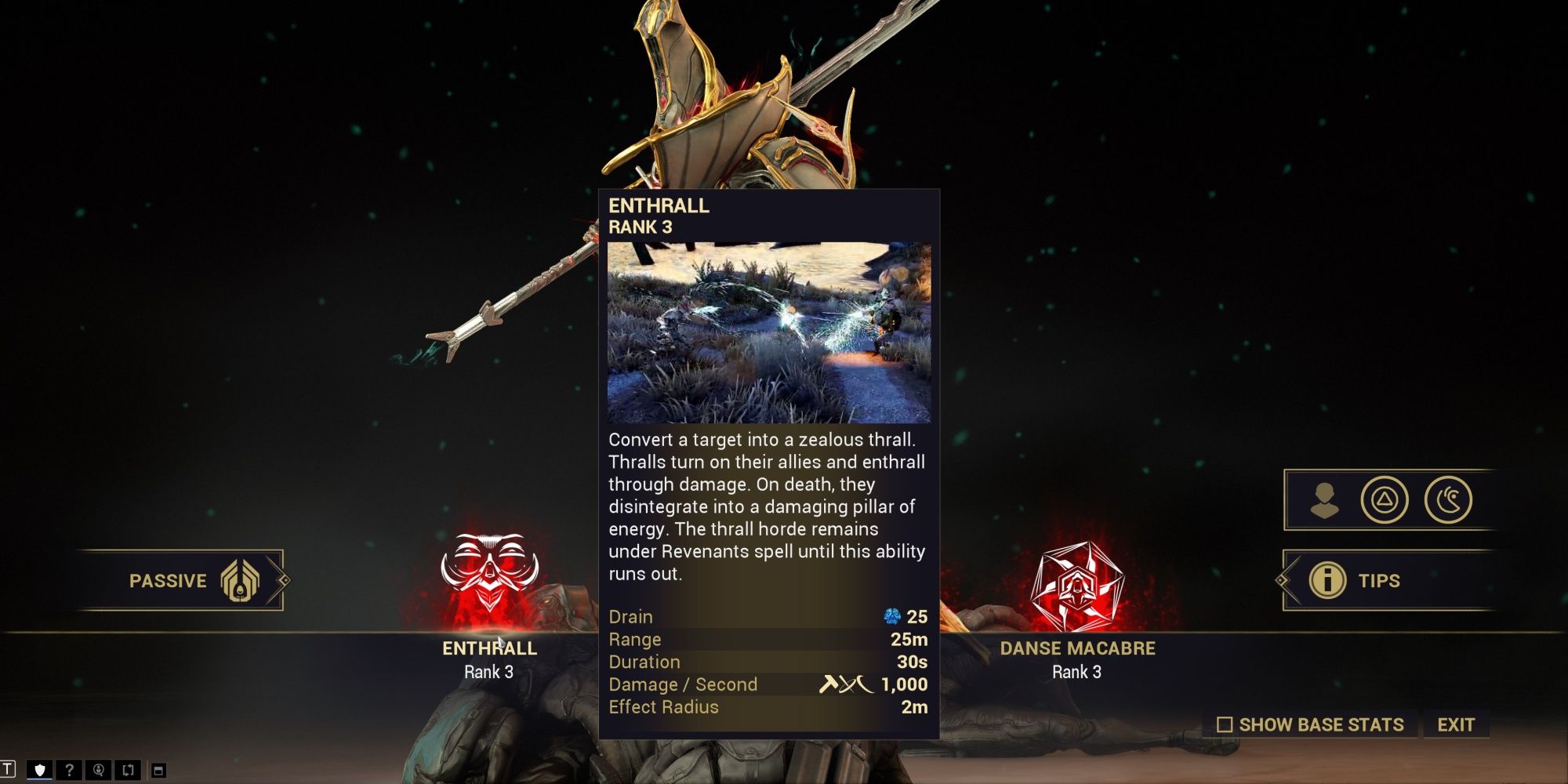 Enthrall: Convert a target into a zealous thrall. Thralls turn on their allies and enthrall through damage. On death, they disintegrate into a damaging pillar of energy. The thrall horde remains under Revenant's spell until this ability runs out.
Enthrall Stats

Drain

25 Energy

Range

Cast Range: 25 meters

On-Death Pillar: 2 meters

Duration

30 seconds

Damage

1,000 IPS per second

Applicable Mods

Duration

Range

Efficiency

Strength

Affects Enthrall duration

Affects cast distance and pillar width

Affects cast Energy cost

Affects pillar damage per second
Revenant raises his hand toward the closest enemy near your cursor, turning them into a mind-controlled Thrall for 30 seconds. Enthralled enemies will attack nearby enemies and draw attention away from Revenant. It's functionally the same as Radiation status with the added benefit that enthralled enemies cannot shoot Revenant or his allies. Thralls have a chance of enthralling enemies whenever they deal damage. You can only have seven Thralls at a time.
Should a Thrall die, either from Revenant or an enemy, it will leave behind a pillar of energy that deals 1,000 damage per second to anyone inside. Projectiles also fire out of these pillars, spreading the Enthrall status effect to nearby targets. You can use these pillars to quickly create Thralls before killing them with Reave or your weapons, blanketing an area in deadly pillars.
Enthrall scales best with Duration. Strength does affect pillar damage but is insignificant at higher levels; it has no impact on your Thrall cap. Larger pillars can be created by speccing for Range, and the Enthralled minions will stay under Revenants' control for far longer if you spec for Duration.
Mesmer Skin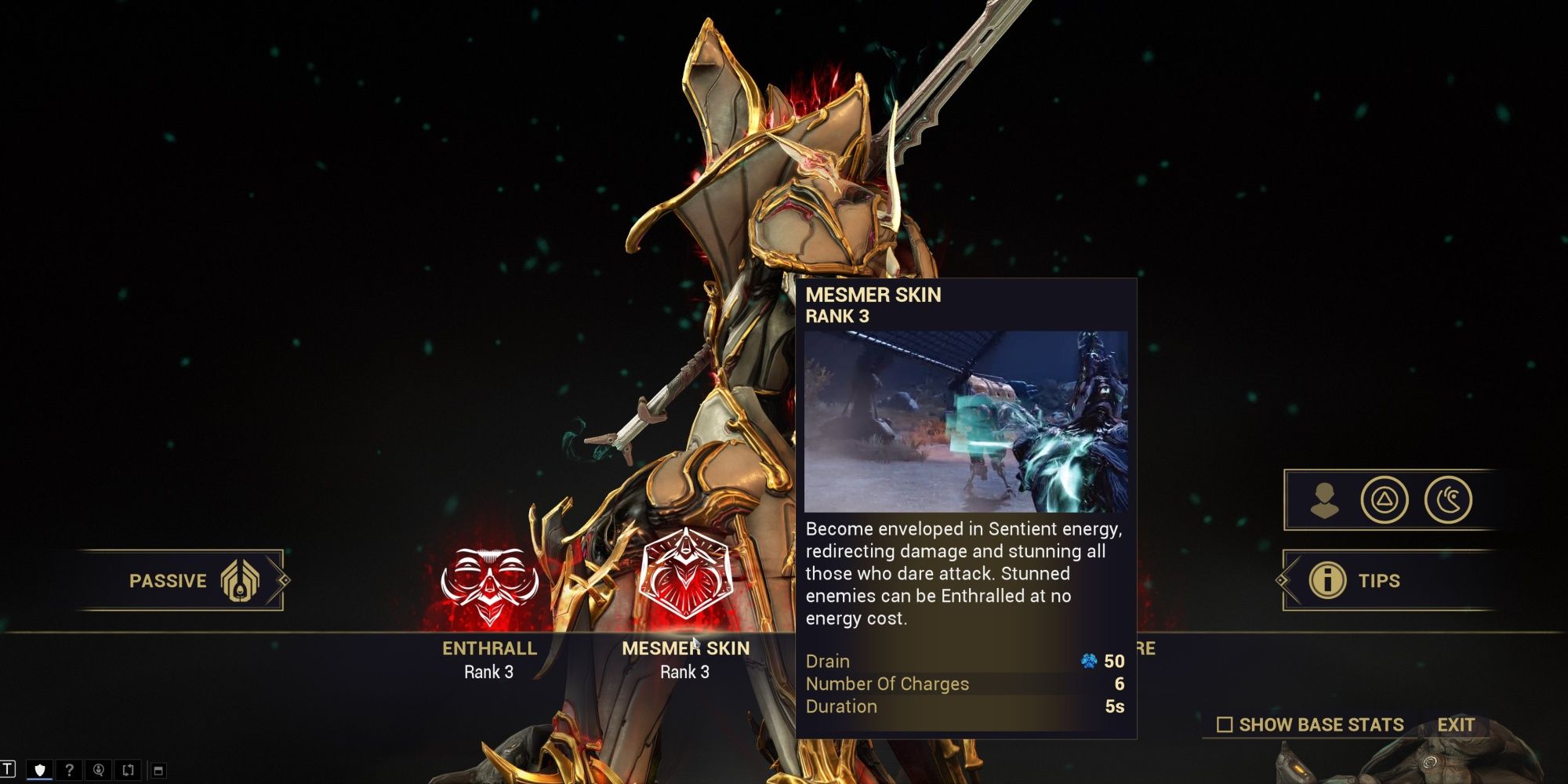 Mesmer Skin: Become enveloped in Sentient energy, redirecting damage and stunning all those who dare attack. Stunned enemies can be Enthralled at no energy cost.
Mesmer Skin Stats

Drain

50 Energy

Stun Duration

5 seconds

Number Of Charges

6 Charges

Applicable Mods

Duration

Range

Efficiency

Strength

Affects stun duration

N/A

Affects cast Energy cost

Affects Mesmer Skin charges
While Mesmer Skin is active, any damage received will remove a stack of Mesmer Skin instead, granting invulnerability for one second. Mesmer Skin effectively makes Revenant immortal for a set number of attacks. And while Mesmer Skin is active, Revenant is immune to status effects and knockdowns. You can refresh your Mesmer Skin stacks by recasting the ability or using the Reave ability on Thralls, each Thrall refreshing one stack.
Additionally, any enemy that damages Revenant will be stunned for a few seconds, effectively putting the target to sleep. Casting Enthrall on targets in this state will cost zero Energy.
This ability scales best with Ability Strength, increasing the number of Mesmer Skin stacks you receive. The more stacks you have, the safer it'll be to stay alive in harder content. You might also want to consider speccing into Duration to increase the stun duration on targets.
Reave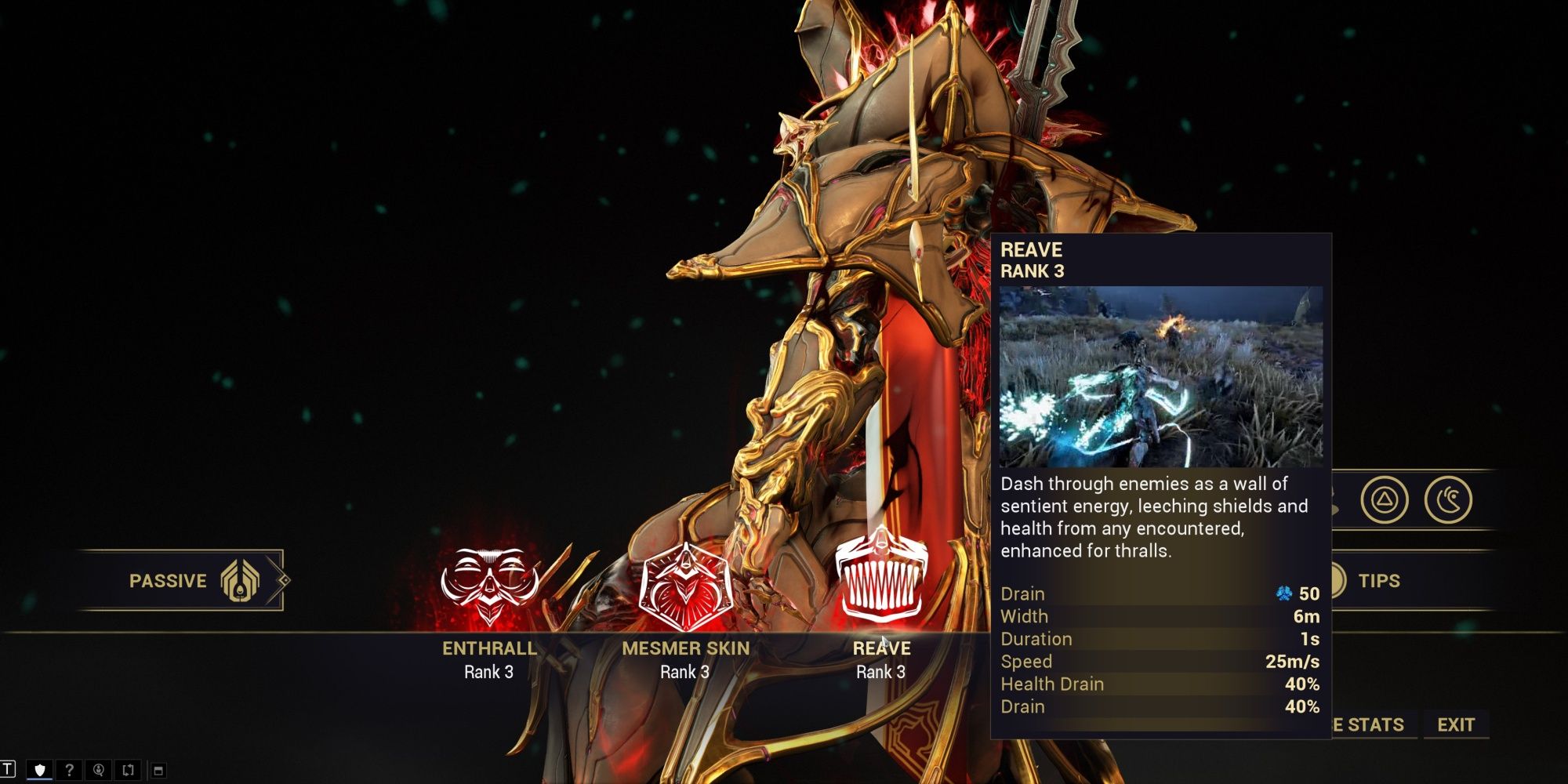 Reave: Dash through enemies as a wall of sentient energy, leeching shields and health from any encountered, enhanced for thralls.
This ability can be subsumed with the Helminth system.
Reave Stats

Drain

50 Energy

Width

6 meters

Duration

1 second

Speed

25 meters per second

Drain

Standard Target: 10% HP per enemy hit

Enthralled Target: 40% HP per enemy hit

Applicable Mods

Duration

Range

Efficiency

Strength

Affects Reave duration

Affects dash width

Affects cast Energy cost

Affects HP drain
Revenant dashes in your current direction for roughly one second, damaging any enemies you make contact with. Each enemy you hit restores 10% HP and shields, draining the enemy's health by the same amount. Enthralled targets take four times as much damage from this ability, making this a devastating ability if you spec for Ability Strength. You can also use Reave as a movement tool to quickly traverse a large tileset. While you can't move upward with this skill, you can jump at any time to end Reave prematurely, preserving all momentum.
Reave scales best with Ability Strength. Increasing your Strength enhances the HP drain when you dash through targets. At 250% Strength, Reave instantly kills Thralls at all levels, regardless of enemy armor or other defenses. Past that, you might want to spec for Range to increase the width of this ability. It's also worth noting that the speed of Reave is affected by sprint speed. The more sprint speed you have, the faster you traverse each second. You can increase the duration of Reave itself by speccing for Ability Duration, increasing the distance traveled per cast.
Dance Macabre
Dance Macabre: Erupt with a multitude of Eidolon energy beams and a sweep a circle of death around Revenant. The beams will modify their damage type to target select defenses, while incoming damage is redirected back into the beams. Hold fire to boost status effects and damage, at the cost of increased energy consumption. Thralls killed by this ability leave overshield pickups.
Dance Macabre Stats

Drain

Cast: 25 Energy

Drain (Base): 20 Energy per second

Drain (Boosted): 40 Energy per second

Radius

Beam Width (Base): 0.1 meters

Beam Width (Boosted): 0.2 meters

Damage

Base: 1,250 damage per second

Boosted: 2,500 damage per second

Overshield Pickup

Overshields: 50 shields per Enthrall pillar

Applicable Mods

Duration

Range

Efficiency

Strength

Affects Energy drain while < 175% Efficiency

Affects beam width

Affects cast and channeling Energy costs

Affects beam damage per second
Revenant fires nine beams of energy around himself counter-clockwise, spinning around while Dance Macabre is channeled. Each beam deals 1,250 damage per second that adapts to the enemy's core weakness. For example, damaging a shielded Corpus drone will cause the beams to deal Magnetic damage, while damaging a Grineer Bombard will shift the damage to Radiation. This ensures that the beams deal roughly 75% more damage than what's listed.
At any time, you may hold the fire button to overcharge Dance Macabre, doubling your Energy drain in exchange for double damage and beam width. Killing any Thralls while in this state will create energy pillars, granting 50 overshields to Revenant when walked over. Revenant may walk and cast Reave while channeling; all other abilities and parkour maneuvers are disabled.
Dance Macabre scales best with Ability Strength and Efficiency. The Energy drain of this ability is severe and should be countered with Fleeting Expertise and Streamline. Strength enhances the damage dealt per beam, and duration only impacts Energy drain while your Efficiency stat is under 175% (see our Warframe modding guide for more information). Range only affects the width of the beams created, not how far they reach from Revenant.
Return to Quick Links
Revenant Augments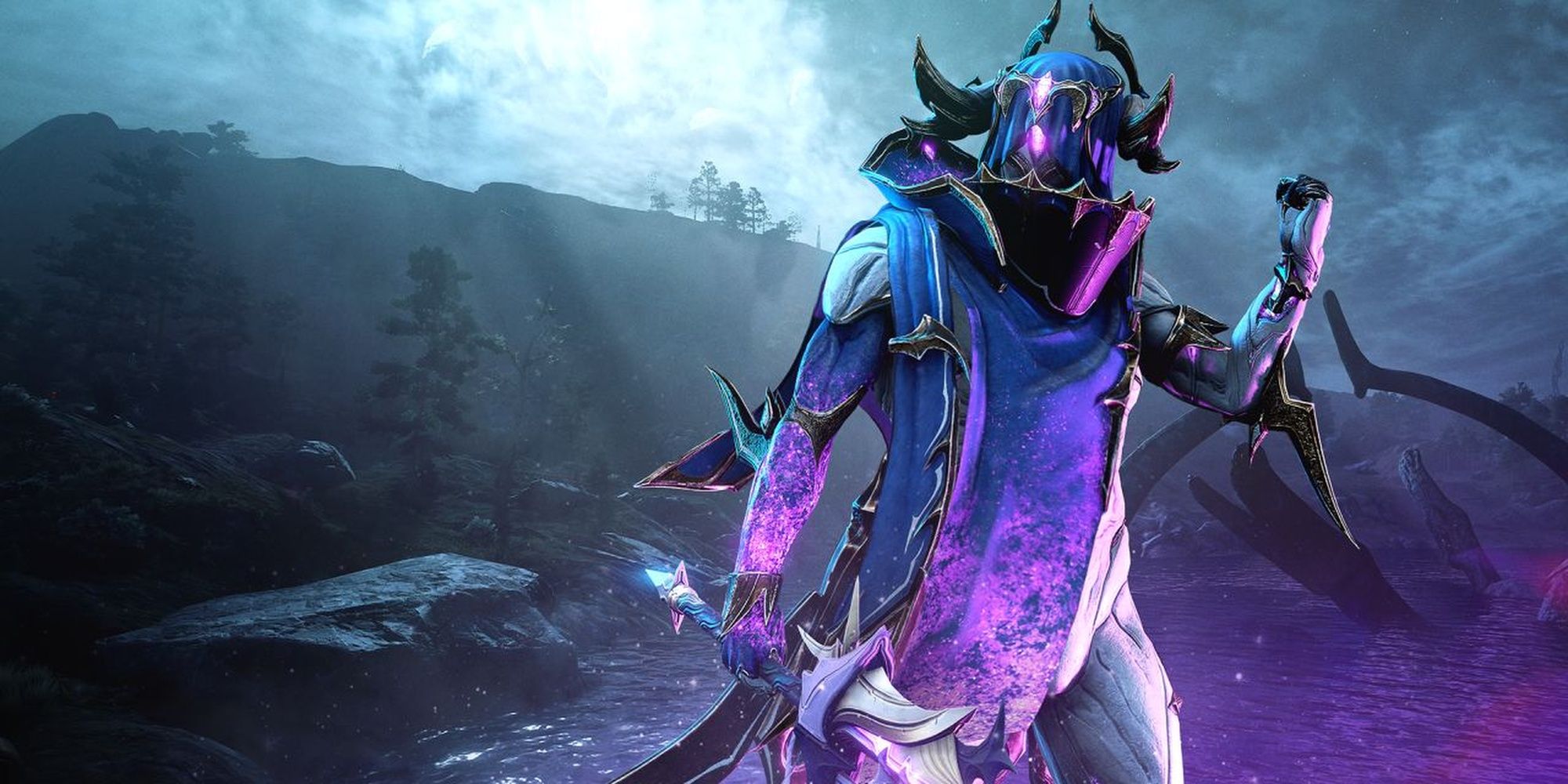 Revenant has two augment mods with a third one releasing later this month. All of Revenant's augments may be purchased from the Cephalon Suda and Perrin Sequence Syndicates for 25,000 Standing each. You'll need to be at max rank with either Syndicate to purchase these augments. Alternatively, you can trade for these mods through Warframe's player trading system.
Thrall Pact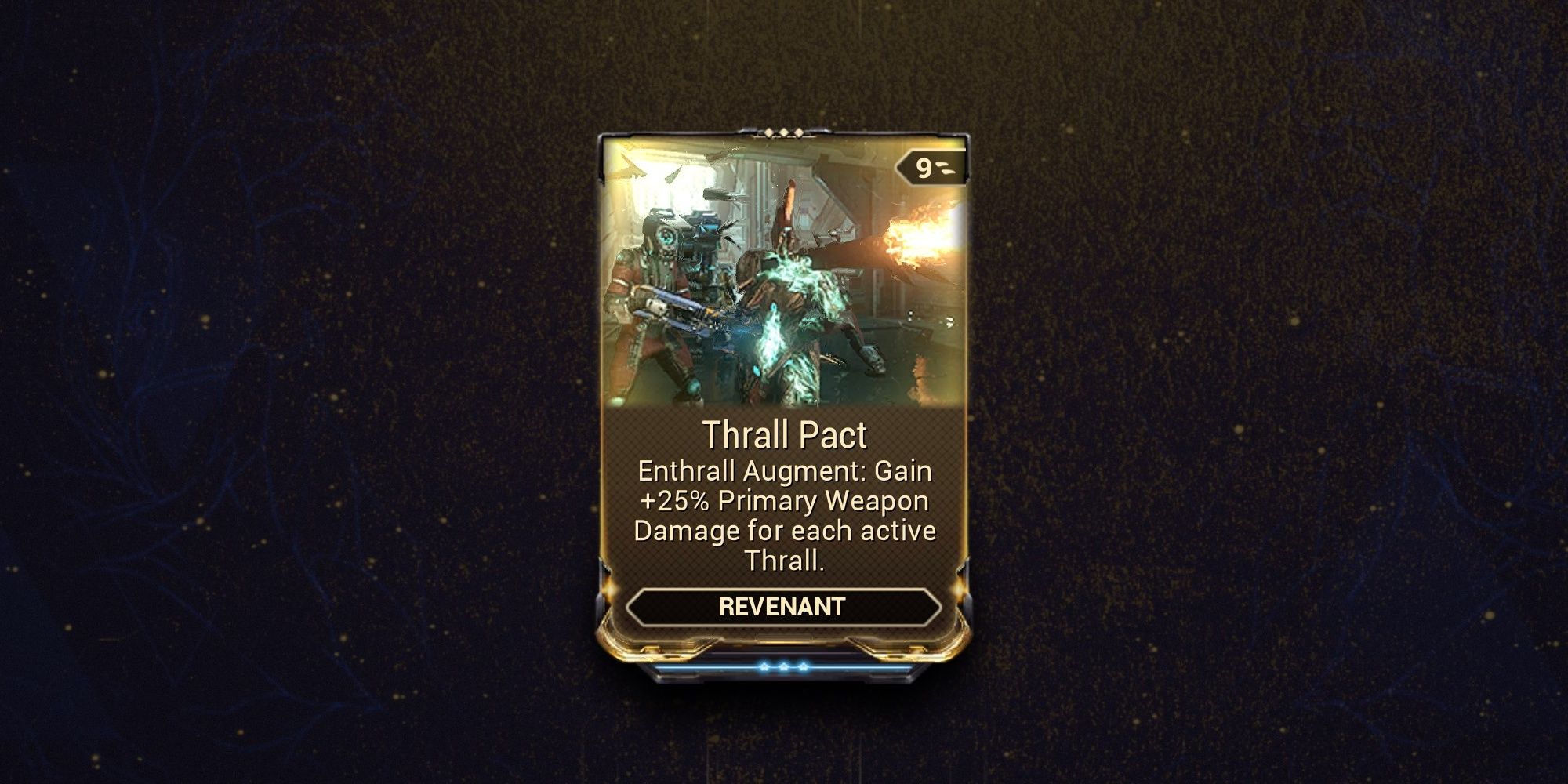 Thrall Pact: Enthrall Augment: Gain +25% Primary Weapon damage for each active Thrall.
Each enemy Revenant enthralls will grant 25% Primary weapon damage, stacking additively with base damage sources like Serration and Steel Path Arcanes. Since you can only have seven Thralls at a time, this augment has a damage cap of 175%. The damage bonus is affected by Ability Strength.
Return to Quick Links
Blinding Reave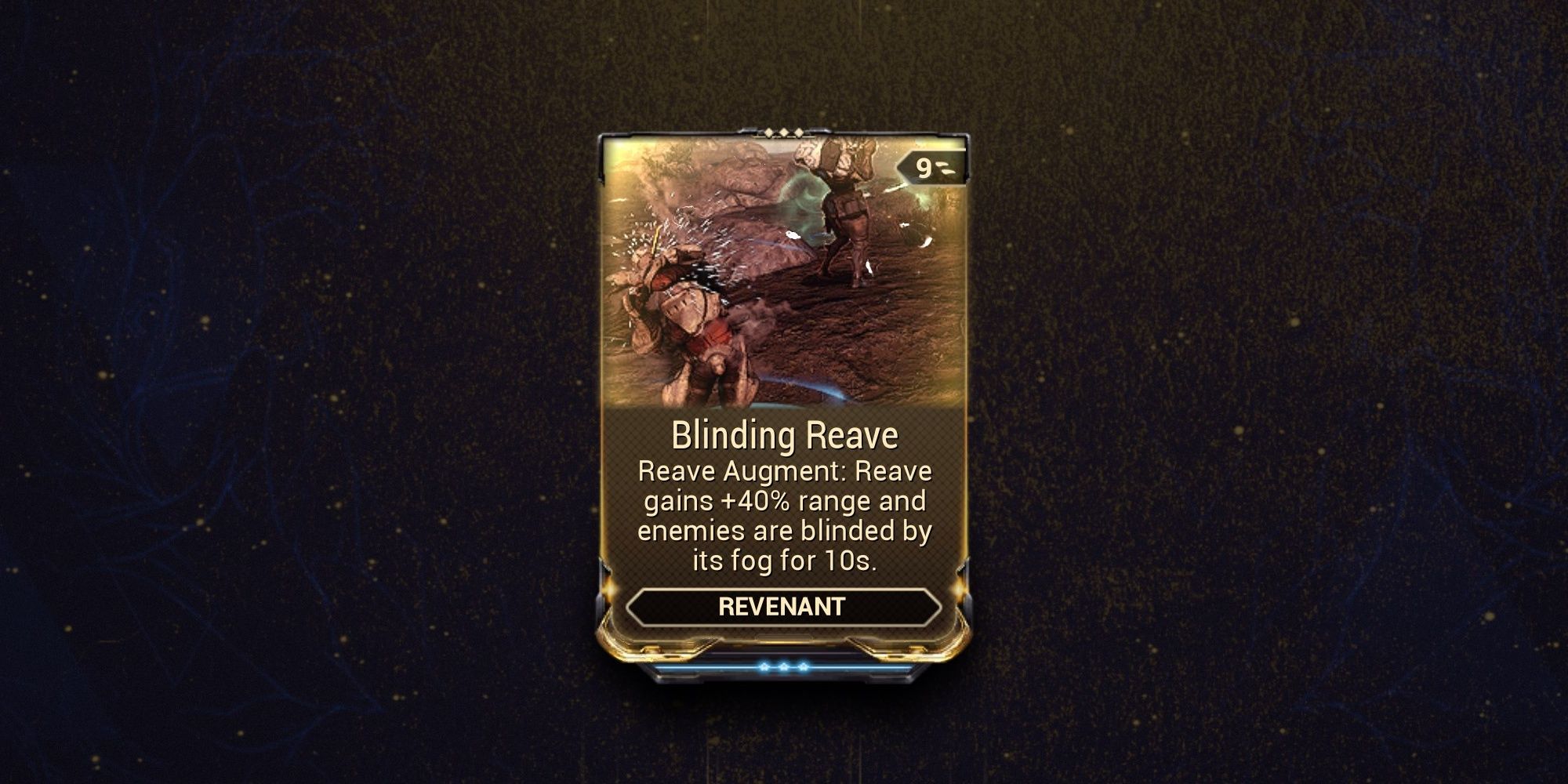 Blinding Reave: Reave Augment: Reave gains +40% range, and enemies are blinded by its fog for 10s.
The width of Reave is increased by 40%, stacking additively with other Ability Range Mods. This range bonus only affects Reave, no other abilities. Additionally, hitting a target with Reave will blind them for ten seconds, affected by Ability Duration. Blinded targets cannot fire their weapons and are open to melee finishers.
Return to Quick Links
Revenant Builds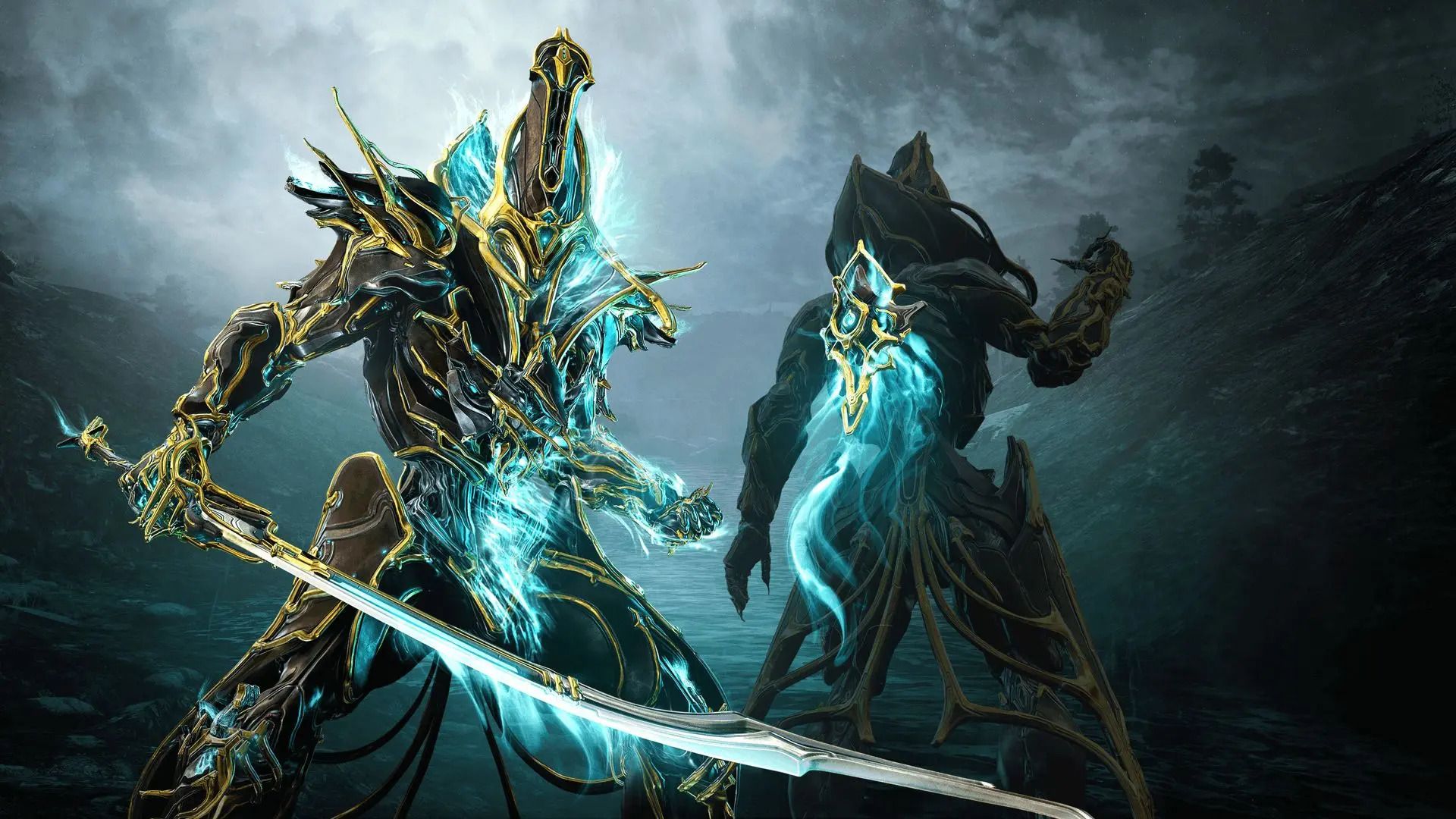 We'll be going over two great Revenant builds that take full advantage of his excellent kit. In general, we recommend building around Ability Strength and Efficiency. Strength grants far more Mesmer Skin stacks to increase Revenant's survivability, and Efficiency allows you to cast Reave and Enthrall more often. If possible, hitting 250% Strength will let Reave one-shot Thralls, making Revenant's damage scale until level cap.
For survivability, focus on keeping Mesmer Skin active. Since Mesmer Skin is quite easy to maintain, you don't need to equip Rolling Guard, Adaptation, or Primed Sure Footed to make Revenant feel tanky in endgame content. So long as you have enough Ability Strength, Revenant should have no issues scaling in endgame content.
Finally, for your Focus school, we recommend using Zenurik. This gives you passive Energy regeneration and bonus Energy from Energy Orbs. Paired with a solid Efficiency stat, you should have no Energy economy issues as Revenant unless you're using a Dance Macabre build—in which case you might want to spec for max Efficiency and use Primed Flow.
Archon Shards
Revenant prefers Cast Speed (Amber) and Strength (Crimson) Shards. We highly recommend equipping two cast speed shards on Revenant to free up a mod slot in your builds. The other three slots can be used to socket Ability Strength, Duration, or parkour velocity shards. None of the builds showcased below use Archon Shards.
No Investment Build (0 Forma, No Subsume)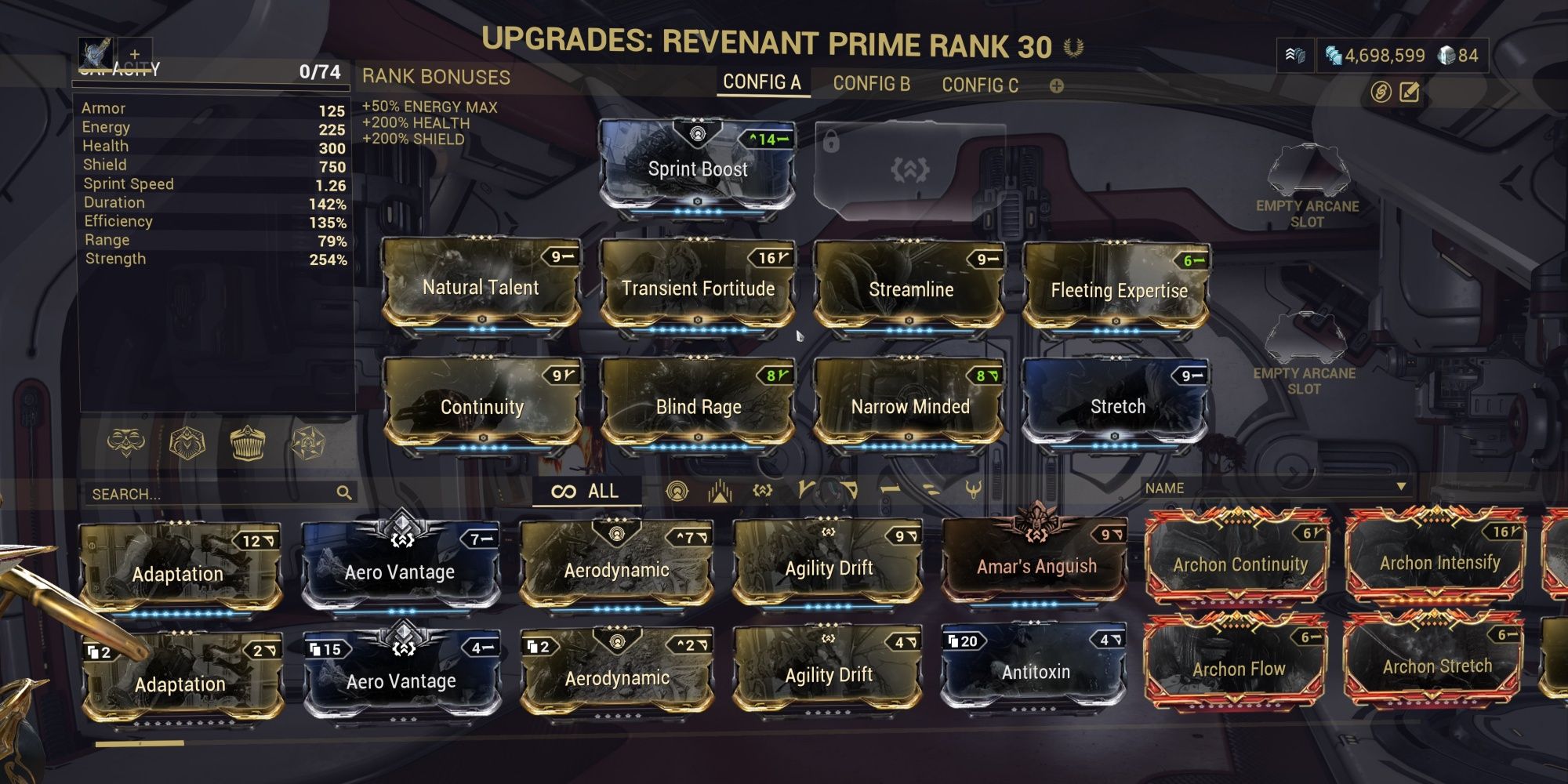 This starter build can do virtually everything you'd want as Revenant. Before we start covering mods, we highly recommend you use Natural Talent regardless of build. Revenant's base cast speed is absurdly slow and will get you killed in Steel Path content. If you have Archon Shards to buff cast speed already, feel free to replace this.
We start by speccing for Ability Strength, increasing our Mesmer Skin charges and damage of Reave. We use Blind Rage alongside Transient Fortitude to give ourselves 16 Mesmer charges and the ability to one-shot Thralls with Reave. To help counter those negative effects, we use Narrow Minded alongside Continuity (we don't have enough space for Primed) to get our Duration into the positive ranges. We find Narrow Minded's range penalty is a little strict, so we use Stretch to counter this. Finally, to help with our Energy economy, we'll be using Fleeting Expertise alongside Stretch and the Zenurik Focus School to keep Revenant's Energy flowing during any mission.
You can use any Aura for this build, but we recommend you use Sprint Boost as sprint speed affects the speed of your Reave ability. Run Amalgam Serration on your Primary weapon to go even faster. As for build alterations, you could drop Stretch in place of something else, equip two cast speed Archon Shards and drop Natural Talent, or drop Blind Rage for another Ability Strength mod if you don't care about Reave dealing 100% damage.
Return to Quick Links
Invested Build (2 Forma, Roar Subsume)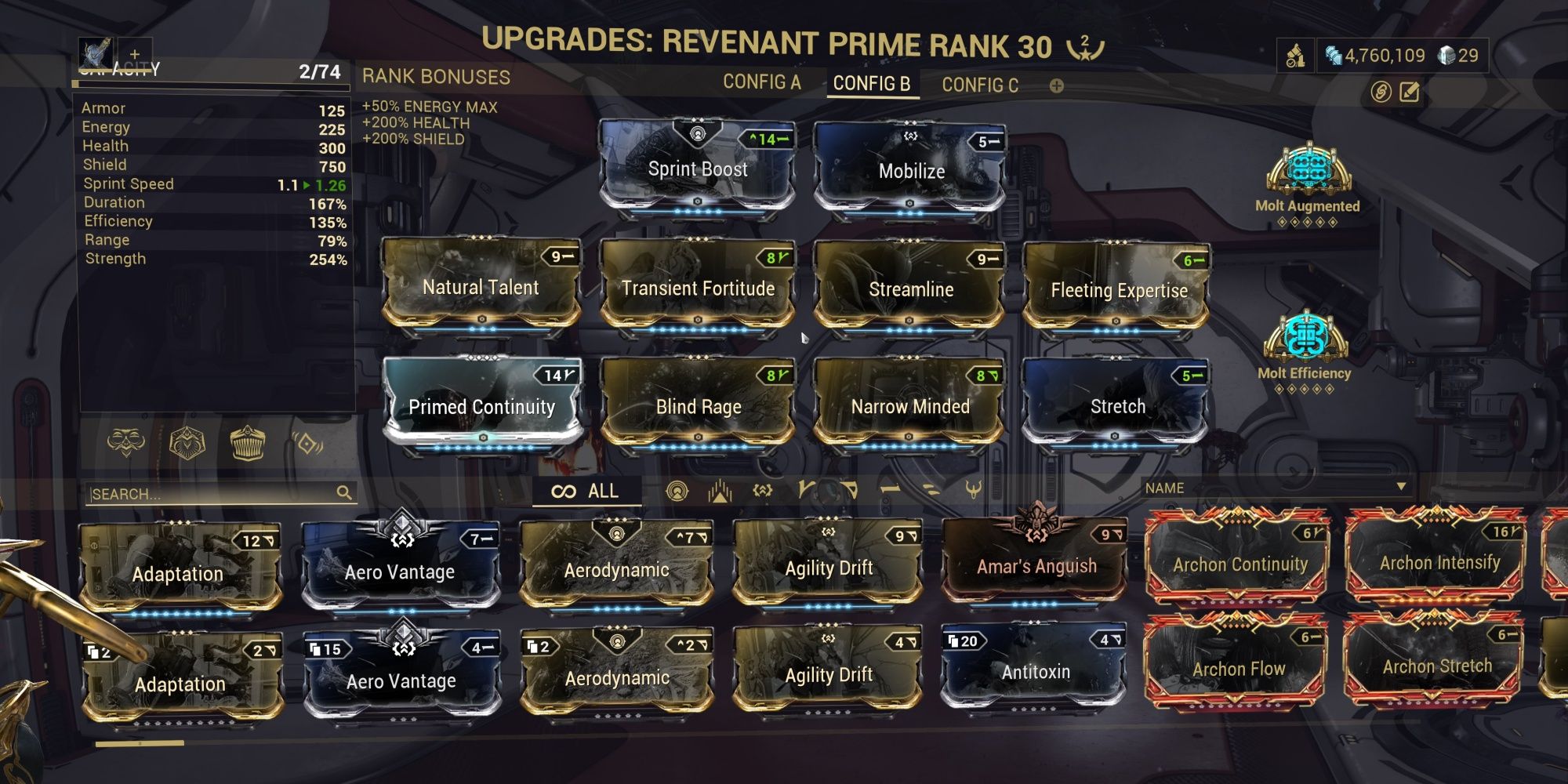 Forma: 2 (V, –)
Subsume: Roar (Rhino)
As you can see, this build is a slightly different variant of our zero investment setup. We install two polarities to gain access to Primed Continuity and Mobilize in our Exilus slot. The Primed version of Continuity gives us even more Ability Duration for Enthrall and our subsumed Roar ability (replacing Dance Macabre). We use Mobilize since it makes bullet jumping as Revenant feel good when you aren't using Reave, making it quite easy to traverse large tilesets. If you don't mind investing another Forma, you can fit on a sprint speed mod instead.
The core of the build remains unchanged. Strength is your priority here. We get most of our strength through Blind Rage, Transient Fortitude, and Molt Augmented. If you don't mind ramping up Mold Augmented to one-shot targets with Reave, you can drop Transient Fortitude for another mod. From there, spec for Ability Efficiency through Fleeting Expertise and Streamline. Round off the build with Narrow Minded, Stretch, and Natural Talent to cover all of your bases. You'll now have a Revenant with a ton of Mesmer Skin charges, a long-lasting Roar that enhances your damage, and a fantastic movement skill that can also one-shot targets at level cap.
Since you're investing Forma in this build, it's not a bad idea to invest two cast speed Archon Shards into Revenant, allowing you to drop Natural Talent for Boreal's Hatred. This gives you a small chunk of Ability Efficiency, totaling to 150% Efficiency. This makes casting Reave and Roar much less stressful on your Energy reserves. If you want larger reserves, feel free to slot in Primed Flow in your build. If you really love Revenant, socket some Ability Strength Archon Shards for even more Mesmer Skin charges.
For Arcanes, you can't go wrong with Molt Augmented and Molt Efficiency, providing Strength and Duration, respectively. You can't go wrong with Arcanes here, so pick whatever you find useful. We prefer Augmented for extra Mesmer Skin charges and Efficiency to buff Roar's overall duration, although you can easily swap Efficiency for any Arcane that buffs weapon damage or fire rate.
Return to Quick Links
Source: Read Full Article