Disneyland closed on March 12, 2020. Nearly ten months later, we still don't know when it will reopen. In my lifetime, Disneyland has been closed only twice: the day after the Northridge earthquake in 1994, and after the attacks on the World Trade Center on September 11, 2001. This is the first time Disneyland has ever been closed for more than a single day.
The only thing I love more than video games is theme parks. Of all the sacrifices we've had to make during the pandemic, one of the hardest ones for me personally is going without visits to Disneyland. Before March, my partner and I used our season passes at least once a week. Disneyland hosted every weekend outing, every birthday celebration, and practically every date night for us. It's been tough without it, to say the least.
My longing for Disneyland has been reduced to a dull ache in my heart as month after month passed with no end in sight, but recently, a lot of games I've been playing have triggered memories and feelings of the park. It turns out that theme parks and video games have a lot of crossover in terms of design and presentation. If you're missing your favorite theme park this year, here are the best ways to recapture the magic in video games.
The Theme Park Experience
The first one is the most obvious. There's an incredible way to experience Disneyland right now in (almost) all of its glory: Disneyland Adventures on Xbox One and PC. Disneyland Adventures was originally a Kinect game on the Xbox 360, but in 2017 it was remastered for Xbox One and PC. It's currently available for free on Xbox Game Pass.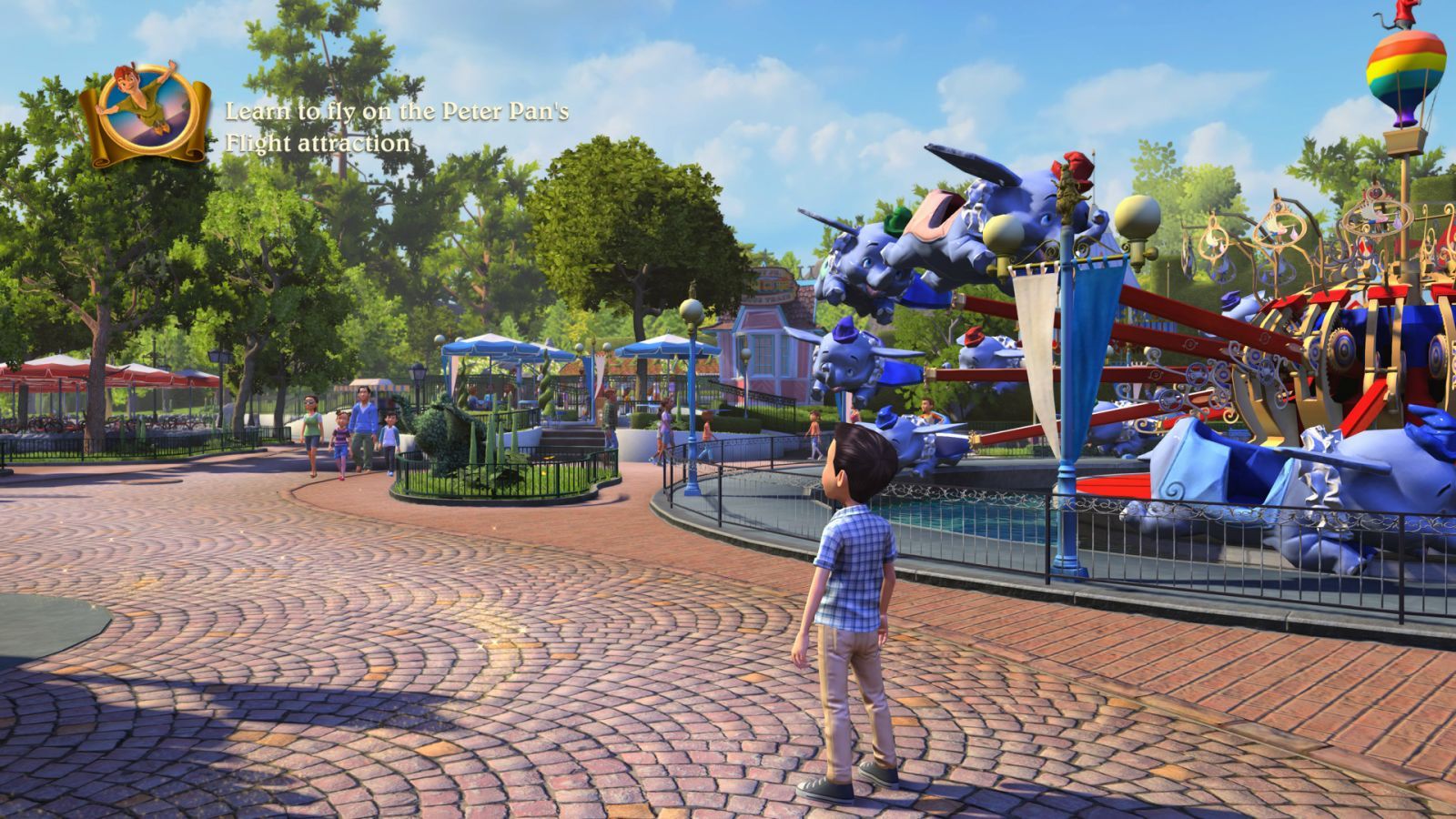 Disneyland Adventures is a literal recreation of the California theme park. It isn't 100% perfect, but it's exact in practically all the ways that matter. Everything is where it should be, though the pathways are narrower and everything feels a bit closer together. This is Disneyland in 2011, so there's no Galaxy's Edge and Star Tours has no Star Wars branding at all, probably for licensing reasons. Other than that though, Disneyland Adventures is an incredible way to experience walking around the park. You get all of the sights and sounds of Disneyland, like the iconic music of the Tiki Room, the astronaut Mickey that tumbles in neon atop the Star Trader, and plenty of people watching.
You can't actually ride any of the rides, unfortunately. Instead, all of the attractions have been turned into mini-games. Completing mini-games and doing fetch quest for the Disney character found around the park will reward you with coins you can spend on outfits, autograph books, and Disney pins. It's not quite as exciting as an actual day at Disneyland, but for someone like me that just misses the atmosphere of the park, I can't overstate how grateful I am that Disneyland Adventures exists in 2021. Not the most exciting video game, but if you treat it is like a walking-around-Disneyland-simulator it's actually a surprisingly good time.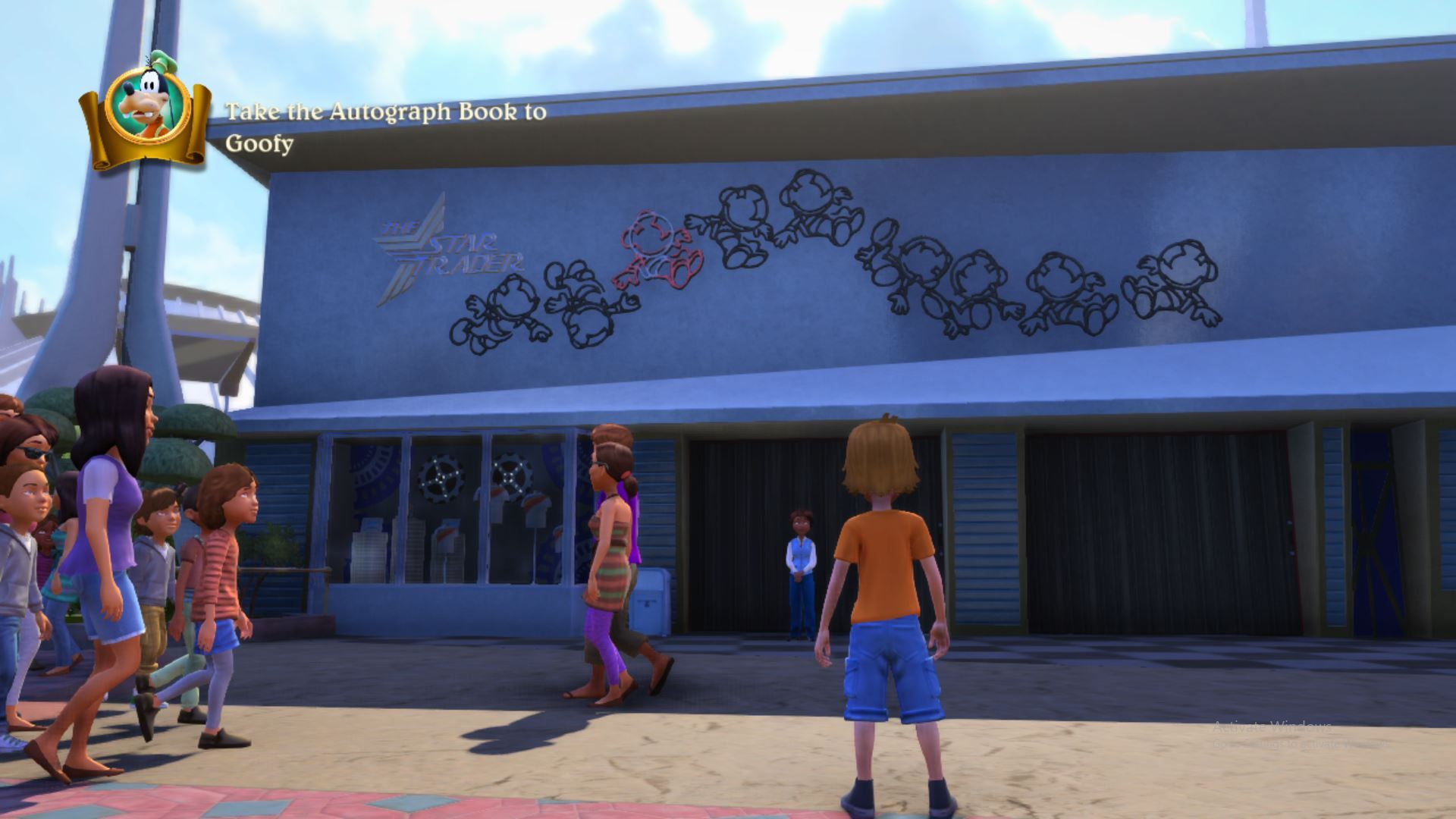 The Queue Experience
Waiting in line for a ride at Disneyland or Universal Studios is an attraction all on its own. The best queues prime you for the ride you're about to go on through environmental storytelling, audio narration, and animatronic characters. Rides like Guardians of the Galaxy: Mission Breakout and Indiana Jones Adventures offer lines that are almost as good as entertaining as the rides themselves.
The best video game approximation of the queue experience for a theme park ride has got to be the newest Destiny 2 raid, Deep Stone Crypt. If the raid encounters are the rides themselves, then the spaces between the encounters are near-perfect replicas of theme park rides. As you can imagine, there's not a lot of storytelling that happens while you're in a raid encounter. All of the narrative happens in between the encounters in the travel space.
The similarities between theme park rides and Destiny raids are uncanny. Your raid group of six players has to travel some distance between each encounter, typically with little or no challenge. These paths are an opportunity to listen to the story-centric dialogue and soak in the atmosphere of the raid. These long driving sections, twisted hallways, and jumping puzzles hide tons of secrets for eagle-eyed raiders, just as the Disneyland lines hide secret mickeys and other little details to discover.
Before starting the Atraks-1 encounter, the entire group will enter a chamber and watch a scene play out between Atraks-1 and Taniks on the other side of the glass. When the scene finishes, the doors open and your group can proceed into the next encounter. Disneyland uses this exact same trick to regulate the flow of lines and group people up before boarding or entering an attraction. Atraks-1 and Taniks may as well have been animatronic characters. Deep Stone Crypt makes me feel like I'm queuing for Smuggler's Run or Haunted Mansion every time I run it.
The Ride Experience
Of course, raid encounters don't really feel like anything like a ride, in part because you're not riding anything. For the ride itself, I found a number of cinematic action games do just the trick.
We often talk about games like Uncharted as if they're interactive action movies, but always think of the big set pieces in these games more like rides. The most poignant example of this can be found in the new Gears 5 DLC campaign, Hivebusters. There's an entire chapter of Hivebusters that takes place on a big round vault door as it travels full speed down a river of lava. The whole sequence is the video game equivalent of California Adventure's Grizzly River Run. Playing this chapter with a couple of friends gave me goosebumps every time our "raft" bounced off of a wall and made a big splash of lava. The sequence is a blast even without the raft ride context, but for someone missing that exact experience, it's really special.
Other great theme park ride moments from games include the Madagascar sequence from Uncharted 4, the burning of Haven in The Last of us 2, and the motorcycle chase in Final Fantasy 7 Remake. All of these vehicle-based action sequences give me big theme park ride vibes, and hopefully, they fill your theme park void too.
Next: Super Nintendo World Website Leaks Never-Before-Seen Mario Kart Ride Images And Park Info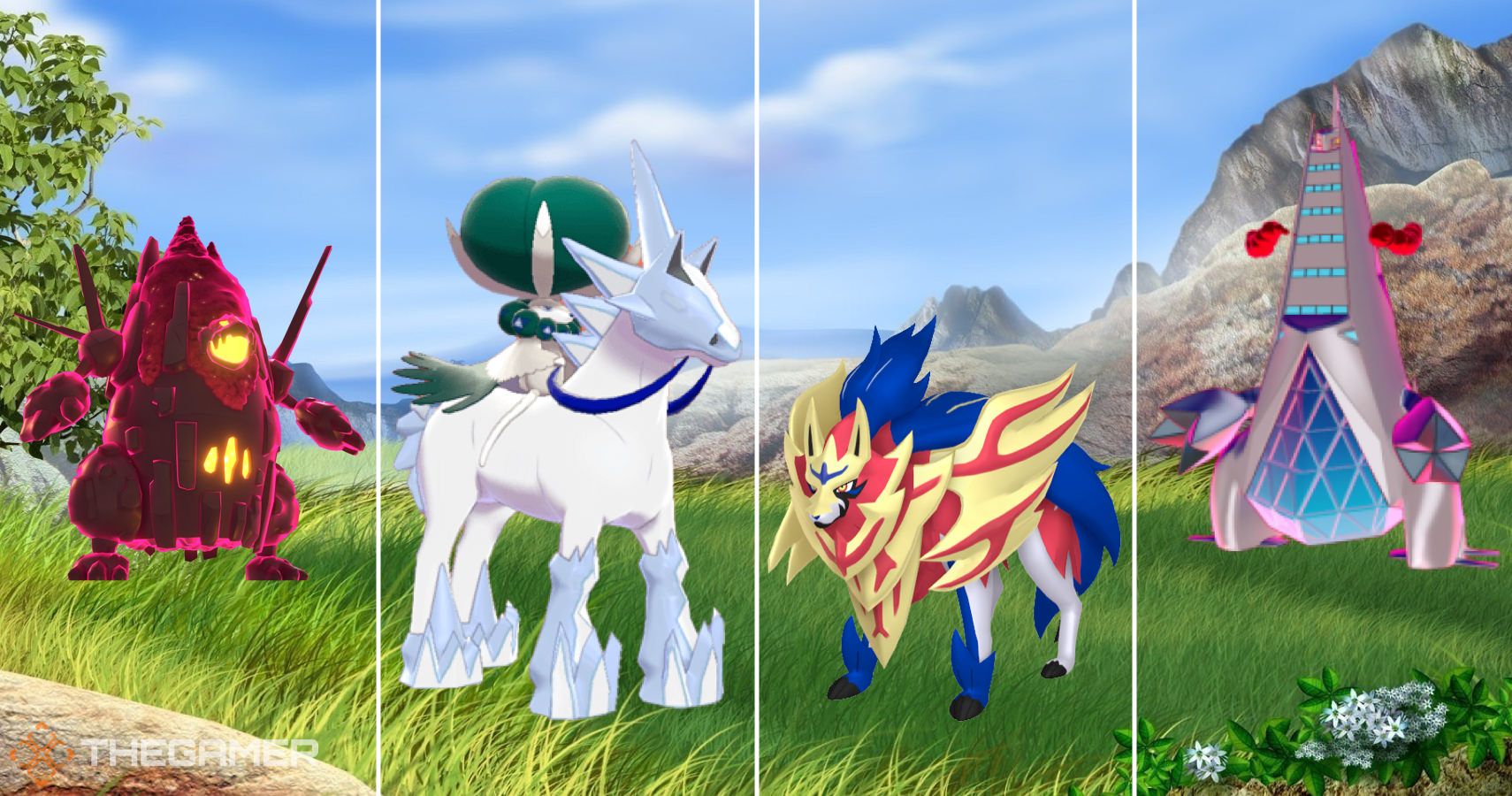 TheGamer Originals
Destiny 2
Gears 5
Disneyland
Eric Switzer is the Livestream News Editor for TheGamer as well as the lead for VR and Tech. He has written about comics and film for Bloody Disgusting and VFXwire. He is a graduate of University of Missouri – Columbia and Vancouver Film School. Eric loves board games, fan conventions, new technology, and his sweet sweet kitties Bruce and Babs. Favorite games include Destiny 2, Kingdom Hearts, Super Metroid, and Prey…but mostly Prey. His favorite Pokémon is Umbreon.
Source: Read Full Article