There's plenty of exciting Games Workshop and Warhammer news this week as the tabletop studio gears up for the holiday season.
Christmas Deliveries
The run-up to Christmas is always a busy time for the folks over at Games Workshop, and this year is no exception! With the additional challenges that game studios and retailers have faced, GW has come out the other side winning. However, that hasn't stopped them from issuing guidance for delivery in time for this year's holiday season. In a post found on the Warhammer Community website, GW has laid out the cut-off dates for guaranteed delivery on a per holiday basis. The good news is that most of the world still has time, but our brothers and sisters in North America may be out of luck, as the cut-off for them was December 4. Not all hope is lost, however. Any orders placed directly with GW will be processed and sent out ASAP, with a good chance of getting to you in timely fashion! They just can't guarantee it. For those essential Age of Sigmar and Warhammer 40K  purchases, you can still visit a GW/Warhammer store or your local independent games store who will still receive regular deliveries of Warhammer goodies!
This week's preorders – Warcry & Direchasm!
Warhammer Underworlds: Direchasm is this week's big release, with preorders open now and general availability scheduled in stores on December 12. Direchasm marks the start of the new season and promises to be the definitive edition of the game released so far. Set beneath the living mountain Beastgrave, the story continues to explore Ghur and no doubt more of its secrets will be unlocked as the season progresses.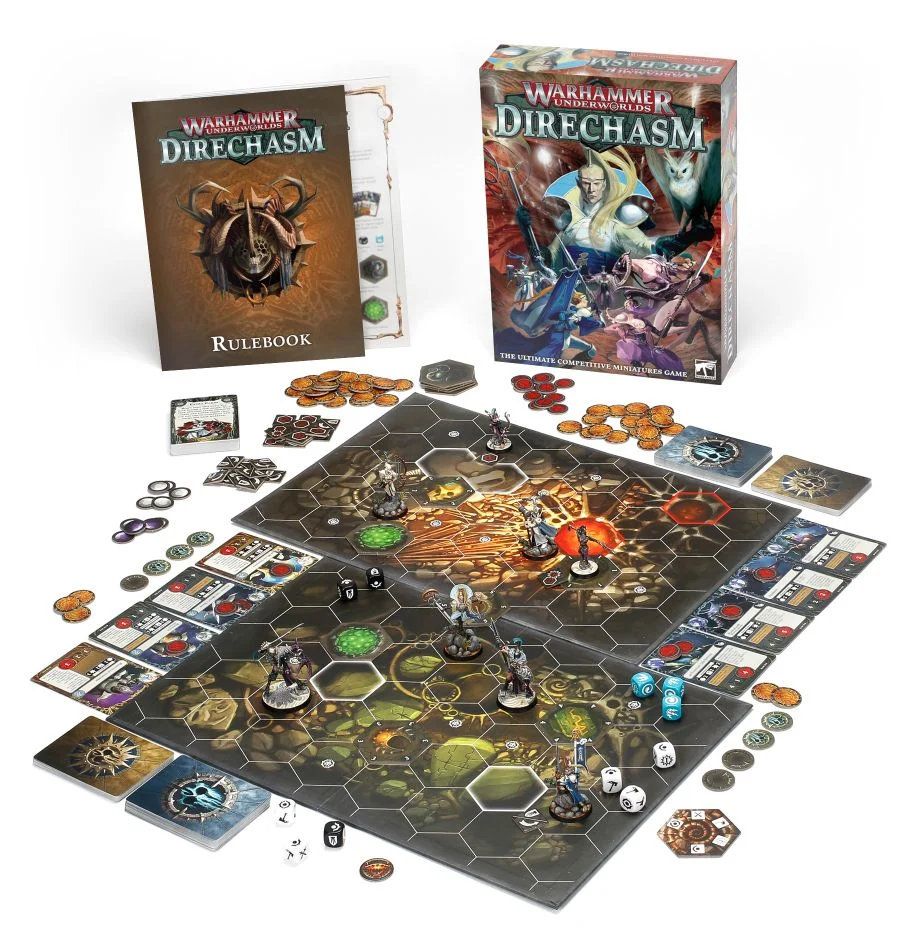 The new season starter box comes with two new warbands; Myari's Purifiers, a Lumineth Realm-lords war band, and Dread Pageant, a Hedonites of Slaanesh warband. That's eight new mini's for you to paint and play with! The box also includes a 40-page rulebook, two doubled-sided playing boards, dice, tokens, and enough cards to build out your deck. Speaking of which, GW has also launched a Direchasm themed deck box along with some other Direchasm-themed goodies, stand-alone counters, and several dice sets that are themed to match your faction and/or warband. Rounding out the Direchasm pre-orders is the Black Library hardback edition of the novel of the same name. This collection of short stories tells some of Direchasm's greatest tales, and you get three alternative art objective cards for Warhammer Underworlds: Direchasm to boot!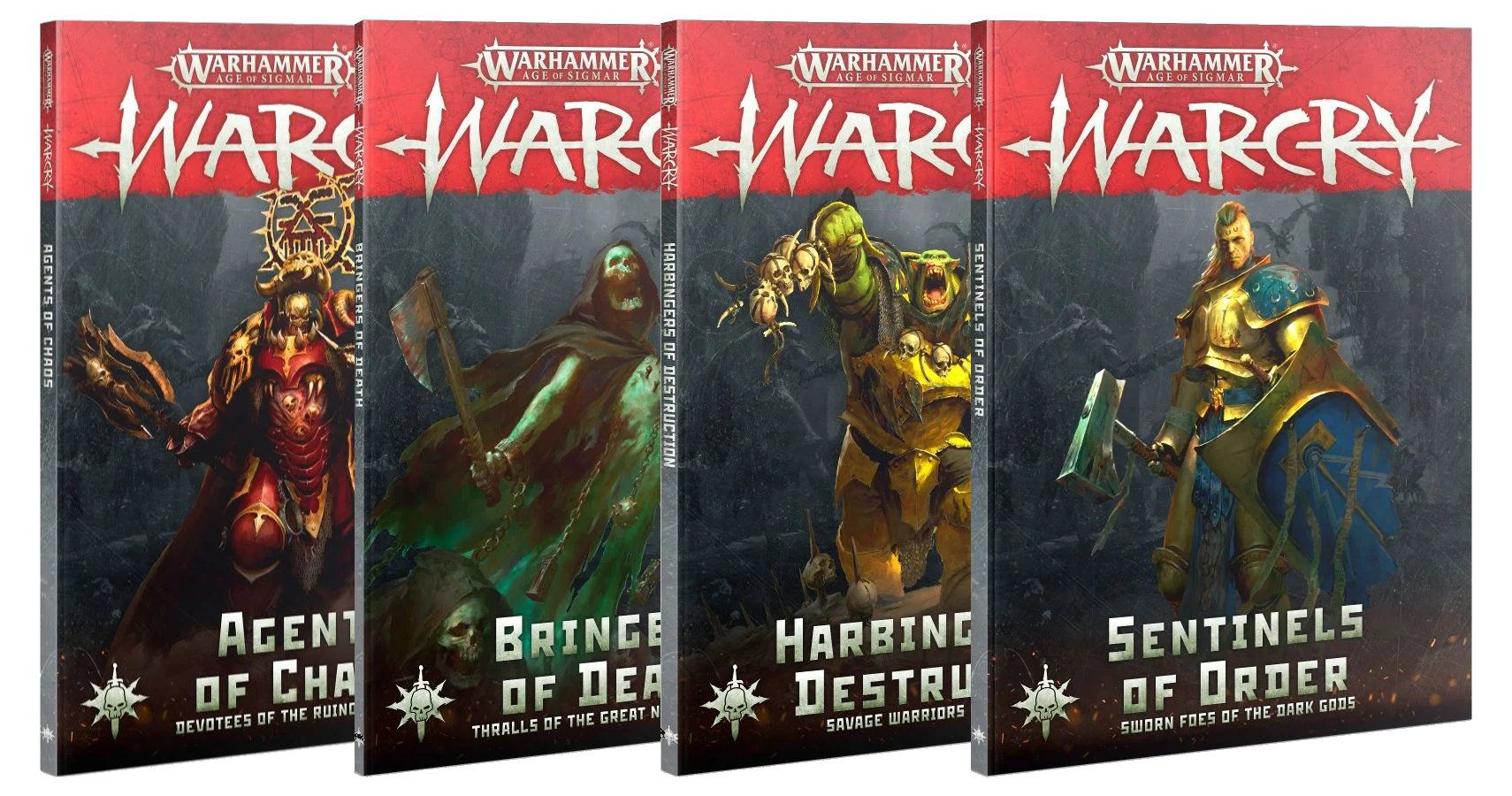 Also Launching this week are four new Warcry warbands, four new faction rulebooks, and this year's Tome of Champions. Joining the fold are the Khainite Shadowstalkers, the Scions of the Flame, the Sylvaneth, and the Legions of Nagash.
Previews
Direchasm
Gw has also previewed some future releases including their release roadmap for Direchasm. January 2021 sees the release of Khagras Ravagers and February 2021, the Starblood Stalkers. We got a sneak peek at Khagra's Ravagers during the Decadence and Decay Event. Keep an eye out for our coverage on these exciting releases once we know more.

Blood Bowl
It's only been a couple of weeks since the new season of Blood Bowl started, and already we are set to receive some new goodies. Skaven and Dwarf players are getting a new Team Card Pack each. The card packs feature reference cards for all players, including Star Players, for the respective species and unique Special Play cards. Dwarf and Skaven themed dice will also be available. Rounding out the Blood Bowl releases are new Dwarf and Skaven themed pitches.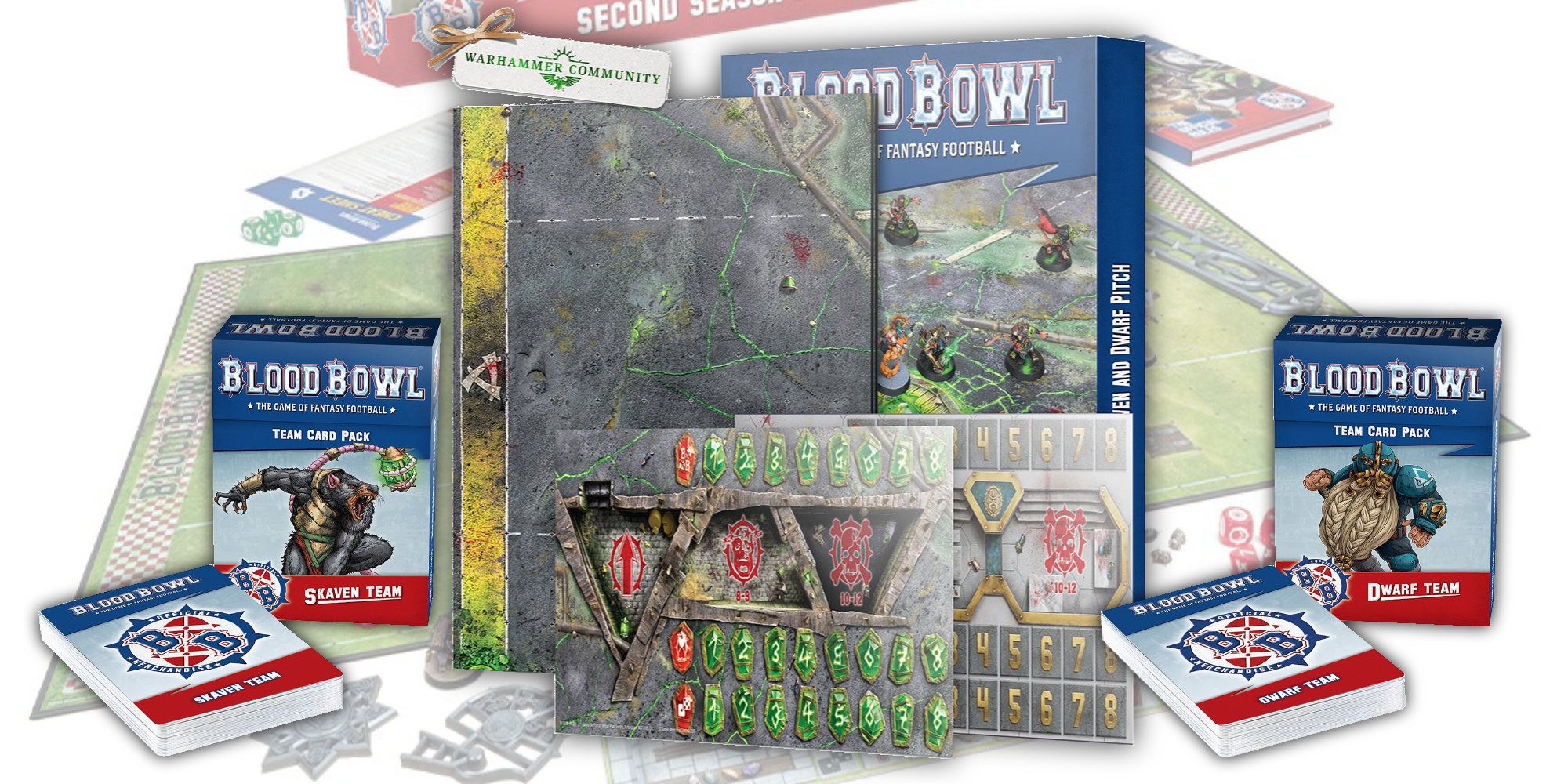 Necromunda
Another sneak peek from Decadence and Decay was the upcoming Necromunda: House of Artifice and the House Van Saar gang. The new House of Artifice rules supplement features plenty of backstory and lore to whet your appetite, and rules for playing the tech-obsessed gang. New recruits in the form of Archeoteks and Neoteks are also expected to launch at the same time with House Van Saar tactic cards and, yes you've guessed it, a themed dice set.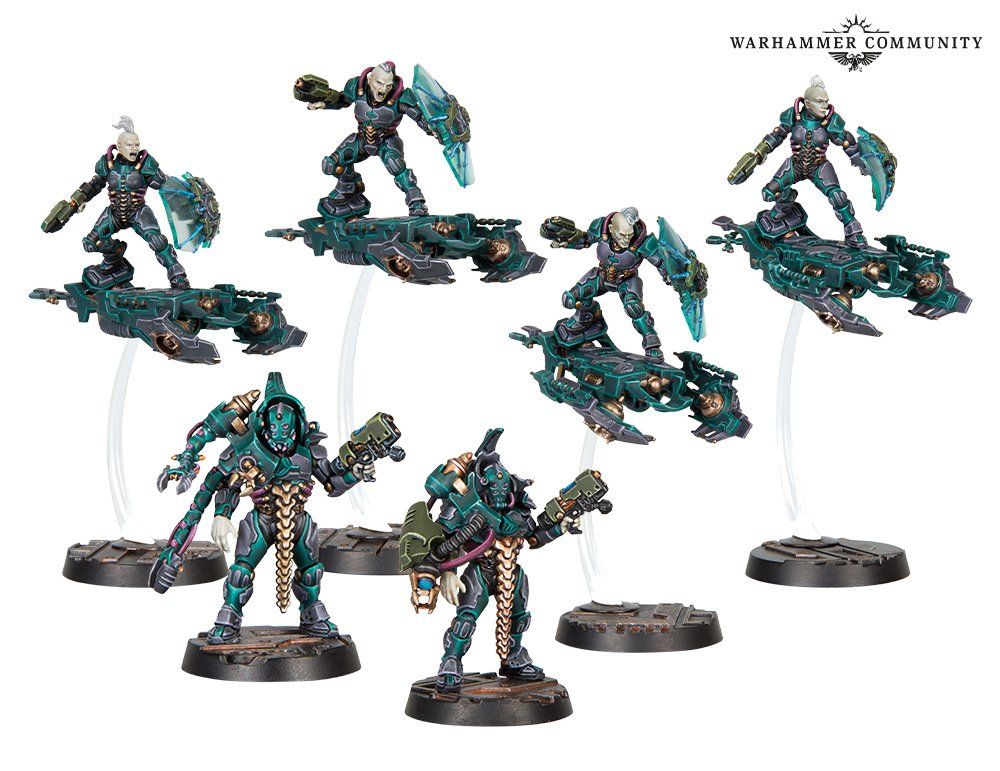 Adeptus Titanicus
Plenty of boxed game news from GW this week, and not to be left out in the cold Forge World has some Adeptus Titanicus releases to share. The Cerastus Knight-Atrapos will be available to pre-order on the Forge World website from Friday, December 11th. These war machines were designed to take on the heretek engines and other xenos machines of destruction, but their speed and heavy weaponry make them a formidable opponent against Titan-class.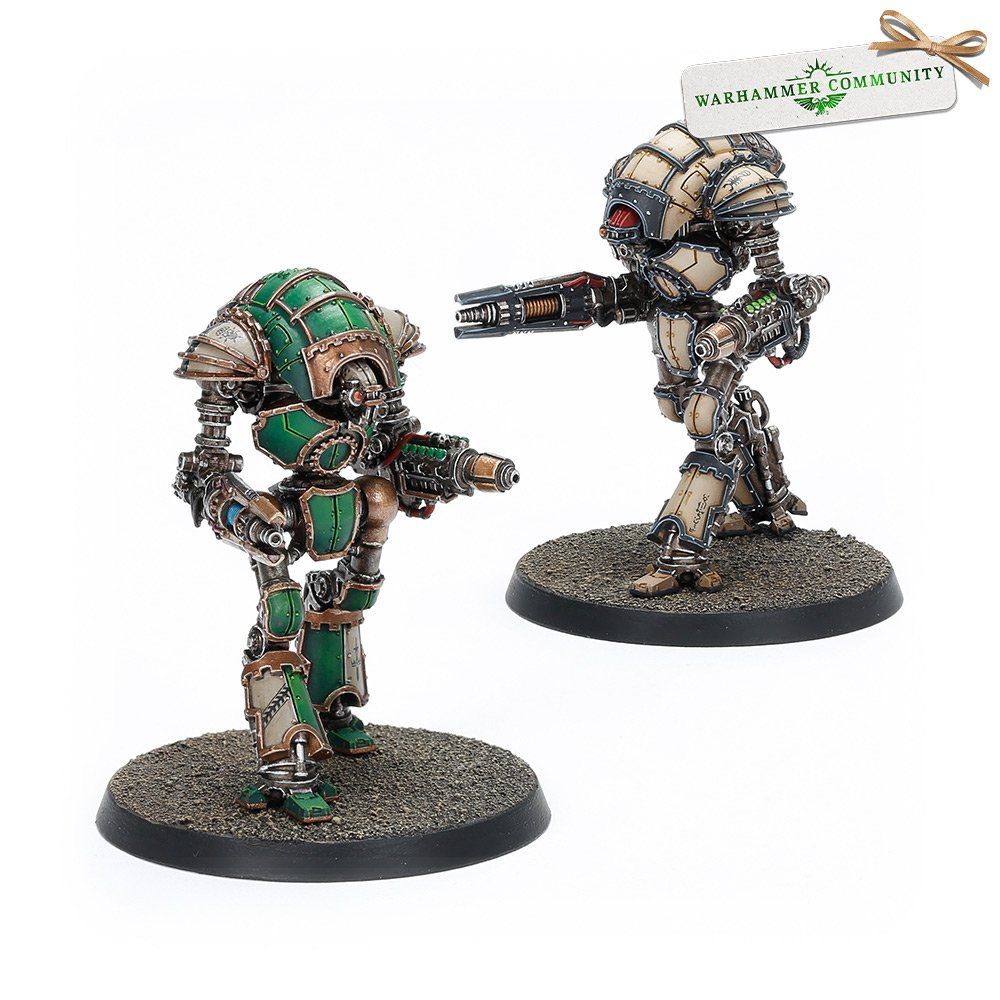 Black Library
GW's the Black Library is releasing a special 'mega' edition of the new Space Wolves novel by Chris Wraight. The set includes a luxury hardback that has been signed by the author, a bookmark pin badge, coaster, 32-page Hrani's Saga book, dice bag, and dice. What is it with GW and dice these days? This limited edition is only going to have 1500 copies released worldwide, and we expect it to sell out fast.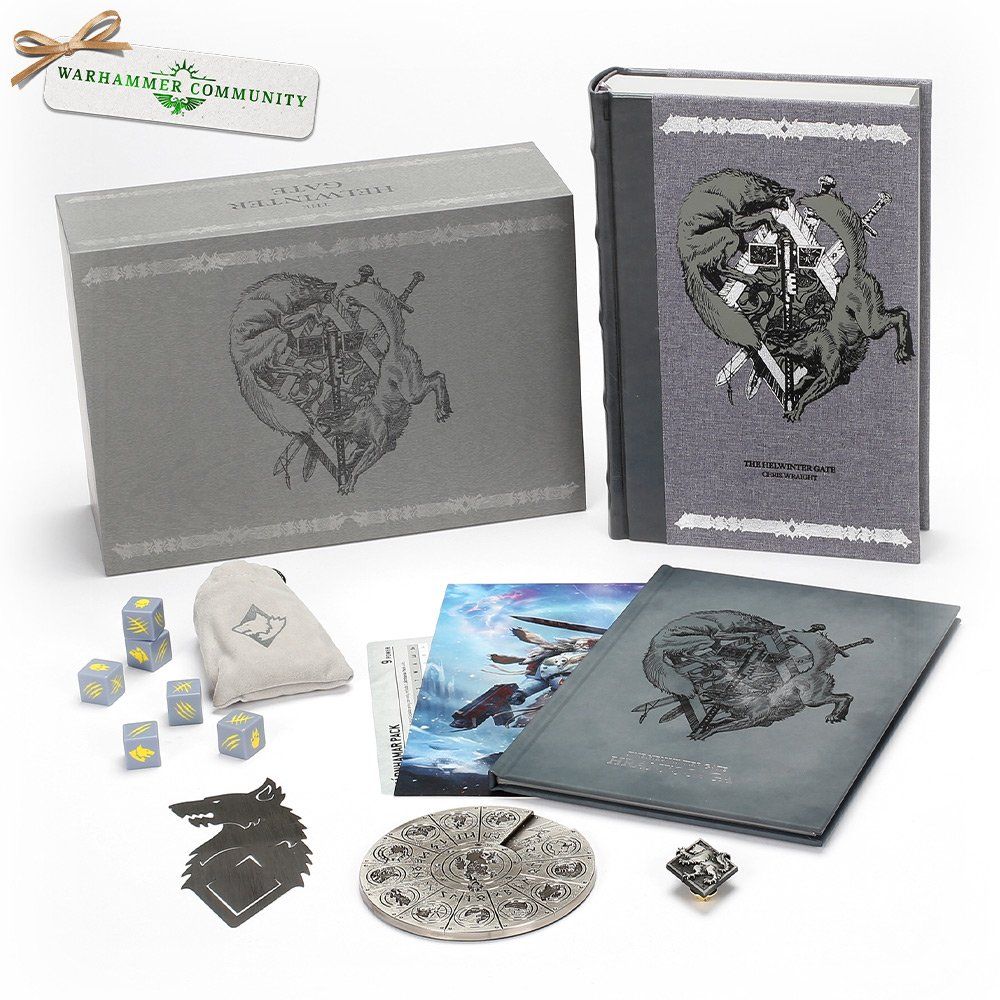 All pre-orders, unless otherwise stated, are expected to drop Saturday, December 12, with general release in stores a week later.
NEXT: Dive Into The Dark Side Of Warhammer 40k With Humble RPG Book Bundle
Source: Read Full Article