My name is Cian Maher and I am the world's biggest Witcher fan, so it's no wonder that I have spent frankly dozens of hours scouring the streets of Night City for even the slightest hint of an homage to my favourite game. I'm not messing – I have spent hours walking up to every raver in Afterlife to see if it's Ciri, or bombing across the Badlands on a motorbike in search of a hypothetical horse named Roach. Both endeavors – and about 100 other ones – were in vain. I was honestly beginning to worry that I might never find a Witcher Easter egg in Cyberpunk 2077, no matter how much I persevered.
But then I found it – Cyberpunk 2077's single, solitary Witcher Easter egg in all of its witchery glory. I'm not talking about Ciri being on a magazine, by the way, which was discovered back when press had access to preview builds of the game. I'm talking about something else entirely, a major witchery discovery in CD Projekt Red's latest blockbuster. I'm talking about motherfucking smuggler's caches.
If you've ever played The Witcher 3 for a reasonably long amount of time, you'll know that smuggler's caches are the bane of every Skellige-bound Geralt's existence. People in the Witcher community often joke about the frankly absurd amount of smuggler's caches scattered across the seas of Skellige. Don't get me wrong, you can pick up some pretty great loot from these underwater stashes – but if you're the kind of person who likes to clear every point of interest on your world map, well… best of luck! I used to genuinely think every time I cleared one smuggler's cache, three more appeared in its stead.
Anyway, smuggler's caches have become pretty infamous among Witcher fans precisely because of how many of them are in The Witcher 3. CD Projekt Red obviously recognizes that slagging off smuggler's caches has become a bit of a trend in the community, which is probably why it put one single smuggler's cache – yes, a proper Witcher 3 one – in Cyberpunk 2077's Night City.
You can see the location of the smuggler's cache in the screenshot below. It's just beneath the southernmost pillar of the bridge connecting Heywood to Pacifica, floating just at the surface of the water.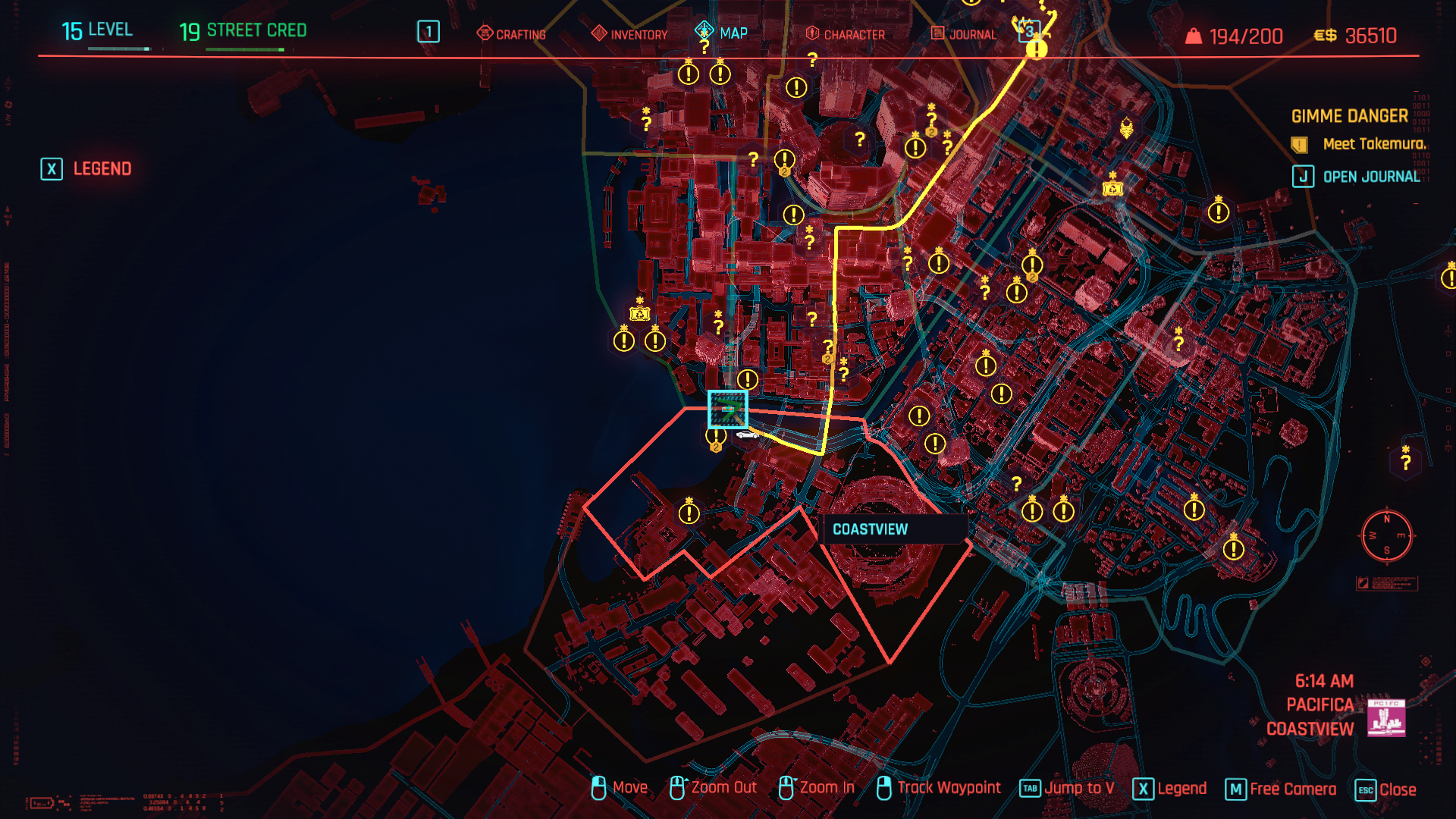 There's much more to it as well – it's not just three floating cases in a handy cache. If you hoist yourself up onto a little floating platform in the water, you'll find a dead man – beside him is the "Drowned Man's Note," which reads as follows: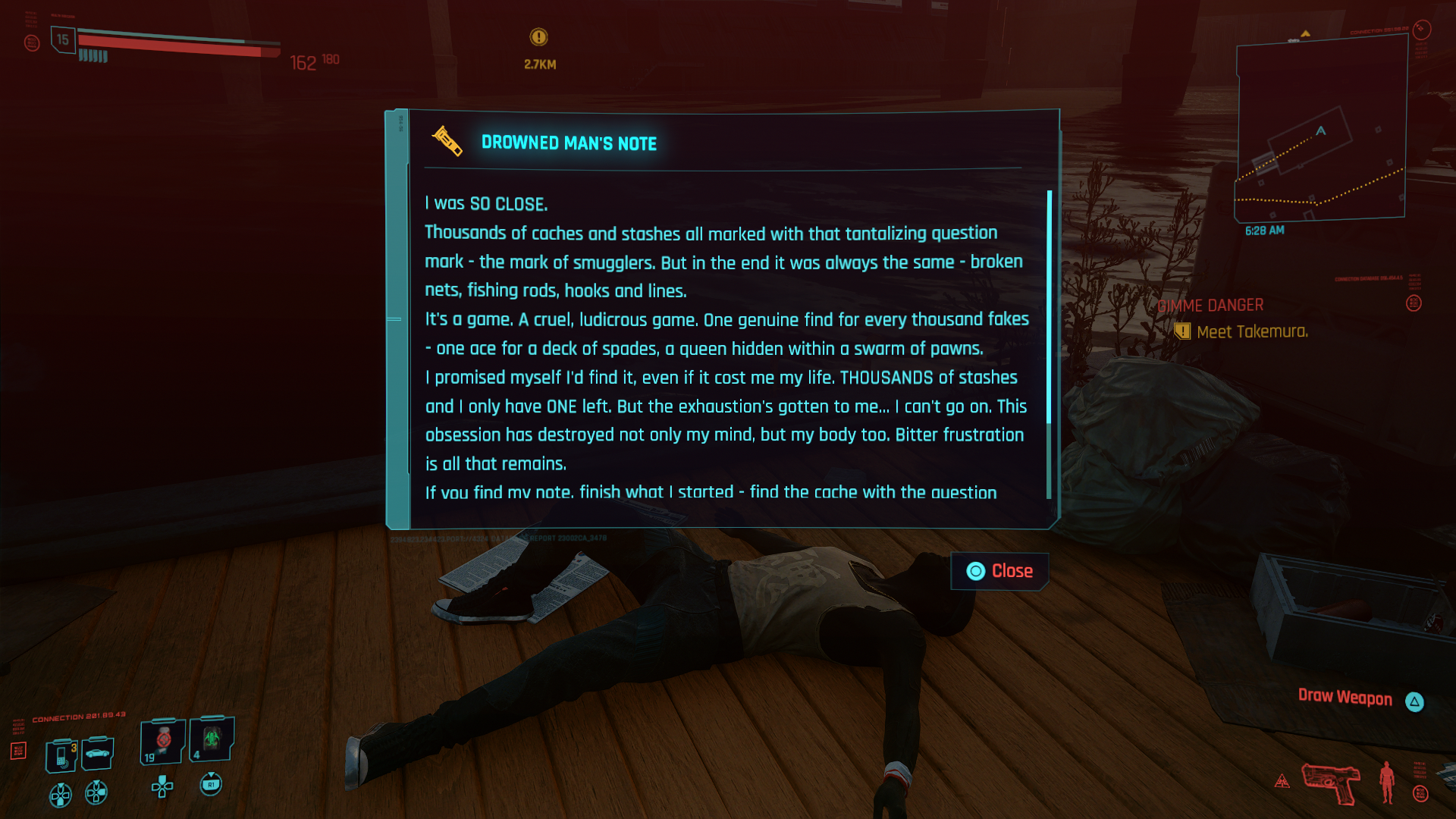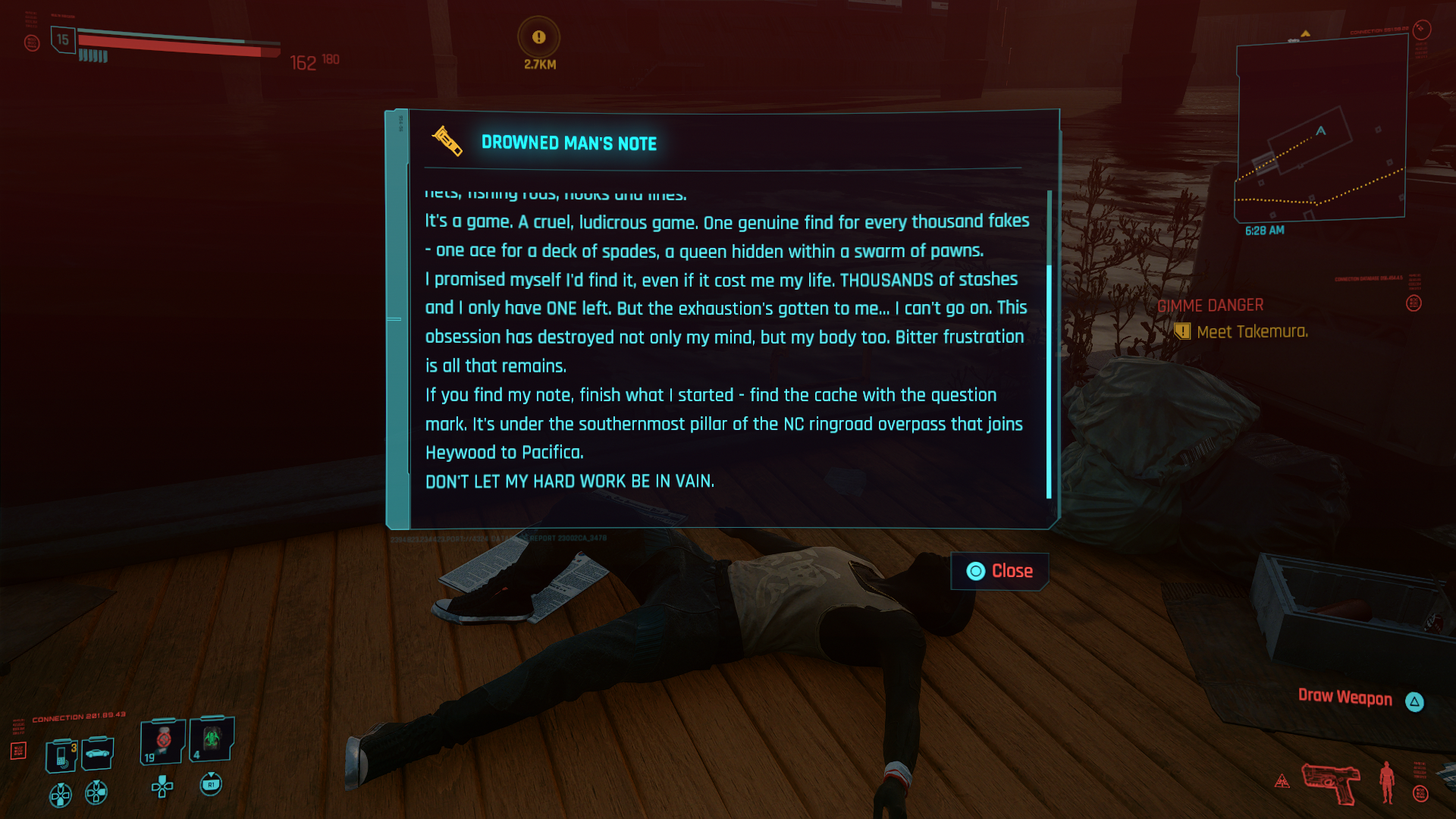 "Thousands of caches and stashes all marked with that tantalizing question mark," the note reads.
"It's a game. A cruel, ludicrous game … Thousands of stashes and I only have one left. But the exhaustion's gotten to me… I can't go on. This obsession has destroyed not only my mind, but my body too. Bitter frustration is all that remains.
"If you find my note, finish what I started – find the cache with the question mark. It's under the southernmost pillar of the NC ringroad overpass that joins Heywood to Pacifica."
"DON'T LET MY HARD WORK BE IN VAIN."
When you swim over to the southernmost pillar of the bridge overpass, you'll find that, sure enough, there's a good ol' fashioned Skelligan smuggler's cache there. Check out the screenshot below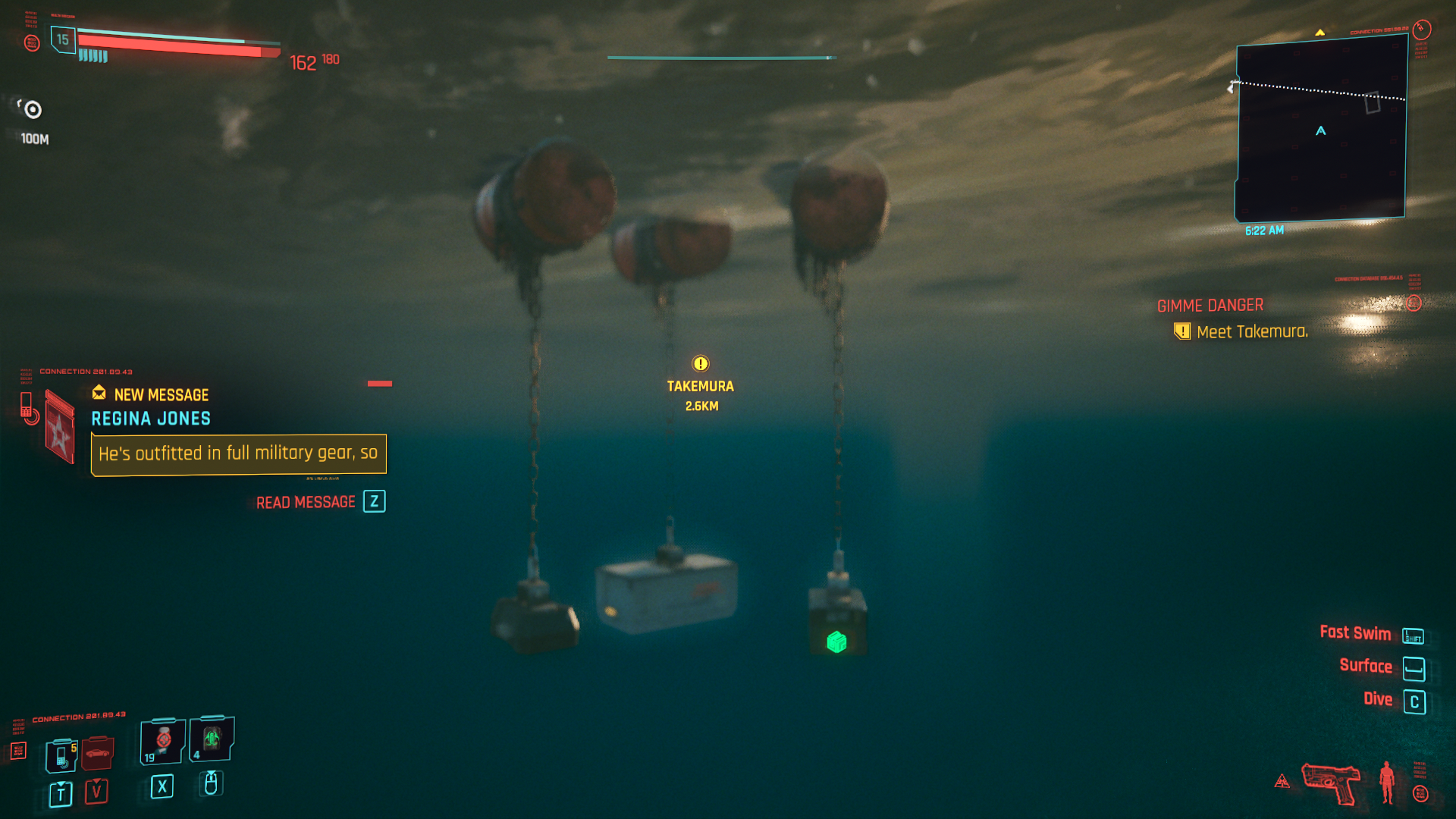 The loot here includes a Molodets BioHaz grenade, a durable synthetic biker coat, a hand fan, and a ritual bowl.
There you have it – Cyberpunk 2077 does have a Witcher Easter egg – it's just a bit niche and immensely well-hidden. Honestly, I am still hoping I'll bump into Ciri somewhere given that there's a pretty decent theory that she went to Night City while she was running from The Wild Hunt. That being said, I am glad I can finally start taking notice of other things in Night City instead of going right up to every poster and scanning it with a magnifying glass to see if there's a mention of "Gwynbleidd," or "Zirael," or – and this one is my personal favourite – "Lambert, Lambert, what a prick."
This Easter egg is just another kind of prick – another painfully annoying smuggler's cache. Fortunately – as mentioned in the Drowned Man's Note – this is the last one, meaning we can finally be rid of those terribly irritating question marks once and for all.
Cyberpunk 2077 is available for PC on GOG.COM, Steam and Epic, Xbox One, Xbox Series X|S, PlayStation 4, PlayStation 5, and Stadia from December 10, 2020. When you buy Cyberpunk 2077 on GOG.COM, 100% of your money goes to CD PROJEKT Group and supports their future projects.
READ NEXT: Cyberpunk 2077 Complete Guide And Walkthrough
These articles are posted in affiliation with GOG.COM. TheGamer received compensation from GOG Sp. z o.o. for affiliating these articles with their brand.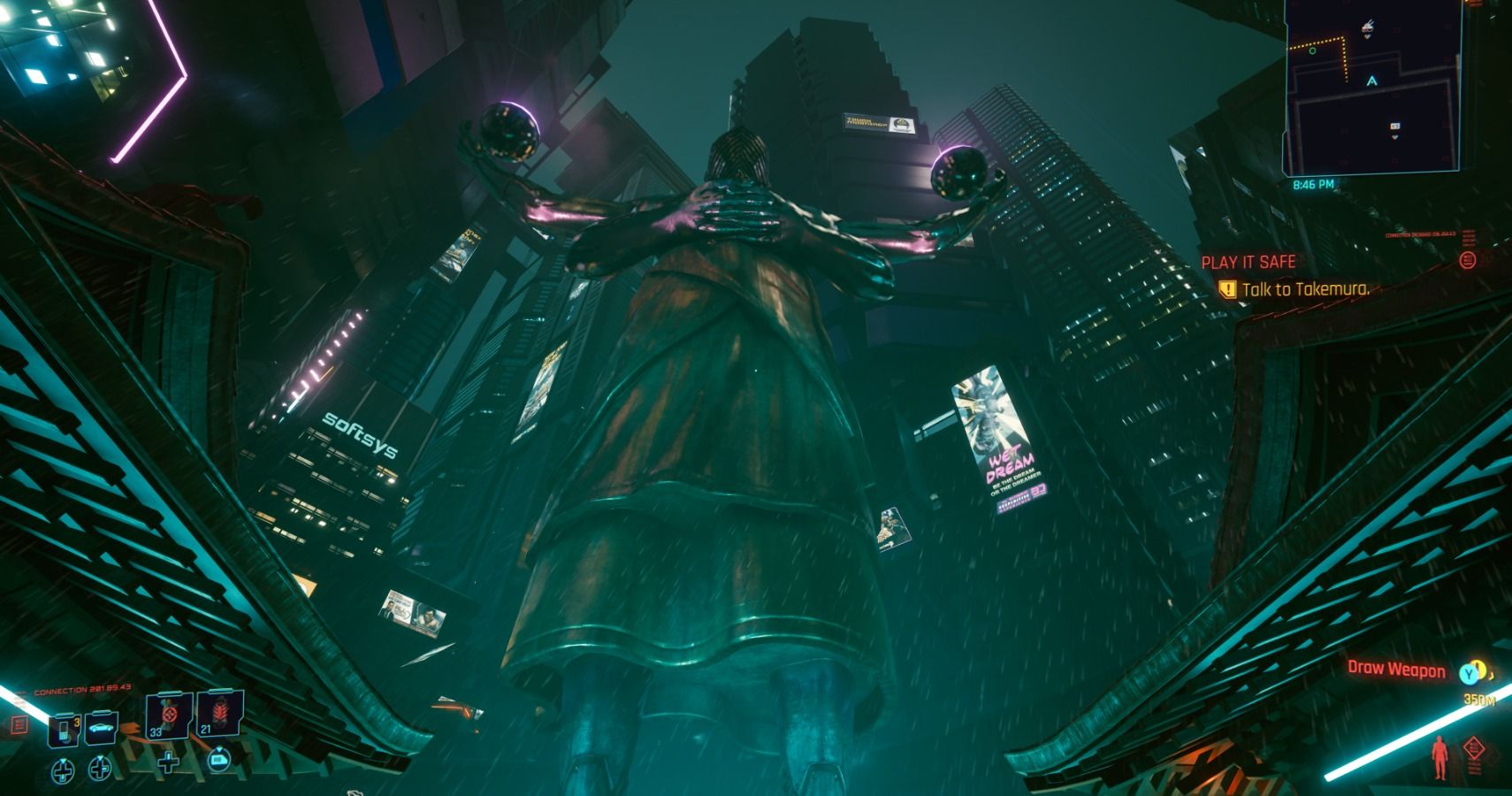 TheGamer Originals
PC
Cyberpunk 2077
Xbox One
cd projekt red
Ps5
ps4
Xbox Series X
CD Projekt
Cian Maher is the Lead Features Editor at TheGamer. He's also had work published in The Guardian, The Washington Post, The Verge, Vice, Wired, and more. You can find him on Twitter @cianmaher0.
Source: Read Full Article