Super Bowl LV has come and gone, with the Tampa Bay Buccaneers walking away as NFL world champions. Although I called it, in my Madden simulation,  Madden's official annual simulations of the Super Bowl haven't exactly been very reliable in successfully predicting the outcome of the games. 
Regardless, I decided to double down on my own Madden simulation – dubbed the "Madden Minute" – and put my money where my mouth is. Literally.
You see, online gambling is legal in Colorado – the state in which I reside. I already knew I'd probably be placing bets before and during the game, but I thought it'd be fun to carve out a piece of my gambling budget to place bets based on the notable scores and statistics from my Madden simulation. Crazy? You bet. Reliable? Absolutely not. But as someone with no skin in the game, since my team – the Denver Broncos – weren't playing in the Super Bowl (deservedly so), I figured it would be a fun and different way to engage with the event.
Before we dive in, if you or someone you know have a gambling problem, please reach out to the National Problem Gambling Helpline Network (1-800-522-4700) for help. Assistance is available 24/7 and is 100% confidential, with text and chat services available.
Here are the bets I made based on the Madden Minute, along with the odds and outcomes of each wager.
Leonard Fournette To Score The First Touchdown In The Game (+600)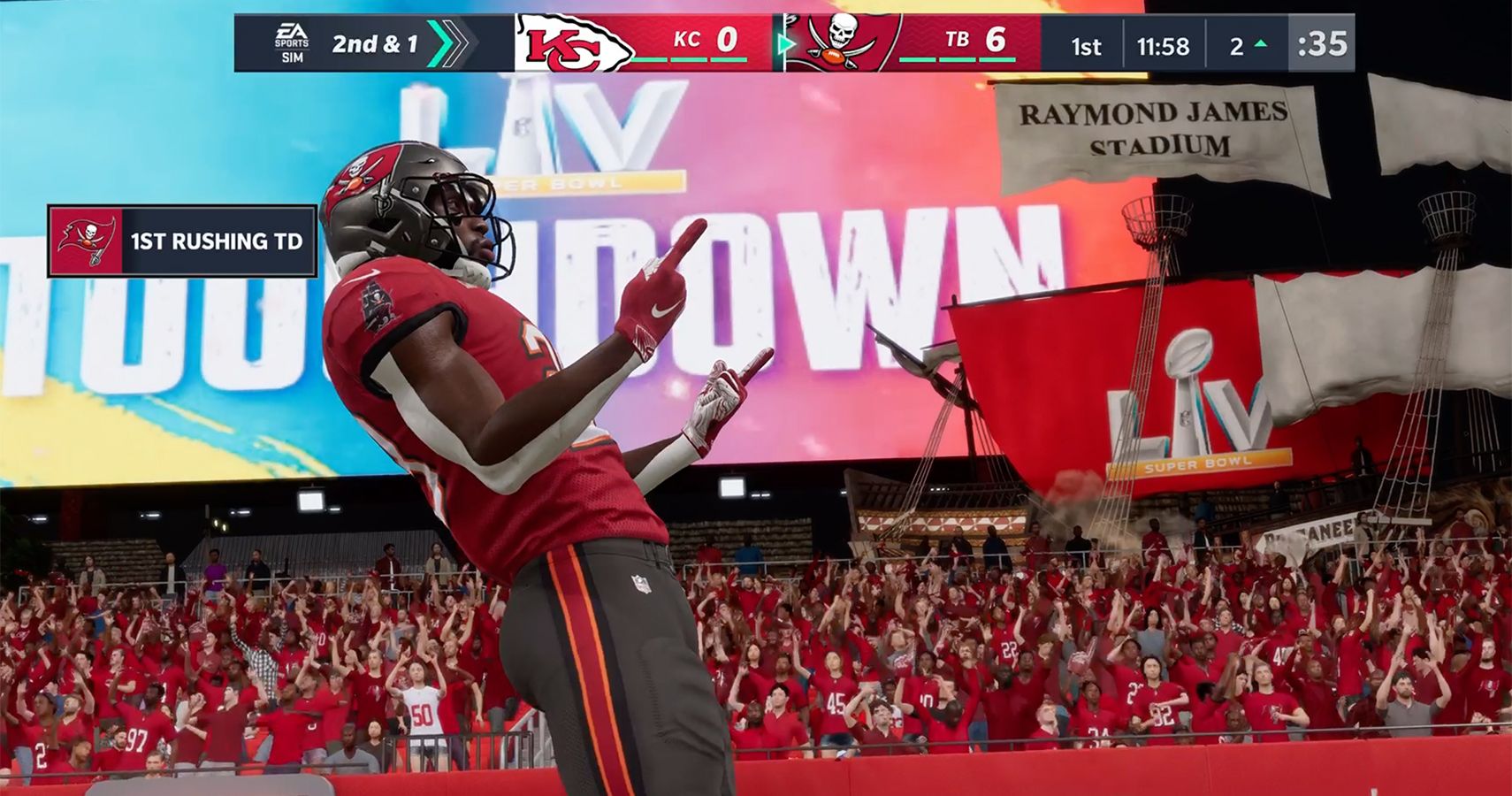 In the Madden sim, Fournette rushed from 5-yards out to score the first touchdown of Super Bowl LV.
Ignoring the early Chiefs field goal, in reality, as good as it looked with the Buccaneers in the red zone, a Brady-to-Gronk touchdown ended up kicking off the game with the first touchdown.
Darrel Williams Anytime Touchdown (+210)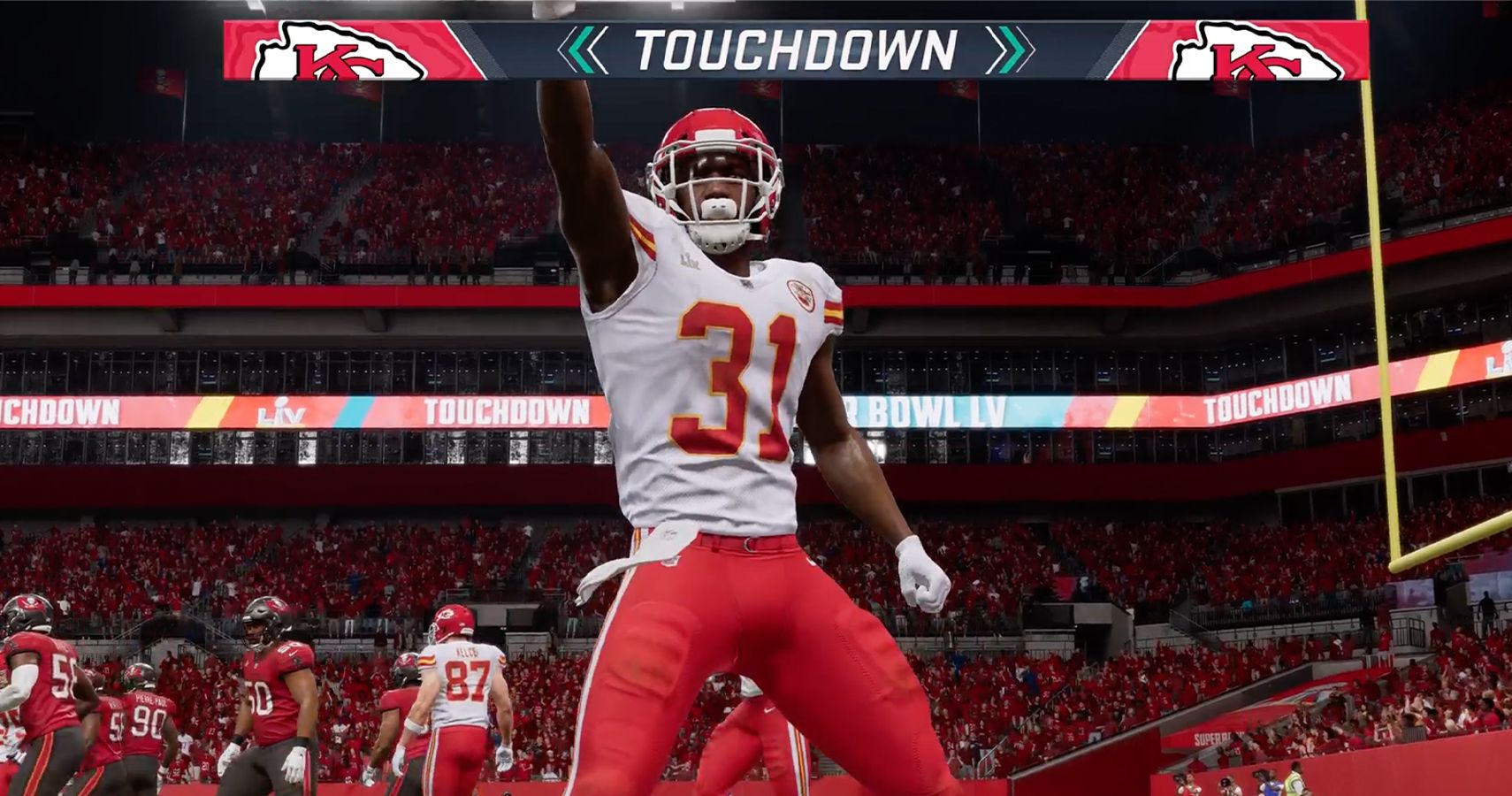 Williams scored the Chiefs' second rushing touchdown in my simulation, but as the backup to both Clyde Edwards-Helaire and Le'Veon Bell, I thought it would be fun to bet on Williams as an anytime scorer, especially since his recent usage has been pretty impressive.
Unfortunately, the Chiefs just couldn't get anything going to allow for a Williams' touchdown.
Demarcus Robinson Anytime Touchdown (+400)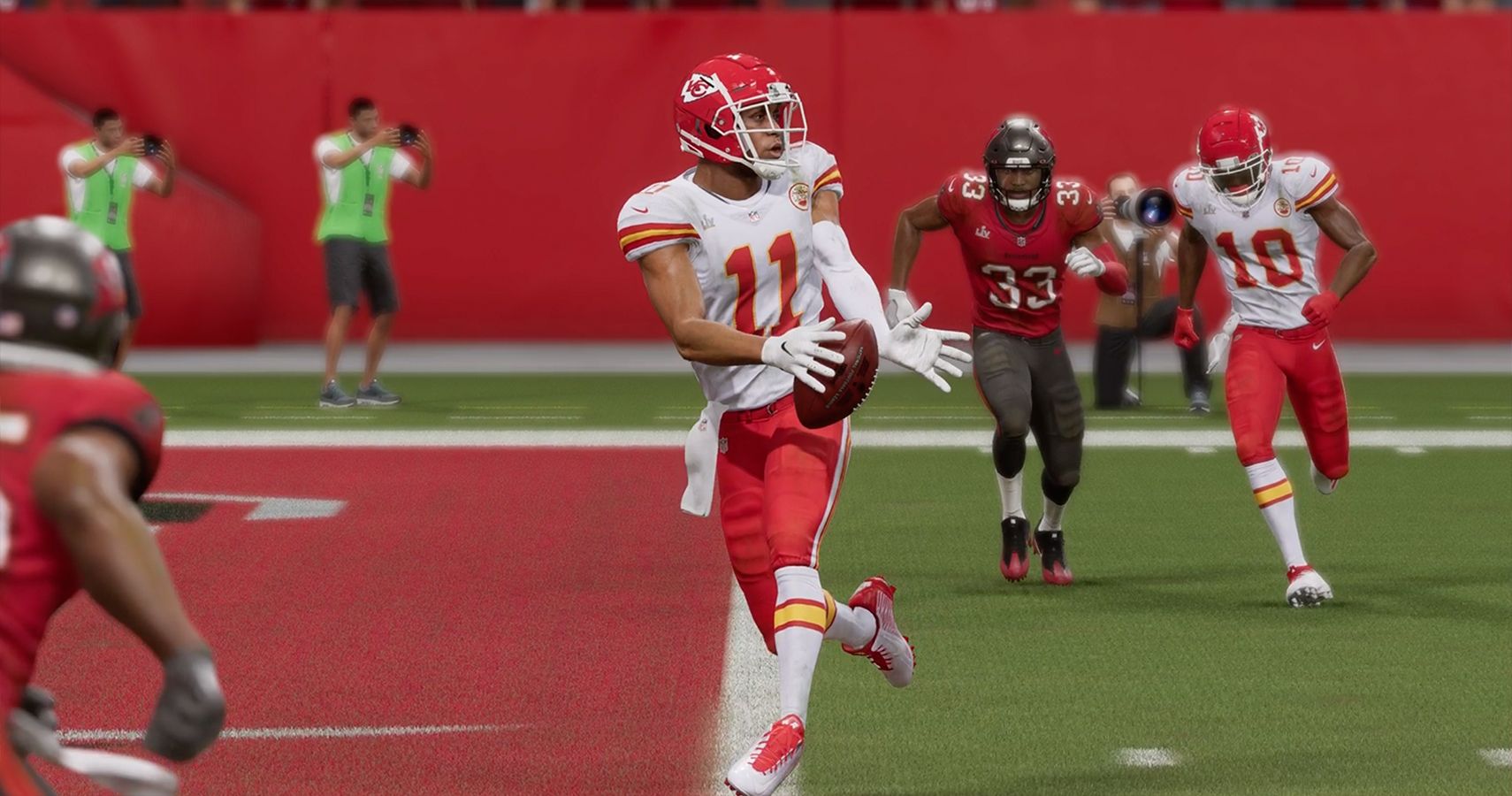 Robinson scored one of the touchdowns that kept the Chiefs in the game during the Madden sim. With the questions surrounding Sammy Watkins' injury prior to the game, I figured it was worth betting on Robinson.
He came close, but Robinson walked away empty-handed in terms of scoring.
Antony Auclair Anytime Touchdown (+2800)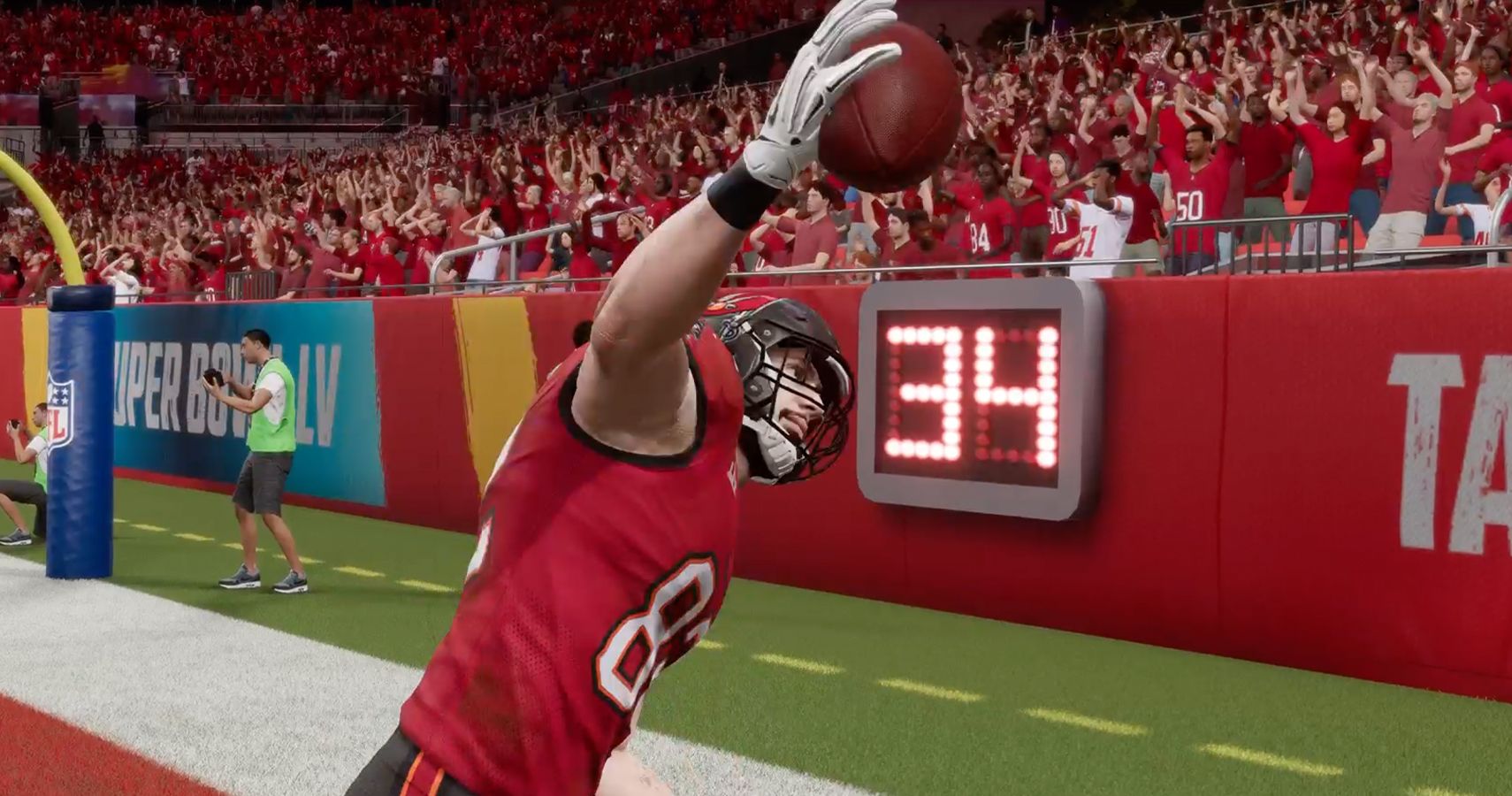 Yep, I decided to go with Auclair over Gronk as my anytime scoring Tampa Bay tight end, but can you really blame me with those odds? 
Auclair, who? This was a wild bet that just never should happened.
Travis Kelce To Score The Last Touchdown In The Game (+600)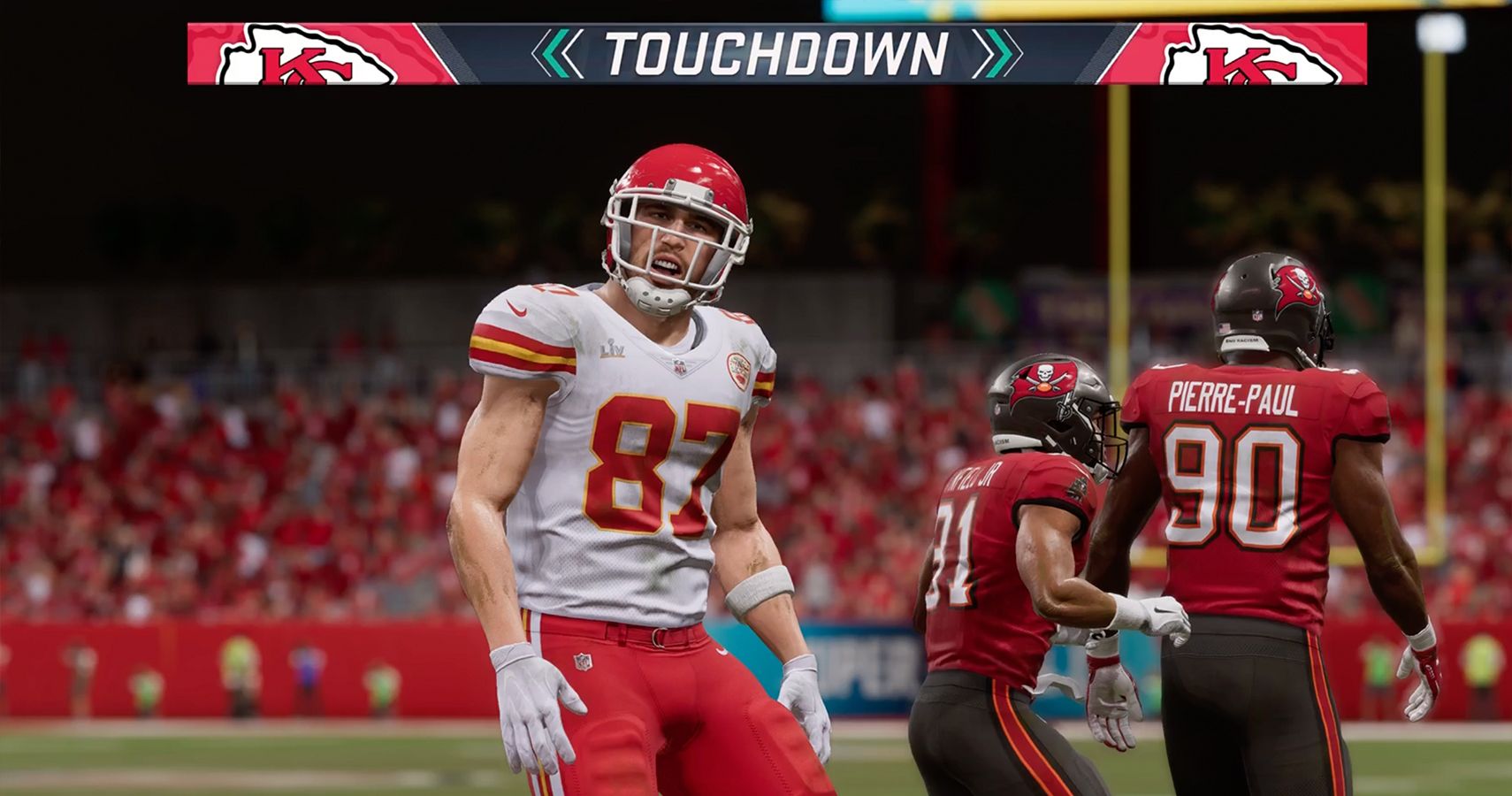 Unfortunately for the Chiefs, Kelce's touchdown was too little, too late in the Madden sim, but I could think of worse players to bet on for scoring Super Bowl LV's final touchdown.
No Chiefs touchdowns were scored, making this a bad bet before it even happened.
No Turnovers (+700)
It's a wild stat, but the only turnover that happened in the Madden sim was an Antonio Brown "fumble" that ended up getting reversed. Both offenses took care to not turn the ball over.
Well, this one held on for far longer than I admittedly thought it would. Alas, the Bucs' pick off of a deflected pass ended any hopes for this bet.
Ronald Jones II To Record 100+ Rushing Yards (+1200)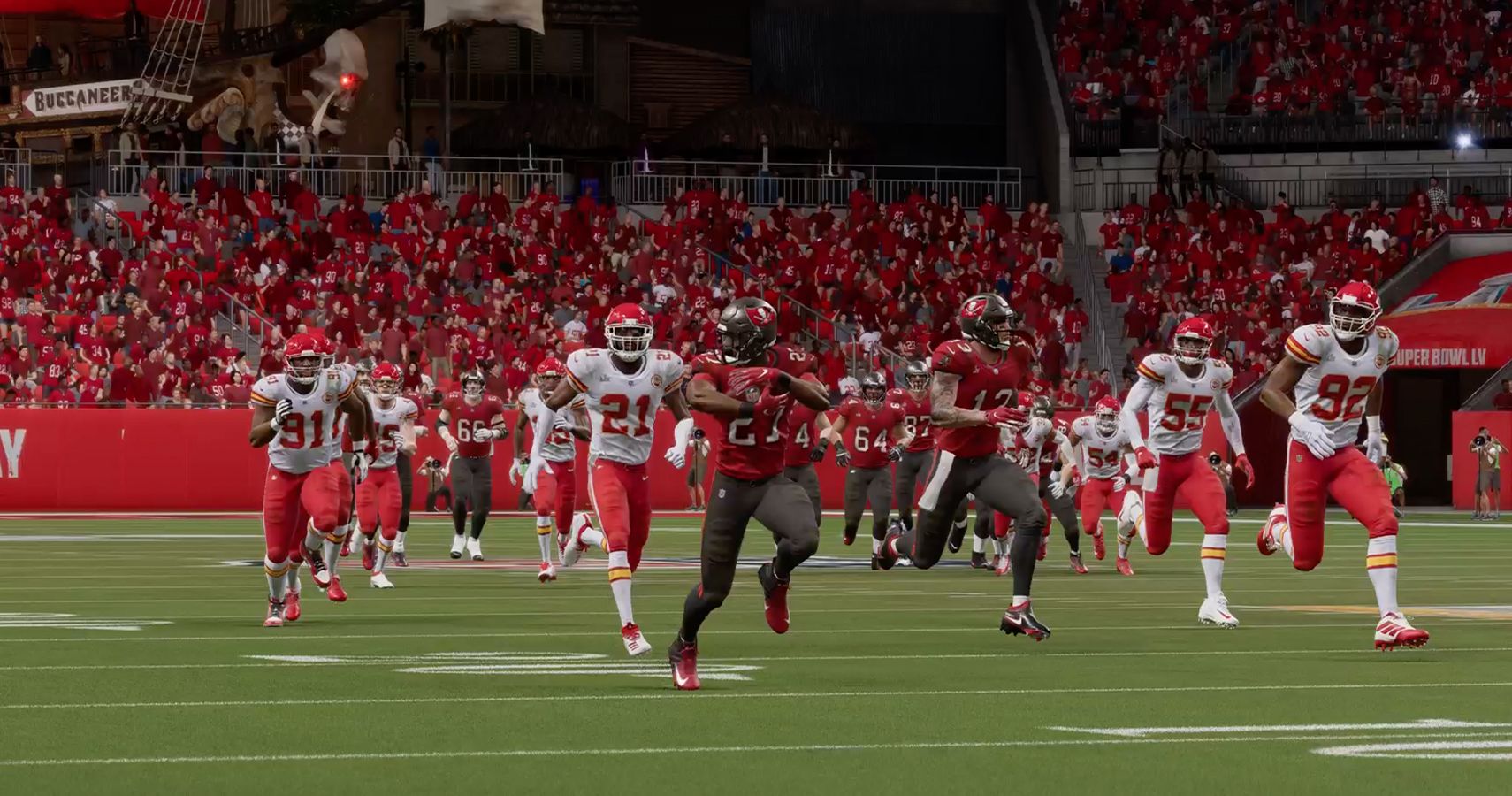 Technically, Jones II rushed for over 200-yards in the Madden sim, with a large chunk of that coming from a booming 54-yard touchdown run.
Jones II ended up with 61-rushing yards, nowhere near the mark.
Mike Evans To Record 100+ Receiving Yards (+325)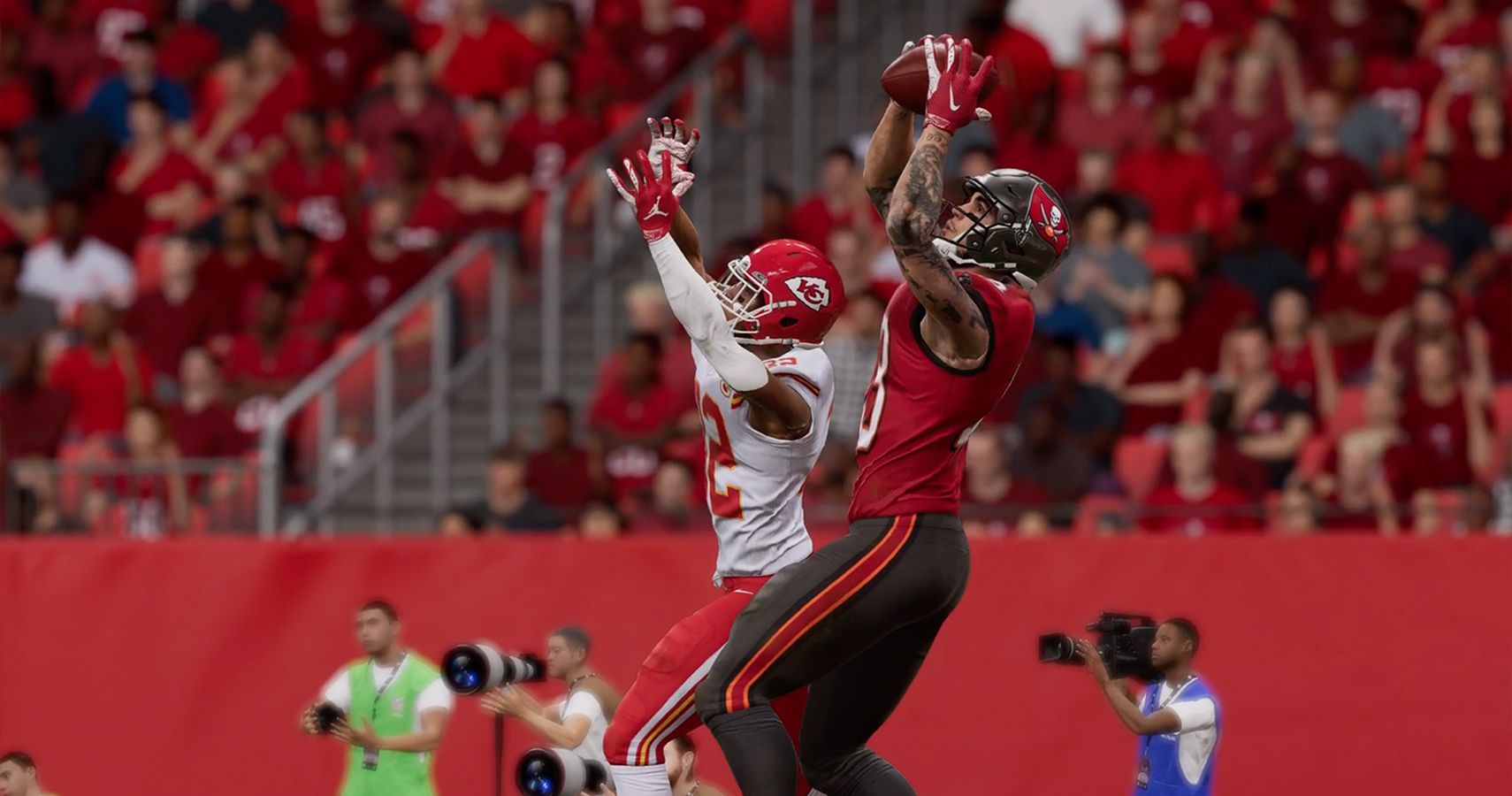 Perhaps one of the safest bets I could've made, Evans had 119-receiving yards in the Madden sim.
Evans didn't need to do much, fishing with only 31 total receiving yards.
Parlay – Patrick Mahomes 370+ Passing Yards, Tom Brady 350+ Passing Yards (+675)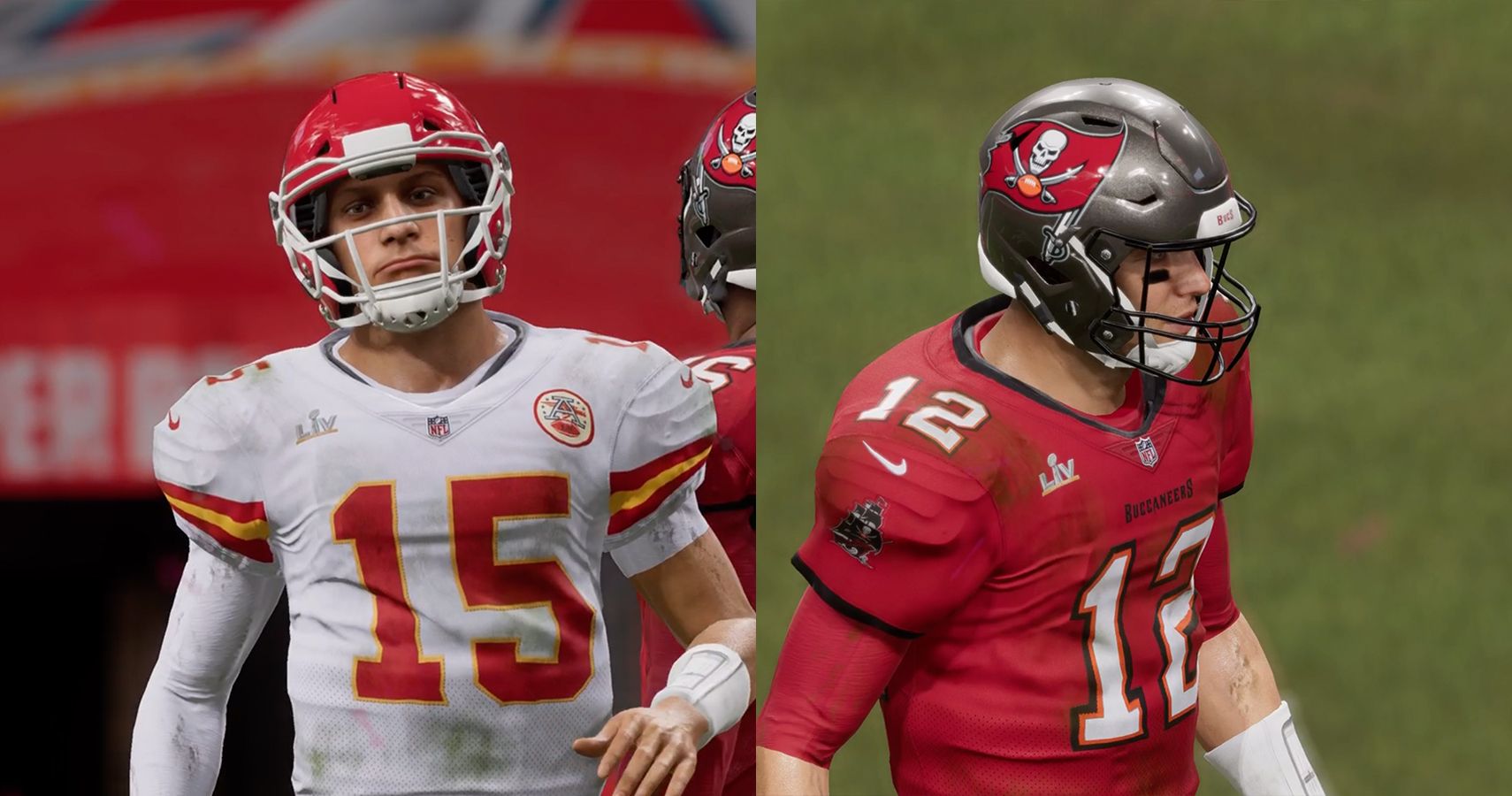 In the Madden Sim, Brady ended up with 358 passing yards, while Mahomes amassed 425 passing yards. 
Neither came close to the outcome, mostly thanks to the Tampa Bay defense.
Patrick Mahomes To Have Exactly 2 Touchdown Passes (+200)
Mahomes had an uncharacteristically quiet day in the Madden sim in terms of touchdowns.
Just like in the Madden Minute, Mahomes straggled to find the endzone tonight.
Tom Brady To Have Exactly 4 Touchdown Passes (+550)
Four touchdown passes from Brady were just part of the reason why he was crowned Super Bowl MVP in the simulation.
Brady didn't need to do much, but came VERY close to the bet with three passing touchdowns,
Parlay – Anytime Touchdown Scorers – Antonio Brown, Demarcus Robinson, Mike Evans, Rob Gronkowski, Ronald Jones II, Travis Kelce (+75000)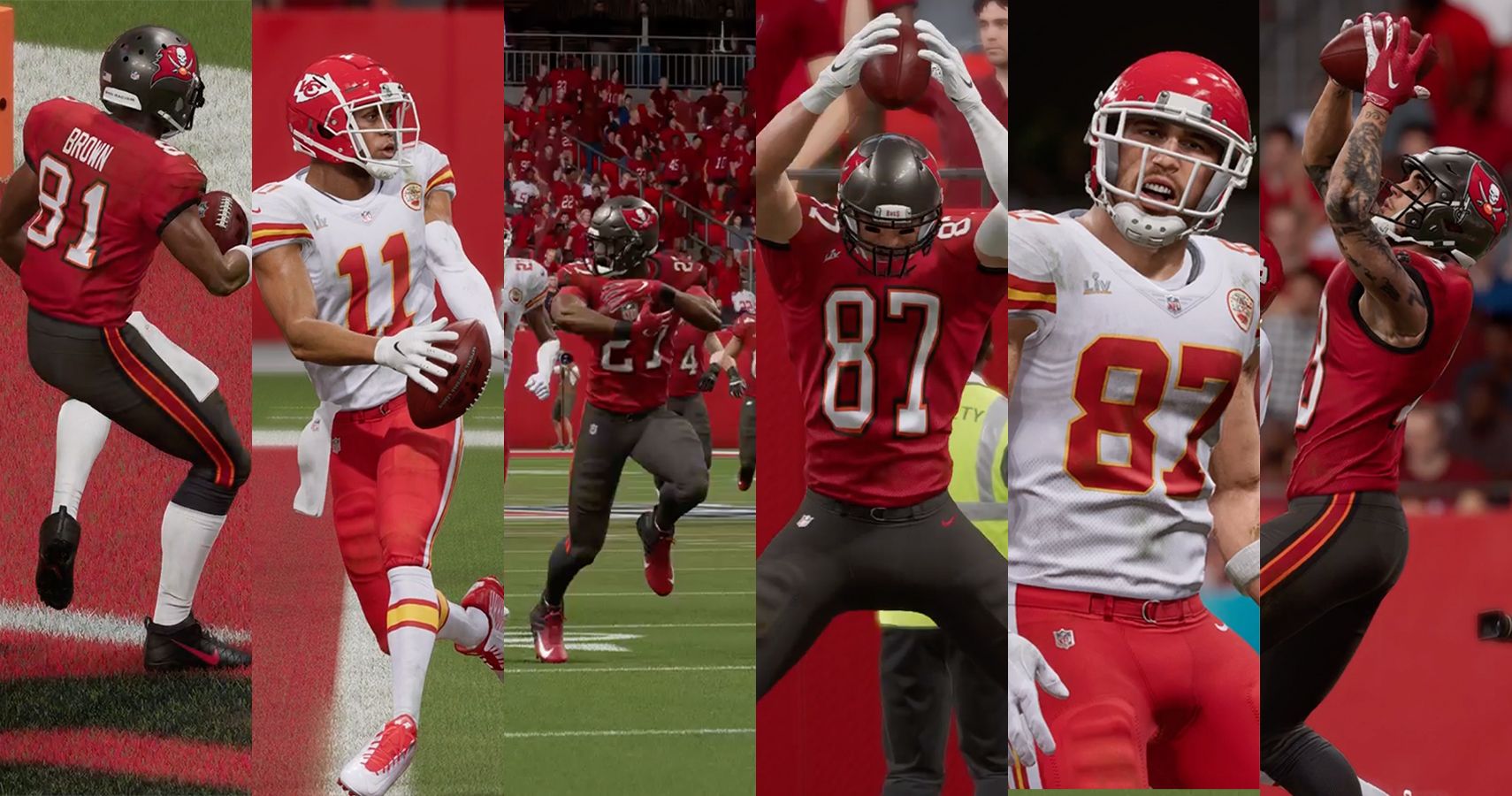 So much scoring happened in the Madden sim, I couldn't help but build a parlay of every receiving touchdown. I threw in Jones II as a fun way to skyrocket the odds.
I'll be the first to admit this was a tall order. It didn't happen, and no one was surprised.
In conclusion, placing wagers off of Madden is, mostly, ill-advised. I had some luck with some live-bets, but Madden proved to be unreliable in terms of its prop bets. However, the Bucs did win by a considerable amount, making me happy that the Madden Minute was relatively accurate. 
My Madden-based betting was just a fun way to make myself care a little about the Super Bowl this year. I had a specific budget and I stuck to it, but many individuals struggle with that sort of self-control.
If you or someone you know have a gambling problem, please reach out to the National Problem Gambling Helpline Network (1-800-522-4700) for help. Assistance is available 24/7 and is 100% confidential, with text and chat services available.
Next: The Music of Red Dead Redemption 2: The Housebuilding EP Coming To Digital And Vinyl
TheGamer Originals
Madden
Madden 21
Sam has been writing for TheGamer since early 2018, earning the role as the Lead Features & Review Editor in 2019. The Denver, Colorado-native's knack for writing has been a life-long endeavor. His time spent in corporate positions has helped shape the professional element of his creative writing passion and skills. Beyond writing, Sam is a lover of all things food and video games, which – especially on weekends – are generally mutually exclusive, as he streams his gameplay on Twitch (as well as TheGamer's Facebook page) under the self-proclaimed, though well-deserved moniker of ChipotleSam. (Seriously…just ask him about his Chipotle burrito tattoo). You can find Sam on Twitter, Instagram, and Facebook as @RealChipotleSam.
Source: Read Full Article