Superheroes and Christmas is a weird combination I cannot get enough of. Like chilli and chocolate, honey and pizza, or Florence Pugh and Zac Braff, superheroes and Christmas might not be the obvious pairing, but they work together spectacularly. My interest in any given Batman story increases ten-fold when I hear it's set at Christmas, which is lucky since absolutely loads of them are. It's why I was one of only five people on the planet to be excited for the Hawkeye Disney+ show. And most of all, it's why I recently started replaying Spider-Man: Miles Morales. This is only the second Christmas that Miles and I have celebrated together, but I can tell we're going to be roasting chestnuts over an open fire for many years to come.
While I can admit to its typically Spidey-esque rushed third act showdown with far too many villains crammed in there, Marvel's Spider-Man was my favourite game of the last gen. I haven't kept up with the comics as well as I would like, but since Miles' debut I've found I preferred his fresh stories to Peter's, which tend to either be rehashes of older tales or an attempt to renew Peter Parker by telling stories that aren't very Peter Parkery. Naturally then, I was excited for Spider-Man: Miles Morales from the moment it was first revealed. Once I found out it was set at Christmas, well. Slather honey on that pizza base and loosen your belts – we're eating in tonight.
Related: We Should Be Making A Bigger Deal About Hailey In Spider-Man: Miles MoralesMiles Morales is not just another 'superheroes at Christmas' story – it is the perfect Christmas game. If I had my way it would be as essential to the Christmas pop culture experience as The Muppet Christmas Carol, All I Want For Christmas Is You, or pigs in a blanket flavoured tea bags. Yeah, that's a real thing.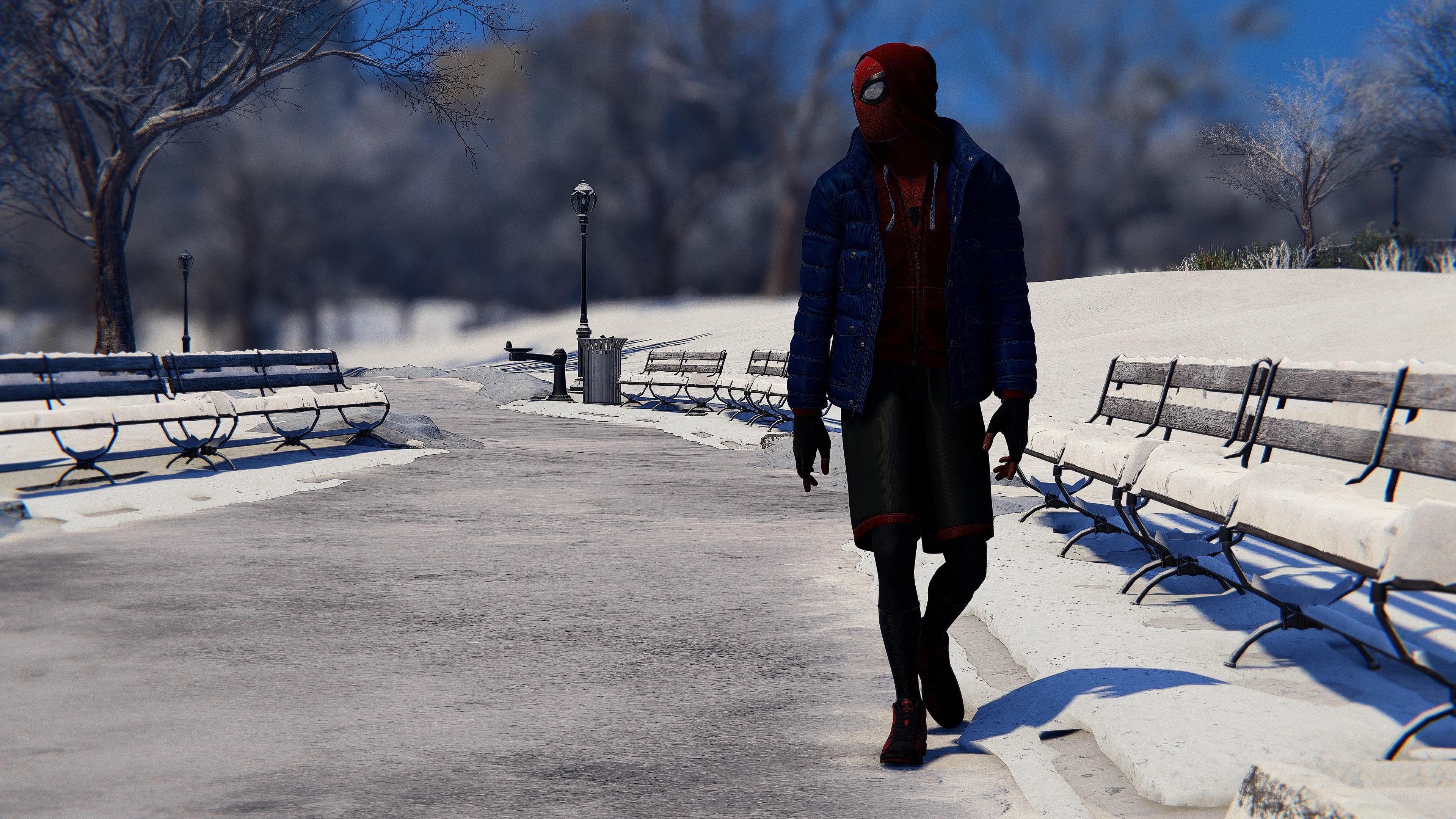 For one thing, the game looks sublime. It's not just that it has good graphics, basically every triple-A these days has great graphics. It's how well these graphics capture the weather of New York City in the winter. While it uses the same map as Peter's game, it focuses specifically on Harlem, giving Miles a deeper sense of community. "He's our Spider-Man," residents say at the game's close. While Peter tries to protect New York and as a result feels disconnected from everyone besides his closest friends and most dangerous enemies, Miles is a man of the people, and the spirit of the season is all around him.
Insomniac is the king of photo modes in gaming, offering a much greater level of customisation thanks to its studio quality lighting set up. Where other games let you zoom or play with filters or contrast, Spider-Man games let you set up three different lighting sources, offering a wide bulb or a spotlight, all while adjusting height, direction, distance, strength, and hue. It also handily avoids the fact many photo modes fall foul of tricky facial animations – both Peter and Miles and consistently wearing masks – and they didn't even die of 5G. Really makes you think.
This mixture of photographic control, community spirit, and gorgeous weather means it's easy to capture the holiday season everywhere you go in Miles Morales. In this superhero Christmas tale though, the story goes beyond the aesthetic. Miles is still reeling from the loss of his father, a tragedy that occurs during an attack on the mayor in the previous game. It's the family's first Christmas in Harlem, and their first Christmas without Miles' father, so it's a new, often painful experience for him. The family tries to recreate their traditions, and a lot of the early game is spent in this warm, fuzzy environment lit in rich, festive colours while Christmas music plays and the whole house is decorated in festive trappings.
This helps capture the feeling of Christmas, especially last year when lockdowns and coronavirus rules meant everyone was trying to keep up traditions in new, often confusing or upsetting circumstances. More empty chairs sat around tables. More Christmases were lonely.
The spirit of Christmas is alive throughout the game too. It's still a superhero game; Miles still gets into fights with supervillains and uses his web-based powers to kick their ass, but family is far more intertwined in Miles story than it ever was in Peter's, and by using Harlem as a central focus for the story, everything is rooted in that sense of togetherness. Miles' ultimate enemy is not a faceless foe, but an old friend. Christmas is everywhere in Miles Morales, and not just in the presents and the snow.
We need a Christmas video game. The world of music has a bucketload of songs they overplay, and without looking at a TV guide I could easily pick out ten films that will definitely be on telly between December 24-31. Games, though? We don't have much. Except now we do. Everyone gp play Spider-Man: Miles Morales, and have a merry Christmas from me.
Source: Read Full Article