Earlier this week, I was invited to tour an island in Animal Crossing: New Horizons with Maisie Williams. That's right, I waltzed onto Arya Stark's island and whacked her with my net! Like millions of other people in the world, she's a massive fan of Animal Crossing. That's why she teamed up with H&M to create Looop Island, a gorgeous playground designed to promote a sustainable future for fashion and the active recycling of old garments to reduce harm on the environment.
It's an admirable cause, and it turns out Animal Crossing: New Horizons is the ideal canvas for painting such a progressive message. For any non-Brits reading, H&M is a high-street retailer that has been around for decades, so seeing it invite me to an Animal Crossing island to hang with Maisie Willaims was bizarre, but once the whole situation was explained to me, I ran down to Dodo Airport and never looked back. First, however, I had to make sure my islander didn't look like a bag of garbage. I threw on a cute dress, a ballin' beret, and entered the Dodo Code that had been thrown my way.
Within moments, I was flying over Looop Island and looking down at Maisie Williams' avatar and a handful of other villagers waving at me enthusiastically. It was adorable, although the sheer amount of objects and decorations on the island slowed my frame rate to a crawl. Ignoring unusual technical issues, I hopped off the plane and was greeted by a gaggle of giddy villagers belting out emotes and welcoming messages. Maisie seemed to wait until all of us had arrived before ushering us towards The Able Sisters' shop.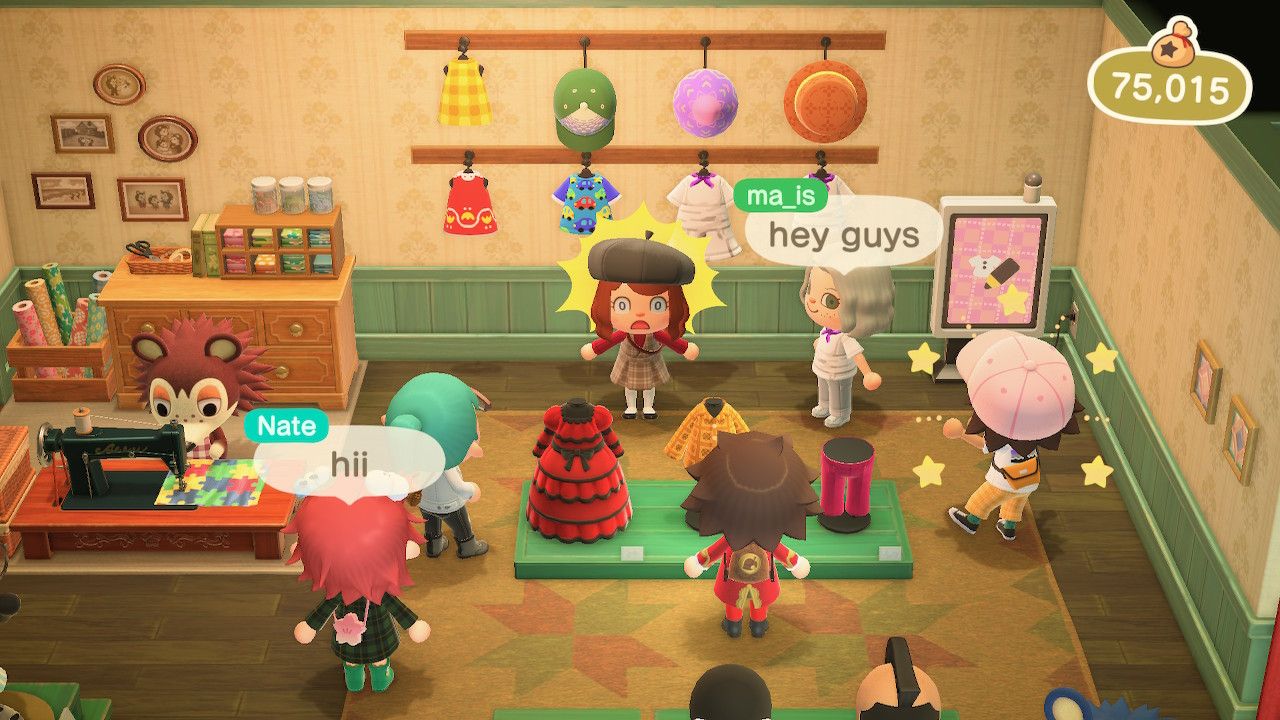 The act of cramming all of us into the retailer was a little chaotic, but before long we were being shown a variety of custom designs by Maisie that we could freely take home with us. They seemed to be inspired by her own outfit, which was a playful mixture of whites and purples represented in both photography sent my way by H&M and her in-game avatar. For a few minutes, we were given time to socialise, which we naturally spent spamming emotes and asking Maisie a selection of questions.
The biggest revelation was Maisie's favourite Animal Crossing villager – Apple. I'm not a fan of the chubby hamster, but he's become beloved amongst fans for good reason. Let's be honest, though – the ham is no Raymond. After this controversial bombshell, we all went outside to vibe near the shop. Here, Maisie showed us a cutesy setup opposite the establishment that was clearly meant to represent how The Able Sisters' are recycling used fabric and clothes, echoing the message of H&M's wider campaign.
My mind was elsewhere, though, mostly because I'm the worst guest ever. I withdrew my net, with nobody else but Maisie Williams in my sights. I pushed through the crowd and spammed the catch button on her head, hoping I could bag a celebrity and have Blathers keep her in the museum. It didn't work, so I politely put my tools away and followed Maisie to her house. The PR soon told me off for "trying to catch the talent" so hopefully I'm not blacklisted. It's all in the spirit of Animal Crossing!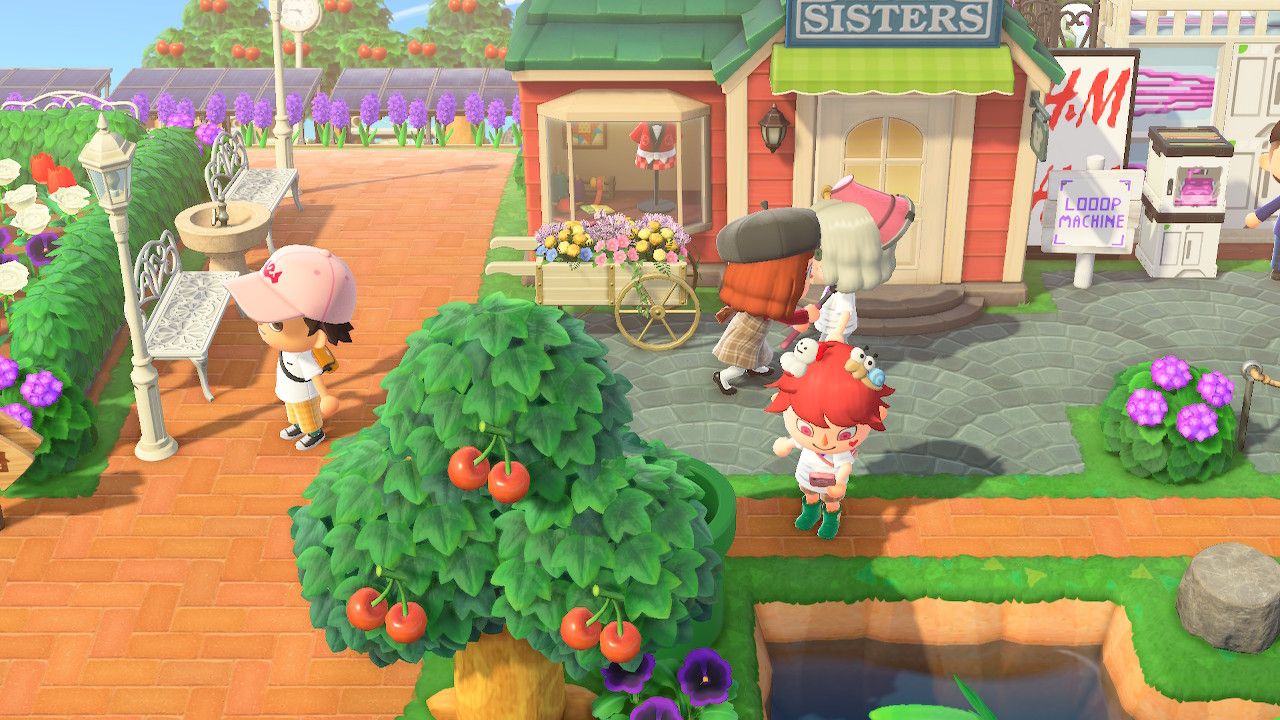 Maisie's house is gorgeous. It's a labyrinth of rooms filled with creative living spaces, sprawling workshops, and a basement with a wonderfully mysterious vibe. The basement is where all her guests gathered, with the room designed as a fabulous runway for Animal Crossing models to walk along and strut their stuff. So strut we did, each taking turns to walk down the red carpet as the lights shun upon us. It was fabulous, with the atmosphere on Looop Island being far more welcoming than I thought. I half expected to be shown something before being thrown back into the airport, but we just had freedom to explore and have fun.
After this, the traditional tour was finished as Maisie's avatar bid us farewell with a quick chat message and farewell emote, which I think was my cue to leave. However, I decided to stick around for a little bit, to take in the sights of an island I'll likely never visit again. I ran about the place with reckless abandon, stealing flowers and other trinkets that sat about the gorgeous landmass. I basically griefed Maisie Williams and H&M while a wordless avatar followed closely to watch my every move. They didn't ask me to leave, so it's fine. Right?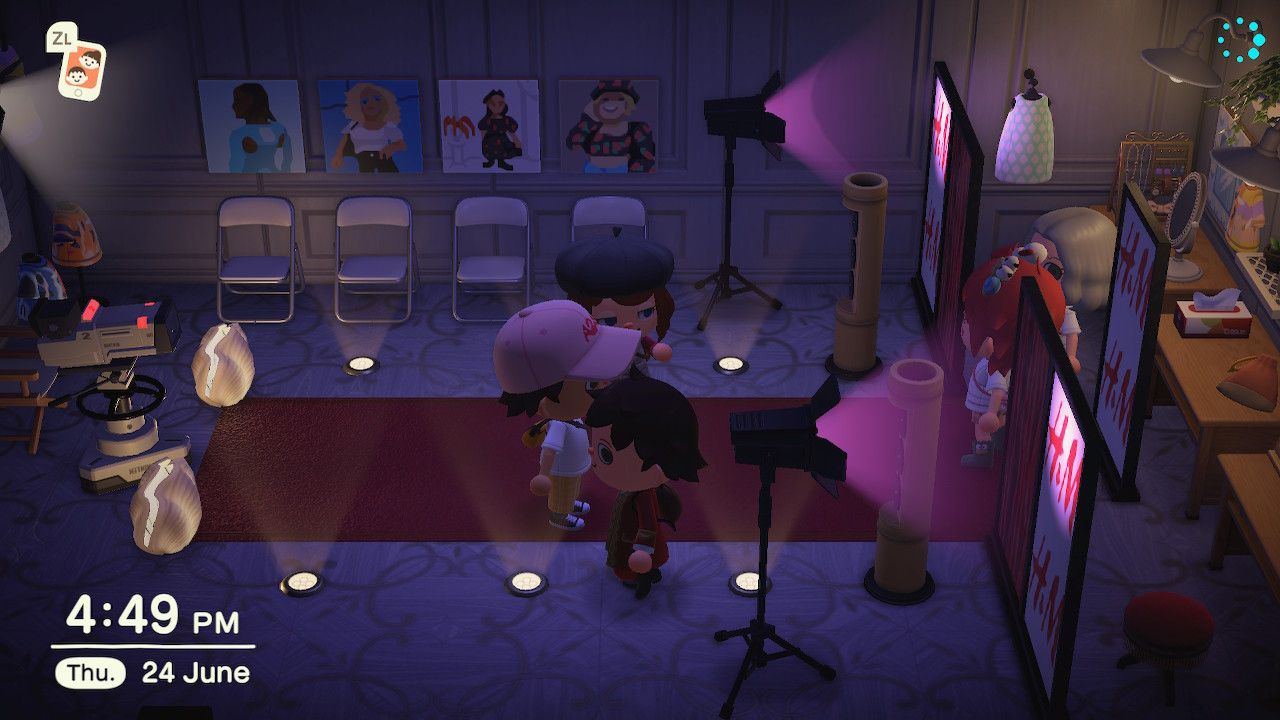 Towards the back of Looop Island sat an obstacle course adorned with gorgeous sculptures and purple decorations, the colours once again referencing the campaign I was brought here to witness. Unfortunately, my toxic ass had other intentions. I ran the course, picking up flowers, mushrooms, and other fauna along my way before stopping at a recycling station to peruse the loot left behind by other guests. I didn't steal anything too valuable, I'm not a monster. The trouble I intended to cause was basically harmless – the point is that now I can truthfully say I stole things from Arya Stark in Animal Crossing.
Before making my leave, I spoke with a few of the villagers and retired to the airport, waving Looop Island goodbye as I returned to Weeaboo Island. Oh gosh, I just realised that Maisie Williams is aware that I'm a weeb now. My innocent thievery aside, this was a lovely idea for a worthwhile cause, and one I'm glad Maisie Williams is deciding to champion alongside H&M. New Horizons might be over a year old now, but it's fascinating to see creators continue to use it in fun, progressive ways. If I ever hang with Maisie Williams in Animal Crossing again, I'll bring presents to apologise for all the stuff I stole.
Next: Carla Tassara On Giving Life To Cyberpunk 2077's Judy Alvarez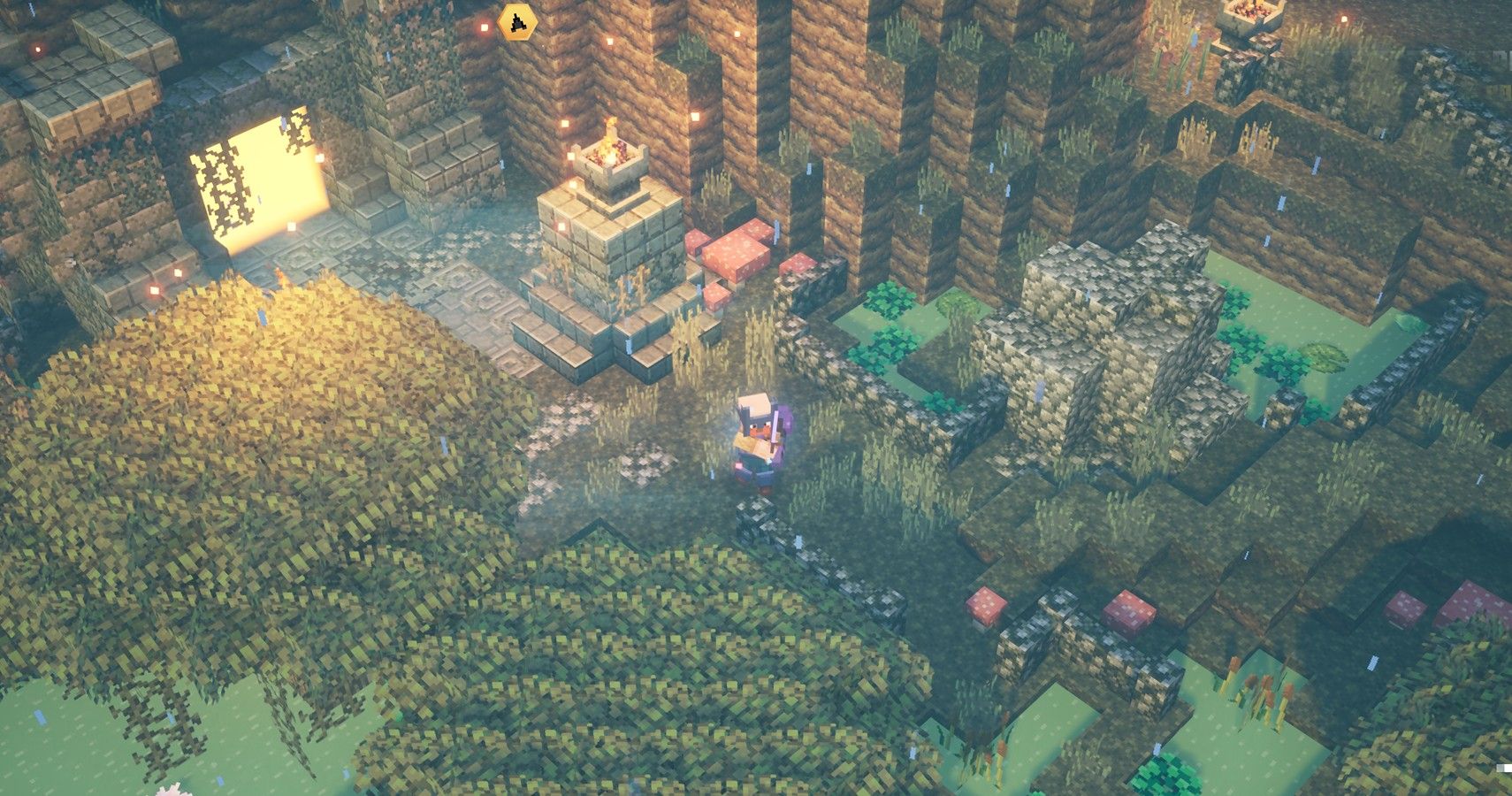 TheGamer Originals
Animal Crossing
Game Of Thrones
Jade King is one of the Features Editors for TheGamer. Previously head of gaming content over at Trusted Reviews, she can be found talking about games, anime and retweeting Catradora fanart @KonaYMA6.
Source: Read Full Article